Culture
Del Hughes' Err on the G String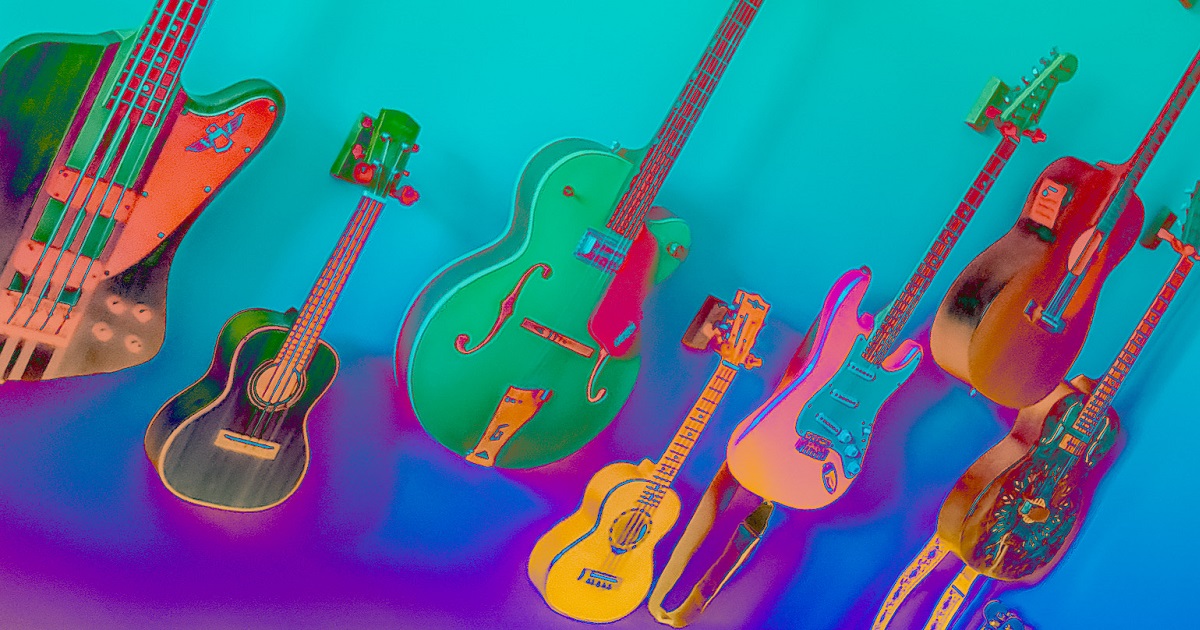 Del Hughes
It's been almost six months since I began the affair, and to say that Tim is cheesed off with the strident noises issuing from our bedroom, when Trev and I are going at it full throttle, is an understatement.
Of course, I'm not cheating on Tim, and we haven't had a mid-life crisis and suddenly decided to become a throuple – though if we happened upon a professional dog-trainer, who enjoys housework, can knock up a meal in minutes, and has an NVQ in garden design, I think we'd seriously consider it.
But there's no denying I have developed an unexpected, all-consuming passion for Trevor, my twenty-six-inch, mahogany beau, who's blessed with smooth good looks, a rich vibrant voice and, to me, is the finest tenor ukulele in all the land.
Yep, he has been the cause of a few minor disagreements on the domestic front, but chiefly they're due to my total lack of musical ability, coupled with a keen determination to practice every day.
Not that Tim wasn't initially encouraging of my new hobby, and strict melodic regime, but after he complained that I'd been 'twanging "Take Me Home, Country Roads" for bloody hours, and it's doing my head in,' his interest waned. Lol!
(But he did have a point. So, I have subsequently varied my repertoire – though I couldn't help but be thrilled that he'd finally recognised the song I'd been grappling with for eight days. Was this progress? Too right it was.)

Flabby knockers
But while I am, slowly, improving, two obstacles still remain, which have the very real potential to hinder my playing prowess, and it's strange because they're rarely ever mentioned.
Despite numerous internet searches – with some quite eye-watering results – it seems that I'm the only woman who struggles with the logistics involved in making sweet, sweet music, whilst cushioning a small stringed instrument against a pair of aging, flabby knockers.
I've previously mentioned that during lockdown, I revelled in consigning my upper-topper-flopper-stoppers to the back of the wardrobe, and instead embraced the unfettered joy of allowing my ladies to just chillax and hang loose. And I've never looked back.
Naturally, there have been occasions over the last couple of years – four birthday dos, numerous funerals, a W.I. Meeting – where I've had to dig one out and, resentfully, strap myself in.
And this was especially necessary during a six-week puppy training course, which involved a lot of bending, because I didn't fancy chancing my baps against a roomful of rollicking pups who had reached the ball-obsessed stage of development.
But mostly, my boobs have been allowed to run wild, tumbling downhill until, depending on my position, they'll either settle comfortably under each armpit, or come to rest somewhere a smidge north of my waist.
Nomadic norks
However, in my experience, it seems that free-range breasts are incompatible with ukulele musical proficiency.
My right one impacts upon my strumming arm, the left hinders my ability to reach higher frets, and attempting the Fmajor7 requires concentration so great, I can't simultaneously juggle either of my nomadic norks.
And once, whilst playing with wild abandon (think Animal from The Muppet Show, if he swapped drums for a uke), a stray nipple encroached on the G string, which resulted in mild friction burns.
It was nothing a spot of Germolene couldn't handle, but the reason I'm mentioning these mammary mishaps is because, if I wanted my music-making odyssey to continue, it was either submit to the bra, or take up a less intimate instrument, like a kazoo, or finger cymbals.
Thus, it's an indication of my love for Trevor, that I have, albeit reluctantly, fallen back into the reinforced, restrictive cups of an M&S Flexifit™ Wired Minimiser. Sigh.
Chord change
But it's a good job I have, because it would be rather unseemly, not to mention distracting, playing a gig, only for my melons to romp around with every rigorous chord change.
And yeah, you read that right – I am actually going on my first ever gig with the Swansea Ukulele Club (SUC) and will be playing in front of real people. Gulp!
I mean, obviously I've played for people before, but just my completely biased family, who, like the Flexifit™, are super supportive of my musical endeavours, and have schooled themselves to rarely wince.
(I'm excluding Tim though, because he's a man of forthright opinions, gives candid feedback, and can't master the slight eye twitch, which coincides with every bum note and missed chord. Eye roll.)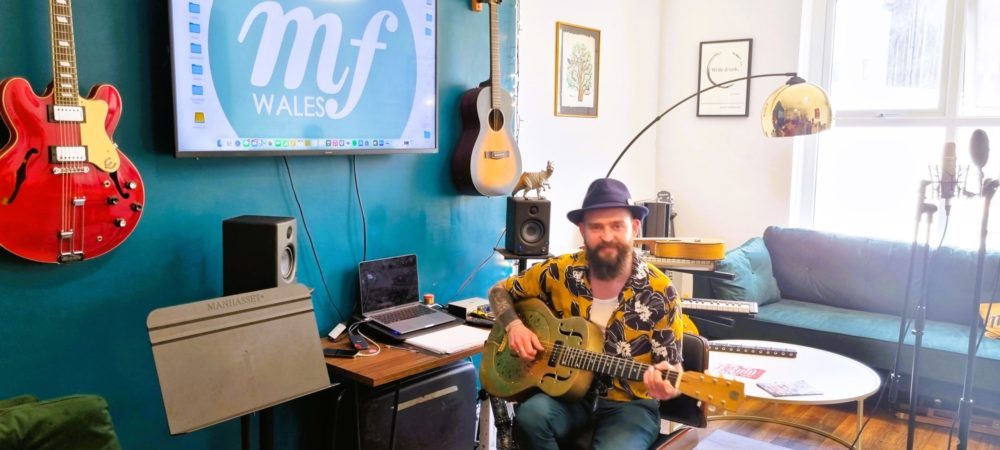 Tactile entanglements
So, first gig, and I was 90% nervous, 10% excited, and knowing my playing needed a lot of work, I booked in for some emergency uke lessons at the Music Factory in Llanelli. And that's where I found Aled.
I could immediately tell I was in expert hands. He was one cool dude, sported a wide-brimmed Fedora, and had a beard that, if it wasn't a prime example of the hipster, I don't know what would be.
The walls were a gallery of guitars, a large screen displayed menacing musical notation, and there were two green velvet sofas which, to normal people, probably looked comfortably sumptuous, but to my eyes, was an upholstered trauma waiting to happen.
(I have a thing about velvet, in that I abhor it. Maybe this stems from my Sidonglobophobia – my number one bête noire is cotton wool, the balls in particular. But both textures set my teeth on edge, and even worse are the penetrating squeaks they emit when they're touched, squeezed, or stroked. Ick!)
Sadly, there was nowhere else to sit, so I perched precariously on the edge of the couch, crossed my arms to avoid tactile entanglements (Shudder! Note to self: long sleeves next time) and prepared for my first official ukulele lesson.
Sense of rhythm
Actually, I'd initially tried another chap, but that lesson had mainly consisted of me sitting in silence while he played Trevor and was a demonstration of the skills I could aspire to achieve – after twenty or so years of practise and a financial investment on a par with the purchase price of a small semi in Mumbles. Humph.
Somewhat deflated, I sloped off, and started my search for another tutor who could possibly turn my ham-fisted playing into something more melodic. . . and do it a little quicker.
So, though Aled embodied the term 'musician' and, on paper, was hugely talented, did that indicate he could actually teach? And by that, I mean, could he teach someone as talentless as me?
Amazingly, he could. He turned out to be blinking brilliant. In the few weeks I've been going, we've worked on chords, strum patterns, tempos, and he's managed to locate my sense of rhythm, which I honestly thought I'd lost long ago.
Plus, he's got me to release my stranglehold on Trevor's neck and start playing with a 'more relaxed hand.' This has led to clearer chords, a freer movement on the fretboard, and I don't get those painful grooves on my fingertips anymore. . . or cramp. Result!
Frantic spiral
Imbued with marginally more confidence, the next step in my gig-preparedness was shopping. SUC's unofficial dress code seemed to be Hawaiian shirts or fancy florals, both of which bring a splash of sunshine to any venue.
And whilst my favoured palette is mainly uninspiring shades of blue, this was for a good cause, and I wanted to look the part.
I picked up a pair of rainbow-striped daps, a pink, smocky number in a very cool cotton, and a small-but-mighty fan; understandably, nursing homes run hot, as do I, so guarding against potential flushes was essential.
I bought a microphone stand, with iPad attachment (for my music and lyrics), and a Kinsman Clamp Hangar for Trev to relax in.
Though most of our group stand up when performing, I needed to explore seating options, and this triggered a frantic spiral of buying and trying, before one of our club members gave me a medium height, low back stool which was lightweight and pretty comfortable.
Phew! I was ready to rock'n'roll. Double gulp!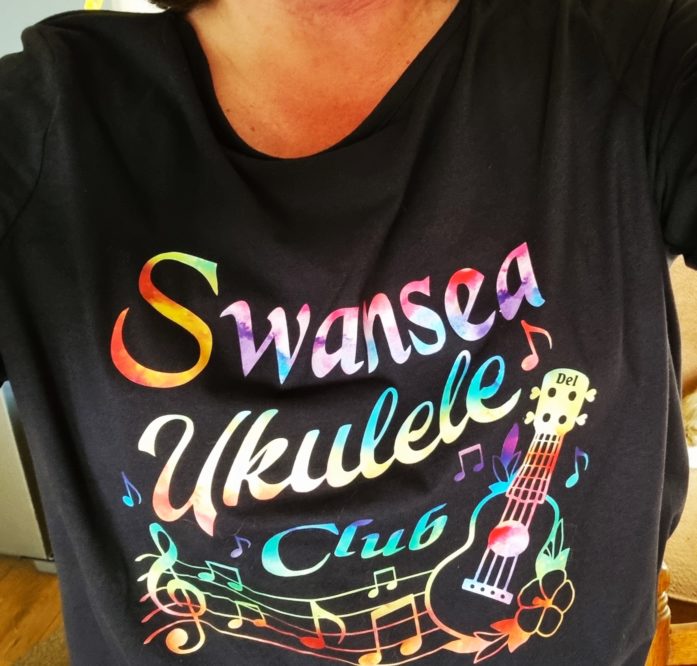 Panic
22nd May, Grovesend, Swansea. 3:30pm start, 1 hour set. I was there by two-fifteen, my phobia of tardiness forcing me to arrive at the care home stupidly early. Still, it gave me time to sit in Geoff (my Kangoo), and quietly panic.
What if I forgot my chords? What if I broke a string? And, heaven forbid, what if I played a loudly discordant note at the exact time the rest of the band fell silent?
But my major concern was how I'd react in front of an audience, because for no good reason, I've recently begun suffering from stage-fright – and that I first discovered this during two agonising minutes at the mike, midway through a poetry slam, still causes cold sweats.
And the symptoms are extreme – my voice ricochets through a panoply of pitch, and I experience full-body tremors that would rate a strong 6.9 on the Richter Scale. If that happened today, forgetting chords would be the least of my worries.
It was a scorching afternoon, so staff had taken the residents outside and we were going to perform al fresco. Great news, because the light breeze would help keep my hormonal fever spikes at bay, but it did mean I had to keep a wary eye on my floaty top.
Even though my bazookas were safely locked and loaded, who knows what impact a flash of a nude balconette might have on an OAP?
This slideshow requires JavaScript.
Harmonious
After setting up mikes, cables, keyboards, and other unidentifiable techie stuff, at last we were good to go.
Leading on vocals were Dawn (glorious in a rockabilly dress and red sneakers), Lynsey (pretty in polka dots), and Phill (peerless in a confection of palm trees).
John (looking sharp in a waistcoat and kepi'esque hat), was revving up his electric guitar, Ian was expertly tickling his ivories, and Chris, Teresa, Josie, and Maggie (all veteran giggers), provided harmonious backing.
Which just left me, Vicki, and Laura – relative newbies and gig virgins – lurking at the back.
I had a quick sip of Um Bongo – my mouth was so dry, I had to physically peel my lips away from my teeth – and took some deep breaths, praying I could face the onlookers with a smile, and a voice steady enough to carry a tune.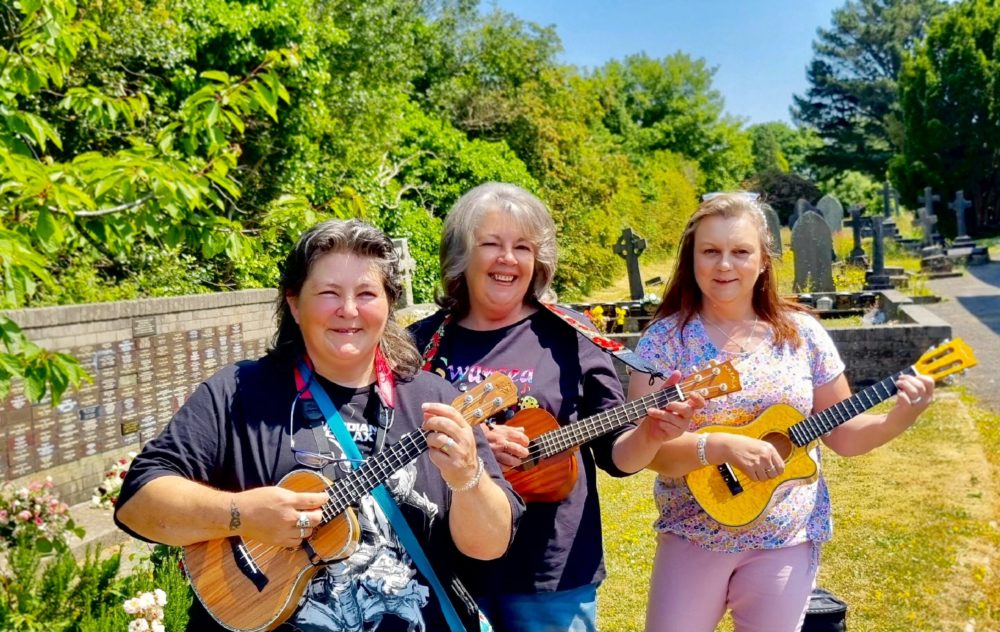 Taking the plunge
Then John counted us in with, 'And a one, two, three, four,' and away we went. And it was absolutely marvellous.
There was energetic bopping from the more mobile residents, animated applause and occasional whooping, and the exhilarating atmosphere, combined with playing as part of a group, meant I felt nary a tremble as I smiled, sang, and strummed my heart out.
We brought the house down, quite literally, when a freak gust of wind during "Great Balls of Fire", caused one of the hefty sun umbrellas to lift off and head for the bright lights of Gorseinon.
It took out a glass-topped patio table, and a small planter, before landing on a couple of the sturdier residents.
But even as disaster played out before us, we played on, a bit like the band on the Titanic, and thus our "Johnny B. Goode" finale was punctuated by the rapid removal of broken glass, and the administration of some mild first aid.
But still, we got that nursing home rocking, big style.
Everyone at SUC had said that, once I'd taken the plunge, I'd want to do more, and boy, they weren't wrong. In fact, I've played another two since – both of which were blooming epic – and I'm merrily filling in my calendar with as many as possible.
This slideshow requires JavaScript.
Enthusiastic boogeying
However, I should confess that my desire to gig didn't wholly spring from a place of altruism and philanthropy.
In truth, I'd already been searching for more opportunities for synchronised strumming, because those few hours on a Tuesday evening with SUC just aren't enough.
But last Wednesday, we played at a local dementia support café, and it was a turning point for me.
There were many highlights, much boogeying, enthusiastic audience participation, and delight on some faces (alright, mainly mine), when we played "Take Me Home, Country Roads."
Wonderful
But afterwards, when I'd packed up all my gear and was heading out to the car, an elderly lady unsteadily approached me, took my hand, and said, 'Thank you, you were wonderful.' (Sniff. I'm not crying! Damn that grass pollen.)
Okay, so she probably meant 'you' plural, and I had no right at all to start channelling Beyoncé.
But as well as feeling like a rock star, it made me realise that, in a very small way, I had been instrumental (teehee) in brightening someone's day, and that felt fantastic, and totally worth the restrictions imposed by my M&S mammo-flague.
So, it matters not a jot where my initial motivation came from. No, what matters is getting out there, having a cracking time with my uke pals, and sharing joyous music with anyone who cares to listen – and to echo the great Willie Nelson, when it comes to gigging, I 'just can't wait to get on the road again.'
There are several Dementia Support Cafés in Swansea and the surrounding areas. Find out more information by visiting their website. Support is also available on the Dementia Friendly Swansea website which gives details of clubs, activities and services available.
Swansea Ukulele Club meet every Tuesday evening from 7:15pm at the Dunvant Rugby Club. All uke players are welcome, from absolute beginners upwards. Click here to visit their Facebook page – and I hope there'll be some new faces playing with us soon.
At Music Factory, Llanelli, Aled is just one of the talented teachers, and between them, they can pretty much teach any instrument you fancy – possibly barring the bagpipes? So if you're looking to learn or improve, here's the link to their website and Facebook page.
You can find more of Del's adventures for Nation.Cymru by following her link on this map.
---
Support our Nation today
For the price of a cup of coffee a month you can help us create an independent, not-for-profit, national news service for the people of Wales, by the people of Wales.