Culture
Del Hughes: Whittle while you work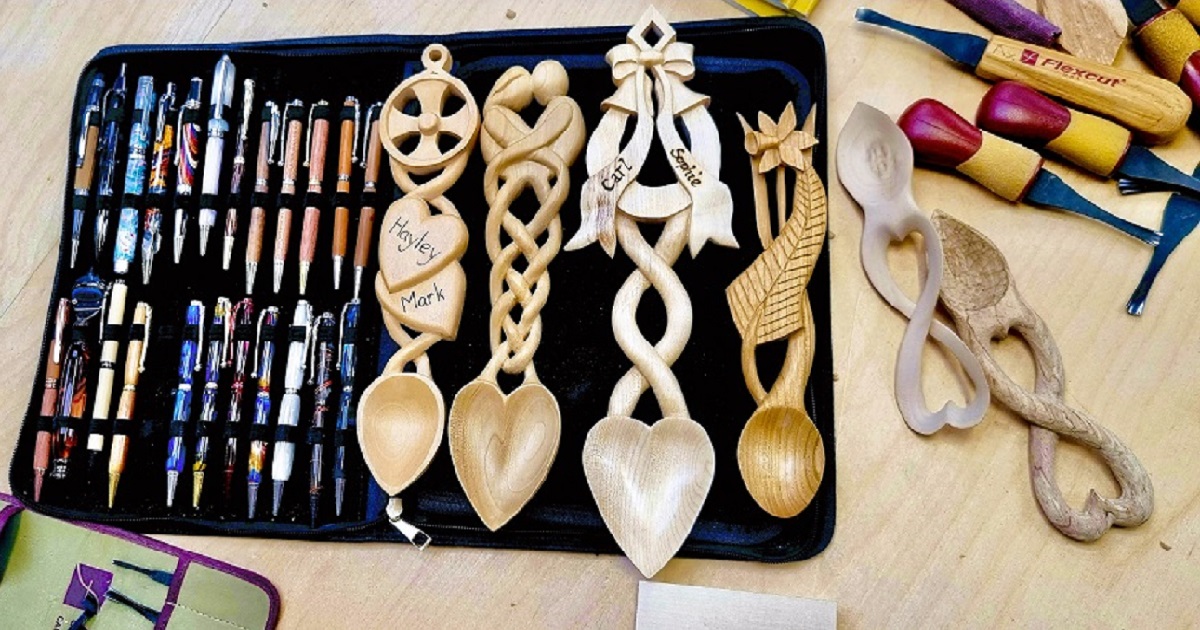 Del Hughes
If you were a potential serial killer, this would be your Shangri-La. It had every implement the modern murderer-about-town could dream of, especially if they were looking to dispatch, and dispose of their targets, with ease, efficiency, and for a very reasonable price.
And, given that my first instruction was to make a 'stab cut', you might understand why my thoughts were straying towards the macabre.
But, putting aside such morbid musings, it was also a fab place to visit if you fancied learning a new skill – and no, I don't mean Dissection 101: Avoiding RSI.
So that was why, despite a severe lack of crafting ability, complete ignorance regarding chisels, and with only a vague idea of what 'whittling' actually meant, I was at Axminster Tools (Cardiff), attempting to carve a love-spoon.
I was twenty-five minutes into a five-hour workshop and already my scalp was sweating. I was liberally coated with sawdust, was making no discernible headway with my Flexcut carving chisel and was seriously considering buggering off for a Sausage McMuffin and a skank around St Fagans.
After all my recent branch-ing out, would wood prove to be my downfall? Maybe I should leaf right now? (Sorry, I'll stop. These puns must be driving yew crazy. Lol!)

Wizard of Wood
But then Derek, master craftsman and 'Wizard of Wood' (a moniker I bestowed upon him because what that man can make from timber is jaw-dropping), sensed my agitation and came over to lend a helping hand. Apparently, two issues were hampering my progress:
My stabbing was 'too tentative.'
I needed to 'work into the cut' with my blade, rather than prising the loose piece away, 'because that can cause the wood to lift and break.'
Patience itself, he once again demonstrated the correct technique, showing me how to carefully shape the handle, and offered words of encouragement to spur me on; I was doing well, though might do even better if I used the correct edge of the chisel. Doh!
Then, with a paternal twinkle, he padded off to help the twenty other learners who were also chiselling away.
Local artisans
I'd booked today's masterclass via eventbrite, when I'd stumbled across Axminster Tools and noticed that they offered free crafty events in all of their stores. From woodcarving, turning and blade sharpening, to bandsaw box demos and hosting local artisans, they did it all.
And, as well as that, as I sidled in that Saturday morning, I was made to feel so welcome. The staff, easily identifying a nervous novice who had obviously never been this close to an angle grinder, escorted me to the workshop, where Derek and his team from South Wales Wood Carvers (SWWC), were setting up.
And store manager, Lee, possibly noticing my puffy eyes – a hangover from my night-time Morpheus-meds – brought me a drink from their free Coffee Bar; this is an area where customers can chill out with a cappuccino, have a chinwag about spokeshaves, spindles or slipstones, or even just set the world to rights by chewing over their knotty problems. (I promise that's the last one.) When it came to customer experience, this store was tree-mendous. . . (I lied.)
. . . as was my double shot espresso which caused an instant high octane head rush and ignited a devil-may-care attitude.
Frankly, if Derek hadn't kicked off the class when he did, I'd have been haring up those aisles, toying with the orbital sanders and running amok with the routers.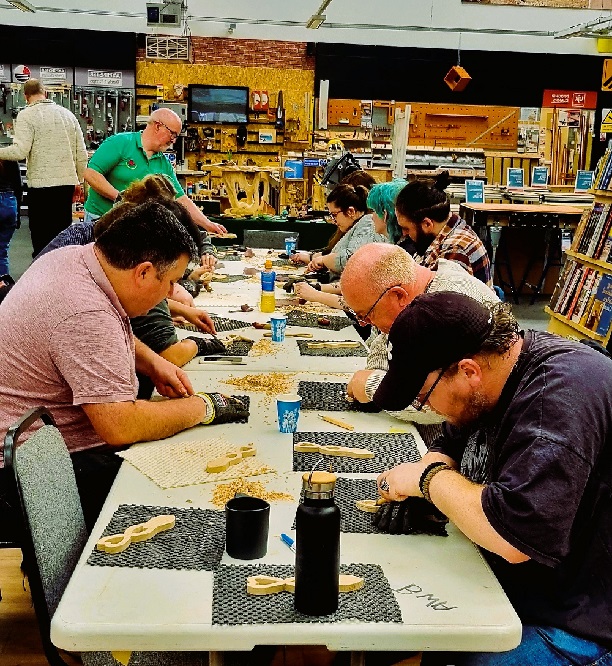 Bossing it
Anyway, back to my spoon. Now, using the proper part of the blade, my snaky stem finally began to take shape. And as it did, all thoughts of pushing off faded, and I started getting into the swing of things.
I was making something gorgeous out of sweet chestnut, and I was bossing it. (For me, caffeine-overconfidence is deffo a thing.)
I'd also been quite canny when I'd arrived, choosing a small round table that had space for six learners, but which was also shared by Derek, and his two able assistants, Isabel, and Mark.
So even when Derek was off circulating, I still had easy access to experts. Ha!
They both rapidly realised that my heavy exhalations and throat clearing were codes for 'Help', and seemed happy to put down their own exquisite projects and devote chunks of their time to gently guiding me through whatever problem I was grappling with.
That they did this with nary an eye roll, gives some idea of how relaxing, and mindful, woodworking can be – though based on my stress levels, that's probably only once you reach a fair level of proficiency.
Saying that, after an hour, I was slightly more adept, could go minutes without coughing an SOS, and was so focused on my chisel action that I was oblivious when the most attractive member of SWWC ambled over for a head scratch.
Okay, you got me. Who could resist the wavy blonde hair and muddy brown eyes of Summer (Isabel and Derek's golden-doodle)? Certainly not me.
And Summer was a fixture, providing a warm and woolly oasis of calm as she snuck around the tables and nudged us with her wet nose.
I could feel my stress seeping away as I stroked her soft ears, and after some one-on-one time, returned to my whittling with renewed vigour and purpose.
This slideshow requires JavaScript.
Scorping
By now, I'd started work on the bowl section of my spoon, however the hollowing action caused my flabby wrist flexors to twinge with every scoop, leading to incessant ows and ouches.
Mark, noticing such subtle signals, lent me a tool called a scorp, 'which might make things a bit easier.' And it did, allowing me to gouge away with gay abandon, whilst causing minimal tendon-tweakage.
At this rate, I'd be finished by lunch. Woohoo!
Obviously, I wasn't. And lunch was a rather fluid affair anyway. Some of my neighbours headed off to Maccy D's but, conscious that I still had a lot to do if I wanted to take home a finished item, I pressed on.
And, conscious of my ongoing healthy eating plan, I didn't even ask them to pick me up a large banana milkshake. (Polishes halo.)
Instead, the lovely Lee brought me another cuppa, and I scorp'ed on, until the SWWC gang got up from their seats, a manoeuvre that sent me into panic mode. Surely to God they weren't leaving me alone whilst in charge of a lethal weapon?
Luckily, no. 'We're only getting our sandwiches.'
And they set their picnic out on the table which meant, not only could I continue with confidence knowing help was immediately available, but I could also watch as Summer circled, finagling the best part of a packet of crisps and several tuna sarnies from her doting fans.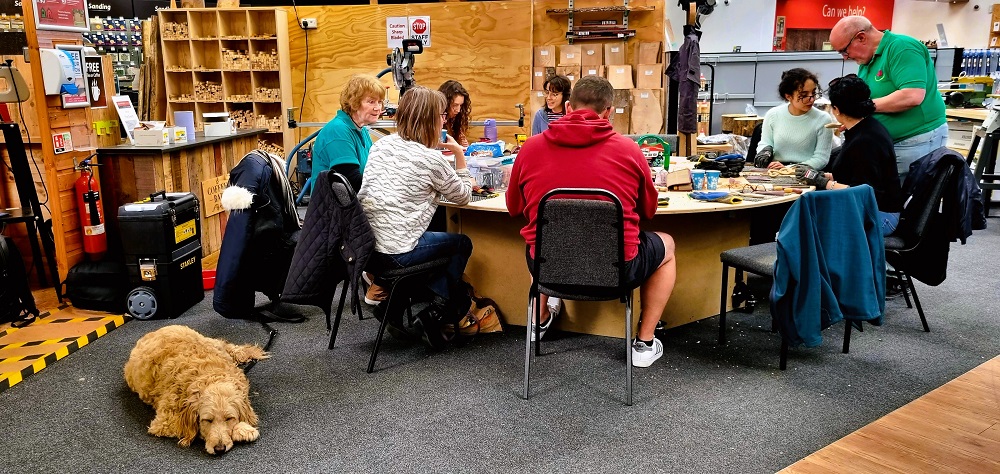 10,000 hours
I did take ten minutes out to give my throbbing thumbs a break and took a closer look at the SWWC items that were on display.
And wow! I mean, how the hell do you carve a cage, with a moveable ball encased within, out of ONE piece of wood?
How does Isabel make those gorgeous leafy bowls? How can Mark – who only started carving last May! – create that beautiful array of pens and spoons?
And how can Derek sculpt such detailed relief carvings? Unsurprisingly, the answer from all three was 'practice.'
So, using that oft quoted figure of 10,000 hours to become an expert at anything, I worked out that, after today, I just had 9,995 hours to go. Sigh.
This slideshow requires JavaScript.
Sanding
By 1pm, I'd finished carving, had a spoon that, to my eye, looked epic, but to Derek's, needed a lot more attention. He passed me over several sheets of sandpaper, told me to start rubbing and I got down to some full-on abrading action.
It's the sanding phase that brings handmade wooden items to life, smoothing away any hewn-imperfections – of which I had many – and giving a splinter-less sheen.
But why five separate sandpapers, when surely one would do? Apparently not.
For that 'professional finish', you need to work your way down the sandpaper scale, starting with the roughest grain before gradually progressing to the finest. What?
I'd thought fifteen minutes of solid sanding meant my spoon was ready for waxing, but it appeared I still had another hour ahead. Argh!
Pyrography
By quarter to three, I was done. My spoon felt like satin, it looked amazing, and I was ready to add polish. But just as I was about to liberally slather a wonderfully aromatic wax into all my nooks and crannies, someone asked about using the pyrograph and my ears pricked up.
Pyrography is the art of decorating wood, or other materials, with burn marks. And Derek said that if any of us wanted to try, he'd show us how to use the machine. Wowzers!
Grabbing my spoon, I was first in the fire-writing queue.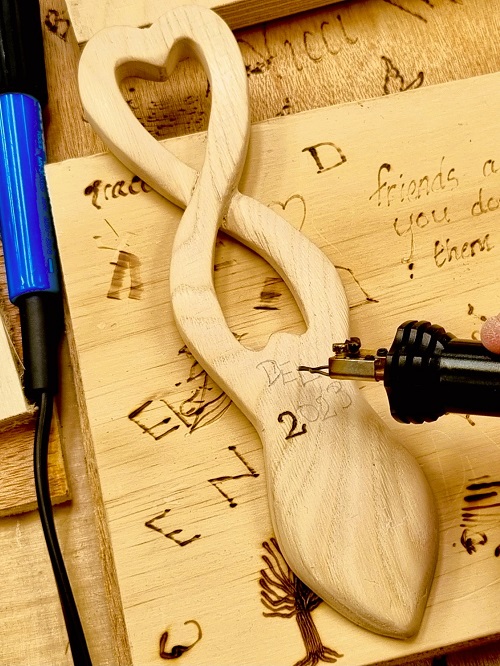 Just right
You'd think that using what is basically a pen would be pretty intuitive, but it's not. Derek demonstrated, then told me to practise on the fire-graffitied wood that littered the table-top.
And I did, for ten minutes or more, but it ultimately came down to weight – pressing too hard gave a lumpy line, too soft meant no line at all. So, like Goldilocks, I was seeking the 'just right.'
I dithered. Did I risk ruining my marvellous creation for some unnecessary decoration? Time was ticking, the queue building, so. . . Gulp. I'm going in.
The outcome was far from perfect, but it wasn't dreadful. In fact, I thought it added to the rustic, naive quality of my piece. (Well, that's the line I'm taking and I'm sticking to it.)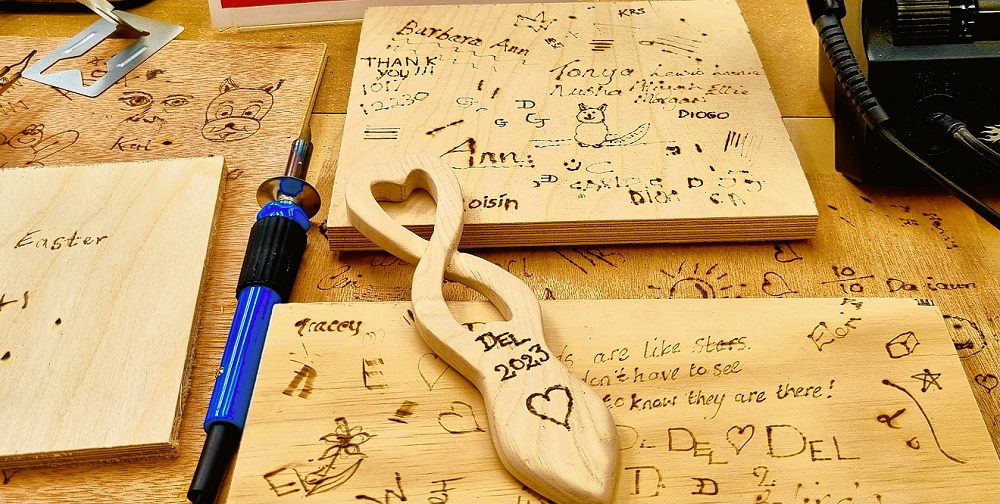 Wax on…
And that just left wax on, wax off – actually, just wax on, because it should be left to 'cure' overnight before buffing. Once well-coated, I washed my greasy hands, wiped the sawdust from my eyes and held the love-spoon out in front of me and. . . it looked incredible!
I was bursting with pride, so much so that I went on a whistle-stop tour of the other carvers, exhorting all and sundry to, 'Stroke my spoon.'
I got a lot of 'wows' which maybe were genuine – or maybe they were simply humouring this strange giddy woman who was childishly delighted with her finished product?
Whatever. I had made something terrific and felt bloody fantastic.
Achievement
Before leaving, I chatted with many of my fellow crafters and heard some quite touching stories. Pete, who had suffered multiple strokes, came along every week 'because it helps me to retain the dexterity in my hands, and I live alone so like the social side of it.'
Adrian, a sufferer of PTSD, found it enabled him to 'switch off and focus on just one thing, and when I do, it keeps other thoughts away.'
And Mike mentioned mindfulness, along with the 'sense of achievement from making beautiful things and sharing that experience with other people.'
Yep Mike, I feel you.
It was clear that Derek and his gang weren't simply teaching woodworking. They were also giving individuals the opportunity to bond over a shared love of wood, and to join a sociable, and incredibly supportive, community of crafters.
It was pretty inspirational stuff.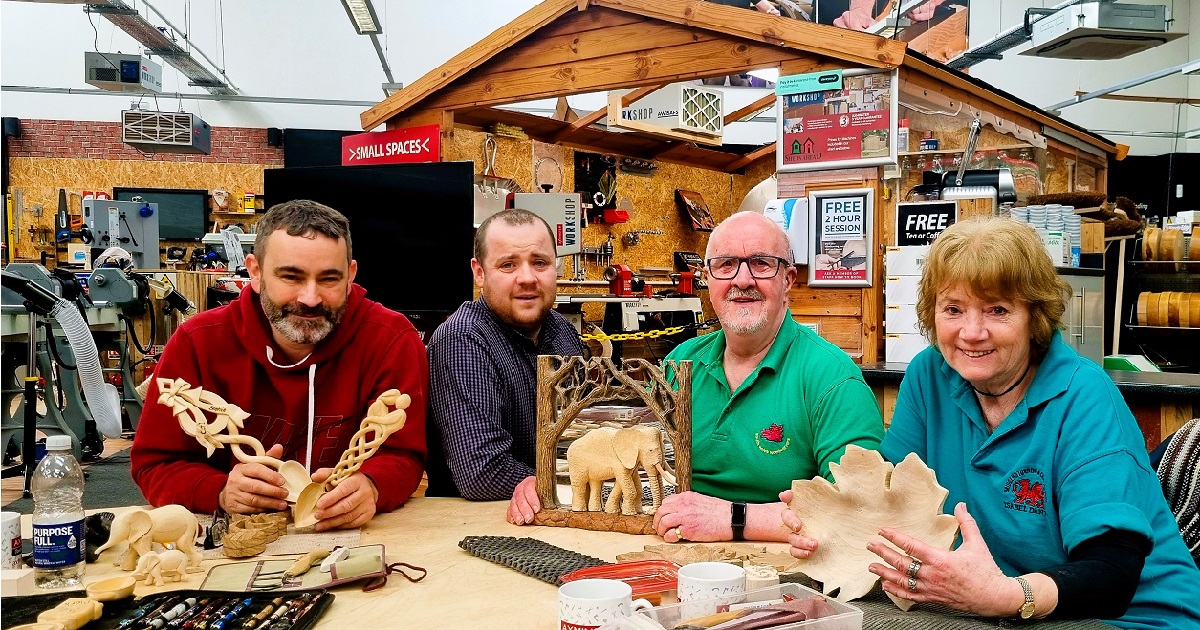 Hounds of love…spoons
Back home, I fussed the pups, prepped Tim for the big reveal and then, with a strident 'Ta-da!', set my spoon carefully on the kitchen table. And, though a man of few words, I could tell by his expression that he was quietly, but genuinely, impressed.
As I went for a sawdust-removal shower, he headed off to the shed to dig out a hammer and nails so we could get it up on the wall asap. (Aw. He can be lush, sometimes.)
However, five short minutes later, I heard a muffled yell, then an ominous silence, and suddenly Tim popped his head around the bathroom door to ask, rather too nonchalantly, if I'd taken any pics of my finished spoon yet?
Uh, no. Not yet. Why? WHY?
You can guess. In those short, unsupervised seconds, our giant giraffe-necked puppies had swiped my precious spoon and enjoyed a great game of chase with Tim, as he attempted unsuccessfully, to wrest it from their destructive jaws.
(It's better if I draw a veil over the subsequent hours but suffice it to say, it's a good job those dogs are sodding cute because I was truly, truly heartbroken. Sob!)
A week on, and I've pretty much got over it, resigning myself to the fact that my spoon is unsalvageable – though Tim's latest idea of sanding down the rough edges and making it into a salad spork, isn't bad.
And being optimistic, I'm looking forward to Derek's pyrography classes, and the next carving workshop, where I'll be fashioning Spoon, v.2, and I'm sure I'll be just as proud of it – but this time, it'll be kept well away from two dogs, who at full stretch have a good six-foot reach. Grr!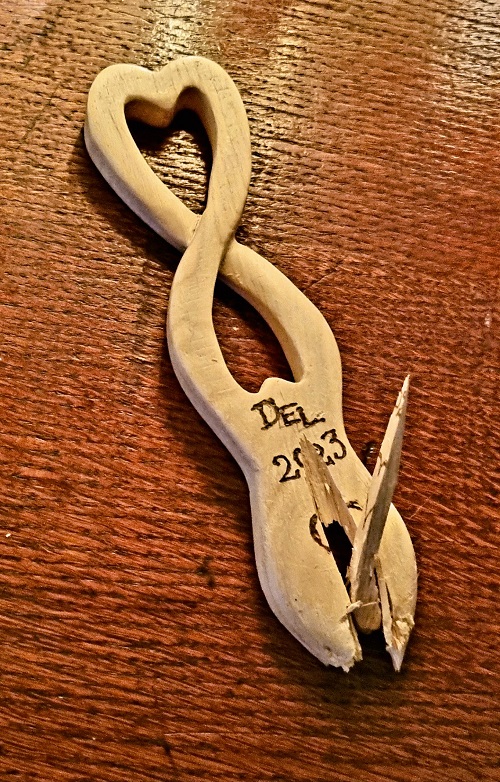 So, whether you're a rookie, an old hand, or anything in between, if you fancy spending some quality time crafting with this skilled and friendly bunch, think about giving woodworking a whirl. As Derek wrote in an email to me:
'Everyone thinks they can't achieve much in the beginning, but if you've got the confidence to have a go and approach it with enthusiasm, that's what counts. Then you just need to stick at it.' (Lol! You can't blame me for that one!)
Derek has been volunteering in Port Talbot's Community Workshops for seventeen years. Now based at Units 10 & 11 Addison Road, details of the courses available can be found on the South Wales Wood Carvers Facebook page or by searching on the Adult Learning Wales website.
SWWC also hold weekly meet ups at Axminster Tools (Cardiff), on Wednesdays from 11 – 3, and anyone is welcome to come along. But if you're sawdust averse and would just like to see their brilliant array of finished products, they'll be exhibiting at the National Botanic Garden of Wales from 7th – 13th August 2023.
And finally, check out the Axminster Tools (Cardiff) website for details of all their upcoming, free, community events.
Catch up on Del's other adventures here or by following her link on this map.
---
Support our Nation today
For the price of a cup of coffee a month you can help us create an independent, not-for-profit, national news service for the people of Wales, by the people of Wales.