Culture
Postcard from the Gower: An intruder in the hen-house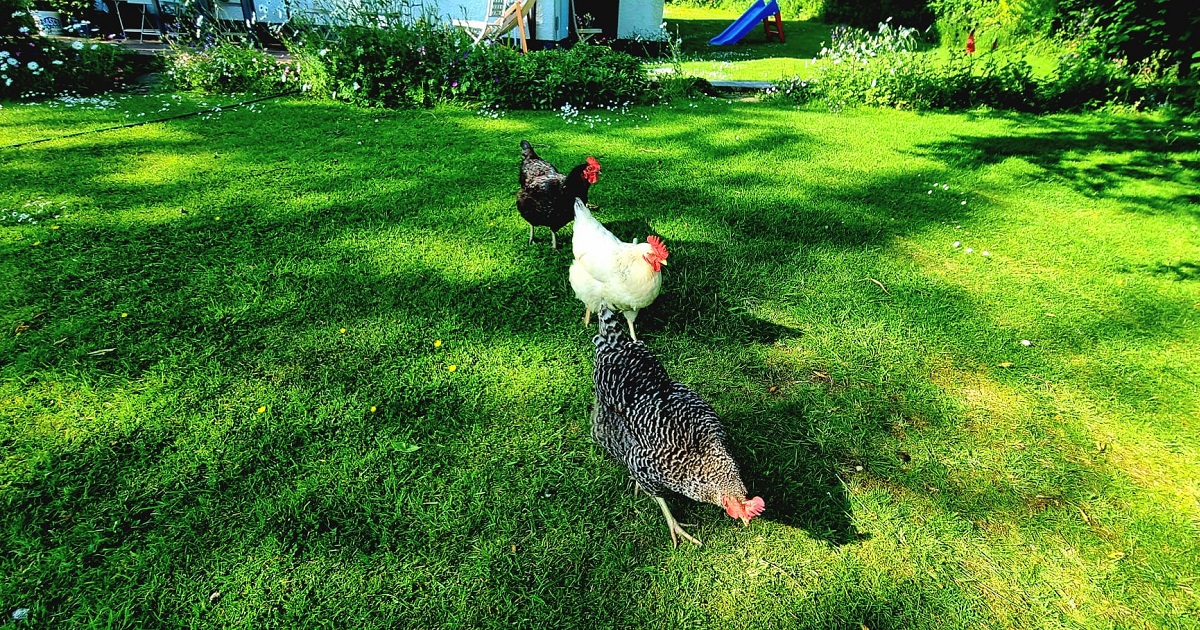 Sarah Morgan Jones
Peggy, Gwen-Du and Blod have hidden their eggs good and proper today. They are remaining inscrutable even though I have hand fed them slivers of cucumber and pears and given them pretty classy names.
I am chicken-sitting in a chocolate box cottage on the Gower, while my former neighbour, who had moved up in the world, and his family jet off to Spain for wind and rain.
There is not a cloud in the sky here, and as I cover myself in Procrastination Factor 50, I can hear the ecstatic welcome as the mother starling returns to her chicks in the eaves, with a beak full of caterpillars.
The swifts complete their repetitive circle and swoop of the landscape, hoovering up any passing wing-born bug to drop into the expectant chorus of tiny beaks nesting in the muddy pods attached to the gable end.
And very occasionally from the garden next door I can hear a pheasant (called Phil, apparently, and he's currently courting) sounding for all the world like a dodgy clutch.
Talking of which, I am rather stranded here as my own clutch gave up the ghost just after I arrived, which involved some freewheeling and a very patient AA man, but it has to be said… there are worse places to be stranded.

Purple haze
I'm not actually sure that the hens appreciate their new names, and they seem to do fine with the rattle of a plate and the holler of 'chickens!' or 'ladies!' in order for them to comically leg it across the garden to see what delights I am giving them this time (walnuts – big thumbs up there).
In just a short time they have come to equate me with food and so follow me around in much the same way as my lurcher does at home.
He would love this garden, but with the hens, the guinea pigs and the hamster which are also part of my brief, and the wandering munching sheep and cows beyond the gate, I fear I would be expecting too much of him and he would fail. Spectacularly.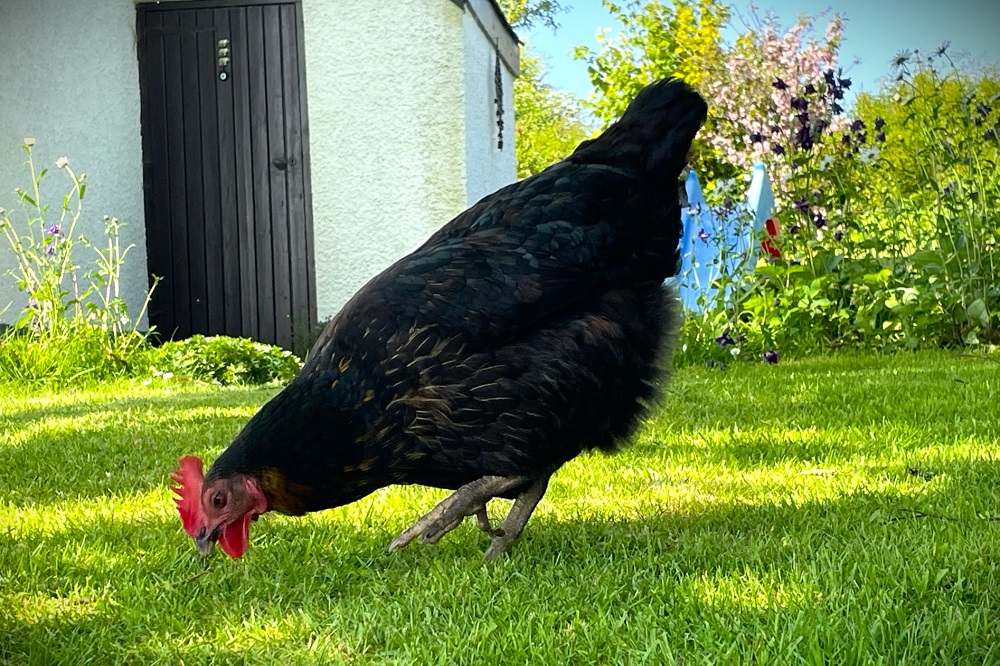 Egg hunt
So here I am. Me and the critters, in an idyllic village, right in the heart of Gower.
My neighbour told me that the hens laid in the morning and would deposit their eggs virtually anywhere among the purple haze of lupins and aquilegia which lined the path from the house to the greenhouse, or beneath the ancient mixed hedges, so I should resign myself to an egg hunt.
Bok-bok
On the first morning, I went down to prop open the greenhouse, bulging with seedlings which had grown too big for their seed-tray boots and were reaching for the freedom of the open garden.
As I passed a towering inferno of clambering roses and clematis and ivy set in the middle of a bed of Yellow Loosestrife (Lysimachia), I noticed a curious sound.
A gentle bok-bok-bokking was coming from deep within, and as I stood there listening, Gwen-Du and Blod dithered around at my feet, preventing me perhaps from interfering with what was going on.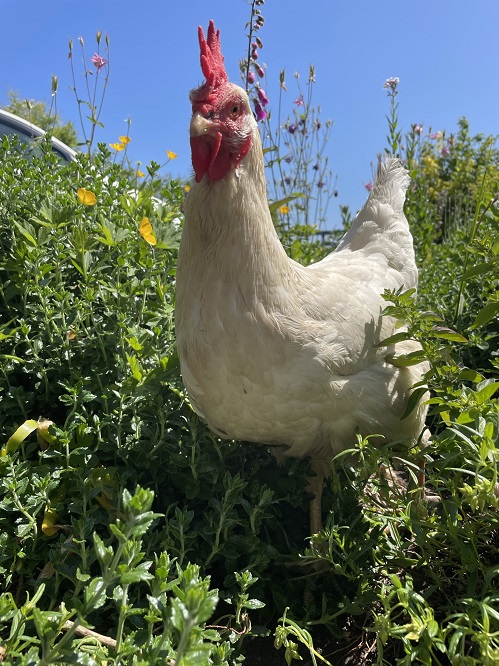 After what seemed like an age – perhaps twenty minutes – Peggy emerged from the undergrowth with a squawk and a flap and charged off up the path looking very pleased with herself.
I waded through the loosestrife and peered in past the thorns of the roses, and there, in a trodden-down nest, was an egg!
Reaching down, I was aware of Blod, who had followed my feet, making disapproving noises and gently attacking my Achilles.
I took the still warm egg and felt triumphantly amazed yet endowed with a new respect for these birds, as the process seemed far from easy.
Performative
Believing I had sussed the process, I spent the next few mornings grabbing my coffee before I set the comical trio free from their house in the advancing dawn.
Following their gleeful sprint off into the garden I tried to keep a close eye on where they headed for their private, considered labours. However, they had other plans.
Marking me out as a novice, they devised a game of relay-decoy egg laying, hiding themselves in different clumps of undergrowth and going through a bok-bokking routine, which under closer inspection proved entirely performative.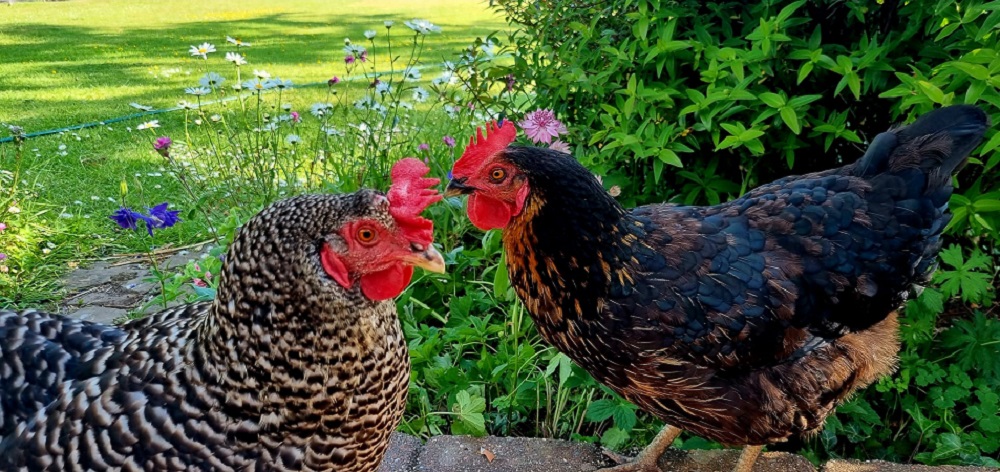 Lumbering intruder
Each day they seemed to permit me just one egg, but only once they had followed me around on my search, laughing amongst themselves at this lumbering intruder.
Their mirth did not extend to malice, however, and they still came to greet me every time I stepped out of the door, with a handful of something yummy for their petulant beaks, and if I lolled on the grass they happily clambered all over me.
And they still enjoyed fluttering up to the kitchen windows and peering at me, while I was hard at work-from-home at the laptop.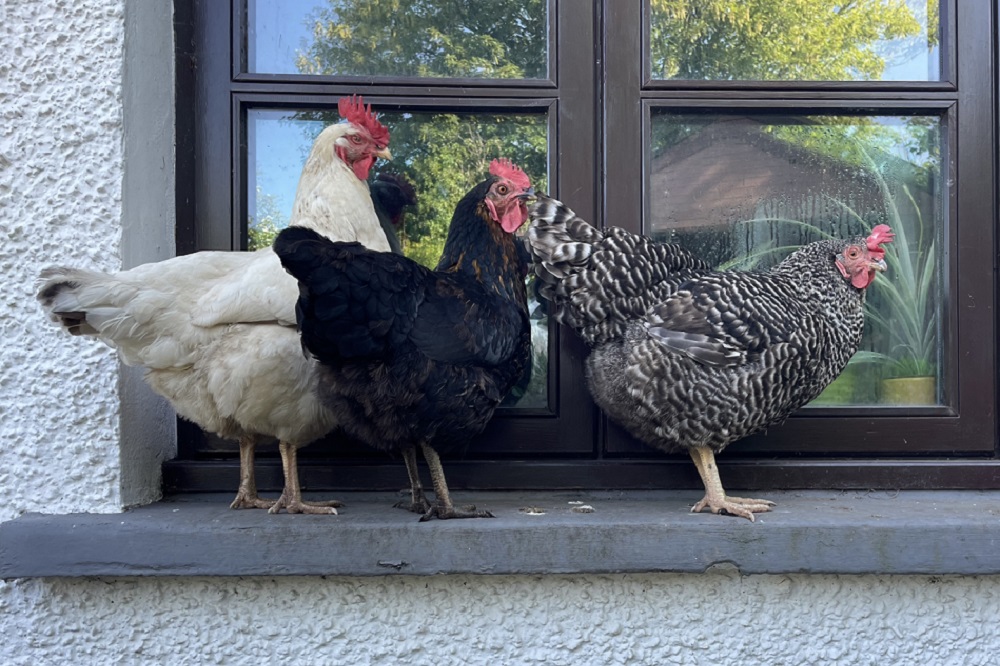 Elusive
As each day came to an end and the temperature slightly dipped, the hens made it clear it was bedtime.
I would follow them up to their hut to top up the food and change the water, which they all oversaw with clucking approval. I had grown to love these funny birds and their fussy ways, so their approval (and the occasional golden egg) was deeply rewarding.
Closing the door on them for the night, I make off around the garden, just one more time, hoping to find their elusive produce, scratching my arms and getting my hair caught in reaching tendrils.
Admitting defeat, with a glass of something cold beneath the clearest starry sky and the expanding moon, I realise that the chicken crossed the road simply as a diversionary tactic and that their apparent simplicity was a ruse.
You can find more of Sarah's garden tales by following her link on this map
---
Support our Nation today
For the price of a cup of coffee a month you can help us create an independent, not-for-profit, national news service for the people of Wales, by the people of Wales.