Culture
Talking pictures: Anthony and Aron Evans' different takes on the Welsh landscape
//= do_shortcode('[in-content-square]')?>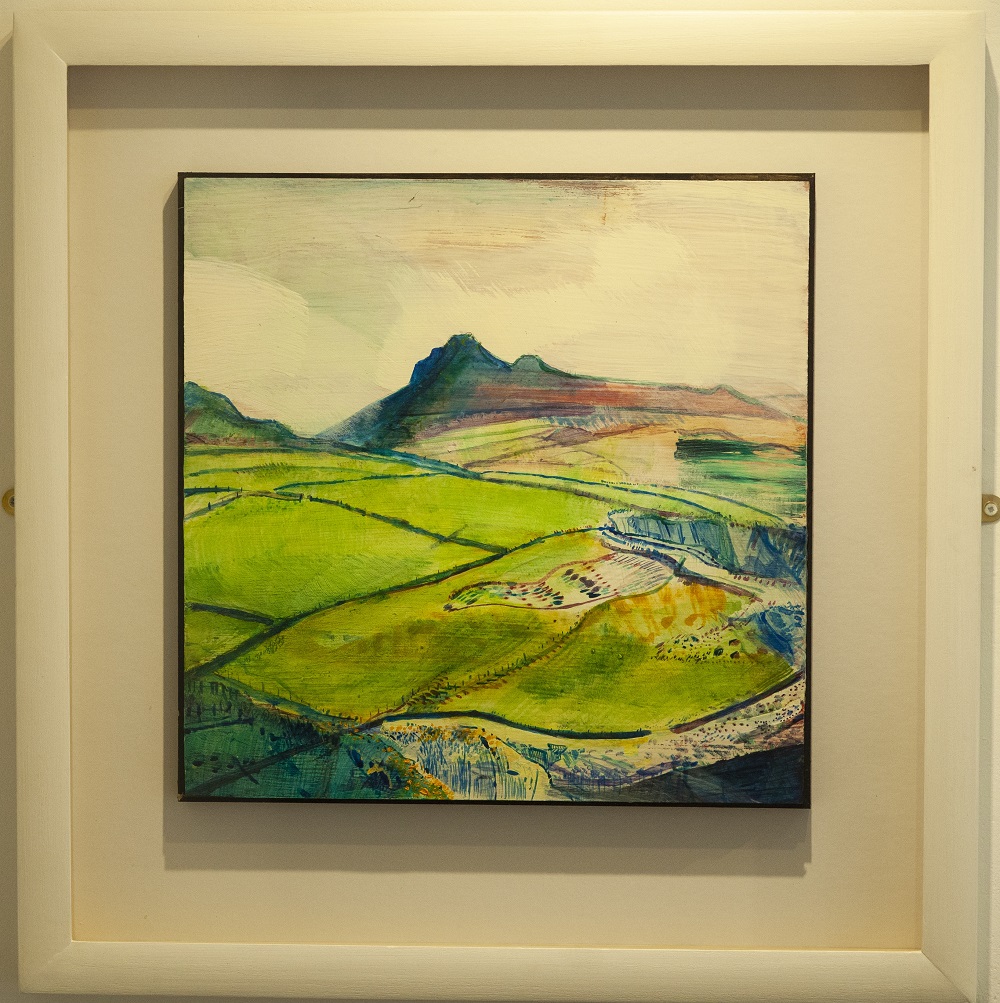 Jon Gower meets father and son Anthony and Aron Evans as they exhibit their work together for the first time.
Anthony and Aron Evans' recent joint show at Cardiff's Oriel Canfas was an opportunity to contrast and compare two very different takes on Welsh landscape.  In choosing Pembrokeshire as his main theme, Aron Evans follows a veritable cavalcade of painters who have set up their canvases here.  Whereas some of those find the marine light part at the edge of the land part of the appeal, Aron sees it slightly differently. He appreciates, rather, the 'fudged, messy sort of light,' referencing the Welsh word 'tarth' or mist, a certain fuzziness that pertains. He's 'also drawn to the idea of Annwn, that kind of netherland, that unseen landscape as well'.
Aron Evans' 'Carn Llidi' (above) is a painting full of vigour, using sweeps of thin line to suggest erosion, land surfaces gouged out by wind and time, clumps of grasses and geological striations on cliff faces.  In painting such a place 'You have to get your head into a kind of Zen-like state.  It's a bit like free jazz in that you have to be free but you have to be tight as well.  I'm trying to approach it in a way that is fresh.'
He draws en plein air and then works from those drawings and from photographs.  'I try and keep the paint as diluted as possible because I want it to be gestural, because you need an element of chaos in the painting, because that reflects the nature of weather and erosion.'
Aron Evans is getting back into painting again after many years as an animator, when, along with Owen Stickler he ran a company called Dinamo, which produced a string of successful series such as 'Rastamouse,' 'Tellytales' and 'Grandpa in My Pocket.'  At its busiest the company employed about ninety people, with clients ranging from the BBC to Disney.  So it's a considerable change to work alone, and also meet the challenge of developing his own visual language.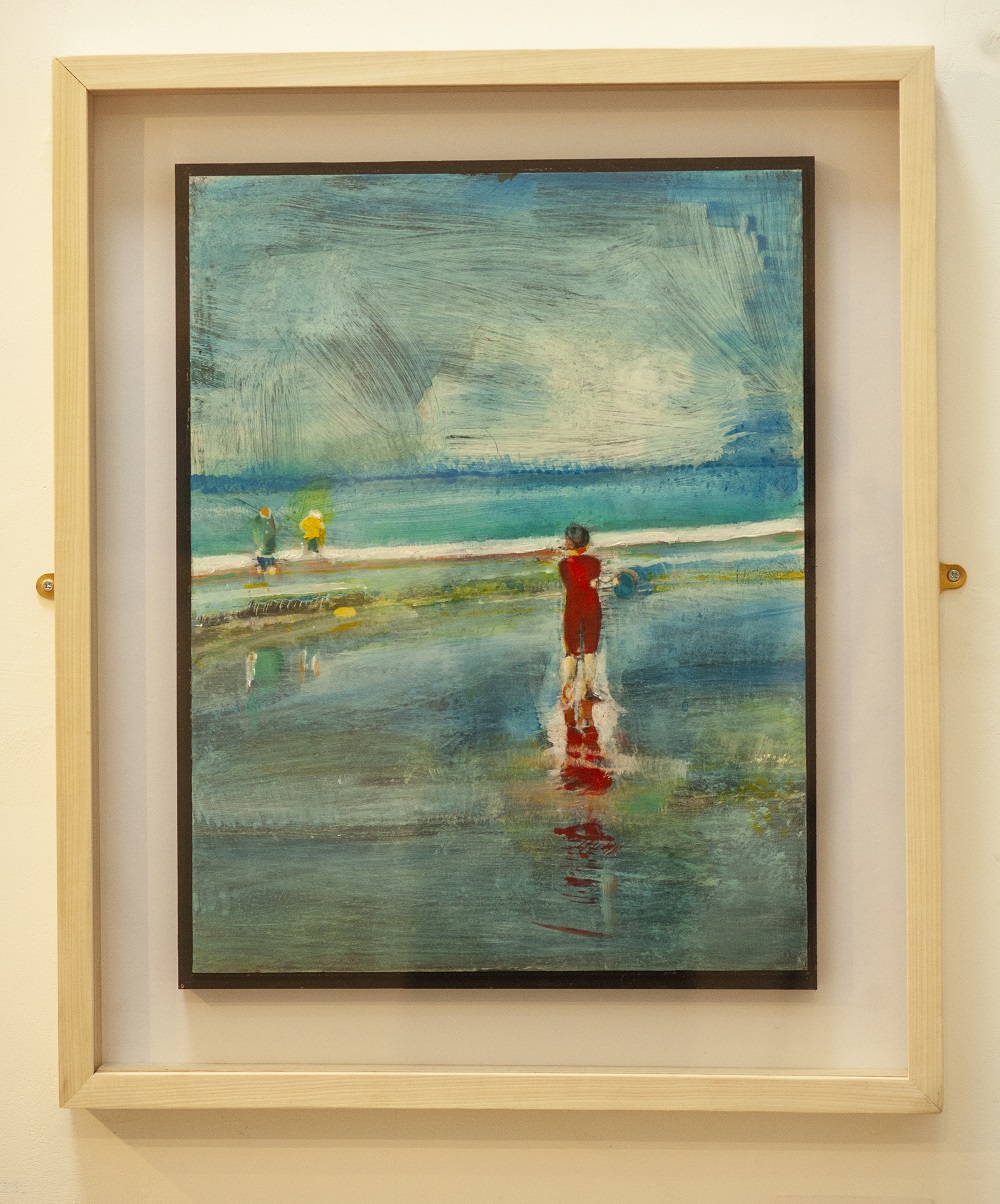 His work called 'Bachgen a Frisbee' is as much about the sky and the randomness of movement as it is about the eponymous boy with toy.  'It could be anywhere,' Evans avers. 'It's up to the viewer to work out what's going on, you don't know what the figures are doing.'  So why the return to paint now?  'Because it is harder but it's also to do with the interaction with the material instead of pixels.'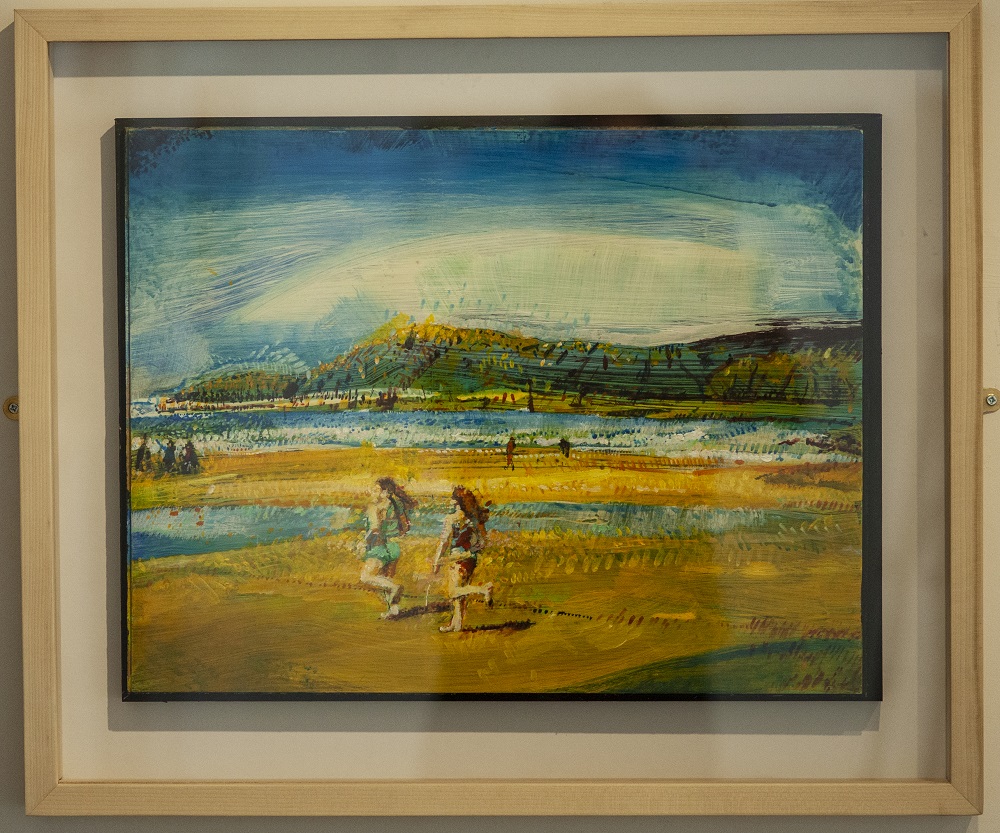 Not only is Aron forsaking animation but he's also using new materials.  'Rhyddid i rhedeg' is a tight acrylic on a background of gesso, which is 'a new material for me to work with which interacts with the paint in a really interesting way.  You can scratch it, you can take things away, you can erode the material itself which therefore reflects the landscape.'
In the painting 'Rhyddid i Rhedeg' the sky is as much of the drama as the figures running across the sand.  Evans suggests that 'For a small work it is elemental and there's an awful lot going on here.  It's to do with sleight of hand as well, in terms of the density of paint.  It's quite free in the way it's applied but it is thought through.  There are accidents in it which I quite enjoy, such as the orange colour on the right-hand side.  It looks like a splash of lichen on a rock.'
Having returned to painting after many years does Aron see connections between his own and his father's work? 'There's bound to be. There are genes involved.  My father has been a professional artist for so many years now it's bound to influence you.  He's created his own visual language and I've taken that in by osmosis really. But my work is very different, I apply paint in a different way.  I'm trying to build a body of my own work at the moment. I've come to a point in my life where I want to do what I want to do.'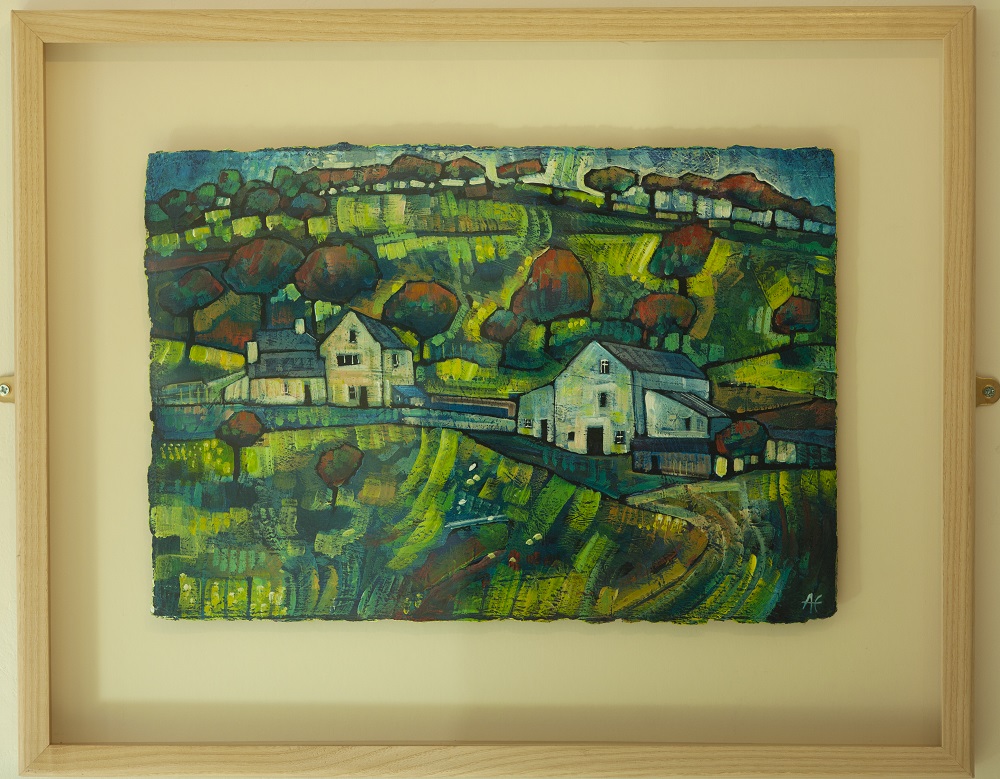 His father's richly textured painting of a farmhouse in Cwmyoy, with its green tapestry of fields and autumnal red lollipop trees evokes a part of Wales the artist loves deeply. 'Cwmyoy and all the adjacent valleys in Monmouthshire intrigue me because they're forgotten landscapes in many ways.'  Meanwhile the eponymous church, 'Eglwys Sant Issui, Patricio' is 'in one of the valleys that adjoin Cwmyoy, one of those mysterious little churches with a rood screen and ancient wall paintings.'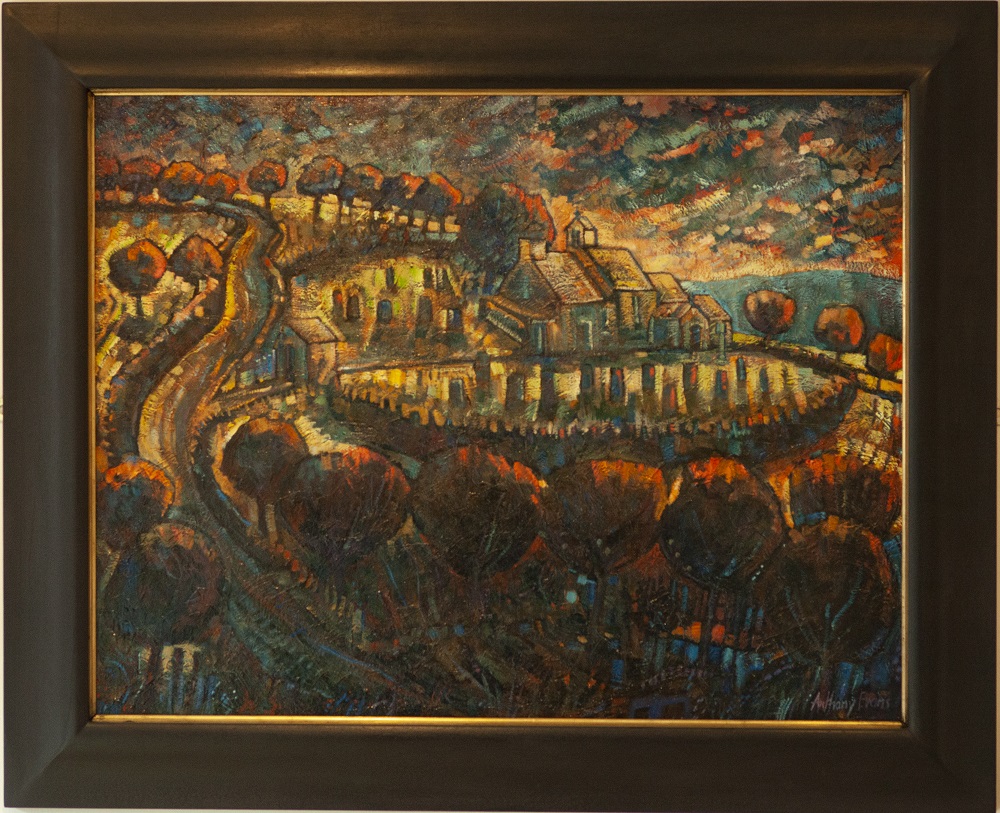 Anthony Evans first read about it in a book by the poet Twm Morys which he himself illustrated for the Gregynog Press. 'From that book I discovered there were more valleys nearby and I just bought an OS map and went walking and driving around the area. I came across Patricio (a.k.a Patrishow) and I've drawn it and painted it half a dozen times.  This time I've gone back to oil painting which is different to the usual process.  I usually work in acrylics and with those you work very, very quickly.  It intrigues me – this combination of the ancient well that's beneath the church, one of the healing wells around which people would tie tokens and hammer nails into the trees – old, pagan practises and then you've got this Christian church.  It really is one of the most beautiful places in Wales.'
Can Anthony see something of himself in his son's work: has something leached through?  'Probably it's to do with drawing.  I think Aron and I are of the same mind when it comes to composition.  If it doesn't work as a drawing it'll never work as a painting. I think Aron has the same belief.  You can see from his work that drawing and composition and balance are very, very important.  It's something I believe very strongly too…drawing is the probity of art.'