News
Audio: All the speeches from Saturday's independence march in Merthyr
//= do_shortcode('[in-content-square]')?>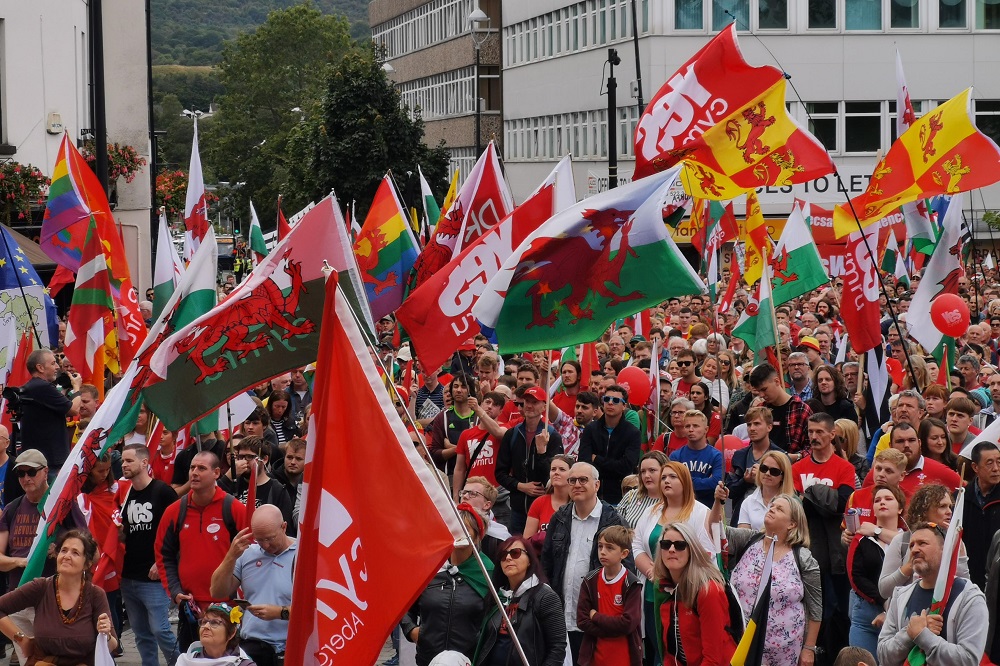 Mark Mansfield
Just over 5000 people attended the latest march for independence organised by YesCymru and AUOB Cymru in Merthyr on Saturday afternoon.
As crowds started to build from mid morning one of the organisers told me they would be happy with three thousand, matching the turnout in Cardiff for the first march in May. In the end it comfortably exceeded that, one local said it was the biggest crowd he'd ever seen in Penderyn Square including for the annual Merthyr Rising Festival.
There was a strong sporting theme among the speakers as former rugby and football internationals Eddie Butler and Neville Southall addressed the throng, along with Plaid AM Delyth Jewell, writer Catrin Dafydd, poets Mike Jenkins and Patrick Jones and Scottish academic Ian Black. Merthyr musicians and sisters Kizzy and Eädyth Crawford provided a musical finale.


Butler, a former captain of the Welsh rugby team drew loud applause as he reflected on his playing days: "I have sat in rugby changing rooms about to go out and play England and we raise a spirit of defiance for this one game above all.
"To beat England. For taking without giving back. For there not being one trace of Wales, not the tip of a dragon, on the flag of their union.
"Oh to beat England!
"And I have been amazed that this spirit of defiance has been confined to the sports field. Amazed and dismayed.
"We could barely bring ourselves to vote in favour of assuming authority for certain aspects of our lives.
"Devolution is no revolution.
"We are distinct but we have not  been very defiant."
Turning his attention to the current political crisis at Westminster he observed: "Out of Westminster, as it will be after all of the convulsions and contortions, what good will be coming the way of Wales? No good. Out of Westminster nothing good will come for Wales.
"Oh there may be some crumbs to take the edge off our defiance but what real good? No good. Nothing.
"But nothing is good. Nothing is a blank canvas.
"Every small nation that has cast itself free of a neighbour, however mighty, has begun with a blank canvas. Holland from the empire of Spain at its grandest, Finland from the empires of Sweden and Russia, Estonia, Lithuania, Latvia, Belgium, Denmark and above all the Irish Free State.
"They all began with a blank canvas."
Southall – the former Everton and Wales goalkeeper – opened his speech by blasting Prime Minister Boris Johnson, describing him as a homophobic, racist, sexist idiot. He called for a future Wales "that looks after the lowest of the low. We need to take everybody and treat them equally. There should be no class system in Wales. Everybody should be the same."
Reflecting on the growing national movement in Wales he added: "It's growing because the world is changing and the world is changing to a smaller place and a more insular place and Wales needs to stand up and be counted."
Calling for an economic revival and a change to the education system and NHS, Southall concluded: "We need to put the heart back in Wales and the roar back in the dragon."
Plaid Cymru AM Delyth Jewell said: "I grew up in these valleys and ever since I was a teenager I knew that one day Wales would be an independent nation. But the events of recent years, months and even weeks have lead to this growing, rumbling, crescendo of realisation that that time has to be now."