News
'Not seen anything like it elsewhere in the UK': Nextbike pulls scheme from Cardiff as vandalism and theft rises
//= do_shortcode('[in-content-square]')?>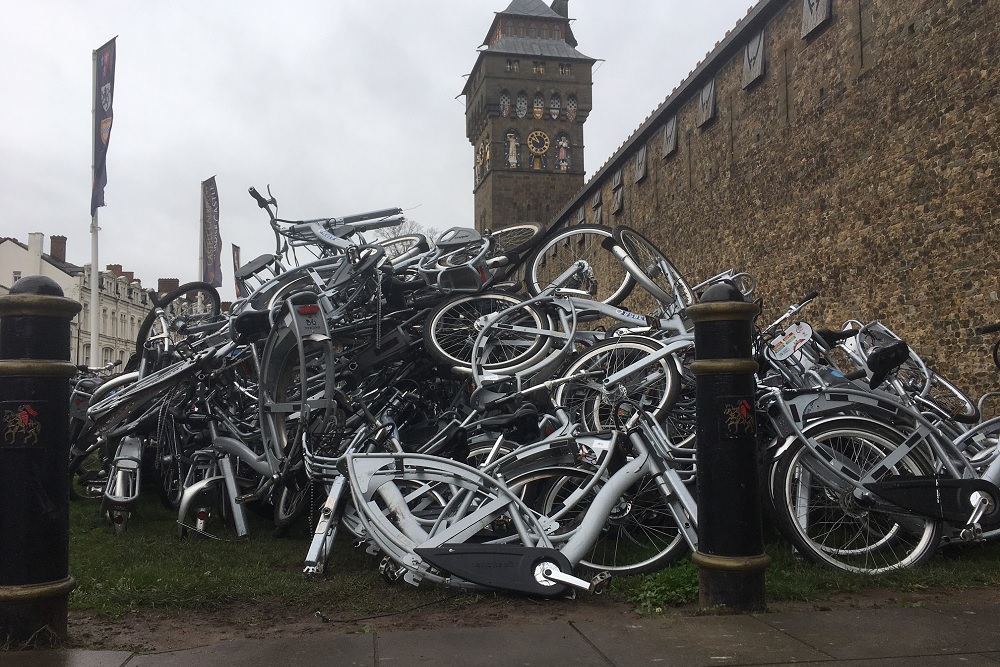 Bike share operator Nextbike have said that they are temporarily removing their OVO Bikes schemes from the streets of Cardiff and the Vale of Glamorgan after experiencing months of "staggering" vandalism, thefts and threats.
Krysia Solheim, Nextbike UK Managing Director, they had not seen anything like it elsewhere in the UK and that employees had been urinated on and chased by someone with a shovel when trying to recover a bike.
Nextbike said that more than 300 bikes have been stolen – with 130 of those being taken since August this year. 260 bikes have also been scrapped because of damage caused by vandalism, ranging from bikes being set on fire or snapped in half, to being dumped into rivers.
This represents over half of the Cardiff fleet of 1,030 pedal bikes. Nextbike said they had been working closely with Cardiff Council and South Wales Police in an attempt to solve the problem but to no avail.
The Cardiff and Vale of Glamorgan schemes will be suspended from November 15th. Nextbike plans to introduce the fleet early in the new year but warned that the schemes could be permanently closed down if the situation does not improve. They added that they had to hire a private investigation firm to help the situation.
Director Krysia Solheim said if the crime rate continued after relaunch, they would have no option but to permanently close the schemes.
"The amount of vandalism and theft that we have seen is simply staggering and not something we've experienced to the same extent anywhere else in the UK," she said. "Our teams simply cannot keep up with the level of damage and theft being carried out.
"We are temporarily removing bikes while we repair those that can be repaired and investigate what safeguards are in place around our bike stations – for example CCTV and street lighting – and how this can be improved.
"We will be readjusting the network to move stations to safer areas where needed. We will also be providing our staff with body cameras for their own protection.
"It's a very small minority causing most of the damage. We've identified the groups responsible and are working with the police and local authorities to engage with them to deter such behaviour in the future. The private investigation firm we recently tasked with monitoring our bike docks in the Cardiff area, successfully recovered 16 lost/stolen bikes over a two-day period. They were shocked by the behaviours they witnessed.
"The team is made up of local people who live and work in Cardiff and Vale. It is totally unacceptable that they should be treated in this way. Our schemes employ 17 local people – that's 17 people who will be out of a job if we're forced to withdraw the schemes. This cannot be allowed to happen."

'Minority'
Nextbike launched its Cardiff fleet in 2018 and a Vale of Glamorgan 2020, the scheme has attracted almost 136,000 customers who have clocked up more than 1.2 million rentals across the city.
In that time, riders have covered 3 million km – meaning the scheme has prevented 351 tonnes of carbon from entering the atmosphere – which is the equivalent of planting almost 16,000 trees.
"Our schemes help to reduce congestion and CO2 emissions, so it's especially heartbreaking to be doing this during COP26, when the eyes of the world are on the UK as leaders look to agree on climate change solutions," Krysia Solheim said.
Inspector Darren Grady, from South Wales Police, said: "Nextbike is an excellent facility which allows residents and visitors to travel around Cardiff and the Vale of Glamorgan in a convenient and environmentally-friendly manner."
"The minority who steal or vandalise these bikes ruin the facility for others and we are committed to working with nextbike and the local authority to continue clamping down on this mindless behaviour."
"Abuse of nextbike employees, theft and vandalism will not be tolerated and our Neighbourhood Policing Teams are extremely proactive in arresting those responsible."
"In the city centre alone, nine people have recently been convicted at court for such offences resulting in prison sentences, fines and community work."
"We look forward to seeing the bikes back on the streets soon and we appeal to the community to help protect the scheme when it returns."
Cllr Caro Wild, Cabinet Member for Strategic Planning and Transport at Cardiff Council, said: "This mindless vandalism has to stop and we will be working closely with nextbike and the police to ensure that when the bikes do return in the New Year, additional safeguards are put in place to catch the small number of people that are putting the scheme is jeopardy."
"It is completely unacceptable for a small number of people to take these bikes away from other residents in the city. These bikes are really important for many people in Cardiff to get to work, go to the shops, or visit family and friends."
Cllr Peter King, Vale of Glamorgan Council Cabinet Member for Neighbourhood Services and Transport, said: "Active travel forms an important part of the Council's approach to reducing carbon emissions following the climate emergency we declared in 2019."
"The bikes are simple to use and their modest tariffs compare favourably with the cost of travelling by car, bus or train."
"They can help improve the health and wellbeing of visitors and residents so we hope to see them back on the streets soon."