News
The communities replanting apple orchards in Wales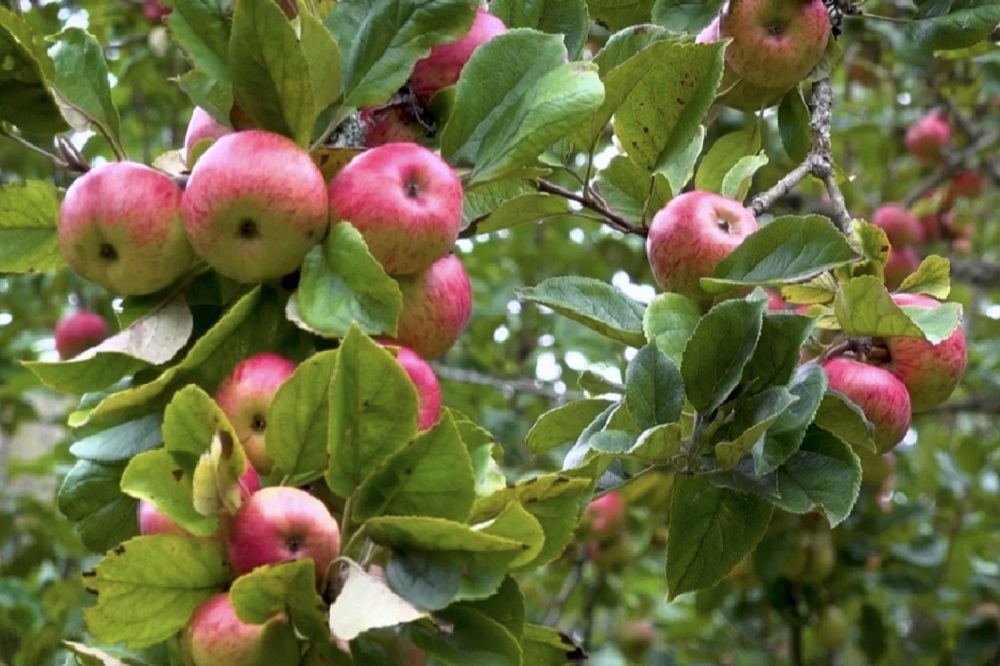 Sarah Morgan Jones
The humble apple, which if consumed daily is credited for keeping the doctor away, is nothing if not versatile. It offers us ciders and schnapps, sweet and comforting puddings and cakes as well as perfect pairings for sharp cheeses and savoury salads or sauces for meats.
Plucked straight from the tree or the fruit bowl, they're just a straight-up crunchy self-contained snack with no waste or preparation involved other than a rub on the sleeve to make it shine.
Approaching Halloween, the apple year is about to enter its few dark months of dormancy. The fruit has just about all been harvested, stored and preserved, or gobbled up if it is ripe and not likely to last very long, or left on the ground as windfallen delights for blackbirds and hedgehogs alike.
When I was small, I remember Halloween being very apple based, when activities like bobbing apples, apple-on-a-string accompanied treats such as toffee apples and baked apples.
Indeed, the apple has long represented a harvest offering to the gods, a sign of fertility and abundance, a way for young people to find a love match, a symbol of irresistible temptation and sensuality, a symbol of good luck…you name it.
The winter months are not idle for the apple grower, however, as this is the time, on the whole, when the trees benefit from pruning and mulching, while grafting – the process of binding the apple variety you want onto a root stock that suits the soil and land – takes place.
As when the darkest days of winter are stretching away, so traditions of wassailing – to wake up the trees, chase off bad spirits and encourage a good harvest for the following year – keep the orchardeer busy and in good company in the new year.

According to the mighty Encyclopaedia of Wales, completed in 2008, the rarest apples in the world in the year 2000 were found on Ynys Enlli, Bardsey Island.
Listed under 'plants of particular significance', afal Enlli, the Bardsey apple, was discovered on the millennium, 'a hardy survivor from a monastic orchard species'.
By the time the labour of the encyclopaedia was over, the species was commercially available and listed alongside other beautifully named bedfellows such as cawr y berllan (orchard giant), bysedd Mair (Mary's fingers), pig yr gŵydd (goose's beak) and the twll tin gŵydd (goose's arse).
In an article for Nation.Cymru in 2018, Carwyn Graves says: "In Wales, the earliest direct mention of apples comes in our myths (Mabinogi) and in the laws of Hywel Dda, where an apple tree is declared to have the same value as 60 lambs or 15 pigs!" and he describes ancient rural orchards throughout Wales.
In an orchard in his not-massive city garden, author Jon Gower tells me he has planted fruit trees in positions which create a microcosmic map of Wales – for example, the afal Enlli was planted in the north-west spot, next to his neighbour's wall, and the Denbigh plum in the northerly spot.
He created a low-key partnership with his local deli, Ffloc, for small batch apple juice made from his windfalls.
In recent years, an urban orchard movement has taken root across cities and towns headed up by organisations such as The Orchard Project which describes itself as the only national charity 'dedicated to the creation, restoration and celebration of community orchards.'
The collective aim is to enable everyone in a city to be within easy reach of a thriving community orchard.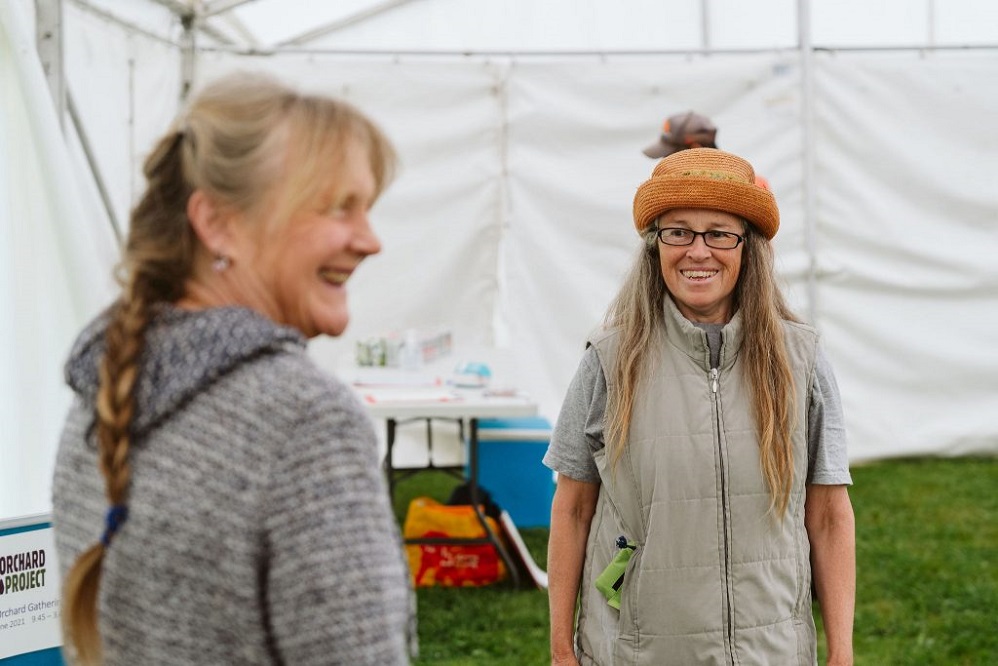 The seeds of the Swansea and Neath Port Talbot branch of the project were planted before the global pandemic and the managers of the project, Kate and Witchhazel were interviewed and employed via Zoom in the heart of the lockdown.
Since their arrival they have supported the ongoing care and restoration of existing orchards and the establishment of new ones in pockets of urban greenspace around the Swansea and Neath Port Talbot areas in Margam and Cwmafan.
They connect people via an orchard mentoring scheme and enable training sessions on planting, grafting, pruning and juicing and programme outreach work with schools and young people to nurture cross generational interest.
In the last week they have held an apple day at Margam Park, pressing and juicing apples from an orchard they are helping to sustain there. Events aimed at drawing the community into the orchards go on throughout the year.
At the end of August, they held an orchard day in Swansea, with local participants and members of 18 different groups from around the UK, meeting to walk between five of the 30+ community projects which now exist on their patch.
At each park the lead volunteer talked us through the variety of apple trees and accompanying nut and soft fruit trees which had been chosen to complement each other.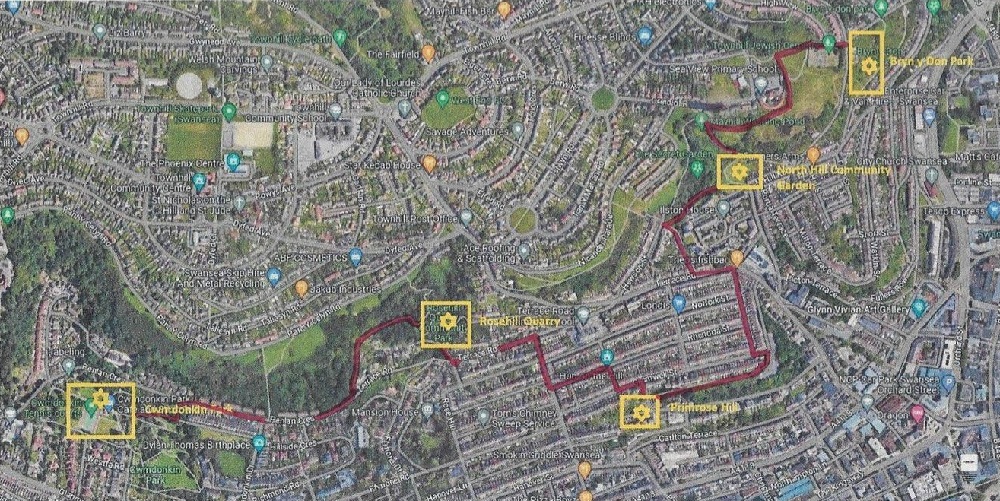 Each of the sites visited on the walk are on the side of the hill facing south-ish and benefit from water sources higher up flowing through them meaning they should flourish without too much intervention.
The first three sites had been play parks which repeatedly fell victim to vandalism of play equipment, fly tipping and anti-social behaviour, making them no go areas for most.
Since being claimed by their local communities for fruit and food growing, not only have they become focal points for people of all ages and backgrounds, but they have also become diverse habitats and a corridor for wildlife and pollinators.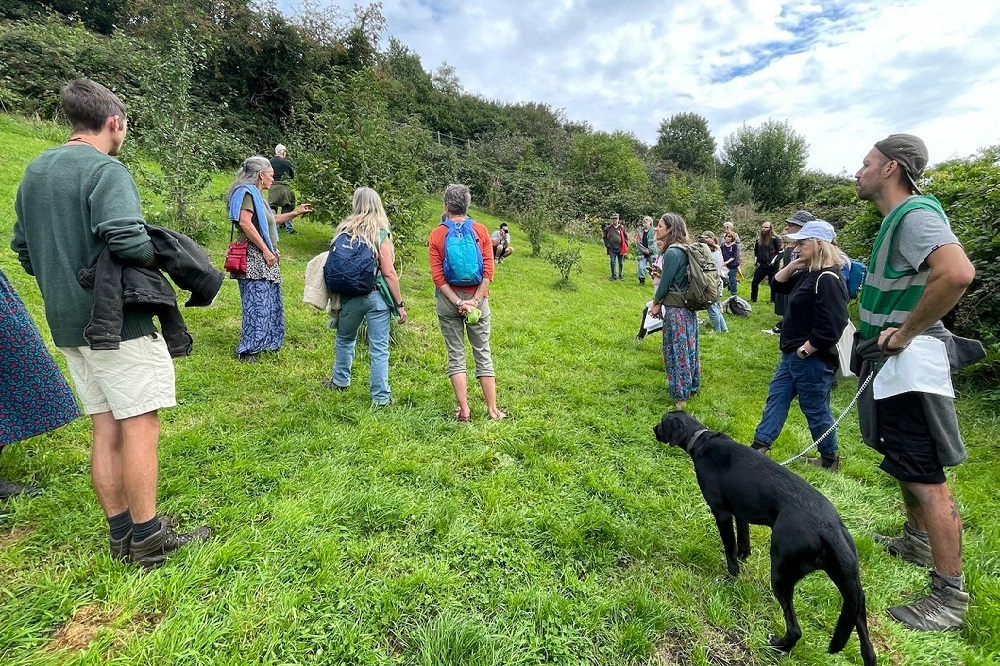 The trail, on a hot sunny day, took us from Bryn y Don park on the edge of Mayhill and North Hill, through the North Hill community garden which has beds of herbs and vegetables as well as the orchard, down to a tiny patch of land in Mount Pleasant called Primrose Hill.
Bryn-y-Don is the home of half a dozen trees which, under the watchful eye of volunteers like Tai Chi teacher, Steve, has been patiently reclaimed and cared for over many years.
In 2014, visionary councillor and arts champion, the late Sybil Crouch over saw the installation of a 'star path' through the park which absorbs light through the day and glows in the dark.
At North Hill, Emma, a forest school practitioner and outdoor teaching assistant, told us that just above the green space which sits next to an old drover's road, is the ancient washing pond which has never (so far) run dry and has been a community focal point for centuries.
Witchhazel explained that the varieties at North Hill included a Swansea apple which was bred to withstand the wet Welsh climate and the curious medlar apple which was planted in memory of local resident Bob Cotterall, a keen ecologist, gardener and all-round character. I think he would have approved.
It looks unlike any other apple and requires a process of bletting – where they are stored to over-ripen allowing the development of sugars to reduce natural acids – to come into its own.
Other trees on the site include two Bardsey apples, a Queen Cox, a Worcester Pearmain and a Mother apple, with the aim of mixing Welsh heritage breeds with those from further afield to increase diversity and resilience in the collection for now and the future.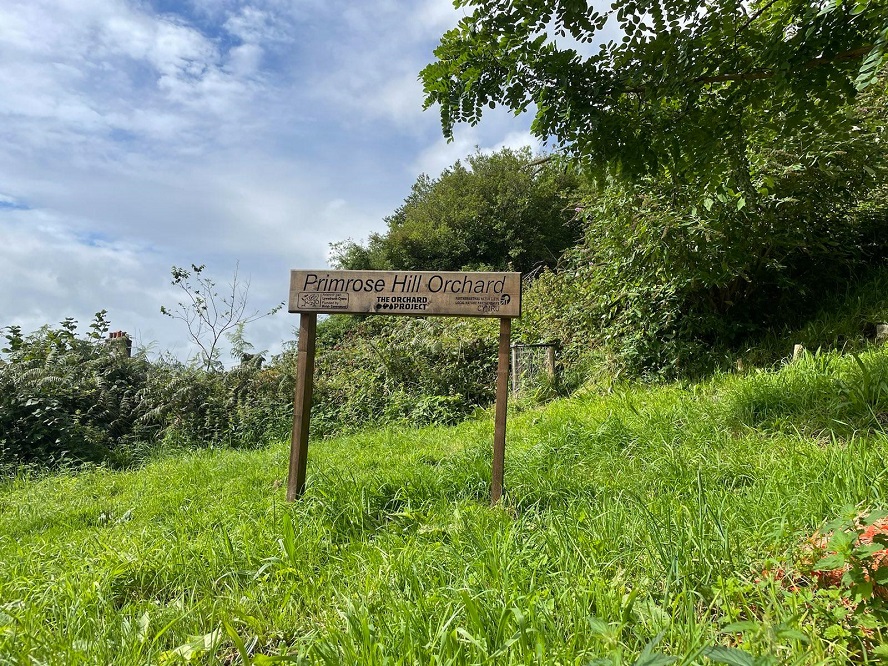 At Primrose Hill, the lead volunteer explained how working on this patch gave local residents the chance to work 'together apart' during lockdown.
They would gather on a Sunday morning and work on their respective patches enjoying the companionship and outside working within prevailing restrictions, proving a great comfort to many.
They had fundraised for new surfaces and benches and, along with some potato and raspberry patches, they planted a diverse range of fruit trees.
They included species such as Cariad cherries, figs, a Denbigh plum, a Cox Cymraeg which had been developed to cope with Welsh weather, and the Channel beauty which hailed from the Mumbles area. They also planted but lost an ancient variety which comes from and still grows in St Dogmaels, the pig aderyn.
Witchhazel said of the plot "this space is a true representation of the people who work here", describing it as dynamic and lively, where once was a desolate place.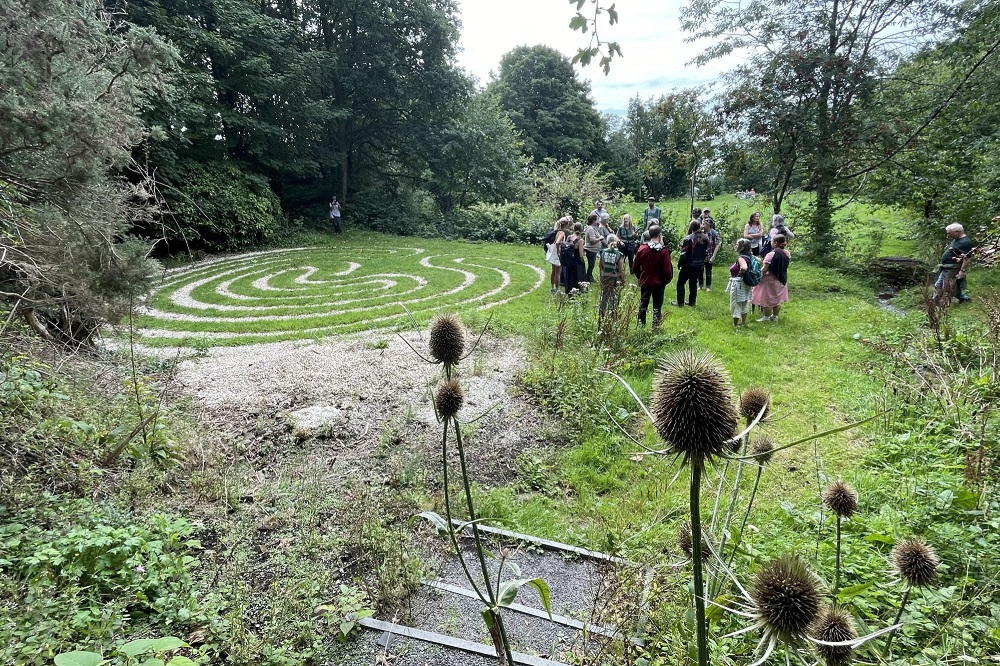 We then went back up the hill a little to Rosehill Quarry which is a place of two halves. The old quarry basin itself, which once provided all the building stone for the area, has been closed off due to a serious rock fall and while plans to reinstate it are afoot, nature is busy doing its thing away from human eyes.
In the other half, the tennis courts of old have disappeared beneath the grassy field and the installation of a cockle shell labyrinth and picnic tables alongside a natural spring made it the after school go-to when my own children were small.
Thriving in the natural bowl of the landscape an edible hedge is in progress with wild plums and damsons and apple varieties Red Windsor and Pink Scarlet sit among raspberries and willow colonies.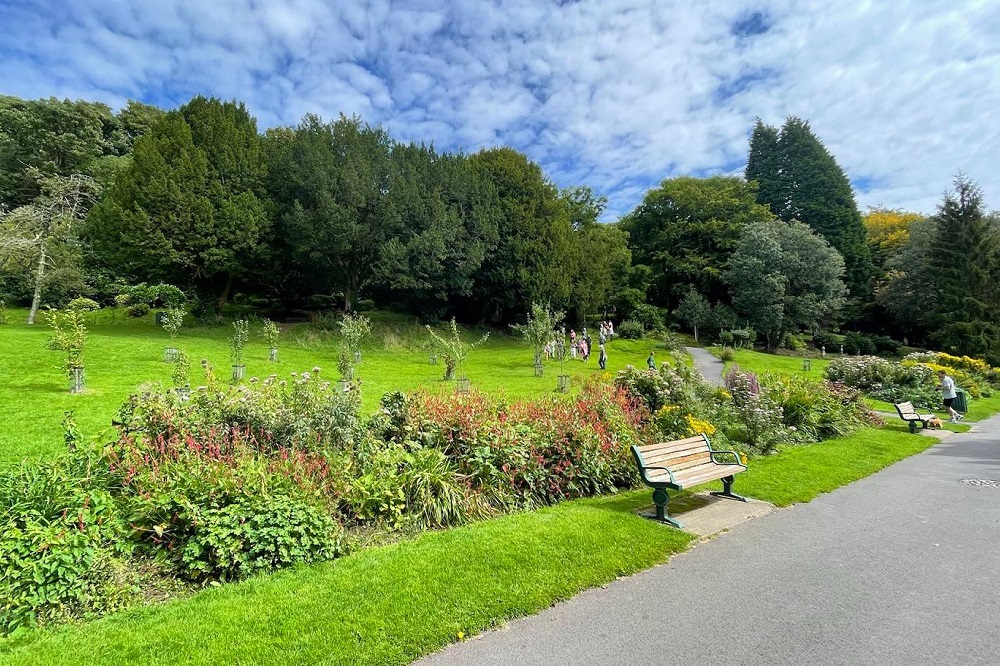 The final destination on this day to celebrate the end of three-year project funding by Moondance, was Cwmdonkin Park, childhood playground of Dylan Thomas who lived nearby, and is certainly one of the jewels of Swansea's parks.
Head of the friends of Cwmdonkin, Hedley Austin, gave a very moving introduction to the orchard, paying tribute to Alan Dobson whose vision got the project going and who died last year.
A huge roundel from a yew tree in the park, saved by Alan years before, had been engraved with the words Swansea City of Sanctuary Orchard.
The roll call of varieties here included the Cox's orange pippin, Machan, Cariad cherries, pig yr de and pig aderyn apples, Victoria and Denbigh plums, hazelnut and sweet chestnut – the last of which were grown by Coeden Fach from sweet chestnuts found in the park and then returned as saplings to the home of their ancestors.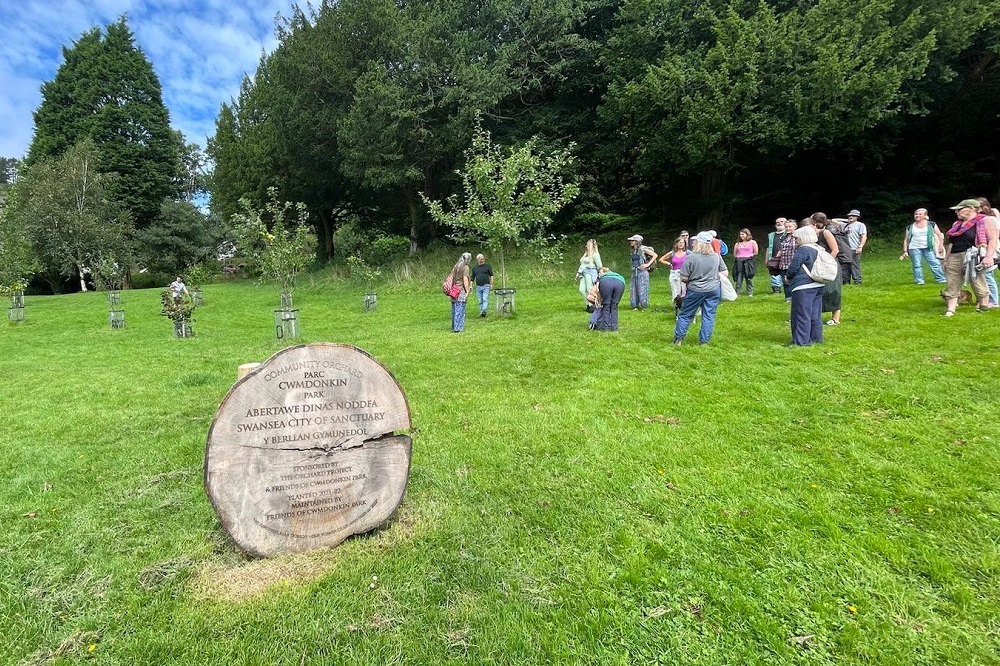 Other areas within walking distance of both my own home and this wildlife corridor include the Three-Cornered Field in Tycoch and a young orchard planted on the Ganges field, a favourite dog walking area and beautiful greenspace in the heart of Townhill.
These spaces are old plots with a history – the three-cornered field was once grazing land for the cows who supplied the Tycoch dairy and still in use by the cows until 1940. Further up the hill, the Ganges was bequeathed in perpetuity to the people of the area for recreational use.
However, any green space, no matter how large or small, which is not a designated park is potential real estate. Planting an orchard on the land – which can be as few as five trees – makes it harder for the development spotlight to shine on vacancies in built up areas.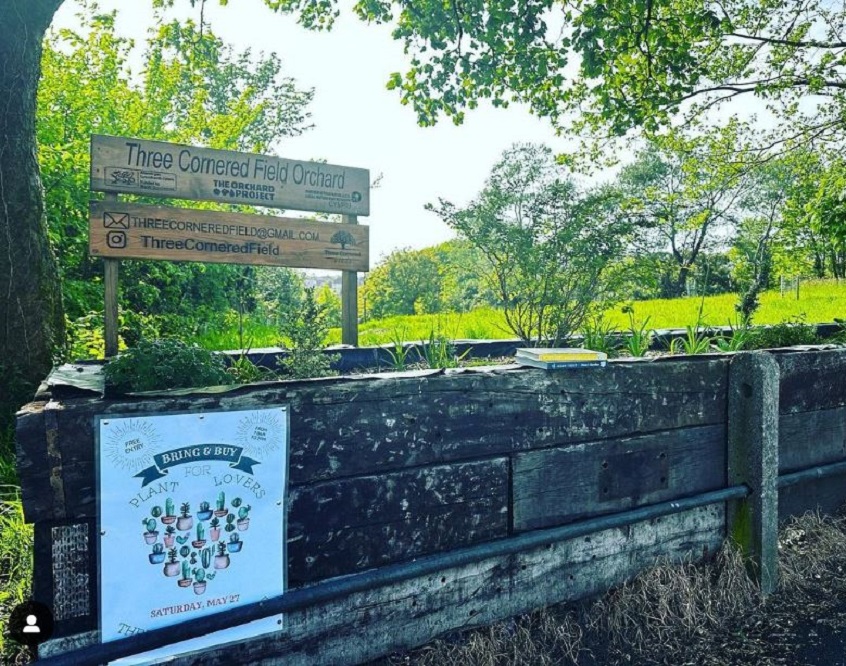 As the orchard tour drew to a close, the representatives of nearly 20 orchard groups gathered in a marquee to eat a boxed lunch prepared by Shared Plate and network with their fellow orchardeers.
Later they would break off into workshops about medicinal plants and and plant guilds, which kept everyone engaged despite the high afternoon sun and the after-effects of a morning walk.
Sitting among these proud and knowledgeable people who exchange their skills and ideas to keep their public green spaces in public hands, it seems clear that apples and orchards not only feed people and wildlife, but they connect us to each other and to the seasons.
The words of Hedley Austin rang clear and true: "It's not just about the trees, it's not just about the wildlife – it's about the community."
To find out more about the Orchard Project visit their website or their Facebook group Hwb Perllan Abertawe/Swansea Orchard Hub.
---
Support our Nation today
For the price of a cup of coffee a month you can help us create an independent, not-for-profit, national news service for the people of Wales, by the people of Wales.