News
Use of Union Jack in Wales can be 'counterproductive', says former Plaid leader
//= do_shortcode('[in-content-square]')?>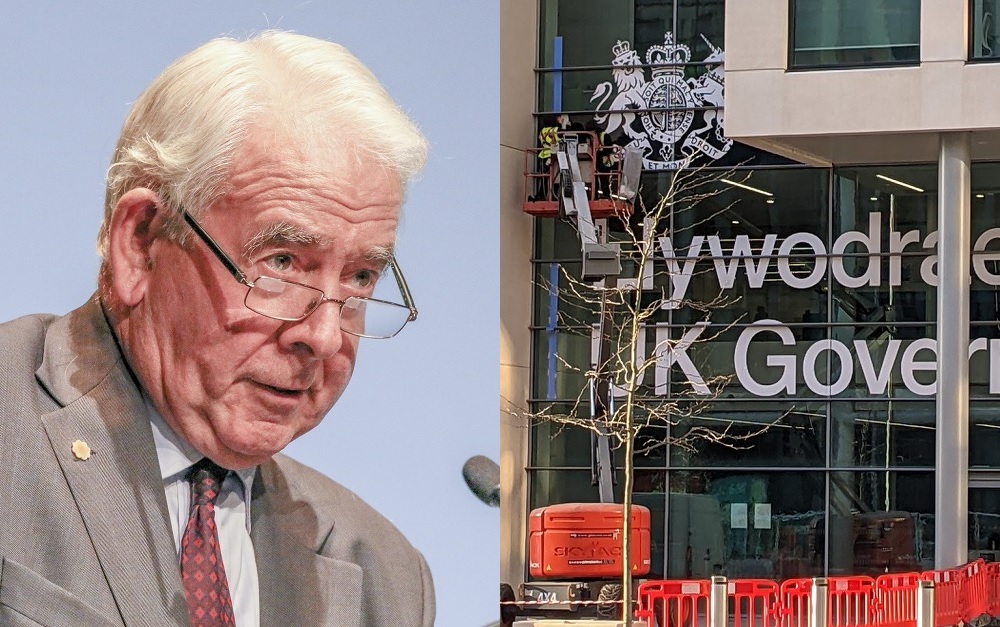 The use of the Union Jack can be "counterproductive" in Wales, according to a former leader of Plaid Cymru.
Dafydd Wigley pointed out that the British flag has the symbols of England, Scotland, and Northern Ireland, but "not Wales", amid a row about using it to brand a Cardiff tax office.
The decision by Cardiff Council to green light the 100 foot "advertisement" on the side of the UK Government building has faced a fierce backlash and led grassroots pro-independence group YesCymru launch a petition which calls for the decision to be reversed.
The petition against the ad, which is set to be wrapped around the outside of the landmark city-centre building, Tŷ William Morgan, has so far amassed over 14,000 signatures,
Wigley took aim at "UK branding" in the House of Lords while discussing a report called the Dunlop review, which encourages its use on infrastructure as a way of strengthening the union.
Dafydd Wigley said: "The review stresses the importance of UK branding. As has been mentioned, the union flag has the symbols of England, Scotland and Ireland, but not Wales; its use in Wales can be counterproductive.
"Non-devolved departments could do more to meet devolved needs – for example, UK embassies could have designated staff relating to devolved Governments.
"This is a constructive report but it is useless if the UK Government just ignore it. The Prime Minister's reluctance to accept personal responsibility, as recommended by the Dunlop review, undermines it, just as it undermines the union and creates the alienation to which Mark Drakeford referred."
Wigley also took aim at the Barnett formula, which is used to decide how much money Wales gets from Westminster.

'Festering sore' 
He said: "The Dunlop review addresses key issues, but one incredible restriction was that it could not consider the Barnett formula, condemned by a committee of this House 10 years ago. Until that is sorted, a festering sore in Wales will colour attitudes.
"The UK Government cannot seriously expect civil servants to put the interests of the union above those of the devolved Governments for whom they work.
"The Dunlop review makes important recommendations that should be actioned. Points about the need to replace the discredited Joint Ministerial Committee are well made.
"The recommended intergovernmental council, with an independent secretariat and co-decision by consensus with a clear dispute-handling process, would be a positive step forward.
"The Prime Minister's personal role is stressed. If the union matters to him, then so should the mechanisms that make it work and he should lead by direct involvement. Sadly, the Government's attitude to this key recommendation is ambivalence.
"Direct investment in Wales for economic projects that are reserved matters is welcome, but it should be made in co-operation with devolved Governments."