News
'Will you sink back to the old kowtowing?' Jan Morris had final message to Mark Drakeford, says son
//= do_shortcode('[in-content-square]')?>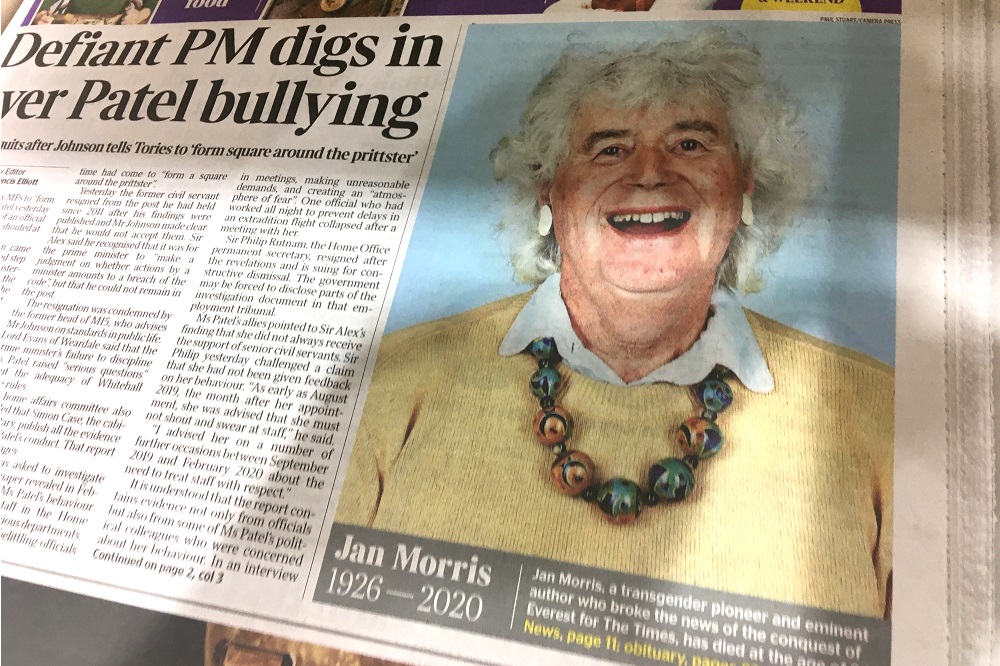 Best-selling author and journalist Jan Morris had final a message for Mark Drakeford, according to her son.
The First Minister of Wales yesterday paid tribute to the peerless travel writer when news broke she had passed away, aged 94. But her son Twm Morys, asked him if he was going to "sink back again into the old kowtowing?" on her behalf.
Jan Morris passed away at 11:40am on Friday November 20 at Ysbyty Bryn Beryl in Pwllheli. Following her death, Mark Drakeford said: "Very sad to hear of the passing of Jan Morris. Such an incredibly talented author and what an amazing life she had. She was a real treasure to Wales. My thoughts are with her family and friends at this time."
Twm Morys tweeted in reply: "Diolch, Brif Weinidog! Jan told me to tweet: One was born Glyn Dŵr; some achieve Glyndŵrness, and some have Glyndŵrness thrust upon them.
"What will you do next? Astonish us by striking hard and Welsh while the iron is hot or just sink back again into the old kowtowing?"
Twm Morys's tweet made reference to Owain Glyn Dŵr, who led a rebellion against English rule and became the recognised Prince of Wales.
Mark Drakeford is a unionist, but he has angered 10 Downing Street at times of late, for his willingness to implement his own policies to tackle the Covid-19 pandemic.

'Superb'
As a bestselling author of more than 30 books, Jan Morris was perhaps best known for her travel writing. As a journalist, she was famous for being the first to report on the ascent of Everest for The Times in 1953. She also corresponded on the Suez Crisis in 1956.
Born James Morris in Somerset in 1926, he married his wife Elizabeth Tuckniss in 1949 and they have three sons and one daughter – Twm Morys, Henry Morris, Mark Morris and Suki Morys.
In 1972 James travelled to Casablanca in Morocco for a gender reassignment operation. The process was detailed in her book Conundrum published in 1974.
In 2008, Jan and Elizabeth announced that they would remarry in a civil partnership as the law then allowed. They held a civil union ceremony in Pwllheli.
Her final book, Think Again, a collection of her diaries, was published in March.
On the day she passed away, Twm said in a statement: "The author and traveller Jan Morris began her greatest journey. She leaves behind on the shore her life-long partner, Elizabeth."
Author Mike Parker said: "I'm beyond sadness. She has been such an inspiration and kind friend to me for nearly thirty years. It was her that told me to come to Wales. Oh Jan, diolch o waelod galon am bopeth. Dw i'n dy garu di."
Author and linguist Patrick McGuiness said: "The great Jan Morris: not just a brilliant writer or superb stylist, but a discoverer of experience and an explorer of limits to the very end."
The National Eisteddfod commented: "So sad to hear about the death of Jan Morris today. We send our deepest condolences to her friends and family. She will be remembered for her wonderful travel journalism and as a writer and historian."