News
Wrexham AFC to play friendly game – in Chester, sunny Philadelphia, Pennsylvania, US
//= do_shortcode('[in-content-square]')?>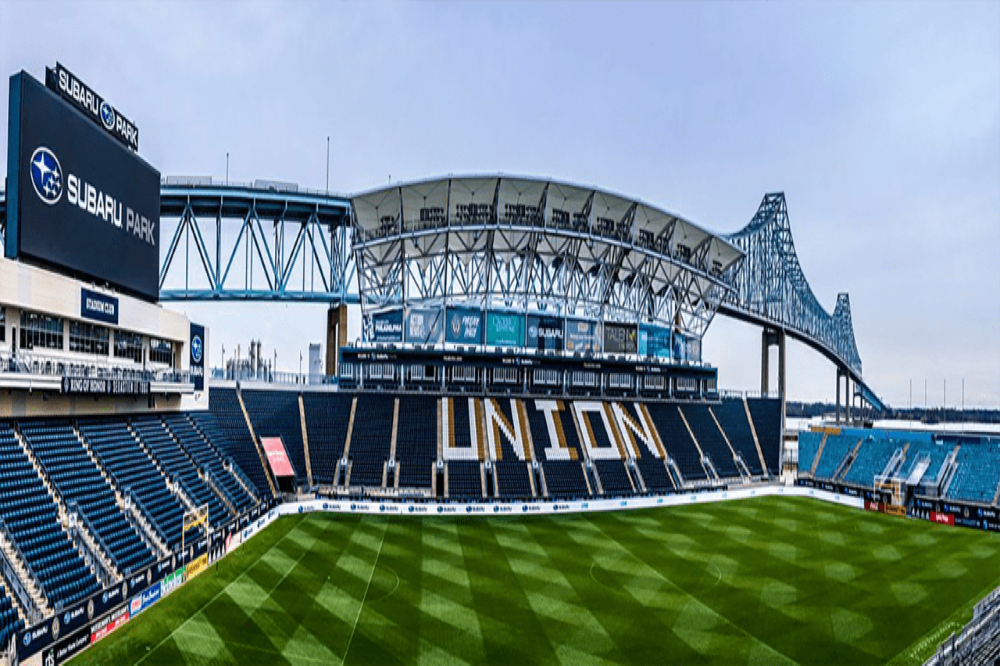 Wrexham AFC's owners, Rob McElhenney and Ryan Reynolds, have fixed an 'international' friendly game for the club in the United States.
The two will be bringing their team 'Stateside' for a match against the Philadelphia Union on Thursday, July 29, 2021.
This is the first time ever for the club to play in the United States.
The game will take place at the home of the Philadelphia Union, Subaru Park – ironically located in Chester, Pennsylvania.
In the past the club has arranged pre-season training camps games in Portugal – and have invited the fans.
As part of the club's preparations for the 2021/22 season, the Red Dragons will spend five days at a training camp, including the showpiece fixture.
PRE-SEASON | Wrexham AFC to make US debut 🇺🇸

See you soon, @philaunion 👋

🔴⚪ #WxmAFC

— Wrexham AFC (@Wrexham_AFC) June 18, 2021
Philadelphia is the home city of Wrexham co-chairman Rob McElhenney, and it is anticipated he and Ryan Reynolds will be together to watch the team live for the first time.
Wrexham AFC players will also debut the club's new away strip for the game in Philadelphia.
In addition to the match, The Union are hosting a community event around the game, which will see Rob McElhenney play an integral part.
Several local charities will subsequently benefit from Wrexham AFC's first visit to the United States, including Philabundance and CORA Services.
Hunger
Philabundance was founded in 1984 "with the simple belief that no one should go hungry while healthy food goes to waste."
It states: "Our mission is to drive hunger from our communities today and to end hunger for good. In addition to food distribution, we strive to reduce food waste, increase access to nutritious meals, and tackle the root causes of hunger through programs such as the Philabundance Community Kitchen."
Rooted in a tradition of care and compassion, the mission of CORA Services is to assist children, youth and families experiencing emotional, academic and social challenges.
Tickets for the game be free, but all those in attendance are asked to bring food donations for Philabundance.
Cannot wait. @VancityReynolds https://t.co/vzVW7pqVK1

— Rob McElhenney (@RMcElhenney) June 18, 2021
The announcement was made by Rob McElhenney on The Preston & Steve Show.
According to the show, the istribution of tickets is still being worked out.

Both Rob and Ryan are said to be "excited to bring their team stateside and finally see a game in person. "
Ryan is filming a movie but making every attempt to be in attendance.
Three days ago, Rob created a sensation when he tweeted in Welsh about his support for Wales in the Euros. His tweet, translated from Welsh into English, said:  "This time last year I barely watched football and knew very little about Wales. Today, I will be glued to my television and scream Wales forever! The power of sport is immense. Welsh power is poetic."
Yr adeg hon y llynedd prin y gwnes i wylio pêl-droed ac ychydig iawn roeddwn i'n ei wybod am Gymru. Heddiw, byddaf yn cael fy gludo i'm teledu ac yn sgrechian Cymru am byth! Mae pŵer chwaraeon yn aruthrol. Mae pŵer Cymru yn farddonol. 🏴󠁧󠁢󠁷󠁬󠁳󠁿 ⚽️ @Wrexham_AFC

— Rob McElhenney (@RMcElhenney) June 16, 2021
According to The Preston and Steve Show: "The game and all of the behind the scenes antics will be filmed for Welcome to Wrexham, an FX docuseries following the actors' purchase and stewardship of the Welsh soccer team."