Culture
A master songwriter of the hills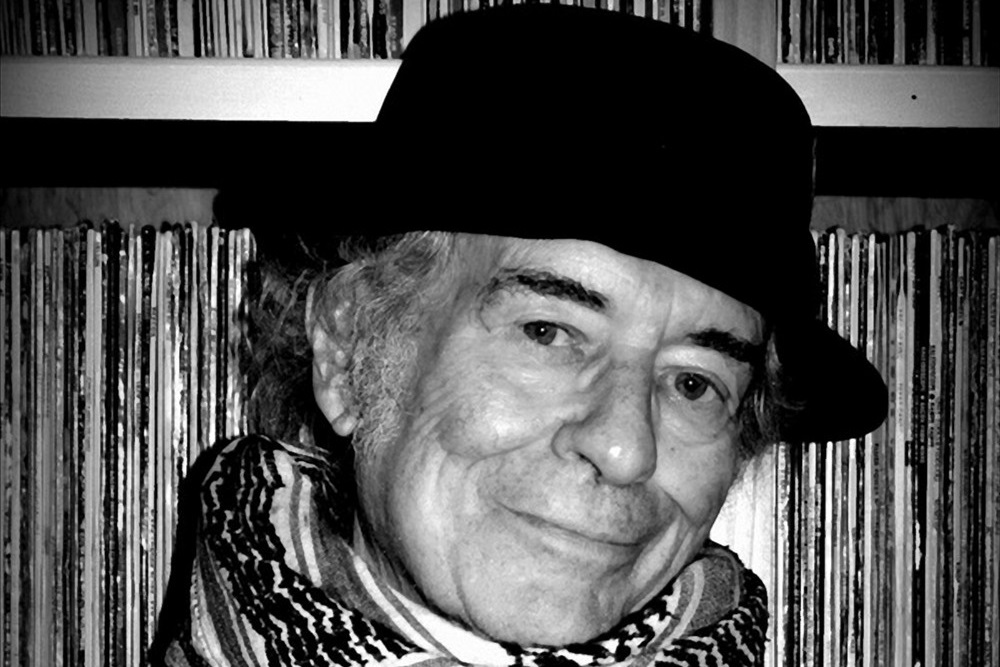 Ben Wildsmith
Songwriter Andrew Hawkey's living room in Llanidloes is a temple of erudition. Books line one wall, whilst another holds the meticulously curated vinyl collection that charts his progress through life.
There are records of glorious obscurity here: songwriters who once burned with something to say to a world that barely listened. Some, like Townes Van Zandt (signed, original pressing), found a mass audience posthumously whilst others, like Bob Carpenter, sunk without trace entirely, save for the preservation of their work here in this room.
Slight, intense, and immaculate, Andrew wears his years with apparent insouciance. There's eight decades of experience and stories on offer, if you ask, but this is a man with his eyes on the future, still restlessly exploring a creative urge that demands as much of him as it ever did.
2015 saw him issue What Did I Come Up Here For? a reflective collection of songs that, at the time, he felt might be his last. However, radio play and critical acclaim for the craftsmanship of songs like Apple Green stiffened his sinews and Long Story Short, a muscular set that is every bit the equal of its influences, crept out during the pandemic.
It can often feel that Americana is a rather contrived genre. Born at the turn of this century to market alt-country acts in which Nashville had no interest, it has grown to accommodate any artist who draws on the roots of American popular music to flavour their songwriting.
On both sides of the Atlantic the niche has endless space for earnest plaid-shirted thirtysomethings as they dignify the end of their indie youth by setting off in search of 'authenticity'. It is a quasi-religious quest and the tropes of its deities‒ Townes, The Band, Emmylou Harris, John Fahey, Gene Clark etc.‒ echo around that corner of contemporary music like a catechism.

Authenticity
Andrew wouldn't be seen dead in a plaid shirt and his authenticity as a storyteller is underpinned by a life lived in defiance of convention. A boarding school education designed to usher him into middle-class respectability instead left him restless and mistrustful of authority. There is a searching quality to his songs that betrays a vocation to explore the margins of experience.
After some besuited years selling houses in the early 1970s London property boom, including a spell for Roy Brooks, a self-described Communist famous for his honest adverts, Andrew joined the countercultural emigration to rural Wales. Landing first in Pontarfynach, he spent the years until 1985 in a series of remote, unconverted farm cottages, at one point having to flee a blizzard and walk to the coast.
Reflecting on life with no electricity, telephone or plumbing he smiles,"I can still smell the Elsan from the chemical toilets."
Listening to tracks from that period on his recent compilation Hindsight: Andrew Hawkey at 80, I'm struck by uncompromising commitment to songcraft. Some songs had the potential to be stretched from folk into prog territory at a time when the market liked that sort of thing.
Others could have been polished into pop material, leaning on the strong melodies that characterise this work.
Instead, the compilation presents a set of taut songs that are arranged simply and don't beg for attention. In other words, they offer the stripped-back aesthetics of contemporary Americana and consequently sound fresh today.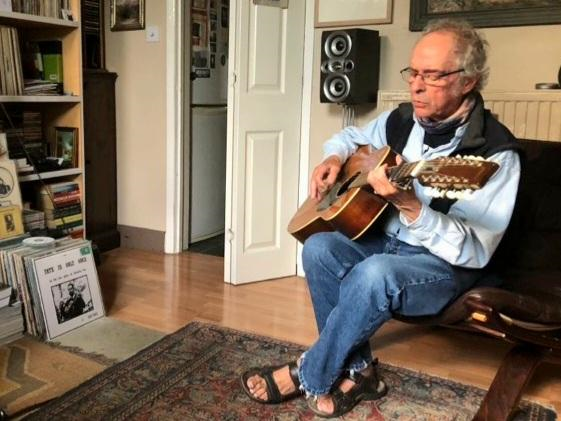 The set kicks off with the yearning 'Between Two Horizons' which showcases Andrew as a sweet-voiced youth full of concern and uncertainty. Recorded in 1969, before his move to Elenydd, it's poignant to hear him singing to us from the dog days of the 1960s, wondering what's next.
Arranged chronologically, the album answers that question, and we hear the voice filling out, the themes deepening, and the emergence of a goatish charm that characterises his live performances to this day.
The final two tracks round the collection out into a satisfying narrative. 'Spirit', from 2020's Long Story Short has Andrew, then 78, being inspired by young idealists around him in Llanidloes. Spiralling back through the years, he interrogates whether he's lived up to his beliefs.
'Looking back is similar to the non sequitur nature of dreaming,' he tells me in a voice that translates to his singing: precise and melodious with a hint of Cornish fruit. 'Nothing is what we planned on the thin ice of life.'
These songs have a tendency to undercut themselves. They are never content to reduce life to simplicity, whatever is there needs to be weighed, peered at and poked so that its complexity can be revealed.
Question
Andrew habitually uses EADGAD tuning on his 12-string guitar. This produces chord voicings that seem to question along with the lyrics. It also means that chords often don't resolve, hanging wistfully in the mix as a reminder that there's always more to learn.
The final track is a return to the opener, 'Between Two Horizons'. Re-recorded for the album, it gives us a man trying out his old convictions to see if they still convince. They convince me, and key to this is that Andrew has lived by them.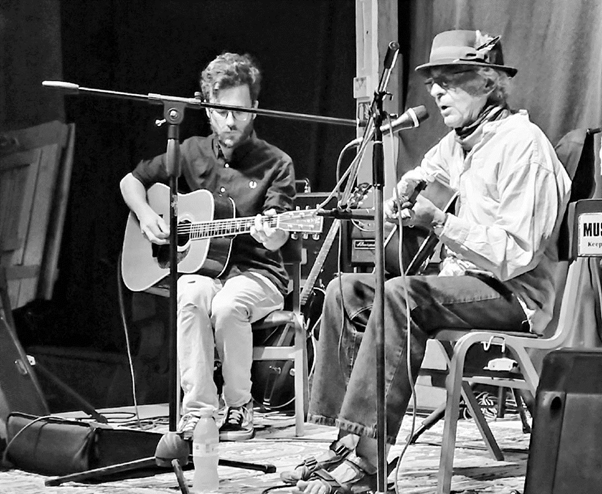 The hippies, for want of a better word, who settled in rural Wales and stayed had to find a way to make their ideals compatible with the culture they moved to. Any faddish notions of life in the hills melt away when winter sets in and you need assistance from sheep farmers whose respect is reserved for hard work and correct behaviour in the pub.
Most returned to England with a tale to tell, including dozens of musicians who promised to create a new society in 'the country' only to be found out as tourists.  Those who dug in to make it work had their beliefs stress tested.
Andrew is one of those and it's evident in his music, which could never have been made for London nightclubs. It's the work of a man who knows how to handle solitude.
He remains a quester; currently he's excited to discover the benefits of Cranial Sacral Therapy, but has also put his roadwork in.
Cheekiness
For 20 years he criss-crossed Wales and beyond, playing over 1000 shows on keyboards for Pat Grover's Blues Zeros, "Five middle class white men with an embarrassing hellhound problem," as Andrew has it.
Hindsight includes a live recording of Sonny Boy Williamson's Help Me from 1994 in the demanding setting of Newbridge Memo Club. It's fine, sweaty blues that's a world away from Andrew's more delicate compositions, but equally representative of his personality.
On Long Story Short he has, in Jones On Me, a smoky slice of sly, sexual cheekiness that he'll tell you is ironic. Well, maybe.
If you were to put Andrew on a Spotify playlist it would likely fall under 'Americana'. This music, though, is more like source material from which exponents of that genre could draw. It is a seam of creativity, stretching from the counterculture to now, that should be reckoned with by anyone who loves songs for their own sake.
Asked for a summation of his musical life, Andrew considers the matter for a good while before offering,
'When I failed, I still fought to the last barricade.'
Satisfied for a moment, he smiles before narrowing his eyes.
'Did I really, though?'
Andrew Hawkey's albums can be ordered from https://www.andrew-hawkey-music.co.uk/
---
Support our Nation today
For the price of a cup of coffee a month you can help us create an independent, not-for-profit, national news service for the people of Wales, by the people of Wales.