Culture
All Fired Up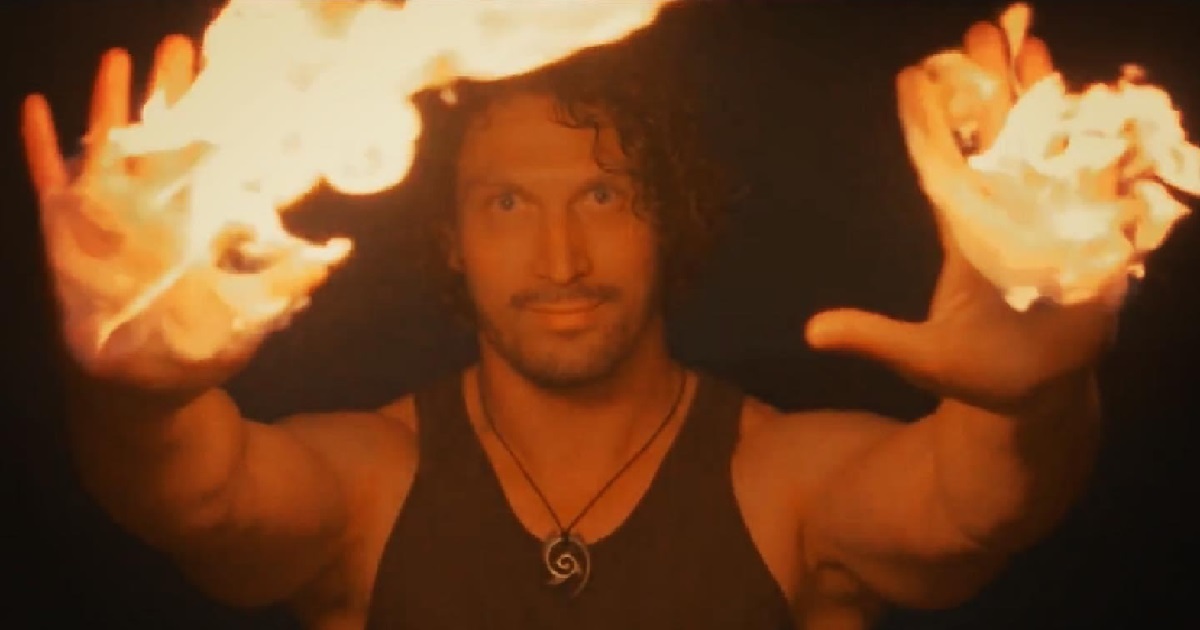 Jon Gower
As a kid, Dave Williams from Dunvant in Swansea enjoyed making bonfires, which proved to be a sort of apprenticeship for later in life, when he would become a professional fire-eater. Or as he himself puts it, 'Never underestimate the appeal of the thing your mum tells you not to do.'
Some of his upbringing was conventional – attending Olchfa Comprehensive School, then Gorseinon College but as a young man of 16 years of age he tried to teach himself martial arts 'because they looked cool.'
In the process he discovered himself juggling foam nunchuks when someone suggested he should try out fire pois which use wicks made from Kevlar or some such flame resistant material for the weighted ends. The wicks are soaked in fuel, set on fire, and then spun around for dramatic effect. He was soon hooked on fire-play.
Breathing fire
At Swansea University, where Dave studied Materials Engineering, he got involved with the Visual Arts society and the Circus Skills' Club, ending up as the treasurer.
As he recalls 'There were the the regular skills such as juggling but then there were also the guys who were inclined to do the same thing while setting their props on fire at the same time. This appealed and I learned how to fire-breathe. We'd use one of the uni halls to practise in with the props safely unlit, then we'd get some paraffin, head down for the beach, have a barbeque and there, surrounded by a lot of non-flammable stuff called sand, we'd practise with fire.'
While he was in University he joined the Territorial Army and the Officers Training Corps.
Afghanistan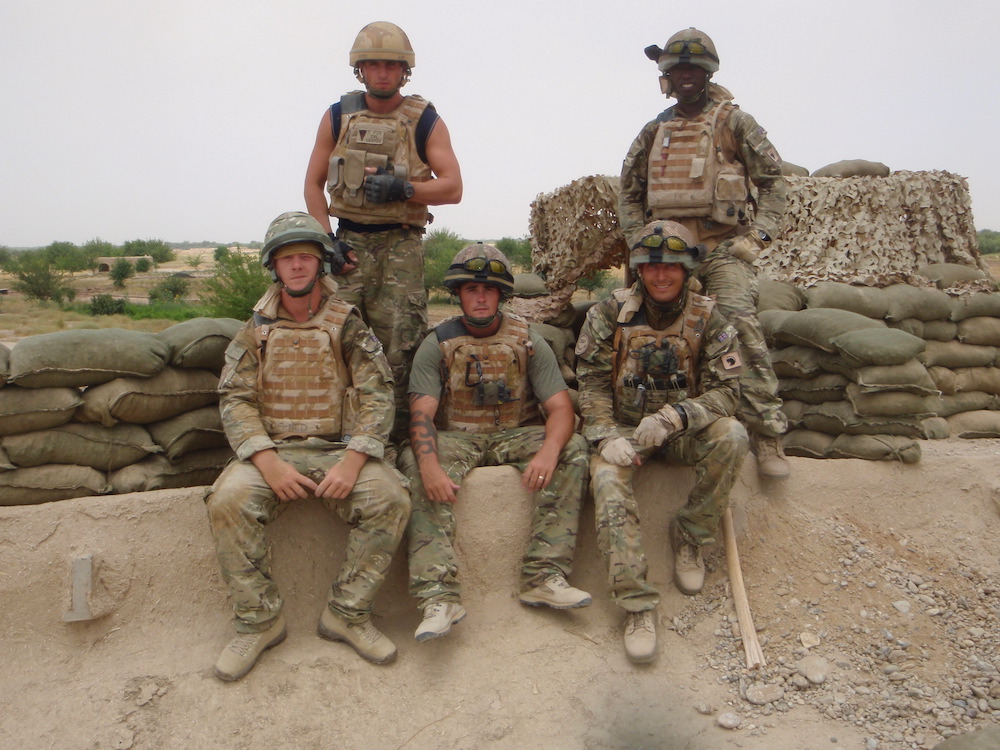 The first five years were spent with 108 Field Squadron of the Royal Monmouthshire Royal Engineers (Militia) which is the most senior Regiment in the British Army Reserve. He had plenty of opportunities such as orienteering-training in South Africa and learning how to be self-sufficient out in the wild.
But being in the reserves wasn't sufficient for him. He volunteered to go to Afghanistan, where he was attached to 21 Engineer Regiment, an armoured group of engineers. He got embedded with them late in 2009 to eventually deploy to Helmand Province in spring 2010 for a six month tour.
Here his battle group was involved in building roads on behalf of the President Karzai's government, turning dirt tracks into tarmaced roads. This was dangerous work indeed.
"While infantry could vary their routes we were in one place. There was no secret about where the route of a new road was going to be, so where we downed tools one night there'd be an ambush the next day, so mornings got tasty on a regular basis. We were shot at by the Taliban. There were IED strikes and some of the guys were shot."
Explosions
One of his colleagues, Mickey Yool was blown up when he was going down the route of the new road with mine-detecting equipment and lost both of his legs. Dave had to try to help staunch his wounds, seeing close-up the effects of explosions. 'It makes a mess and it's not happy viewing, especially close up. There's the burning, the tearing, the blunt force and the heat of the explosions.'

PTSD
When he came home from Afghanistan Dave signed up to join the regular army but that contract was cut short because of mental health issues, including some symptoms of Post Traumatic Stress Disorder (PTSD.)
He hadn't sought any help when he left that war zone, as he was in his own words 'young and full of bravado'. On a further posting in Northern Ireland, however, he realised he was struggling with things whereas his companions were not. On seeking medical help he was found to have bipolar disorder, which precipitated his having to leave the army.
At the same time he was being discharged from the Army he found himself in his first big performance – Now the Hero/Nawr yr Arwr – a World War 1 centenary immersive theatre production helmed by Marc Rees.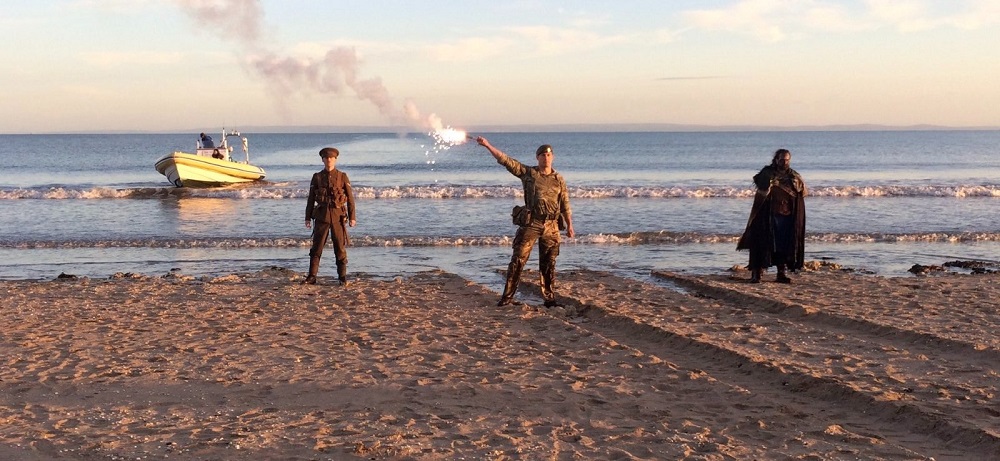 Dave was already well known in the local arts community because of his life-modelling for art classes. Rees asked him to teach those involved with the show 'to move, act and respond like soldiers' while he himself was the 'modern soldier' in the show. Dave was happy to do both.
He then briefly moved from land to sea, when, in 2019, he was based in Falmouth. Here he trained with a charity called Turn to Starboard, which uses sailing as a form of therapy. He proved to be adept under sail and both won the student of the year award and qualified as a yacht master.
A variety of jobs followed in quick succession. There was one in a corner shop, then night shifts at Amazon, farm work and employment in the Gower Heritage Centre. He was then due to marry another veteran in Australia, which resulted in an 18 month ongoing battle with Australian immigration authorities which he lost, along with his life savings which he'd had to spend on trying to get permission to stay Down Under.
Dave started doing public fire-breathing displays again at Three Cliffs Bay on Gower. Fortuitously, there happened to be good photographer present who took some photos of Dave's spectacular dragon's breath.
Tinder
It happened that he was single again and posted some of these striking images on Tinder. Pictures of him breathing fire helped him stand out, to look like real hot stuff. One of the women who got in touch with him announced that her boyfriend was a TV producer, who was looking for a fire act and asked whether she could put them in touch with each other? He promptly agreed.
Even in the first conversations with the producer he could see that this was a big project. They not only wanted to make sure that Dave had a registered business, but that he was also fully insured and furthermore had a whole experienced team at his disposal. At the time he had not one of these three pre-requisites but that didn't deter him one iota.
Within a week Dave had managed to track down Luke and Pete from Swansea Full Moon Fire Jam, who had themselves stepped in to help when a fire act failed to show up for a council-arranged fireworks' display. Dave was lucky enough to be able to film the next Fire Jam by way of a showreel for the company he was breathing into being. He then learned to edit the footage in a couple of days and by the end of the weekend was sending it off to the producer.

California
Unbeknown to him, his future employer would be Lucasfilm in California and the project was the Willow series, shown on Disney+, where, on set Dave was swiftly baptised "The Fire Guy."
Dave then found his company, the fire troop called Ddraig Tribe, was being invited to perform at festivals, live events and weddings, though never enough to provide a steady and dependable income.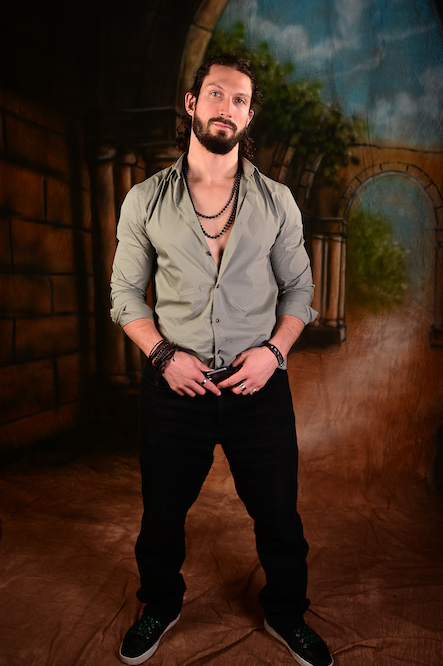 He himself wanted more work as a performer, with speaking roles. He came across The Soldier's Arts Academy, a non-profit organisation which gives service-people and their families the chance to work within the arts' industry and promptly got in touch with them.
They duly hired his team to work at an event in Cardiff Castle in the summer of 2022, where they taught children circus skills.
Shakespeare
Then one day the phone went and it was Soldier's Arts again, this time explaining how they had in the past collaborated with Shakespeare's Globe Theatre, who were trying to recruit performers to make up a crowd of people of Bohemia in the current version of The Winter's Tale.
Dave took along various kinds of fire props and demonstrated each one in turn but the fire risk was seen as being too high. Perhaps the director and his creative crew were extra wary after what happened to the original Globe Theatre.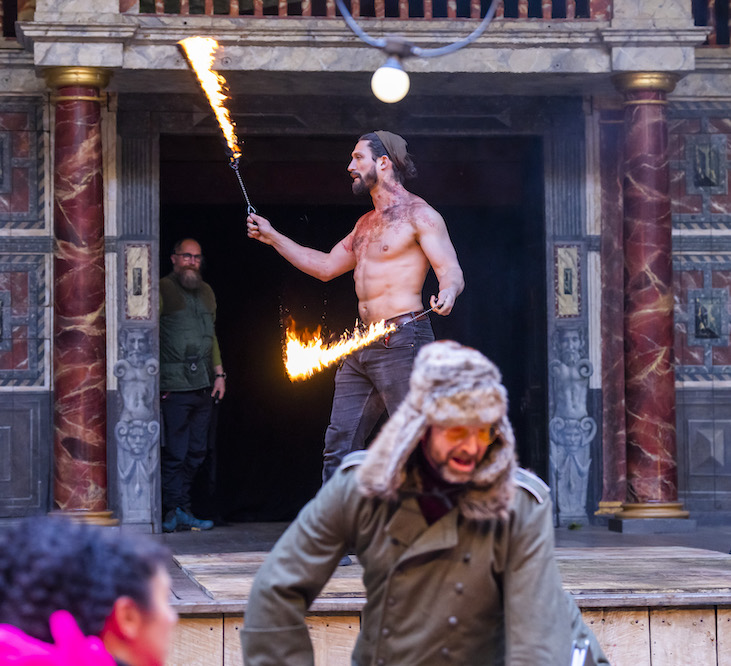 On 29 June, 1613, at a performance of Shakespeare's Henry VIII, some small cannons were fired. They didn't use cannon balls, but they did use gunpowder held down by wadding. A piece of burning wadding set fire to the thatch and the theatre duly burned down in about an hour.
Luckily despite one man's trousers catching fire there were no fatalities as a consequence of the blaze and by the very next day not one but two songs had been penned about the terrible conflagration of 1613.
So in this latest Globe production Dave "The Fire Guy" is seen spectacularly but safely spinning fire poi as part of a procession. Which means he features in the production credits on two counts: as one of the "People of Bohemia" and as a "Fire consultant," 'which is, as he says 'great as it shows people are taking you seriously.'
Or perhaps it's because Dave Williams is a very affable man, who gets on with people like a house on fire.
The Winter's Tale is running at Shakespeare's Globe until 16th April (sold out.)
You can find more details of Ddraig Tribe here.
---
Support our Nation today
For the price of a cup of coffee a month you can help us create an independent, not-for-profit, national news service for the people of Wales, by the people of Wales.