Culture
All the events taking place at Cadw sites during the May half term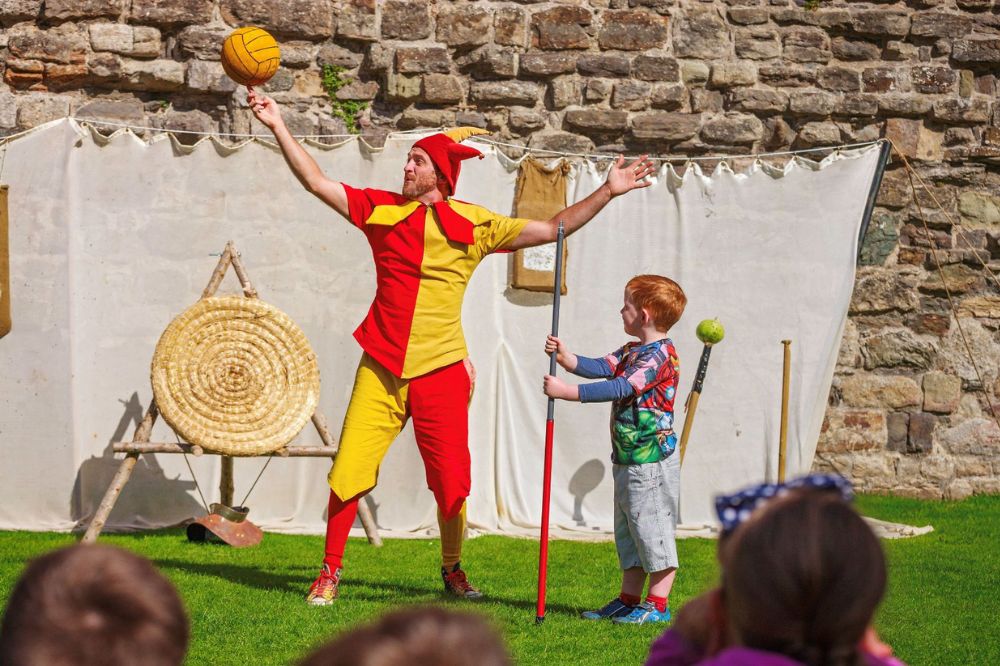 From Tudor falconry to poo dissection, Cadw's packed May half-term schedule is set to offer a smorgasbord of historical and cultural events throughout Wales.
From 27th May – 4th June, Cadw sites, including UNESCO World Heritage Sites Harlech Castle and Beaumaris Castle, are playing host to a wide range of activities and events which will bring Welsh history to life.
Hinging on Wales' 'Year of Trails', Cadw, the Welsh Government's historical environment service will encourage visitors to create their own experiences by transforming Wales' history into engaging activities to inspire the next generation.

Medieval
Here are the available at Cadw sites across Wales during the half term break.
Men at Arms (Beaumaris Castle) – May 27 to 29, 10:00 – 17:00.
Across the bank holiday weekend, you can train to be a medieval knight at Beaumaris Castle's Knight's School for Children, learning how to attack and defend the castle in combat. Adults can master basic sword fighting skills and find out about weapons were used during the medieval period.
For the jokesters, there will also be a jester's circus skills workshop to learn tips and tricks, and families will have the opportunity to immerse themselves in medieval Wales through cooking displays, medieval medicine, music, leather work, and storytelling for 'townspeople' to enjoy.
Living History in the Castle (Harlech Castle) –  May 27 to 29, 11:00 – 16:00.
Harlech Castle will be hosting its very own tournament of fully armoured knights in battle. Witness the clash of steel and the thundering hooves of the warhorses as they charge towards each other in a display of strength and skill.
And as if that wasn't enough, precision archery displays, graceful dances and musicians will make visitors feel like they've spent a day in the Middle Ages.
Minstrel Tom (St. Davids Bishop's Palace) – May 31 to June 1, 10:00 – 16:30.
Families will be transported back in time with music from Minstrel Tom at St. Davids Bishop's Palace.
Visitors will also have the opportunity to meet two significant figures in the history of the site: Bishop Henry de Gower and Dame Agatha Barlow.
Summer of Stories (Various sites) – Visit the Cadw website for individual dates and times.
The half-term break kicks off Cadw's Summer of Stories – a celebration of Wales' rich oral traditions across 12 sites this summer.
During your visit to any participating Cadw site, join a storyteller to experience the best of Welsh tale-spinning, including historical characters, legends, myths, culture, and heritage.
Available at Tretower Court and Castle, Beaumaris Castle, Conwy Castle, Denbigh Castle, Blaenavon Ironworks, Caerleon Roman Fortress and Baths, Castell Coch, Chepstow Castle, Tintern Abbey, St Davids Bishop's Palace, Criccieth Castle & Kidwelly Castle.
Let's Discover… Whose Poo? (Chepstow Castle) – June 3 to 4, 10:00 – 16:00
Visit Chepstow Castle and learn about the dietary habits of the people who lived and worked in the castle in the Tudor ages, and you can even dissect a fake poo…
This event is perfect for children who love to learn about alternative history and science in a hands-on way. And a chance to learn about the home of some of the wealthiest men in history.
The Wise Woman and the Surgeon (Plas Mawr) – May 28 to 29, 11:00 – 16:00
Visitors to Plas Mawr in Conwy can immerse themselves in the world of Tudor medicine and surgery with a multi-sensory experience.
Get hands-on with medicinal herbs and remedies, experiencing their scents and textures and interacting with authentic replica surgical instruments while learning all about their uses, and what it meant to be a surgeon during the Tudor period.
Falconry at the Abbey (Tintern Abbey) – June 3, 10:00 – 16:00.
Discover how our ancestors used birds of prey during the Tudor period and why falconry was one of the favoured sports of this era.
There's even the opportunity to have your photo taken with one of the majestic birds and take home a unique souvenir.
This event is also available at Kidwelly Castle on Sunday 28th May.
Medieval Murder Mystery (Raglan Castle) – May 28 to 26, 11:00 – 15:30.
Put your detective skills to the test at Raglan as you scour the castle for clues, interview suspects and solve puzzles to uncover what happened to the body of Sir Charles' trusted army captain.
This will transport you back to 1489, as Raglan's mystery will give you a taste of medieval life – complete with intrigue, drama, and a murder to solve.
Search for the Caesars (Caerleon Roman Fortress and Baths) – May 27 to June 4, 10:00 – 16:00
If your family likes searching for hidden treasures, this is the event for you. Head to Caerleon Roman Fortress and Baths to see if you can find the famous Roman Caesar in hidden locations around the site.
Legend has it they've been at the baths for nearly 2,000 years, so keep your eyes peeled as you make your way around this legionary fortress from first century Wales.
Birds of Prey (Laugharne Castle) – May 27 to 28, 11:00 – 16:00
Experience the thrill of seeing magnificent birds of prey up close at Laugharne Castle's falconry event.
With a variety of species on display, you'll have the opportunity to learn about these majestic creatures from the experts themselves. The displays will run twice a day at 12pm and 3pm and are not to be missed.
---
Support our Nation today
For the price of a cup of coffee a month you can help us create an independent, not-for-profit, national news service for the people of Wales, by the people of Wales.