Culture
An ode to bluebells: these silent bells of May – let's not let them fade away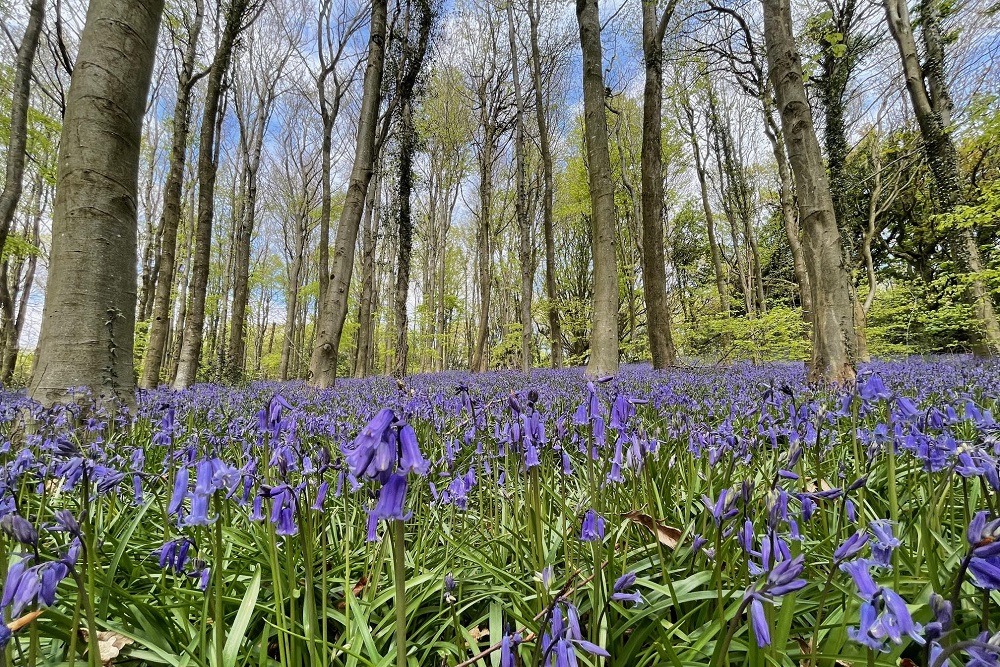 Dyfod pan ddêl y gwcw,
Myned pan êl y maent,
Y gwyllt atgofus bersawr,
Yr hen lesmeiriol baent.
Cyrraedd, ac yna ffarwelio,
Ffarwelio. Och! na pharhaent
They come when the cuckoo comes
When she goes, they go too
The wild nostalgic scent,
The old enchanting hue.
Arriving, then bidding goodbye,
Ah, but their days are few
(Clychau'r Gog, R Williams Parry. Translation: Joseph P Clancy)
Stephen Price
R Williams Parry's beloved poem, Clychau'r Gog, might appear to be a simple ode to our most beloved of native wildflowers, but read between the lines and the poet's deep felt ruminations on the fleeting nature of life, of love, of faith, of nature and everything in between brim to the surface. Hiraeth both explained and made mysterious as ever.
When Plantlife asked the UK public to vote for their favourite wildflower, the British bluebell was named the 'Nation's Favourite' by a significant margin which came as no surprise to anyone.
Could there be a more beautiful, evocative sight than a deciduous woodland carpeted with a sea of iridescent blue. The contrasting punchy green of freshly emerged fern, beech and oak set against alien-like dancing flowers that appear as if overnight, simply to disappear a few weeks later.
Before the Instagram crowd cottoned on, these were generally local woods for local people, but overnight the humble bluebell has gained massive clout when it comes to engagement, and who can blame anyone for being as moved as R Williams Parry. Or, at least, aping movement for the sake of extra likes and followers.
Hashtags
A cursory glance at bluebell hashtags on social media, however, suggests that many of their most recent fans are unaware of the difference between our native bluebell and the Spanish invader, not to mention their troublesome hybrids.
Identification, on the surface, is pretty easy. Ours are a deeper, darker blue with thin leaves. Their scent is denser and otherworldly, with flowers that fall mostly on the one side forming an elegant arch.
The Spanish are paler, taller and tougher, with flowers on either side and much thicker, clumpier leaves. And their hybrids, well, pale and ugly to the connoisseur, but let's just be impartial and say they're a mix of the two but more like the Spanish side of the family tree.
And why is identification so important? Because according to the Woodland Trust, the simple act of introducing a foreign plant to our gardens over the past few decades has the potential to threaten our native bluebell's very existence.
The stable door is well and truly open now, and Spanish and hybrid bluebells are a mainstay of our gardens and hedgerows. They're available to buy easily. But should this be the case? Before it's too late, assuming it isn't already, some might say that a touch of the Australian Border Force rules wouldn't go amiss.
No one wants to see flowers uprooted unnecessarily, but if they're growing near a bluebell field, would that not be the right thing to do if it means securing our hardy yet genetically weaker bluebell's biodiversity for future generations? The plight of our native red squirrels suggests how things might progress once we pass tipping point.
With new appreciation, one would hope, would come more knowledge and protection, but some of our more popular bluebell woods can feel quite unsettling at the height of 'bluebell season' nowadays.
The British bluebell is protected under the Wildlife and Countryside Act (1981), but as any visitor to our busiest haunts can attest, areas are flattened completely by professional and amateur photographers alike.
It's a delight to see children in a bluebell wood – it's their woodland too, and they will be the custodians long after our time, but the commodification for photo shoots must not come at a cost to the bluebells themselves.
Similarly, dog owners might let their dogs run free in those very woods all year round, but is it too much to ask that people and their canine companions stick to paths just for a few weeks? For all of us to enjoy, and for bluebells to thrive, we all benefit from just a little woodland etiquette.
At least two fields I frequented as a child are no more due to the overgrowth of bramble and the churning up of horse hoof, so I too join the throngs at nearby bluebell hotspots, giddy at the ocean of blue that seems to go on and on, unable to look away as I leave, unsure if I'll return again for another year. Unsure, too, if the few hybrids I spot on my walk through are the beginning of the end.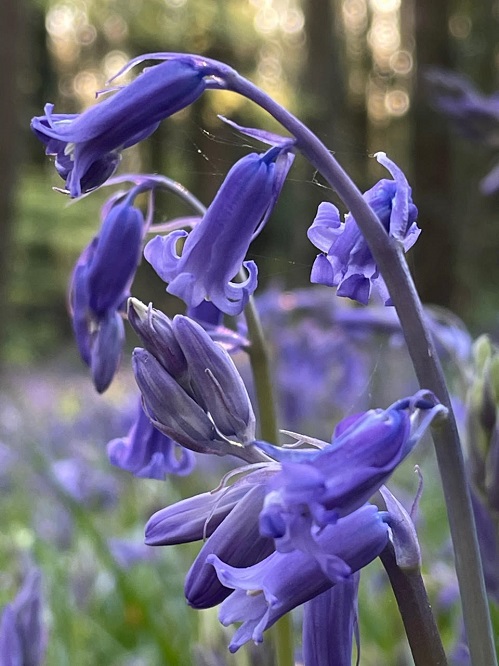 Journeying through a bluebell field is as close to heaven here on earth as I can imagine. A bittersweet sensory overload that must be drunk in.
And just as more and more bands ask us to put our phones and cameras away during concerts, the sentiment with our bluebell woods is just the same.
Breathe in the moment, be courteous and enjoy. And maybe, just maybe, commit to protect and enhance them in any way you can.
These silent bells of May. Let's not let them fade away.
Cans pan ddêl rhin y gwyddfid
I'r hafnos ar ei hynt
A mynych glych yr eos
I'r glaswellt megis cynt,
Ni bydd y gog na'i chlychau
Yn gyffro yn y gwynt
For when honeysuckle nightly
Burdens the summer air,
And harebells in abundance
Appear in the grass as before,
The cuckoo and her bells will
Stir in the wind no more
---
Support our Nation today
For the price of a cup of coffee a month you can help us create an independent, not-for-profit, national news service for the people of Wales, by the people of Wales.