Culture
Author Kathy Briggs on her second novel: a universal tale of resilience and second chances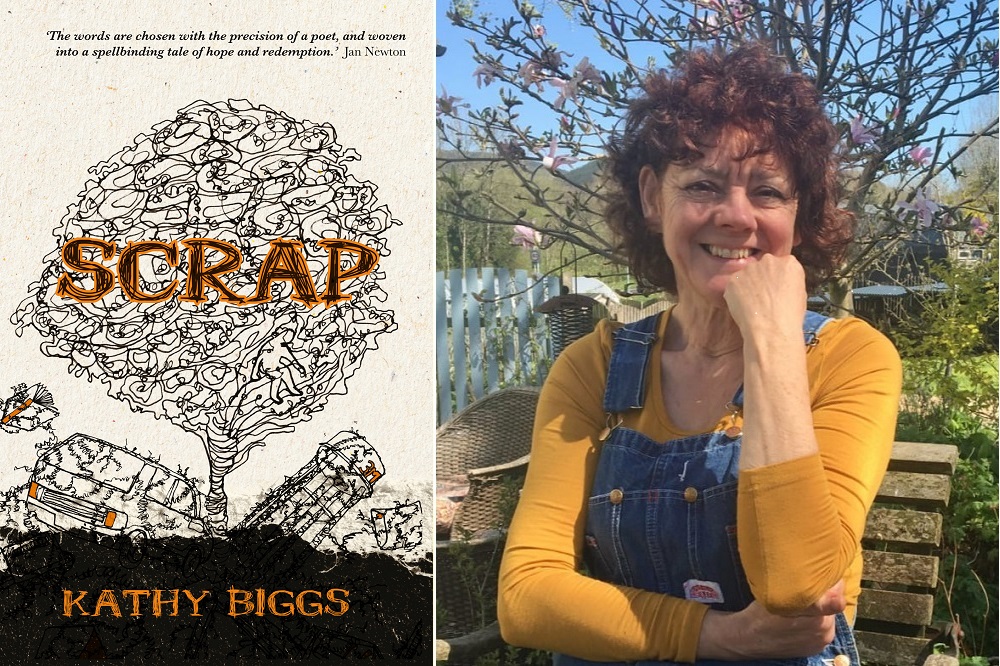 Author Kathy Biggs talks to Honno Editor Gemma June Howell about her latest novel Scrap and her journey as a successful fledgling author
Up-and-coming author, Kathy Biggs is making waves in the literary world with her newest release, Scrap which was published by Honno Welsh Women's Press in June.
Following the success of her debut novel, The Luck, her second book Scrap is a modern fable that explores the human capacity to overcome life's obstacles and start afresh.
Set during a July heatwave, the novel is 'a tale about how broken people can be mended,' and is full of richly drawn characters that transform their lives from despair and monotony to something full of hope and potential.
Originally from Yorkshire, Kathy is a naturally gifted author who discovered her passion for writing after taking a short Creative Writing course in Aberystwyth. Her debut novel, The Luck was published by Honno in September 2022.
An epic, inter-generational saga set in America's rural west, it is a very different book from Scrap, ultimately showcasing Kathy's astonishing versatility as a writer.

The little things
Kathy shares how she has always 'worked with people whose lives aren't straightforward,' and how she 'gathered different aspects of people she had met to colour her stories.'
Her career working in various health and social care settings has brought her in to contact with many people who have known a life of hardship and struggle.
'They were the kind of stories that would keep you up at night' she shares when she talks of her experiences of working in the care system. 'When you came out of another gruelling case conference, and you thought nothing is going to change. This book is meant to be for those people.'
Kathy wrote Scrap, she says, to 'uplift readers and show how the little things can either knock you down or fix you up.'
Scrap is a human fable which centres around a scrapyard in present-day Swansea, where the lives of a group of scrap yard workers converge after the discovery of a mysterious teenage boy in the back of a car.
The boy, known as 'the kid' or Riley has endured abuse at the hands of his brother Marco, and has been threatened with the care system.
The kid
While Kathy's previous novel is set in America, Scrap is set in Swansea. I ask what drew Kathy to this particular setting and how she went about researching and evoking atmosphere.
'In the mid-90s I trained to be a homeopath in Sketty and I just fell in love with the place. We had a little camper van when my daughter was born and we used to park up in the marina, and it was a right lovely time and we met some fabulous people, so that was my picture of Swansea.'
The inspiration for Scrap came from a trip to AJT Recycling in Swansea, with her husband Paul who is a builder. Kathy noticed a young boy who was working on 'the spit' or 'de-polluter,' which apparently was the staff's favourite piece of equipment as it emptied cars of all its loose change; with the operator being allowed keep any surplus cash.
'He looked so happy, this lad, all oiled up to the eyeballs. They all looked so content working in the scrapyard.'
While she waited for her husband to 'weigh in' his scrap metal, the first line of the book: 'The kid was in the back of the car for a week before they found him: the hottest July for years, the sun so fierce it made your head hum, just came to me.'
The most unlikely person
In comparison, Kathy reveals that The Luck began as a short story that 'just turned into a novel,' while Scrap practically wrote itself.
'Once I'd written down that first line, I was away!'
Kathy adds that she made the timeframe of Scrap much shorter than The Luck, which takes place over several lifetimes.
The characters in Scrap 'just landed,' practically writing themselves, but she wanted the kid to 'improve the lives of the other characters in some way… sometimes it's the most unlikely person that either hurts you or heals you.'
She then goes on to tell me about how uncharacteristic gestures of human kindness can save lives and reminisces about her time as a 19-year-old student nurse.
'We were looking after this chap on orthopaedics, and he was not getting better, he was going downhill. And we had this right strict sister… like an old-fashioned matron. One day she came in and told me to pull all of the curtains and the next thing, she brought in his dog. A dog in the hospital! Which was definitely not allowed. I couldn't believe this strict matron breaking the rules to help this chap. Anyway, over the next few days, he got better. I'll never forget what she did. Sometimes it's the unlikeliest person who can heal you. That's what I wanted to portray through the character of the kid: who would've thought he'd have been the catalyst for change — the most unlikely person?'
A layer of magic
Told in the voice of an omniscient narrator, the novel uses free indirect speech, where the narrative feels like it's from Mackie's perspective, weaving past events of the characters' histories as well as his thoughts and observations.
The novel also features a series of threaded vignettes forming Riley's ethereal sketches of his visions for the future.
Kathy says that 'his drawings add a layer of magic to a story about ordinary people struggling with difficult lives.'
Kathy describes the novel's protagonist Mackie as a 'grey man,' who 'takes on the stereotypical role of a woman; he is a mother, grandmother, primary carer.'
She comments on how 'women are still largely invisible in their roles in the home' and by casting him in this light, she plays with gender stereotypes.
This is echoed in Mackie's platonic friendship with Sharon as they bond over their current predicaments and past trauma.
Failure to fledge
Scrap also features a strong and complex female protagonist in Sharon, who Kathy says embodies 'a failure to fledge story.'
Each of the characters are broken in some way: Sharon works as the scrap yard's secretary and is a club singer for her 'slimy' secret lover, Barry, who promises that one day they will work the cruise ships and she'll be a star.
In her past, she was once a top board diver who suffered with an eating disorder.
Kathy continues: 'she didn't quite fit in in university and even though she could dive the top board, it didn't really work out in life. She, like the other characters, are slipping away, saved by the promise of a future. But she is a strong matriarchal figure in the book and in the end, she finds her salvation.'
Trust in the little things
A prolific writer who has been 'bit by the bug,' Kathy shares details of her upcoming projects and plans for future writing.
'I have been doing lots of talks for The Luck at libraries and arts venues across Wales. I'm currently working on my third novel which is about a woman whose marriage breaks down, so she goes to live with her father who has dementia.'
Kathy finishes with giving some valuable advice for any aspiring writers who may be struggling to find their voice or get their work published.
'My advice would be to believe in yourself and keep at it. Meet other writers at writing groups and read as much as you can. Write every day. Make a proper habit of it, not just when the fancy takes you. There are lots of things out there like Jerico Writers, for people like me who haven't done an MA. Find little ways to put a toe in water — competitions and the like, and you never know it might pay off.'
Scrap is a captivating story of 'how broken people can be mended.' It is a pacy, comedic yet tender portrayal of the lives of ordinary people. A quirky contemporary fable set in Swansea, Scrap will uplift readers and remind them to 'trust in the little things.'
Published by Honno Welsh Women's Press, Scrap is available to buy through all major bookshops.
Kathy will be in conversation at The Cultural Institute Literary Salon on 11th October, 2pm at the Taliesin in Swansea. You can book your free ticket here.
---
Support our Nation today
For the price of a cup of coffee a month you can help us create an independent, not-for-profit, national news service for the people of Wales, by the people of Wales.