Culture
Book extract part 3: Letters from Wales on Iolo Morganwg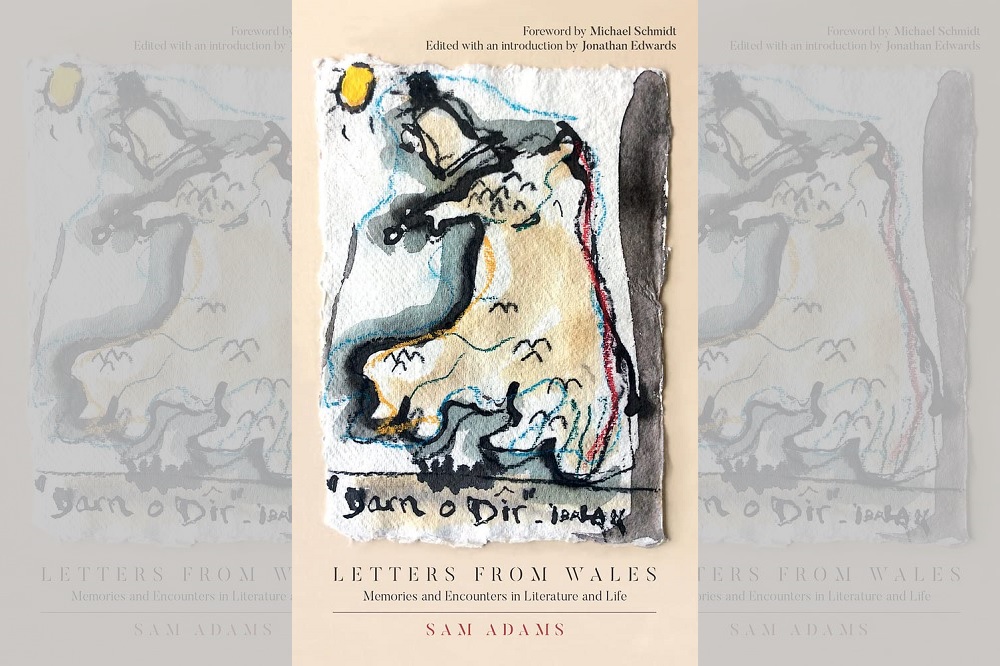 We are pleased to be publishing a selection of letters from the newly published volume by Sam Adams which gathers together some of his columns for the poetry magazine PN Review. Here Sam writes about one of the most colourful Welsh writers ever to put pen to paper.
Sam Adams 
July 2019
In 1853 Lady Llanover purchased from his son, Taliesin Williams, the precious collection of ancient manuscripts and eighty-eight volumes of assorted papers of Iolo Morganwg, which now reside at the National Library of Wales, one of the three institutions (the other two being a national university and a national museum) the father had foreseen.
Iolo Morganwg was not the baptismal name of this cultural icon of Wales, as you will have gathered, but this is a rare case where the bardic name stands on its own rather than being enclosed in parentheses after that recorded in a parish register.
The universal familiarity of 'Iolo Morganwg' means that many would not recognise him as plain Edward Williams.
He was born in March 1747, near Llancarfan in the Vale of Glamorgan, the son of a stonemason, also Edward Williams, and his wife Anne, who, having been brought up by an affluent branch of her family at the Seys manor house in Boverton, near Llantwit Major, profoundly influenced this her favourite son with talk of literature, music and the history of the great families of the Vale.
The child's first language was English, but Welsh, at that period dominant in the neighbourhood, became the principal choice of his creative aspirations.
Saucy
It is as Edward Williams he appears on the title page of his two-volume collection of Poems, Lyric and Pastoral/ in Two Volumes(London: 'Printed for the author, by J. Nichols' 1794), while Iolo Morganwg is granted authorship of a six-line epigraph in Welsh.
This duality is well-earned inasmuch as he used Welsh and English with equal facility in all aspects of his life and work, but may carry just a hint of shape-shifting inconstancy. He became a master literary forger, far superior to Chatterton and Macpherson.
The rather saucy love poems offered to the editors of Barddoniaeth Dafydd ap Gwilym (the Poetry of Dafydd ap Gwilym) in 1789 as genuine were not identified as actually composed by Iolo until the twentieth century. Is he a reliable witness when offering an account of his early life in the preface to the book? I choose to think he is.
He claims to have had no schooling on account of ill-health as a child, and that his mother taught him to read from The Vocal Miscellany. A Collection of above Four Hundred Celebrated Songs … etc, (the third edition, 1738, you can now consult, amazingly it seems to me, on line) and to write. He was not merely an apt but an avid pupil.
He says he 'worked at [his] father's trade from the age of nine', and 'it is of no importance to any one to know how many stones I hewed, or how many grave-stones I have inscribed with doggerel', but wherever pursuit of his trade took him, he did not cease from study, collecting and writing.

Family life
Edward had three brothers. Stonemasons all, they went where they were sure to find a demand for their skills, to London. Perhaps they discovered the building sites were not paved with gold; perhaps, too, they were exposed there to the allure of fortunes to be made overseas.
In any event, while Edward remained in the south-east of England, his brothers emigrated to Jamaica, and all three died there. Reading the lives of other families is bound to throw up curious correspondences with one's own from time to time.
So it is in this case with me. Three of the five sons of my three-times-great-grandfather, George Williams (1763-1815), rector of Llantrithyd in the Vale, less than three miles across the fields from the new home in Flemingston of the stonemason's family, also emigrated at different times to the West Indies, where in the same dreadful way all died.
Whether it was disease that cut them down, or an excess of rum, is now beyond telling.
Although they were not, I think, related, that an acquaintanceship at least existed between the two Williams families can be demonstrated from the subscribers' list to Poems, Lyric and Pastoral. There we see 'Richard Aubrey, Esq.' who signed for six sets.
I know now he lived at Ash Hall, Ystradowen, where George Williams officiated at the church, having been nominated by his ailing father.
Sarah Jones, also 'of Ash Hall', as the notice in the Gentleman's Magazine records, married the impecunious curate and thereby secured his preferment to the rectory, then in the Aubreys' gift.
If not a relative, she was probably an esteemed nursemaid of the widowed Richard Aubrey's infant children. Later in the list we find 'Rev. George Williams, Llantrithyd' himself.
Revelatory
Subscribers' lists interest me. They are by no means a reliable guide to the life and thought of the writer, but they can occasionally prove revelatory. For example, notwithstanding the entire absence of formal education on the part of the poet, this one includes a high proportion of Oxbridge academics and clerical gentlemen.
However, the presence of certain individual names gives one pause.
There are a few French residents, including 'Citoyen J.P. Brissot', leader of the Girondins, a deputy to the Convention nationale, which sentenced Louis XVI in 1793, who, with the overthrow of his party, also died on the scaffold in 1793 – before Iolo's book (long in gestation, because he could not afford to keep up payments to the printer) was published; and 'Mr Thomas Paine' a name that resonates to this day, 'John Horne Tooke, Esq.', another radical politician and stirring advocate of parliamentary reform, and 'HUMANITY'S WILBERFORCE' at the head of the 'W' column.
Elsewhere we find 'James Boswell, Esq.', 'Mr Incledon' the famous Covent Garden actor, 'Robert Raikes, Esq., Gloucester', founder of the Sunday School Movement, 'Mrs Barbauld', poet and essayist, who opposed British participation in the Napoleonic wars; 'Rev. Thomas Belsham', a notable Unitarian minister; and those whose names everyone will recognise, 'Miss Burney', 'Mrs. Piozzi', 'Miss Hannah More', and 'Rev. Dr. Priestly', man of many accomplishments, supporter of the French Revolution and co-founder of Unitarianism in England.
Names such as these (and 'the names of my most distinguished friends [are] in italics') tell us much about the character, faith, travels and political allegiances of Iolo Morganwg.
Laudanum
He made his opinions plain (with a little equivocation) to anyone who reads the preface: 'there is too much Priestcraft amongst every sect; too much Kingcraft in all, even Republican, Governments; yet there are many good Priests; and, I believe, a brace of good Kings may be found; at least I will venture on One'. 
A footnote advises the One is God. He was a Unitarian-Republican, not an entirely uncommon combination at the time, but doubly suspicious in the eyes of Government and Church.
What of the poems? They are examples of competent eighteenth century versification on themes that become common in the Romantic period, including an ode to laudanum, with a strong emphasis on Nature.
From a great distance in the mists of time he conjured the Welsh 'triads', how many of his own composition it is impossible to say. One presents 'The three primary and indispensable requisites of Poetic Genius [ …] an Eye that can see Nature, a Heart that can Feel Nature, and a Resolution that Dares Follow Nature'.
Wordsworthian you might think, and there is a good deal of evidence to suggest that the poet of Cumbria, the ancient Welsh heartland of Rheged, home of Taliesin, was at one with Iolo in seeing the origins of poetry in the druidic past.
An extract from Letters from Wales: Memories and Encounters in Literature and Life by Sam Adams, out in hardback through Parthian Books (£20). It is available from all good bookshops.
Sam Adams will be in conversation with Dai Smith and Emma Schofield at Hay Festival on Friday 2 June 2023, 2.30pm, tickets available here.
---
Support our Nation today
For the price of a cup of coffee a month you can help us create an independent, not-for-profit, national news service for the people of Wales, by the people of Wales.