Culture
Book extract part 5: Letters from Wales – Sam Adams on Raymond Garlick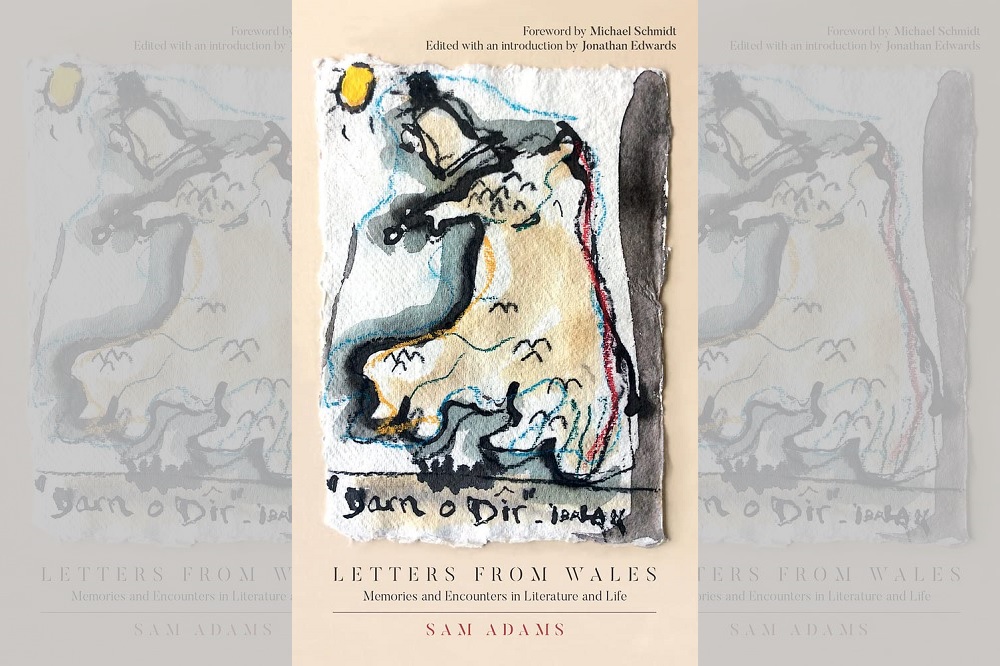 We are pleased to be publishing a selection of letters from the newly published volume by Sam Adams which gathers together some of his columns for the poetry magazine PN Review. In this the final extract he profiles fellow poet Raymond Garlick.
Sam Adams
March 1997
On September 21, the Welsh Academy celebrated the 70th birthday of Raymond Garlick.
The venue was Trinity College, Carmarthen, where for many congenial years Raymond taught, first within the English department and later as lecturer in charge of Welsh Studies, a course of his own devising which, uniquely at the time, offered students in higher education a substantial experience of Anglo-Welsh literature.
The celebration was a modest affair, but full of warmth and affection. It fitted the man, whose courtesy, gentleness, soft-spoken eloquence and love of literature inspired generations of students.
Grit
I once sat mesmerised by a talk he gave to a group of sixth formers who were setting out from the college to explore locations in the neighbourhood – notably Fern Hill and Laugharne – associated with Dylan Thomas.
He had a similar effect year after year on the trainee teachers and students from Iowa participating in the college's American Programme who were his regular audience.
His gentleness is not of the namby-pamby sort. Raymond Garlick is acutely discriminating and tenacious in argument.
As one who, virtually throughout his life, has struggled to overcome physical disability and set the highest standards for himself, he has little time for those who lack industry and grit.
Like his good friend Tony Conran, he is a pacifist of the kind that does not back away from confrontation but strenuously opposes colonialism and bullying, large scale or small.
Phenomenon
There is every reason for celebrating the life of a gifted teacher (it doesn't happen often enough), but of course Raymond Garlick is much more than that.
The University of Wales Press chose the same birthday occasion to launch formally Don Dale-Jones's monograph on Raymond in its Writers of Wales series.
Since 1970 more than a hundred volumes have appeared in the series, and the first was An Introduction to Anglo-Welsh Literature by Raymond Garlick.
In this essay he proposed an alternative to the view that Anglo-Welsh literature is a twentieth century phenomenon, a by-product of the English-medium and powerfully anglicising county grammar schools, which were introduced in Wales (before they came to England) by the 1889 Intermediate Education Act.

Raymond holds that Anglo-Welsh literature has a long history, extending back at least as far as c. 1470, when Ieuan ap Hywel Swrdwal, a student in Oxford, wrote a 'Hymn to the Virgin' in the English language in which he employed the prosodic devices of Welsh cynghanedd, a feat he challenged his contemporaries to emulate.
To be sure, a line can be drawn down the centuries, and it links some notable figures, like Henry Vaughan, George Herbert, Christopher Smart and George Dyer, but it is a dotted line and the gaps in it are often wide.
Remarkable intellects
Raymond also deserves with Roland Mathias a large share of the credit for reviving and sustaining Anglo-Welsh literature after the war. The meeting of these two remarkable intellects came about strangely.
Early in 1949, as almost his first significant act as Head of Pembroke Dock Grammar School, Roland appointed the recently graduated Raymond Garlick to his English department.
The scene was thus set for the founding of Dock Leaves/Anglo-Welsh Review, which was for some years the only magazine catering for Welsh writing in English.
Beyond these historically significant developments, there is also Raymond Garlick's contribution as a poet.
Since 1946 he has published twelve books; Collected Poems 1946-86 appeared from Gomer Press in 1987 and his latest volume Travel Notes (New Poems), also from Gomer, in 1992.
Commitment
A meticulous technician and gifted exploiter of the power of rhyme to make utterance memorable, he has set himself some formidable metrical problems over the years, not least among them pattern poems, like George Herbert's 'Easter Wings' or Dylan Thomas's 'Vision and Prayer'.
He has been a stirring polemicist too, in a series of poems protesting against the injustices perpetrated by the English legal establishment against Welsh Language Society activists in the early 1970s.
He remains a committed supporter of Wales and Welsh literature in both its languages – a curious commitment one might think for one of entirely English background, who was born and, until the war years, brought up in the London suburbs.
In his account of the writer's life and work and particularly his well-balanced assessment of the poetry, Don Dale-Jones provides a valuable introduction to this important figure in the cultural life of Wales since 1945.
Definitive
Raymond Garlick and Roland Mathias, who as successive editors of the Anglo-Welsh Review welcomed writers from England (and overseas – though rooted in Wales both have strongly European views), will appreciate the degree of openness which emerges from analysis of the contents list of Seren's Burning the Bracken, published earlier this year.
It claims to be a definitive sampler of poetry in English from Wales, but it is not quite that. Rather it is a collection compiled from the work of that extensive list of poets who have brought out at least one book with Seren in the past 15 years.
Seven of the poets were also included in The Lilting House (1969), that landmark anthology of Anglo-Welsh poetry edited by Meic Stephens and John Stuart Williams, and some interesting comparisons can be drawn between the two books.
Of the 43 poets in The Lilting House, Raymond Garlick was one of only seven who were not Welsh by birth, while almost half the 46 poets in Burning the Bracken were born in England.
Most of the latter currently live or have spent a considerable amount of time in education or employment in Wales. Even so, this is a considerable shift.
Four women were among the poets in The Lilting House, compared with 17 in Burning the Bracken.
This too is a striking, if not unexpected, change and, like the development remarked above, it is accelerating: of the 17 younger poets in Seren's anthology, that is those born in the 1950s and 1960s, eight are women.
Among these are two of the most accomplished poets in the volume – Sheenagh Pugh and Hilary Llewellyn-Williams.
It is the work of Christine Evans, however, one of those born in the 1940s, that I re-read most readily.
She has been offering us her quiet observations from her home on the Llyn Peninsula for some time and conveys with tactile clarity what it is like to live on and off the land.
Her poems penetrate beyond descriptive exactness to a sense of the precarious business of survival for individuals and a unique society in her rural, sea-bounded corner of Wales.
Precise images
Although there are notable exceptions (Tony Curtis, Duncan Bush, Peter Finch, Robert Minhinnick, Mike Jenkins, whose poetic worlds can be urban, industrial, cosmopolitan, routinely squalid, violent), post-Hughes, post-Heaney nature poetry is far commoner in this collection.
This is not to denigrate poems that are often replete with acute perceptions and precise images, even if they do not say a great deal. In all but a few cases, rural Wales is not distinguishable from rural England, and Mike Jenkins's 'Gurnos Shops', that depressingly accurate vision of a down-at-heel council estate, would serve its purpose as a critique of political neglect almost anywhere.
Perhaps it was ever thus and we were wrong to suppose there is anything distinctive about Welsh writing in English; and now Welsh themes are less prominent, because there is less to distinguish society in Wales from that in England.
In his introduction to The Lilting House, Raymond Garlick identified some poems in the anthology as 'Welsh in the fullest sense', in that 'not only are they are written by Welsh men or about Wales – they are written for Wales'.
There were not a host of such poems in that book and far fewer can be found in Burning the Bracken.
Re-workings of Welsh myth or history are rare, and recognisably Welsh, especially Welsh-nationalist opinions are equally thin on the ground, if you set aside the contribution of John Tripp, that remarkable old war-horse, dead these ten years.
The poem that leaps out, for its intrinsic quality as well as for its Welshness in Raymond Garlick's terms, is Tony Conran's 'Elegy for the Welsh Dead in the Falkland Islands,1982' which echoes the great sixth century Welsh poem about a disastrous raid, 'Y Gododdin', and is compounded of anger and praise.
I do not think our reserves of that fuel of anger and praise are running low, but they seem now to be spent on social and environmental concerns less particularly Welsh than when Idris Davies wrote 'The Angry Summer'.
An extract from Letters from Wales: Memories and Encounters in Literature and Life by Sam Adams, out in hardback through Parthian Books (£20). It is available from all good bookshops.
Sam Adams will be in conversation with Dai Smith and Emma Schofield at Hay Festival on Friday 2 June 2023, 2.30pm, tickets available here.
Catch up on all the previous extracts here
---
Support our Nation today
For the price of a cup of coffee a month you can help us create an independent, not-for-profit, national news service for the people of Wales, by the people of Wales.