Culture
Book extract: This Thing of Darkness – Heathcliff's Lost Years by Nicola Edwards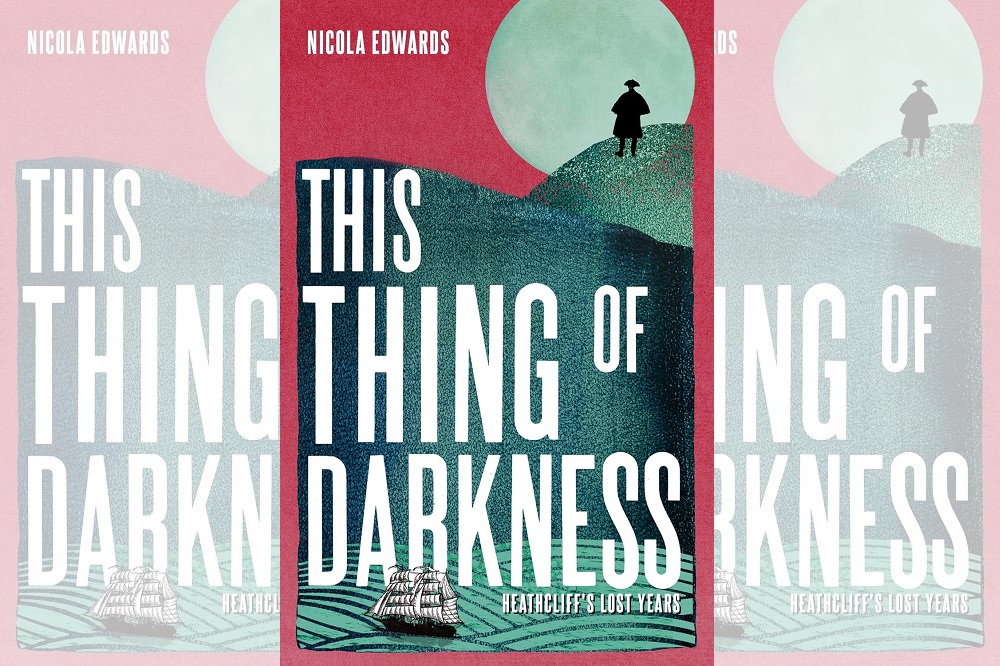 On publication day. we are pleased to publish an exclusive extract from Nicola Edwards' debut novel, which imagines the lost years of one of literature's most enduring characters.
Abe Earnshaw
Gimmerton, Yorkshire July 1771
'We will rest there a while,' I said, pointing to Gimmerton in the valley below.
The boy looked up at me and cocked his head slightly, like an intelligent dog trying to find meaning in its master's words.
'Don't you worry, lad,' I said, placing my hand on the boy's shoulder. 'You'll soon learn the language – finest YorkshireEnglish.'
Dusk was nearly upon us, but the valley was all damson purple and leaf green, despite the dimming light. I pointed again to where the valley narrowed and then broadened, to the clutch of stone dwellings, and beyond, deep within the vale's furrow, Gimmerton. I am always thankful to return to this dale after a long journey, to return to the smoke that rises from the village, an exhalation at the end of a long day.
'It isn't Liverpool,' I said, pulling the boy close to me, out of the wind. 'But there's a fine inn, and the innkeeper is a goodly man.'
Holding the boy close, I began our descent to the village, along a path bordered with brambles and dense patches of heather. My legs and arms gnawed in protest. It had been a long walk from Liverpool, and I was bone tired.
'I'm getting too old for this,' I said.
The boy clung to my waist.
'You run ahead,' I said, gently pushing him forward.
The wind funnelled through the combe and swept the curls from the boy's face. His eyes were dark, darker than any of the Earnshaws, but they were also deep and serious and not unfamiliar.
I watched him closely as the thickets came alive. Black grouse gurgled and shrieked amongst the bracken. Skylark called to one another. A buzzard screeched above. The boy crouched low and tilted his head.
'Don't be afraid,' I said as gently as I could, lifting the boy to his feet despite my soreness. 'These moors are filled with noises; soon you will learn to name them all, even mimic them. Cathy will teach you; she can trill like a skylark, when it pleases her,' I said, thinking of my wayward daughter. 'You will like Nelly, our house girl,' I said. 'She will do you no harm.'

The boy stayed close to me as dusk swept into the hills and moorland. One by one the candles were lit; they flickered like stars in the cottage windows. As more chimneys began to smoke, the smell of burning wood filled the valley. I had not known the comfort of a good fire since leaving the Heights three days hence.
'Do you smell that, lad?'
The boy looked at me blankly.
'Like this,' I said, lifting my chin and smelling the air elaborately.
The boy copied me, but still looked confused.
'It is fire,' I said, using my hands to replicate the movement of flames. 'Resting before a good hearth is a joy like no other.'
The boy nodded, his expression serious, but then I smiled at him, and the boy's features softened. His smile, when it came, was too big for his face.
'Come here, lad,' I said, kneeling before him so our faces were level. I was unsteady and the wind nearly felled me.
I gestured for the boy to come closer.
I cradled the back of the boy's neck, and the boy did not flinch at my touch. Instead, he leaned into my hand, and closed his eyes.
My breath snagged in my chest. I was a child again, soothed by the touch of my own father's hand.
The boy opened his eyes to a tenderness I could not conceal.
'You are my son,' I said.
Soon I would weave my lies to the village, to my wife, to Cathy and Hindley, even to the boy. But not yet.
'You are my son,' I repeated, still holding the boy's neck, not wanting the warmth to fade, as I knew it must.
—-
This Thing of Darkness by Nicola Edwards is published by Aderyn Press in paperback at £8.99 and is available to purchase online or from your local bookshop.
Nicola Edwards is a PhD candidate at the University of Bangor and teaches English and Classics in a school in North Wales.
Nicola has worked as a journalist and has lectured on race and representation in the media for Race Council Wales. Her non-fiction writing has appeared in Wales Arts Review.
This Thing of Darkness, her first novel, won the Michael Schmidt Prize at the Manchester Writing School. @nicanned www.nicolaedwards.co.uk
About This Thing of Darkness:
Wild and windswept Yorkshire. Sixteen-year-old Heathcliff runs from the only home he has ever known in a squall of pain and fury. Blown into an inn on the edge of the moors, sodden, rejected, and hankering for revenge, he steals a horse and sets out for Liverpool in search of answers. The town he arrives in is a brutal new world, brimming in equal measure with risk and opportunity. Here, Heathcliff might map his future, make his fortune, forge a role for himself. But at what cost…
Reimagining the three years during which Heathcliff is absent from Emily Brontë's Wuthering Heights, This Thing of Darkness traverses countries and oceans in pursuit of one of literature's best known characters.
Praise for This Thing of Darkness:
"Prepare to rediscover Emily Brontë's Heathcliff in this dark, unflinching gem of a debut novel." —Elaine Canning
"A novel of extraordinary power and vividness that deserves to win prizes. Nicola Edwards is an outstanding talent." —Nicholas Royle
---
Support our Nation today
For the price of a cup of coffee a month you can help us create an independent, not-for-profit, national news service for the people of Wales, by the people of Wales.