Culture
Book of the Week: Nemesis, My Friend by Jay Griffiths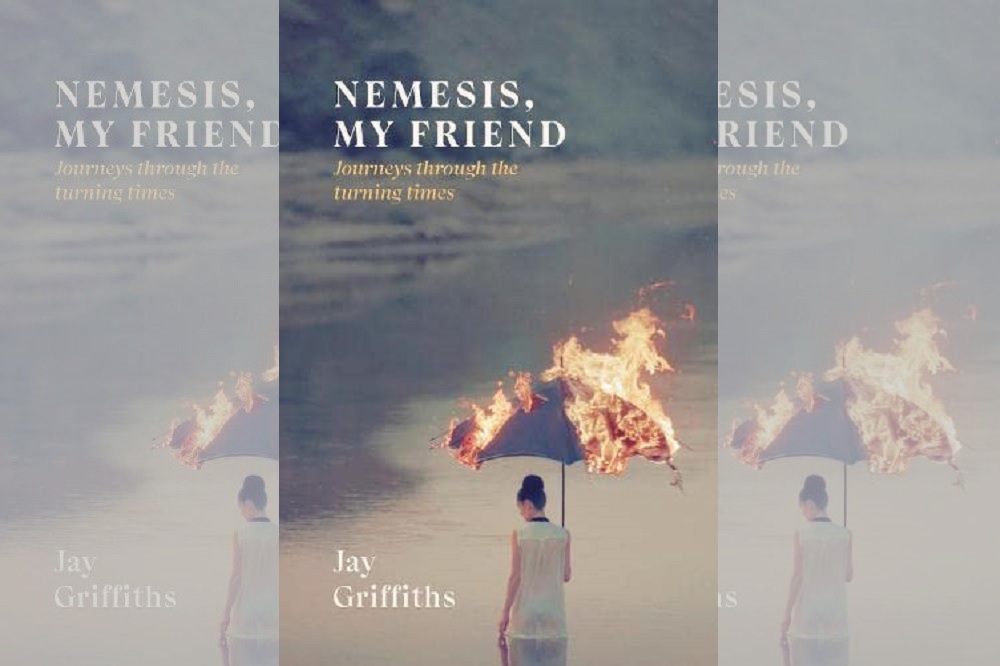 Jon Gower
Ye gods, here's an utterly superb collection of essays. Provocative, persuasive and as wide ranging as the flight path of a wandering albatross Jay Griffiths' latest book has all the lyrical intensity we have come to expect from her writing and then some.
But let's start with that slightly confusing title. Many of us will think of nemesis as an enemy rather than a friend but as Griffiths points out 'she is a goddess who gets a bad press. She is maligned and misunderstood, spoken of as if she were spiteful, vengeful and punitive, as if she relishes the retribution she serves. Not so. She represents divine justice, specifically the importance of respecting boundaries.'
With the hourglass as her symbol, and with time ticking down for the human age, Nemesis is, Griffiths suggests, the goddess for this moment, for an age that fatally refuses to recognise limits, indeed rages against them.
Genocide
You'll have gathered that there's some very serious and urgently timely material gathered between this book's covers.
We read about Indonesia's genocidal attacks on the native peoples of West Papua – supported by the USA and the UK who supplied arms and shored up an oppressive regime.
President Obama was told about the 'slow-motion genocide' yet offered extra funds to Kopassus, the Indonesian military special forces responsible for massacres.
John. F. Kennedy's administration had previously dimissed West Papua as a 'few thousand miles of cannibal land' as it placed corporate and political gain over human rights: it's no coincidence that there is great mineral wealth there, lots of gold and copper and thus money to be made.
Then there is the effect of climate change on the people and nature of the Arctic and a visit to the so-called City of Women in Colombia, 'built by and for women, a cruel proportion of whom are victims of sexual violence, all of whom have been made homeless – displaced – by the civil war.'
There, Griffiths notes how a woman 'semi-automatically picks up a broom and sweeps up leaves. That house-proud sense. And after the humiliation of rape, pride is a beautiful thing.
Or as one of her interviewees, Lubis Cardenas puts it, 'We are doing this contra viento y marea, against the wind and the tide, against all odds. We have been able to build dreams.'

Silver songs
Nemesis: My Friend is a collection of great range and compass. Griffiths journeys around mid-Wales in the spectral company of the great poet Dafydd ap Gwilym, visiting his grave which nestles between the Glasffrwd brook and the Teifi river, famous for its salmon.'
Ever intellectually restless, Griffiths also extols the virtues of ice-skating – real skating or wild skating – on frozen waters and the attendant chatter and sounds of 'warm red life' from nearby lakeside bonfires.
Just as she enjoys such warm noise or Dafydd's voice for company she also enjoys other musics, such as the wren's 'silver laughter,' a 'mini-Paganini' which 'sings like the sweetest, highest string of the violin, known as the singing string, the chanterelle.'
Indeed the book is full of nature writing of great intensity and flair, even if often tempered by concern about what is happening to nature herself.
It is sobering to read, or instance how, in the Lake District, they have planted plastic flowers for the tourists who come to see Wordsworth's 'host of golden daffodils' as they now appear too early in the year.
Or how there are 40 million fewer birds in the UK now than there were in the 1960s because we have 'stolen from the birds their due allotment of habitat.'

Rhapsody
But to balance the despair there's plenty of delight, such as the blackbird's serenade to the dawn, which distils 'the day to rhapsody' or the simple act of sticking a fork in the ground to a robin in a garden can have a flitting post above the cat's paw.
Then there's a small and often overlooked flower, the wood sorrel, which blooms at Eastertide and 'is called Hallelujah in much of Europe, for the radiance of its flowers and its leaves that lift a praise to the skies.'
Indeed so much of the book sings praise to the world, and celebrates such overlooked virtues as hospitality and kindness even as it consistently delights in language.
Griffiths is an inveterate and perceptive traveller who also very much enjoys the domestic rhythms and pleasures of home.
And in introducing an unfamiliar word, Xenia to her readers she also asks us to give it hospitality, and its seems especially necessary after the recent exchange between the octagerian Holocaust survivor Joan Salter and Suella Braverman in which the Home Secretary refused to apologise for the language she employs to describe refugees:
You are probably more familiar with the opposite word xenophobia, that hatred for foreigners which Britain is currently rehearsing. Xenia is a word to be treasured, to be welcomed into the home of your mind. It means the law of sacred hospitality to strangers, foreigners, refugees, wanderers.
The Trickster
But when she isn't travelling Griffiths spends a lot of time reading, which explains why this book fizzes with ideas, from the language of flowers, or floriography through alternative ways of teaching to examinations of homesickness and how it manifests itself in different places and at different times.
Here is a bookish author who doesn't brandish her learning but rather communicates it with a ready energy and verbal vim.
One of the recurring characters in the book is the Trickster, the mythic deceiver, who comes in a wide range of guises, from Puss-in-Boots to Saul Goodman in Better Call Saul and, closer to home as Malcolm Tucker in The Thick of It.
He is there, too in Rudy Giuliani, that 'oily lawyer with fake hair-colouring dribbling down his cheek' and in Donald Trump who, like all Tricksters, Griffiths avers is easily bored and a communications addict, of TV, tweets and attention.
You'll have gleaned that here is a book of ideas, passion and bitingly good writing. These are essays written from the heart, and that of an author who simply delights in each day, in the very quickness of things and records what she sees so we can also share them and understand their simple, breath-stealing magnificence.
Nemesis, My Friend: Journeys through turning times by Jay Griffiths is published by Little Toller books. It is available from all good bookshops or you can buy a copy here.
---
Support our Nation today
For the price of a cup of coffee a month you can help us create an independent, not-for-profit, national news service for the people of Wales, by the people of Wales.