Culture
Carwyn and Grav: dramatising the lives of two rugby legends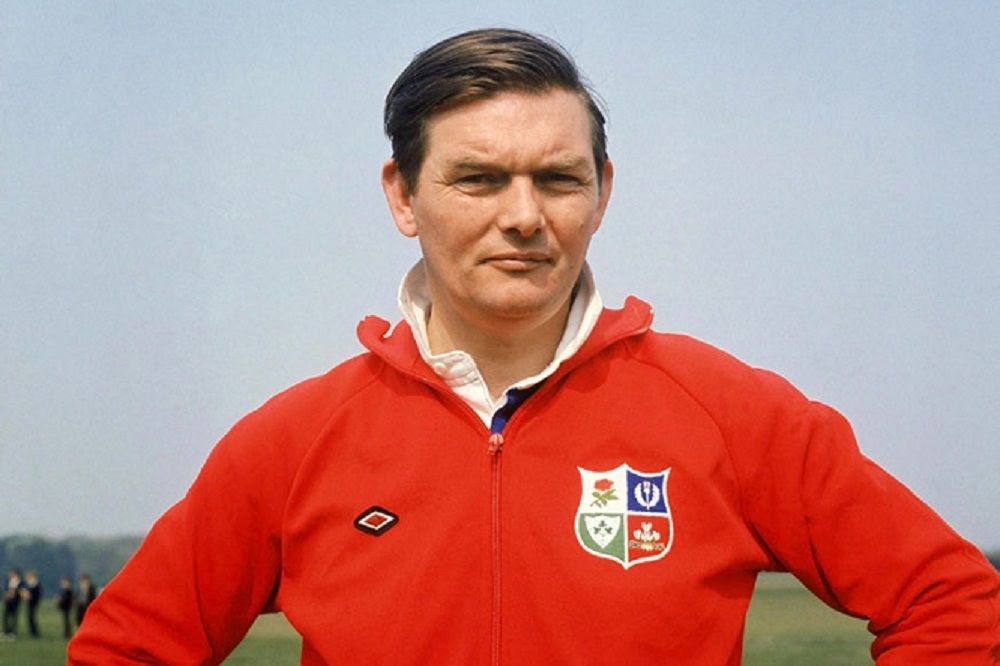 When Owen Thomas and Gareth J Bale were teamed up in a script slam, they could not have anticipated a collaboration which would produce critically acclaimed one-man plays about their rugby-legend heroes, Carwyn James and Ray Gravell.
Ahead of the play about Carwyn taking to the stage on his home turf in Llanelli, Bale and Thomas talk to Nation.Cymru about their successes with Carwyn and Grav, what it takes to bring great lives to the stage and what's next for their partnership.
How did you two meet and start working together?
Owen – I had written a short play as part of ScriptSlam at the Sherman Theatre and the piece got through to the final. In the final the 6 writers were paired with random 6 directors.
The first 5 were all paired, and I was last. I asked who my partner was, and they pointed towards a figure at the bar drinking a pint and wearing a Welsh rugby shirt.
That initial conversation has gone on to last over two decades. We have done some incredible things since then, and we are ambitious to do even more in the future.
Gareth – Owen and I got on immediately. We have a good personal and professional relationship. That's really important and has helped over the years; especially when we had to share a room for a week in Lincoln, Nebraska!
To what extent did creating Grav change your lives? How did the BAFTA for the film open doors?
Owen – Grav has been the springboard to allow me to become a professional full time writer, and for that I will always be grateful. I think Peter [Doran, former artistic director of the Torch Theatre], Gareth, and I all knew it was a good idea, but we weren't quite prepared for how big it would be. The show just seems to have captured the hearts of people, and every time you think it won't surprise you anymore, it does.
We recently did the 150th performance in my home village of Tongwynlais which was very special, and there are some very exciting plans for the show in 2024…
Theatre is my main love, and the last 12 months has been so busy that I haven't properly been able to explore the film aspect too much. I am delighted to have become a BAFTA Connect member and this is allowing me the chance to meet some interesting people. I would love the opportunity to make another film though, and I think the story of Carwyn is one that would translate brilliantly to the big screen.
Gareth – Performing in Mynydd y Garreg, in New York and for the Welsh National Rugby Squad as well as all the other wonderful experiences I've had over the last 9 years have been possible because of Grav. There are pinch yourself moments that I will treasure. I feel honoured to be able to portray Ray and always give my best when I perform the show.
The opportunity to make a film of Grav was great. It was a totally different way of telling his story and one that I enjoyed very much. Particularly because of the people that worked on the production and the fact that it was in Welsh.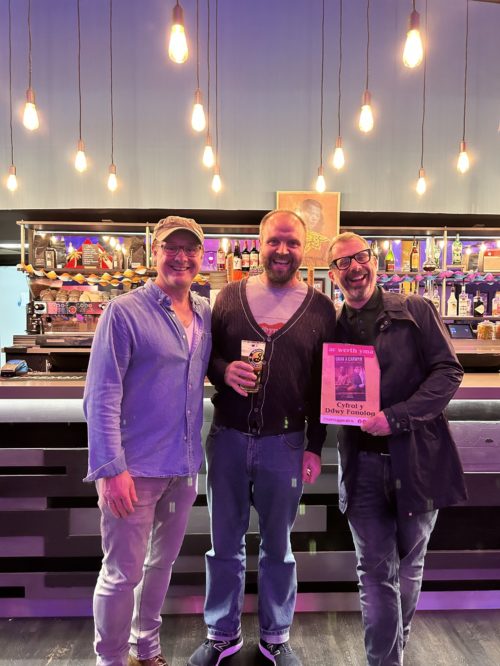 When did the story of Carwyn come into the picture? Was it always the plan?
Owen – Carwyn was an idea that came from the Torch Theatre. As with Grav, as soon as I started to do my research, I could see that his life was also perfect for the stage. His life story has everything that a writer wants – highs and lows, drama, and intrigue. He led a remarkable life and it is one that deserves to be heard on the stage.
The difficulty was always going to be finding an actor who could do him justice, and in Simon Nehan we have been so lucky to find an actor who is so compelling and skilful.
Gareth – I was delighted to be asked to direct Carwyn. Most of the team was already in place and I could see the quality that Peter Doran and the Torch Theatre had assembled. I felt I was well placed to work with Owen's words, and it was great to finally work with Simon. We've known each other for years and although we've played rugby together – partnering each other in the centre – we'd never worked together.

This tour goes to Llanelli for two nights. Will bringing Carwyn to his home turf, so to speak, feature as a highlight of the tour? Will he be well received?
Owen – I certainly hope so. He is someone the town should be very proud of. The play has reminded people all around Wales of just how incredible some of his achievements were in his relatively short live. We hope people in Llanelli take the opportunity to come and be reminded of a man who did remarkable things and is so intrinsically linked with their town.
Gareth – It feels right that Carwyn plays Llanelli. He had such a huge influence on the town, it's people and rugby club. There's a pub in the town named after him and his name is synonymous with Llanelli. He was a hugely successful coach, not just in terms of results but also because of the way Llanelli played their rugby and the careers he helped to develop.
Carwyn never had the chance to coach Wales and there's a line in the play which states 'I never got the chance to do it for my country but diolch i Dduw i did it for the town…' with reference to beating the All Blacks. We hope this resonates in Llanelli!
Why do you think that one man shows of this nature, which is biographic in nature, seem to do so well – do you think it is the nature of celebrity that makes them successful?
Owen – I think people are curious about the lives of others. I have always been drawn to biographies. To peer behind the curtain on a life is fascinating. Carwyn never had the chance to coach Wales and there's a line in the play which states 'I never got the chance to do it for my country but diolch i Dduw i did it for the town…' with reference to beating the All Blacks. We hope this resonates in Llanelli!. I was always torn between studying history or drama at University and this style of writing appeals to both of my main interests.
Gareth – I think people like to be reminded of characters like Carwyn and Grav. It almost feels like they're seeing an old friend again. That's certainly the impression that I've been given. It also means that we are able to draw a different crowd to the theatre. People that wouldn't normally come are drawn to the person and the subject.
What were the main challenges of writing and producing a play about men who many people in Wales knew and remembered in real life?
Owen – To do them justice, and to ensure that you are getting them right. When you are taking on hugely loved characters that responsibility becomes even more important. Before the first performance of Grav I was reminded that everyone in that first audience either knew him or loved him. To say that made my palms sweat would be something of an understatement.
When people are no longer able to speak for themselves, it is incumbent on the writer to ensure that they have done their homework accordingly.
Gareth – There is a huge responsibility. We are portraying well-loved people – favourite sons! It's important to do them justice. Especially as family and friends are keen to see how they're portrayed. I've always said that capturing a person's nature is more important than doing a caricature.
How useful was it for Gareth to have carried the performance in Grav when changing hats and becoming the director for Carwyn?
Owen – Incredibly useful. Gareth knows what it takes to make a one-man show a success and was able to offer lots of insights for Simon at the beginning of the creative process.
Gareth – I think it helped that I understood what it takes to do a one person show. After reading the first draft I had a clear vision of how I wanted to tell the story; and how it should be different from Grav. I had to be true to Owen's words but also be aware that this was Simon's show. Carwyn is a hero to Simon so as director you have to give the actor the freedom to bring their ideas and their version of Carwyn.
It's a different style of directing – you're there to support and offer practical advice (don't drink fizzy drinks to close to the start of the show would be a great example!) as well as being responsible for the words and the vision.
Fortunately, we have a great team which includes Tegan Reg James (designer), Ceri James (lighting designer) Kiara Sullivan (Assistant Director), supportive partner theatres and an excellent technical team to support us.
Both Gareth and Simon Nehan have the challenge of bringing a celebrated character to life on stage. When I was watching Carwyn last year, an audience member who had known Carwyn as a child, said that Simon had really captured him. How do you go about doing this, without it being an impersonation?
Owen – As with the writing, research for the actors is key. Both Simon and Gareth take this aspect very seriously indeed.
Gareth – You want to be as true to them as possible without going over the top. Both Simon and I have spent hours doing our research. That includes talking to people who knew Ray and Carwyn, watching archive footage of them, listening to their voices, and reading about them.
I spent hours with voice coach Emma Stephens-Johnson, trying to get the voice just right. It's getting the balance between being detailed and resisting the urge to copy. It helps that we both have an admiration of these men – they're heroes of ours – so you want to do your best for them and their families.
Speaking to Peter Doran when I came to see Grav, he mentioned the moment when you all realised that the story of Grav was about a young boy who lost his dad and just so happened to be a rugby player. What was the key thing in Carwyn's story that gave you the hook on which to hang the narrative?
Owen – There was a photo of him singing by a piano that is included in Alun Gibbard's superb biography, 'Into the Wind'. It shows Carwyn at the forefront in a smart suit. There are people all around him, but he has his eyes closed. His clothing and manner looks at odds to everyone else in the picture. He seems, as the play says, 'a part of it, but apart from it'.
There is the sense of someone who is at the heart of his community, but at the same time slightly distanced from it. There was also a fantastic quote about Carwyn by the film director Colin Welland who described him as being 'like a flower in a vegetable patch'.
This is a powerful image of someone who doesn't seem to quite belong to the world in which he lives – a key aspect of Carwyn James. The sense of a person who was loved and respected by people around him, but at the same time almost seeming like he belonged to another era altogether.
When finding those moments in a story, how important is it to have remaining family on side with the project?
Owen – Absolutely essential. These are public figures, but they are also real men with real loved ones. We have always been very grateful for the support of the families behind Grav and Carwyn. It is always very special when they come and see the work and are supportive of the vision of their loved one that we have created.
Gareth – I agree. I think of Mari, Manon, and Gwenan before every performance. Their support has been immense. I'll never forget seeing them in the front row of the New York performance and giving Mari a huge cwtsh in the curtain call. Their support for the show and for me and my career means the world.
Carwyn's family have also been incredibly supportive and we're really grateful for everything they've done; and continue to do for us.
Both plays work on the principle that the character is speaking to someone else. In Carwyn it is his just-expired self. With Grav, it's his long-gone mother. How does this dramatic device free up the writing and the acting?
Owen – Once you work out exactly who your subject is talking to, it frees the narrative. Until you find that person then the one-man show doesn't work. There has to be someone they are talking to, otherwise it is just a person talking to themselves for an hour. I have had other ideas which I have abandoned because I couldn't work out who they were speaking to.
With Carwyn we felt that another version of himself would be who he could be most honest with. The play explores the idea of your life flashing before your eyes as it reaches its climax. The central conceit of the play is that people should not fear death – they should fear that they didn't live their best life. Carwyn became an expert summariser later in his career. In our play he turns these skills on himself.
With these plays both still touring and now published, what next for Bale and Thomas?
Owen – We have a few ideas, both solo and as a partnership. An idea we are discussing is a project about Richard Burton. 2025 marks the centenary of his birth. Both of us are huge fans of his and respect the enormous impact he had on Wales. To produce something about his life that looks at a hitherto unexplored aspect would be a real honour.
Gareth – As Owen says, we both have exciting projects ahead. We're always looking forward. But don't be surprised to see Grav or Carwyn again in the future…
The tour continues this week and through until the beginning of November.
Follow the links below to find more information and buy tickets.
Galeri, Caernarfon, 24 October
Ffwrnes, Llanelli, 25-26 October
Newbridge Memo, 27 October
Torch Theatre, Milford Haven, 31 October
Pontardawe Arts Centre, 1 November
Grand Pavilion, Porthcawl, 3 November
Theatr Brycheiniog, Brecon, 4 November
---
Support our Nation today
For the price of a cup of coffee a month you can help us create an independent, not-for-profit, national news service for the people of Wales, by the people of Wales.