Culture
Charles: The King and Wales: 'There is a lot of fairy dust sprinkled on the monarchy'
Martin Shipton
In 1969, in the run-up to the controversial investiture, Dafydd Iwan wrote a song called Carlo that mercilessly lampooned the Prince of Wales for "playing polo with Daddy" and supposedly reading the racy poems of mediaeval poet Dafydd ap Gwilym in bed at night.
Fifty years later the two men met and Iwan, while retaining his republican standpoint, said they had got on well.
In his new book Charles: The King and Wales, BBC Wales correspondent Huw Thomas writes about the new King's apparent ability to charm unlikely people and about the relationship with Wales that he has established during the course of his adult life.
Asked how the book had come about, Thomas said: "For me there was this concept in my head that you think you know the story, but you probably don't. What had got me to that point about Charles in Wales was seeing him come to Wales to do very official-looking things, going to certain events, big ticket places like the Royal Welsh Show or the Royal Welsh College.
"The classic is that he turns up, there's a line of people, he shakes hands, there's a bit of information released about something specific that he might be supporting – and then it's on to the next function.
"I started to ask myself what's going on. Is that the extent of it – is it as shallow as that or, if you peel back the layers, is there more to it.
"Luckily there was more to it – enough to fill the book. But the kindling of it was my being at some of these events and seeing how controlled the public-facing bit of it was.
"I wasn't coming to it from a particular personal standpoint on the broad idea of monarchy and the Prince of Wales. Really, I wanted to work out what he was doing.
"I started in early 2021. Had people not looked? Were we a nation that perhaps didn't want to look? Had previous attempts come from a particular position about wanting either ro expose something or pick the sexy stuff or the juicy stuff?
"So mine was a blank piece of paper, looking at what he had done and asking people to talk about it too. To my great enjoyment, nearly everyone I asked agreed to talk to me – and almost all of them on the record."

Deferential
Asked whether those who know Charles best tended to be deferential, and whether that posed challenges for a biographer, Thomas said: "I went in thinking that they'd all be very deferential. More people than I realised declared themselves to be republicans during the course of the interviews. People who regard him as a friend told me they would not class themselves as monarchists. One of them told me last week they don't believe in the institution, but passionately believe in the person. That came up a lot.
"From the spectrum of the people I interviewed, clearly there are a lot of what I would call classic, traditional monarchists, probably largely from the older generation these days. Actually the Valleys manage to produce extremes of both monarchists and republicans. A couple were good mates but mostly they were people who had worked with him, who were able to shed some light on how he operated and what his interests were – how he was able to get stuff to happen and work with people, and how he was able to do that without being this idea of a princely patron who bossed people about and gave them priorities.
"Far from it – he was somebody who was seen often to be a little peripheral to the discussion, but seemingly playing an important part there as well."
Those who claim that Charles' association with Wales has brought tangible benefits often quote the example of Sony's decision to open a plant in Bridgend in the 1970s, following a conversation the Prince had with one of the company's founders at a reception held by the British Ambassador in Tokyo.
Thomas said: "There is a lot of fairy dust sprinkled on the monarchy and the Sony story, for me, showed how they used it in Bridgend when times were tough. Was it going to happen anyway? Were they already looking in the UK for a site? Was it great serendipity that they ended up in Wales? The people in Sony stand by this company folklore, rather than company history. Who am I to say how important that discussion was in that Embassy in Tokyo?"
Interference
Asked about concerns expressed over the years about Charles' supposed interference in political issues, Thomas said: "From what I saw he was focussed not on any direct lobbying or leaning on a certain issue. I haven't been in a room when he's met Mark Drakeford and I'm not aware that a hobby horse has been brought out. What he does do is convene the right people together, who probably all agree with him about what the big issue of the day is.
"River pollution is the obvious one. He may be concerned about pollution in the River Wye. I suspect the people he gets round the table are not the chicken farmers who they're blaming for pollution there. It would be people like the National Trust, rivers people. They'd go off and do their own lobbying, but he will have enabled and convened these people and helped them with phone numbers and other contacts.
"Whenever you speak to people about those moments where he is acting as a convenor, that's where the work has happened, but he's not the person who is writing the letters or necessarily in those meetings telling people what he thinks should happen.
"I didn't uncover any direct lobbying, anything shady or even anything particularly controversial. As well as him being quite a switched-on person when it comes to Welsh affairs, he also hasn't really put his foot in it in Wales with public interventions. What we know about him and Wales is often the softer stuff about his passions for things, rather than anything that might be annoying him about Wales."
Aberfan
Thomas writes about the continuing interaction between Charles and people from Aberfan.
He said: "The Aberfan connection is remarkable. It's survived for nearly 60 years. It's not really a relationship. It's something which both sides seem to feel particularly strongly about.
"It's such a significant chapter in Welsh history. The [late] Queen and Charles were aware of that and all the politics of Aberfan and the consequences of it too. It's a unique connection which is rooted in that one moment, in a way that Aberfan in any Welsh person's life is a marker of something. It's something which has made a mark on the institution of monarchy as well. On a personal level it meant an awful lot to the Queen, and almost naturally it's become an important point and the people there have become an important connection for Charles as well."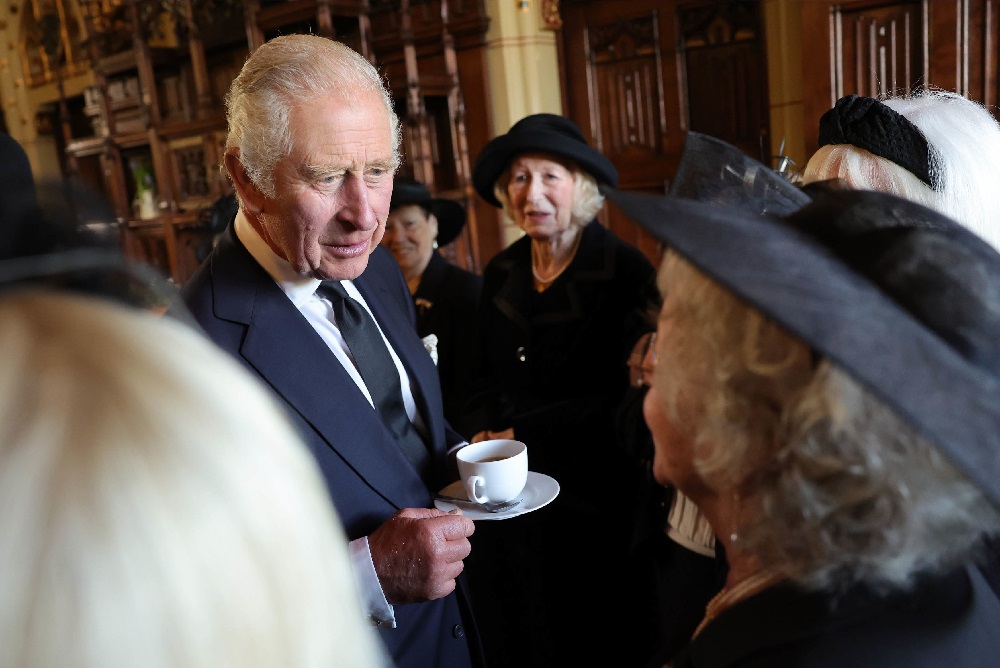 Should we be impressed by Charles' ability to, at least partly, win over people who are naturally opposed to the monarchy, or is it just another example of how the British Establishment can expand its reach to maintain power?
Thomas said: "He has managed to get a lot of people to like him who would naturally find themselves outspoken republicans and would probably vote tomorrow to abolish the monarchy.
"For me, Dafydd Iwan summed it up when he was talking about the atmosphere around things like Brexit – wanting to show that you could get on with someone even though you couldn't necessarily support what they represented. But Dafydd Iwan has gone further than that in terms of the journey he's been on. And likewise people like Dafydd Elis-Thomas, Helen Mary Jones, Kim Howells and Peter Hain.
Likeable
"Clearly there's something about Charles that makes him quite a likeable person, someone who appeals to people who care about Wales, people who care about the language, people who care about our landscape and our farming. Because he cares about those things as well, there is a lot of common ground there. Looking at it on a more cynical level, it kind of disarms the republicans on first meeting him, but it also says a lot about how we all create an image of what these people are like, without really getting to know them ourselves."
The biggest controversy Charles found himself in since the investiture was when former Secretary of State for Wales Alun Cairns decided the Second Severn Crossing should be renamed the Prince of Wales Bridge.
He didn't get involved in what became a big public row at all, but in keeping with his general approach to Wales is known to have suggested that the name shouldn't be seen as referring to him alone but to all the princes of Wales, including those before the nation was conquered by England in 1282.
The book has one arguably strange omission. There is barely any mention of Diana, Princess of Wales.
Asked why he hadn't analysed her significance to Charles' relationship with Wales, Thomas said: "I'm not a historian and I felt that if I was going to tell the story by talking to people who knew and worked with him, there was a much higher risk of getting it wrong or stuck in the Windsors of the 1990s with all the melodrama of it if I tried to write about Diana. It's 26 years since she died. I didn't feel that going over her role here would add to the book."
Charles: The King and Wales by Huw Thomas is published by Parthian at £10.
---
Support our Nation today
For the price of a cup of coffee a month you can help us create an independent, not-for-profit, national news service for the people of Wales, by the people of Wales.