Culture
Democracy at its heart: the new Talking Shop in Merthyr Tydfil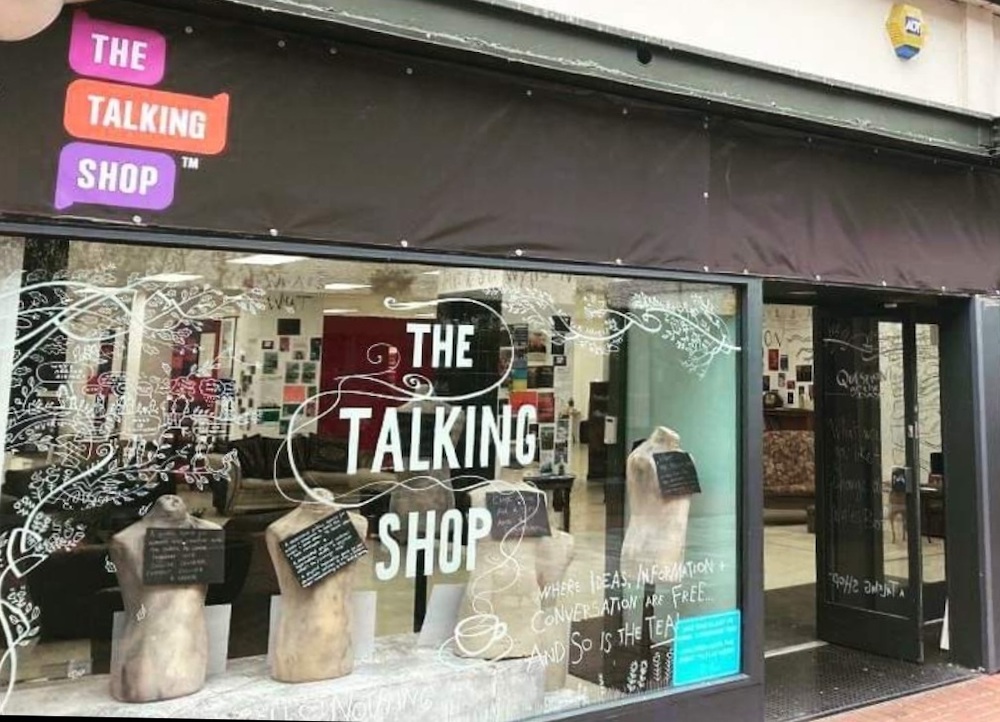 Laura Mochan
The Talking Shop is a pioneering venture: a non-partisan, free cultural and democratic information centre and a physical 'What's On' hub which everyone helps to create. It explores the relationship between cultural and democratic participation, generates ideas and supplies information, and even the tea is free.
'The Democracy Box' can also be found there… a guide to all things democratic which is also free to access and take part in. 'The Talking Shop and the The Democracy Box are models for 'A Conversation with the Nation' according to Yvonne Murphy from Omidaze Productions, who brought them both into being.
Yvonne Murphy is the creator of both the Talking Shop and The Democracy Box, and one of the founders of Omidaze Productions. Yvonne is in partnership with Dick Johns, a.k.a Dick Bradnum who is an actor, writer, designer and facilitator, and also the Lead Tutor at the Royal Welsh College of Music and Drama.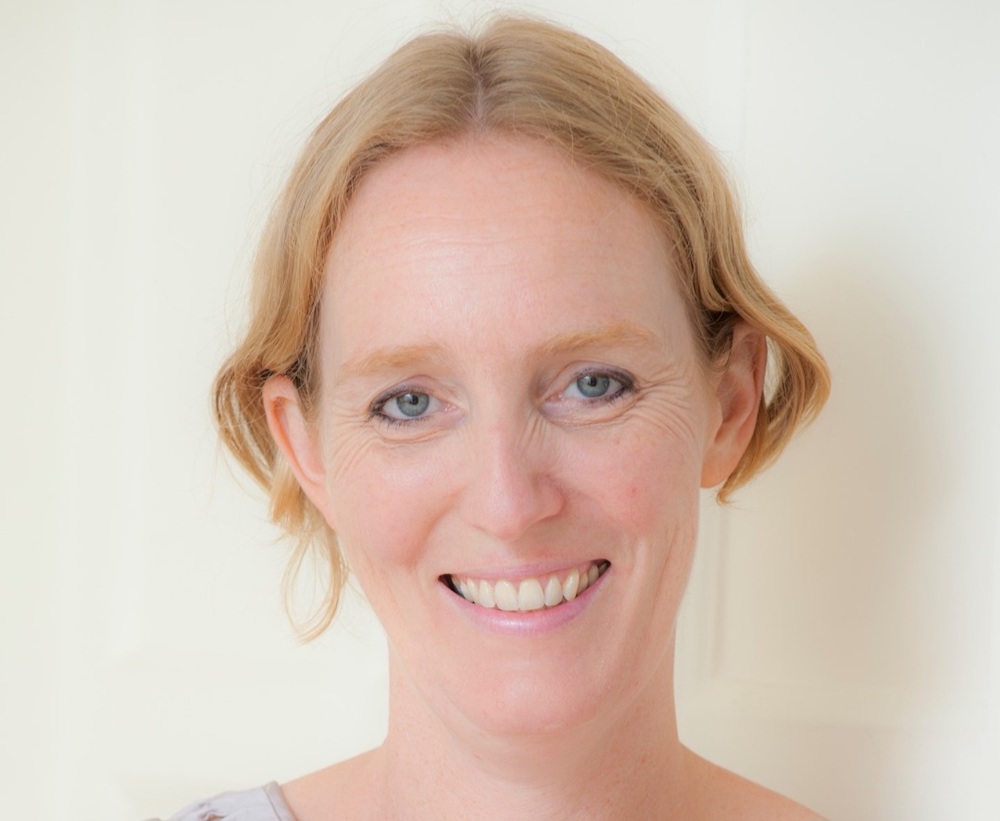 I caught up with Yvonne for a chat and she told me: 'We are very excited to be exploring this concept with creatives and the wider community alike. We continue to trial these spaces in towns and cities across Wales.
'Omidaze is delighted to be partnering with the Wales Millennium Centre to trial new and innovative ways to increase democratic and cultural participation in Merthyr Tydfil as part of a year-long research and development phase.
'Our support of this project includes not only the Wales Millennium Centre and Creu Cyffro, but National Theatre Wales, Theatr Soar in Merthyr, Head4Arts and our partners the Electoral Commission and the Future Generations Commissioner, plus The Politics Project, the Urdd, The Democratic Society and many more, and all of them invaluable.'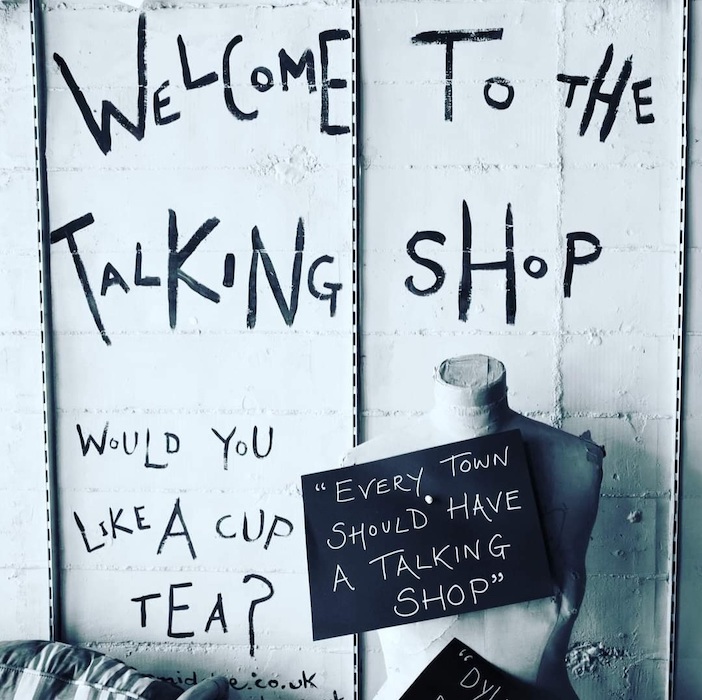 Hive of activity
Freelancers can be found at the shop in Merthyr town centre which hosts the available space, bringing their talents and putting them to great use.
There is a rolling programme of events which are entirely free to attend from collage workshops, art exhibitions, Communities for Work advice slots, creative think-in sessions… to music workshops, spoken word performances, The Democracy Box & Senedd Introduction to Democracy, Cuppa with a Copper, Welsh Wednesdays, creative writing workshops (coming soon) and much more.
The place is a hive of activity with something to interest absolutely everyone.
At a time when we need more than ever to be talking to one another and listening to each other, this idea is truly inspirational.
Social media platforms are all fine and dandy to share our thoughts and ask our questions, but in-person meetings of minds and face to face communication is important for so many reasons – not just for our collective mental health, but for building and maintaining real relationships, discovering new friendships and interests, helping one another, learning, entertaining each other and sharing things.
The Talking Shop is a welcoming, neutral environment in which to explore these things.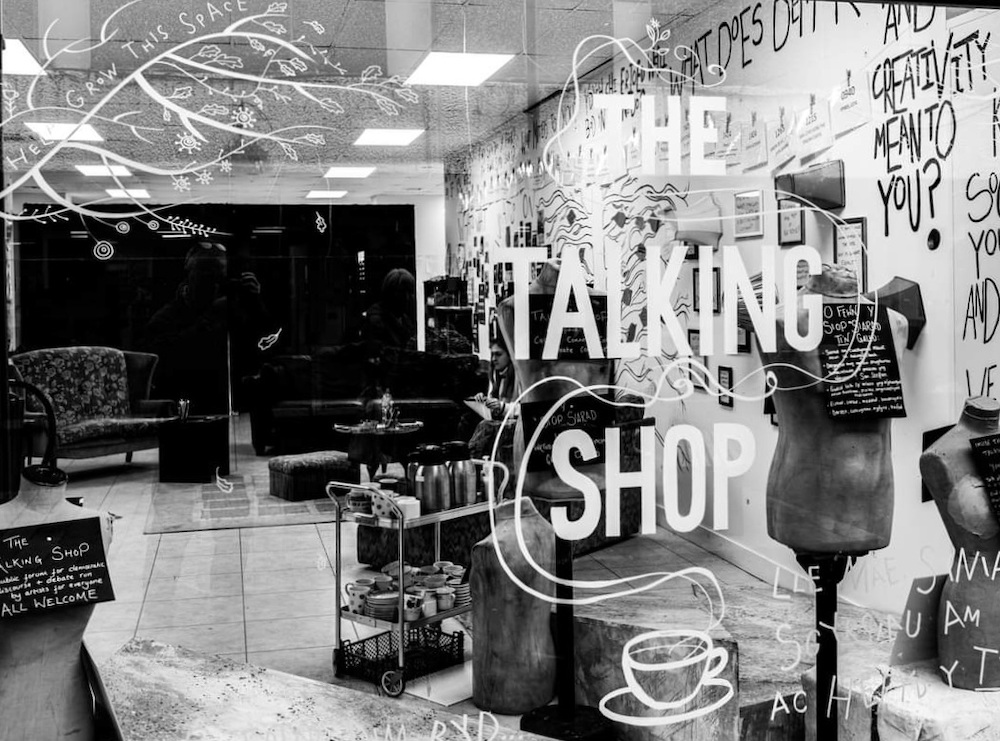 The shop opened in Merthyr Tydfil in October 2022. In its first two months they welcomed 3,046 visitors (and with no lead in or advertising budget).
Visitors range from pre-school age to those in their eighties and range across all socio and economic backgrounds.
Yvonne added; 'Four of our young visitors have become volunteers and we have two more volunteer applications pending. Five young visitors have successfully applied to become paid co-creators with The Democracy Box with more applications pending.
'Fifteen young people have signed up for focus groups with the Electoral Commission and we have recruited and trained twelve freelance creatives as new hosts, seven of whom are from Merthyr or the Valleys. Six young people have been trained up as assistant producers including one from the Valleys, too.
'Many visitors have been signposted onto a range of several additional services including mental health, police, initial support services, support workers and also relevant council services and elected representatives.'

What the future holds
I asked Yvonne what her hopes are for the future of the Talking Shops.
'I am trialling and researching and developing the concept across Wales in order to create a blueprint for how the model can work in any town or city. We were in Newport and Cardiff in 2022.
'It is very exciting to have an extension in Merthyr because I am actually researching and developing practically, as opposed to just theoretically the economic modelling for the concept as a whole.
'I passionately believe the concept does not need new money to work and be sustainable long-term; rather it needs existing money/budget lines for our audience, public engagement, participation and consultation used creatively and collaboratively by multiple stakeholders'.
Sophie Howe, the Future Generations Commissioner for Wales said; 'It has been so enlightening to work with Omidaze Productions and The Democracy Box to find out more about how some of our talented young people want to see the well-being of the Future Generations Act being used to create a Wales fit for future generations.
'It's vital that young people have an opportunity to shape their future and that politicians listen to them, and The Talking Shop is a brilliant initiative that I hope will encourage even more young people to feel comfortable using their democratic right to demand more from those running the country now, and in the future'.
The Merthyr Tydfil Talking Shop has been extended to February 22nd 2023 (and, hopefully, will be extended beyond that).
If you haven't as yet taken the opportunity to pop in, I highly recommend that you do! You will find something of interest, like-minded people and a very warm welcome.
For further information you can visit the websites for the Talking Shop or The Democracy Box
---
Support our Nation today
For the price of a cup of coffee a month you can help us create an independent, not-for-profit, national news service for the people of Wales, by the people of Wales.