Culture
Discussing seizures and tackling taboos – through poetry and film studies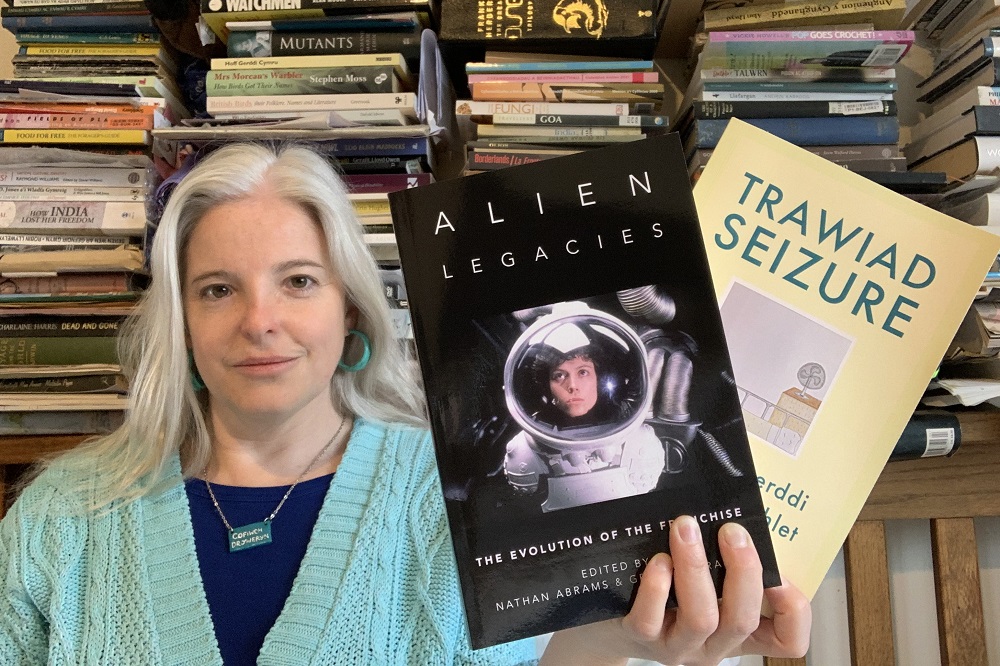 Sara Louise Wheeler 
Around five years ago, the new 'Centre for Film, Television and Screen Studies' at Bangor University was created.
In the first year, the film '2001 a Space Odyssey' (1968) was chosen as the theme for a conference in 2018, celebrating its 50th anniversary. My husband Peter, a Professor of Evolutionary Biology, gave a paper on this aspect of the film.
I was keen to present at the next conference. I attended the meeting full of enthusiasm, but this turned to disbelief and despair when I heard that the choice of film this time was 'Alien' (1979), as 2019 marked the 40th anniversary of the original film.
It was my 40th birthday too, and I reflected on how, over the last 40 years, I had tried to avoid the whole franchise! Why would anyone choose this as a topic for a conference? This was, of course, an unusual response.

The spectre of the Alien franchise
I complained bitterly to my patient mentor. Having discussed the matter, we decided to explore my unusual response, and perhaps use this as the basis for a presentation.
Writing keywords on a piece of sketch paper, I noted: 'slimey', 'sticky', 'goo', and 'yuck'. Discussing the matter on Twitter, I received additional suggestions from fellow academics, such as 'ectoplasm' and 'abject'.
I used these words to explore the scholarly literature, which brought me to the work of Julia Kristeva, the Bulgarian-French writer and her ground-breaking masterpiece 'Powers of horror'.
Kristeva developed 'abjection' as an important psychoanalytic concept for interpreting and theorizing horror, particularly literature; other writers further developed abjection as a theory within film studies, including Barbara Creed's work regarding 'Alien'.
So, it appeared that I was on the right track and there was something interesting to explore, but this involved engaging with the franchise in order to understand the cause of my fear-disgust. Until then, I hadn't even seen any of the films all the way through!
A self-psychoanalytic case study
I managed to watch all the films from start to finish. I read books, including one about Giger's artwork. I went to the relevant shops in Liverpool and was surprised that it was possible to buy objects such as 'battle-damaged Xenomorphes'!
Through these activities, I managed to desensitize myself – eventually finding myself desiring products such as a lunchbox with the iconic egg on it, and wanting to visit the bar-museum in Switzerland!
Serendipitously, I had, in the meantime, changed jobs and was now working at Glyndŵr University in the Psychology department, where I had fun discussing the project with my colleagues and students.
But the real turning point was when I left my career as a lecturer, and began life as a freelance poet, writer and artist. This gave me the time and space to think deeply, using a variety of creative techniques.
One day, I challenged myself to explore the scars of my mind, including the 'febrile convulsions' I had as a child; I wrote a poem called 'Awakening in the White room', about the time I woke up in hospital, after my last seizure (1986).
The memory was an uncomfortable one, but I sat quietly contemplating the image. My mind wandered to the limited number of similar onscreen images…and there, among them, was Kane in the original Alien film – more terrifying because he appeared to be having a seizure, than because of the Xenomorph that was gnawing its way through his torso!
A bilingual pamphlet of poems
I used the poem in the chapter that came from the conference presentation. I also used the conference slide on which I had placed a sketch I had drawn of the Xenomorph; the book 'Alien legacies' has now been published, with my chapter in it.
I translated the poem and published it in my column in Barddas magazine (October Issue, 2021) with the promise that I would write a volume of poems about my related experiences and publish it in 2022.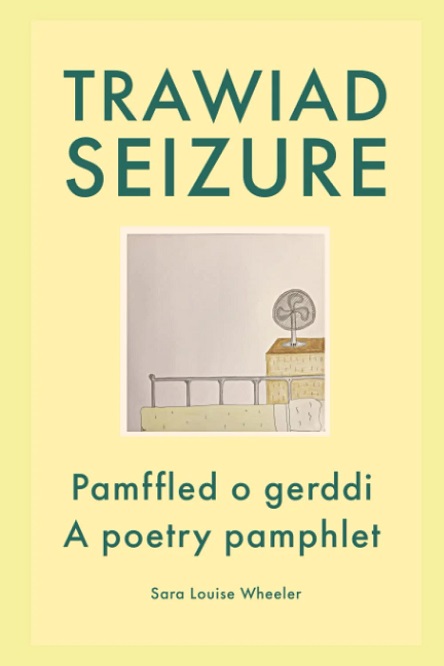 Well, I wrote new poems, but this was a painful and confusing process for me, and I almost gave up several times. But, in the end, I collected enough poems to create a pamphlet – 30 original poems, then translated them (apart from one visual poem). I used my very basic sketch of 'the white room' to illustrate the cover.
The pamphlet is called 'Trawiad | Seizure' and is now available to buy from: Siop Cwlwm (in their Oswestry shop and from their website); Siop y siswrn (Mold); Siop Elfair (Ruthin), Siop Clwyd (Denbigh); Palas Prints (Caernarfon); and Canolfan Ucheldre (Anglesey).
This is a very personal work for me, and I hope some of you will enjoy reading it and learning more about this kind of illness, which unfortunately is not often talked about.
---
Support our Nation today
For the price of a cup of coffee a month you can help us create an independent, not-for-profit, national news service for the people of Wales, by the people of Wales.