Culture
Druids Close to Home: the Stones in Treorchy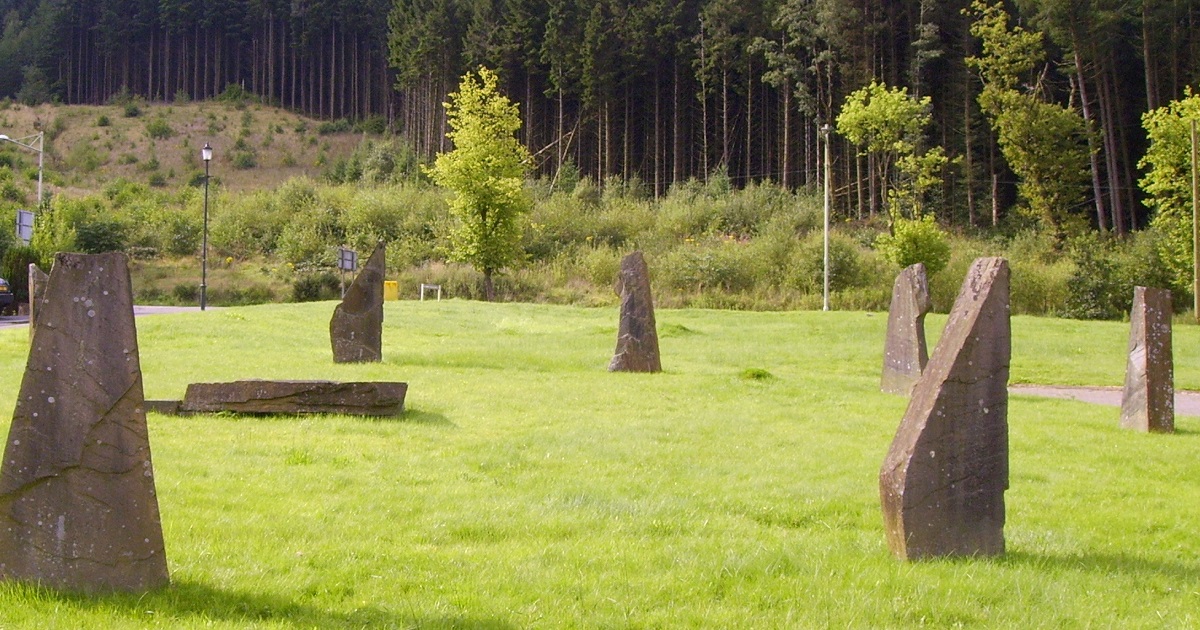 Continuing our series written by John Geraint, author of 'The Great Welsh Auntie Novel', and one of Wales's most experienced documentary-makers. 'John On The Rhondda' is based on John Geraint's popular Rhondda Radio talks and podcasts.
John Geraint
Can you picture Druids Close in Treorchy? It's a little crescent of houses over on the Cwmparc side of the Valley, off the New Road, near the turning for the Bwlch. One of my very best schoolfriends lives there these days. In fact, she was my girlfriend for a short while…
But it's not her I meant to talk about. It's the Stones. Not the Rolling Stones. Though I used to dance to them with her… O, daro, I've got all confused and sentimental now, I'll start again…
Can you picture Druids Close in Treorchy? If you're familiar with the area, you'll know that the modern houses are built around a circle of a dozen standing stones. They look like some sort of ancient Celtic monument.
It's not a mini-Stonehenge, though: they're Gorsedd Stones, put up there to mark the fact that the National Eisteddfod was held in Treorchy in 1928. They're where the Archdruid presided over the druidic ceremonies of the Festival, hence the name of the Close.
You can find a Gorsedd Circle like it in any Welsh town or city that's hosted the Eisteddfod, though this one is unique in the Rhondda, because it's the only time the 'National' has come here.
But the Valley's got plenty of connections with this centrepiece of Welsh-language culture. Some of them will surprise you.
Tradition
If you're not familiar with it, the National Eisteddfod is a kind of Olympics for Welsh-speakers, the pinnacle of the cultural calendar. It's held every year – when there's not a pandemic on – in the first week of August.
Each year, the huge Pavilion travels to a different part of Wales, giving a real boost to the language in the area, with a ten-day spectacular of music and arts, dance and song and ceremony.
Tens of thousands come to see who's won the big Eisteddfod competitions, especially the Crown and the Chair awarded to the best poets – or they come simply to have a good chinwag in Welsh with friends and acquaintances they bump into around the Eisteddfod field, a tradition known as crwydro'r Maes.
Tradition is important in the Eisteddfod – the whole Gorsedd thing is a tradition in itself. Like most traditions, it was invented, mainly by a strange man from the Vale of Glamorgan called Edward Williams.
Better known by his bardic name, Iolo Morganwg, he loved ancient Welsh manuscripts. He loved them so much that, if they didn't exist, he forged them into being, himself.
Claiming he was recovering an age-old rite, Iolo held a Gorsedd or Gathering of Bards at the Rocking Stone on Pontypridd Common back in 1814. Some say that it was Iolo himself, a stonemason by trade, who constructed the circle of stones around the big central one.
By the beginning of the twentieth century, Iolo's Bardic Gathering had morphed into something much more like the Eisteddfod we know today.

On the Maes
Something of its importance can be judged by the fact that when the 1928 National Eisteddfod came to Treorchy, two British Prime Ministers attended.
No surprise, I suppose that David Lloyd George – a proud Welsh-speaker – was there. There's a famous photo of DLG at the Treorchy Eisteddfod, with his wife and daughter  Megan, and little Evie Williams from Ferndale who won the folk song competition.
Lloyd George had left Downing Street by then, but the man who was in residence at No 10 in 1928 was also on the Maes.
I wonder what Prime Minister Stanley Baldwin, born into a prosperous English family, educated at Harrow and Cambridge, made of Treorchy and the Eisteddfod.
Whatever it was, he's reported to have praised the Rhondda people for organising the event at a time of huge poverty and economic depression here – which, some might say, his policies did little to alleviate.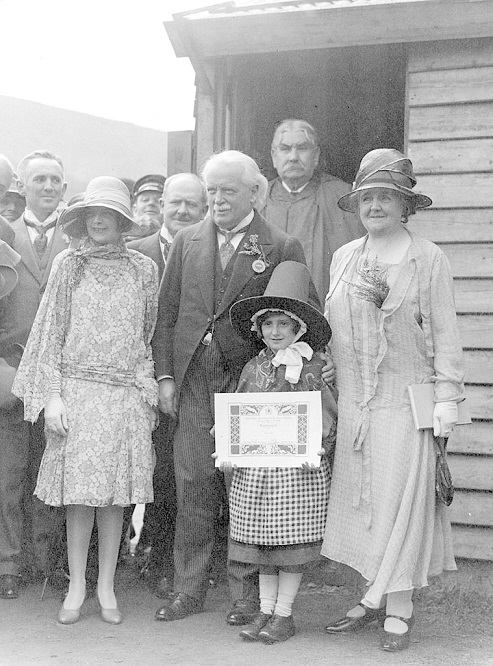 Rhondda's gift
Every Eisteddfod takes on something of the character of the place that's hosting it, and Treorchy's was no exception.
The Eisteddfod Chair was presented by a coalmining community, though a far from local one. It came from the Blackstone Welsh Society, of Queensland in Australia. And in a striking innovation that year, the Arts and Crafts section of the Eisteddfod added Science to its remit.
It was done specifically because the Festival was in Treorchy, with an emphasis on mining, and Rhondda geology and geography, as well as crafts associated with the coal industry.
Science and Technology remains a big feature of the Eisteddfod to this day, with a so-called 'Village' on the Eisteddfod site dedicated to it. We can think of it as Rhondda's gift to the National Eisteddfod.
Almost half-a-century after that Treorchy Eisteddfod, non-conformist ministers from the Rhondda scooped the Eisteddfod Crown three times in seven years.
Haydn Lewis, the pastor of Jerusalem, Ton Pentre won twice – in Rhosllannerchrugog in 1961 and again in Barry in 1968.
His son, Richard Lewis, became a distinguished television drama producer. 'Dic' Lewis, as I knew him as a senior colleague when I joined the BBC, was always proud of his Rhondda roots and his education in Porth County.
Y Ffynhonnau
But my favourite Welsh poem has to be Y Ffynhonnau, which won the Eisteddfod crown for another Rhondda minister, Rhydwen Williams, in 1964.
Y Ffynhonnau – The Mountain Springs in English – recounts the whole history of the Valley, from its rural past to the coming of the coalmines and then the decline of the industry.
It's not at all what you'd expect from an Eisteddfod-winning poem: it's not bardic or druidic or high-falutin' in any way, though it does have some lovely lyric passages, and it ends with an old miner delighting in the fact that one of the neighbour's children is being sent to Ysgol Gymraeg Ynyswen, the new Welsh-language junior school at the top of the Valley.
But mostly it's written in the ordinary voices of Rhondda people, a kaleidoscope of characters, boxers and jazz-band musicians and choristers and Welsh-speaking budgies and parents who snap at their children (cae'r blydi drws 'na!); people who're proud that the valley has left its mark on them, like a brand on livestock, in their accents and memories and beliefs.
It's a quote I use in my own social media profile: Mae marc y cwm fel nod ar ddafad arnaf. Acen. Atgofion. Cred. So many of us might say the same. No wonder I was inspired to use the text of the poem as the script of an hour-long TV film I made celebrating the valley I cherish as strongly as Rhydwen Williams did.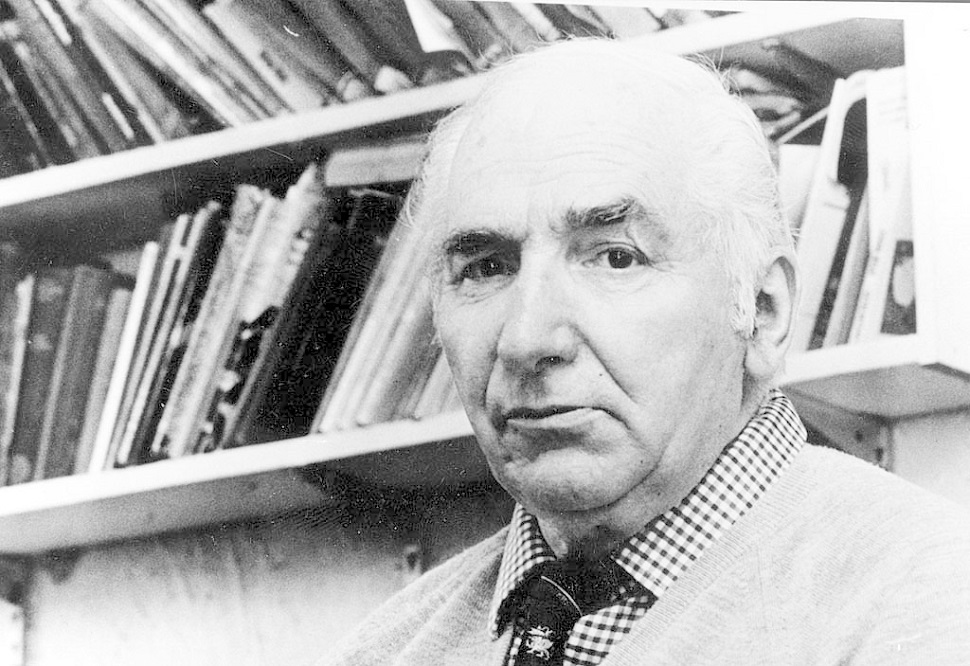 Rhondda women
Fast forward half-a-century again, and it was Rhondda women making an impact at the Eisteddfod, and not before time!
Manon Rhys won the Crown in 2015. She's the daughter of James Kitchener Davies, 'Kitch', a legendary Rhondda educationalist and champion of the Welsh language, and she was one of the first pupils in that school in Ynyswen, before going on to Porth County.
She's written novels set in the Rhondda too. One of them, Rara Avis, is about – amongst other things – the oddity of being raised in her generation as a thoroughly Welsh-speaking Rhondda child.
Christine James from Tonypandy also went to Porth County, but her home background, like mine, was completely English-speaking.
She not only won the Crown at the 2005 National Eisteddfod, but she went on to become Archdruid of Wales in 2013, so it was Christine who crowned her friend Manon Rhys at the 2015 Festival, a memorable moment for them both, and for the Rhondda's place in Eisteddfodic history.
I remember Christine well as a schoolgirl – Christine Mumford she was then, and her parents were friends of my Mam and Dad. She was the first woman to become Archdruid and the first Archdruid ever not to have been a Welsh-speaker from early childhood, a living embodiment of the idea that the Eisteddfod – like the language itself – belongs to us all, not just to those who're brought up speaking Welsh.
Worth remembering the next time you're passing Druids Close.
All episodes of the 'John On The Rhondda' podcast are available here
John Geraint's debut in fiction, 'The Great Welsh Auntie Novel', is available from all good bookshops, or directly from Cambria Books
You can find the rest of John's writing on Nation.Cymru by following his link on this map
---
Support our Nation today
For the price of a cup of coffee a month you can help us create an independent, not-for-profit, national news service for the people of Wales, by the people of Wales.