Culture
Fans rave about Coldplay's use of Welsh and respect for Wales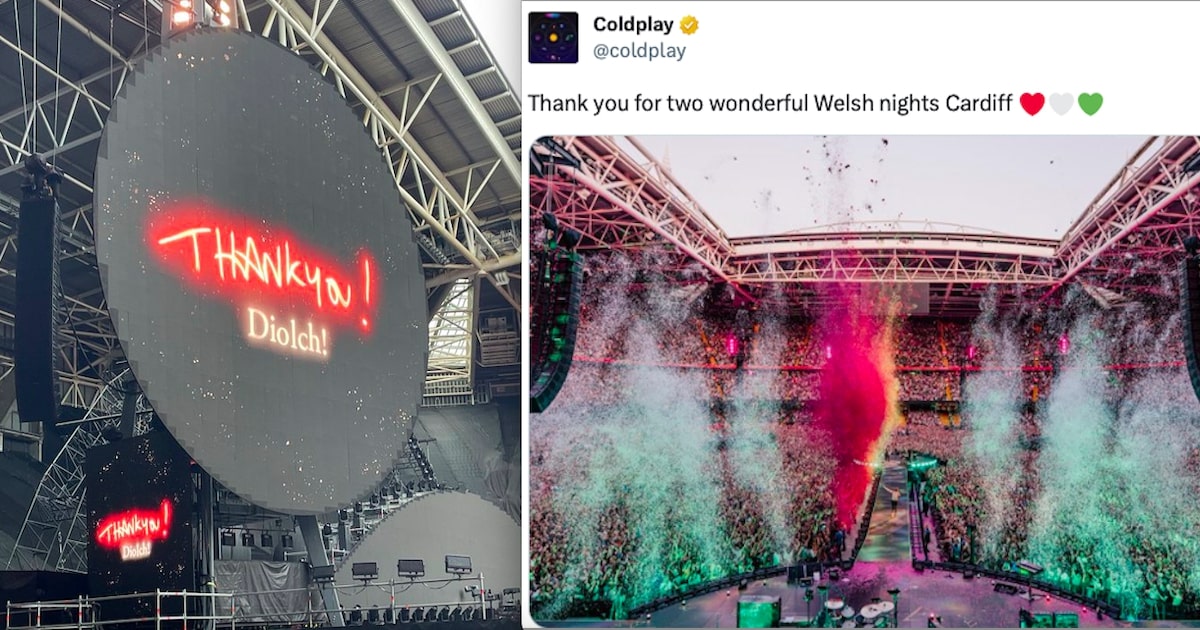 Amongst the dazzling trappings that denote any stadium rock concert there was something decidedly different about Coldplay's two night stay in Cardiff.
Of course, from a band renowned for putting on a magnificent show they didn't disappoint, entertaining 120,000 fans over two evenings at the Principality Stadium.
However, what marked them out from others who have appeared at the stadium over the years was their decision to make this a very special evening for every Welsh fan who was at the gig.
Their respect for Wales and its culture and their use of the Welsh language was particularly striking.
It emerged that ahead of the concerts Coldplay had worked with the WRU's Welsh Language Officer, Gwyn Derfel, on incorporating Welsh language translation into their show opener – a video that was played for fans ahead of Coldplay taking to the stage.
Ahead of the shows Gwyn said: "Coldplay have worked with the WRU to ensure that their on-screen graphics during their shows in Cardiff are bi-lingual.
"This will be truly appreciated by the people of Wales and will add to the enjoyment of their 'World of Spheres' shows in the capital. I'm truly grateful for the respect that Coldplay are showing to the Welsh language. Diolch."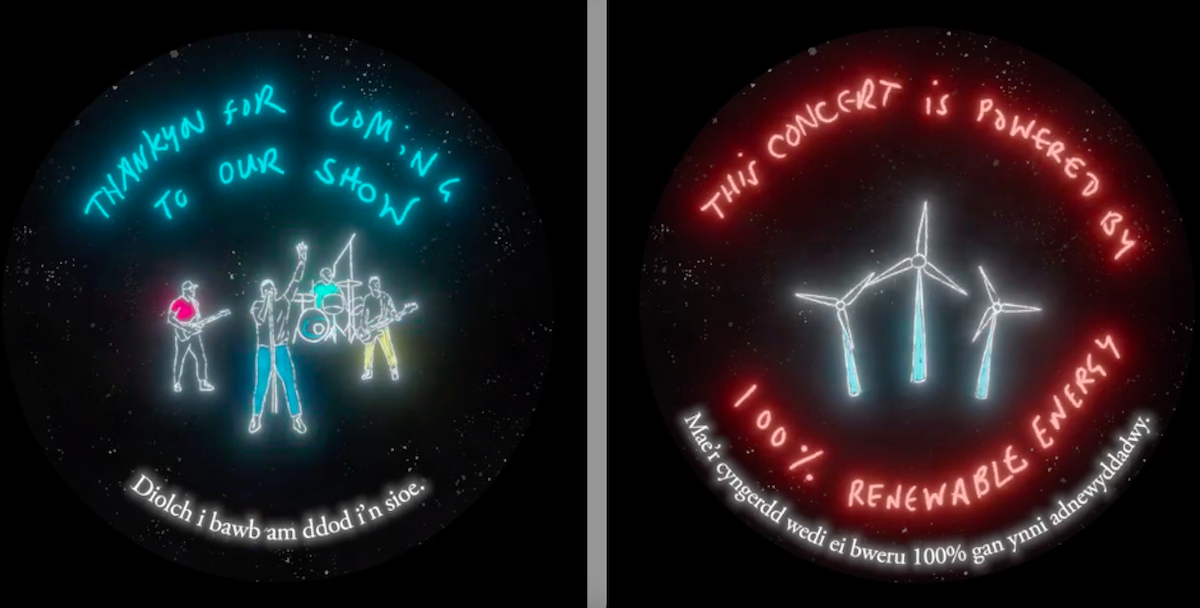 However, it didn't stop there. Coldplay offered bilingual Welsh musician Hana Lili the opportunity of a lifetime to support them.
It was a huge moment for the rising Welsh star to play in front of the biggest audience of her life – also to sing in Welsh on such a large stage.
In addition, inviting the Bridgend Male Choir to make an appearance to belt out Hen Wlad Fy Nhadau with a 60,000 strong choir over both nights was yet another Welsh highpoint.
And let's not forget Coldplay drummer Will Champion's nod to the Welsh anthem on his snare drum.
If that wasn't enough asking one of Wales' most famed rock stars Kelly Jones of Stereophonics to join them on stage most definitely caused paroxysms of delight. Even Chris Martin attempted a little Welsh from the stage.
Maybe we shouldn't have been too surprised however given that Coldplay's guitarist Jonny Buckland grew up in Pantymwyn, Flintshire.
They're a band who have always been aware of where they've come from.
Diolch Coldplay. Diolch yn fawr iawn.
the respect @coldplay showed Cardiff, Wales and the Welsh language was enormous. @HanaLilimusic supporting. Chris speaking Welsh, everything on screen bilingual. Diolch o Galon! Kelly @stereophonics & their mate Kris, Bridgend Male Voice Choir. Rockfield & Clwb Ifor Bach love! pic.twitter.com/Rva3HFsnxG

— Huw Stephens (@huwstephens) June 7, 2023
Diolch to @coldplay for the most awesome time this evening and for using our beautiful language. So proud to see the Welsh language on the big screens and to hear Chris saying some Welsh words throughout the evening ♥️🏴󠁧󠁢󠁷󠁬󠁳󠁿

That's what you call RESPECT / PARCH 🙌🏼 #ColdplayCardiff pic.twitter.com/MD2HtTQCN2

— Liam Ellis 🏴󠁧󠁢󠁷󠁬󠁳󠁿🇺🇦 (@liamtellis) June 7, 2023
Diolch @Coldplay am ddefnyddio'r Gymraeg! Thank you Coldplay for using Welsh – means a lot! #ColdplayCardiff #ColdplayCaerdydd pic.twitter.com/DutvvlbNj9

— Alwena Hughes Moakes 🇺🇦 (@AlwenaHM) June 7, 2023
This stadium is home to the biggest, loudest and most emotional choir in the world, we can't wait to hear it in full voice tonight. W. X pic.twitter.com/kCEDlJlZOj

— Coldplay (@coldplay) June 6, 2023
Great to see @coldplay weaving the Welsh language into their concert #Coldplaycardiff pic.twitter.com/nYjACleyT1

— Lee Waters MS (@Amanwy) June 6, 2023
120,000 fans. Two epic shows.

Diolch o galon @coldplay. Noson wych arall. Tan tro nesaf. 🏴󠁧󠁢󠁷󠁬󠁳󠁿#ColdplayCardiff pic.twitter.com/cgqKxVSJXd

— Principality Stadium (@principalitysta) June 7, 2023
Wow, Wow, Wow! Chris Martin @coldplay The Greatest Showman and DIOLCH o galon for showing such respect to the Welsh language. We really appreciate it! #diolch #ColdplayCardiff pic.twitter.com/gydBV56Bti

— Angharad Thomas (@Angharad_t) June 6, 2023
Bridgend male voice choir (and thousands of welsh people) with a rousing rendition of Hen Wlad Fy Nhadau ( Welsh National Anthem) during @coldplay #ColdplayCardiff pic.twitter.com/zzQhGgMSJL

— Roland Paterson (@RolandPaterson) June 7, 2023
Pob lwc Hana!@HanaLilimusic says she can't wait to support @Coldplay at the @principalitysta and be given the opportunity to sing in Welsh in front of such a large audiencehttps://t.co/LFWqLja2rN

— David Owens (@asoundreaction) June 6, 2023
It was great to be back in the @principalitysta . Thank you @coldplay for inviting me up! You made me feel like the one! 😉🏴󠁧󠁢󠁷󠁬󠁳󠁿🏴󠁧󠁢󠁷󠁬󠁳󠁿🏴󠁧󠁢󠁷󠁬󠁳󠁿 pic.twitter.com/sLBAz3rGHb

— stereophonics (@stereophonics) June 7, 2023
Fans were thrilled when @coldplay invited @stereophonics frontman Kelly Jones to join them on stage at the @Principalitysta – and there was even a choir to perform the Welsh national anthemhttps://t.co/6gEG0VZo9k

— Nation.Cymru (@NationCymru) June 6, 2023

---
Support our Nation today
For the price of a cup of coffee a month you can help us create an independent, not-for-profit, national news service for the people of Wales, by the people of Wales.