Culture
Ffa Coffi Pawb reissue Hei Vidal! album and launch their own coffee blend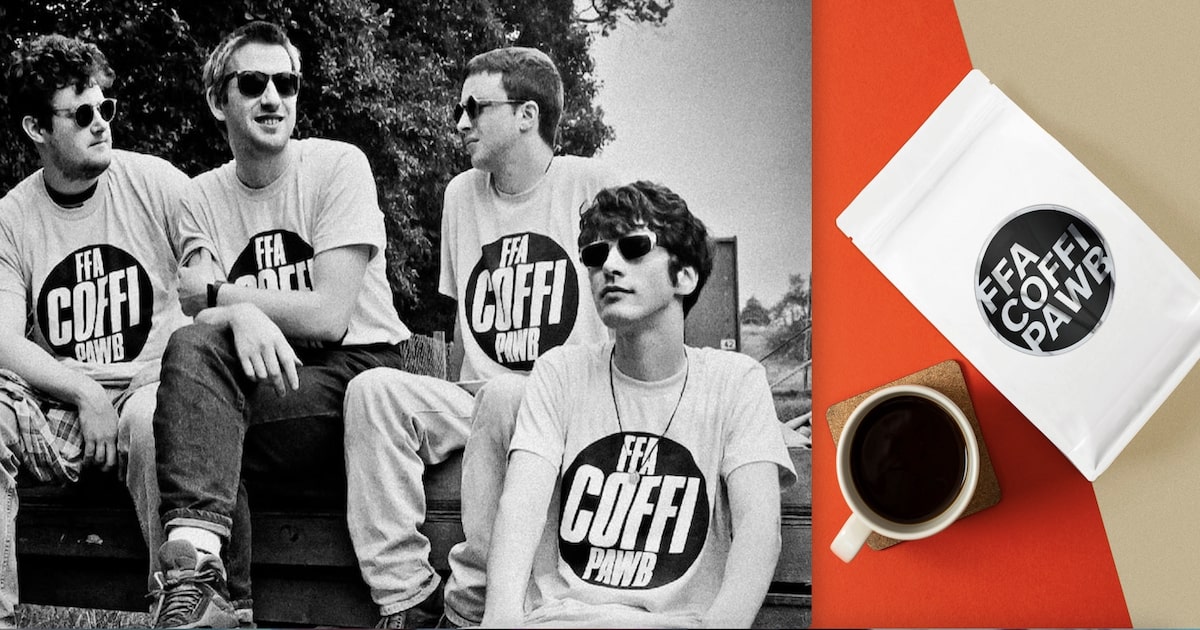 The influential Welsh language band Ffa Coffi Pawb mark the reissue of their long out of print third album Hei Vidal! by launching their own unique coffee blend at Cardiff's Hard Lines Cafe.
Hard Lines and the band's Gruff Rhys – who went on to form Super Furry Animals with his Ffa Coffi Pawb bandmate Dafydd Ieuan – have created a coffee blend that will launch in celebration of the reissue of Hei Vidal! and will see Hard Lines and Gruff giving away cups of the special blend in store from 9am today.
Gruff Rhys said: "Ffa Coffi Pawb translates literally as 'Coffee Beans for Everyone' but has a Wenglish double meaning as phonetically it means 'Fuck Off Everyone'. Given all that context it would be foolish not to make a celebratory coffee blend for the band's upcoming reissue of the album Hei Vidal! Though when the original album came out in 1992 I'd never had anything but instant granulated coffee or powdered 'Mellow Birds' coffee – so the original album was powered (like all the Beatles albums) by tea.
"Given the brutal double meaning of the band's name, when I was invited to the Hard Lines Coffee reactor plant on the outskirts of Cardiff we formulated a robust coffee to go with the name. It's not without a nice aftertaste though – it's made with beans from El Salvador sourced carefully by Hard Lines from the farm that grows then – they gave me a choice of 5 seasonal beans to taste from a few different regions. I'm totally addicted to caffeine (I blame long tours of the USA where the coffee is really strong) so this was a really great and fantastical experience for me – but in all seriousness it's just a very limited edition coffee for fun to highlight that the album is back in print after 31 years and put a spring in people's steps."
The coffee launch coincides with Ffa Coffi Pawb reissuing their long out of print third album – Hei Vidal! – today.
Made by a bunch of 21 and 22 year olds, Hei Vidal! is an album that distills the band's obsessions with early '70s power-pop (all the B's from Bowie, Bolan and Big Star) as well as Neu! and My Bloody Valentine into a sound that predates the fuzzed out return to glam that became the soundtrack of Britain a few years later. It merges motorik grooves over saturated shoe gazing fuzz with impressionistic studio manipulation, orchestral synthesiser arrangements and brutal yet surreal imagery and word play in the Welsh language.
Having signed their songs over to a local publisher who eventually disappeared off the face of the Earth, Ffa Coffi Pawb's music has been out of print for decades (with the exception of the 2004 compilation album Am Byth, released on the SFA associated Placid Casual label). After untangling a complicated web of time, Hei Vidal! will be available on streaming services and vinyl for the first time having only been on cassette and very few CD copies on its original release on Ankst in 1992. The reissue marks the 30th anniversary of the band's final show at Builth Wells Memorial Hall in August 1993 (supported by a young Gorky's Zygotic Mynci).
Gruff Rhys on Hei Vidal! "We made the record in our early 20s and it was a dream-pop distillation of our early 1970's Glam, power-pop & Motorik obsessions – combined no doubt by our devotion to shoe gazing contemporaries from the Creation label, American college rock and our heroes of the Welsh language underground like Datblygu, John Cale and Y Cyrff. The nonsensical album title is a quote from the song Colli'r Goriad and the Vidal in question perhaps a hallucinated amalgamation of Gore Vidal and Vidal Sassoon; both of which were omnipresent personalities on early 90's TV, one as a pundit the other a seemingly rolling TV shampoo advert."
Hard Lines is at the Ground Floor Unit, St Cannas Court, Cowbridge Road East, Canton, Cardiff CF5 1GX
You can order Hei Vidal! and the Ffa Coffi Pawb coffee HERE

---
Support our Nation today
For the price of a cup of coffee a month you can help us create an independent, not-for-profit, national news service for the people of Wales, by the people of Wales.