Culture
Ffa Coffi Pawb's 'Hei Vidal' album to get vinyl and digital release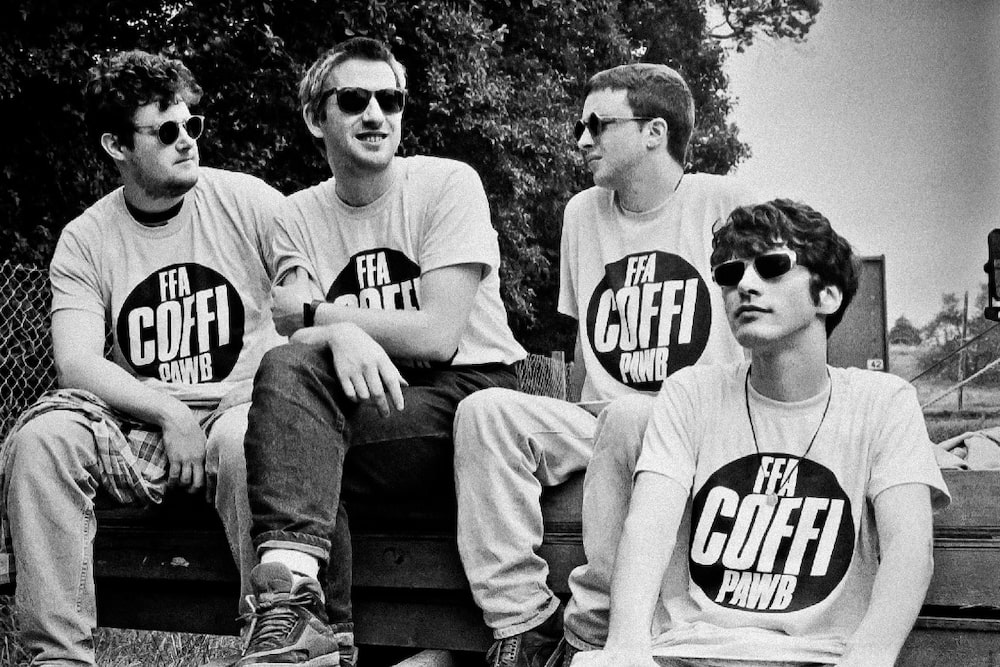 Originally released in 1992, Hei Vidal! is the third album by revolutionary DIY Cymraeg pop band Ffa Coffi Pawb. Formed in Bethesda in 1986 by sixteen year old friends Gruff Rhys and Rhodri Puw (later joined by Gruff's Super Furry Animals' bandmate Dafydd Ieuan and Dewi Emlyn).
Made by a bunch of 21 and 22 year olds, Hei Vidal! is an album that distills the band's obsessions with early '70s power-pop (all the B's from Bowie, Bolan and Big Star) as well as Neu! and My Bloody Valentine into a sound that predates the fuzzed out return to glam that became the soundtrack of Britain a few years later. It merges motorik grooves over saturated shoe gazing fuzz with impressionistic studio manipulation, orchestral synthesiser arrangements and brutal yet surreal imagery and word play in the Welsh language. 
Having signed their songs over to a local publisher who eventually disappeared off the face of the Earth, Ffa Coffi Pawb's music has been out of print for decades (with the exception of the 2004 compilation album Am Byth, released on the SFA associated Placid Casual label). After untangling a complicated web of time, Hei Vidal! will be available on streaming services and vinyl for the first time having only been on cassette and very few CD copies on its original release on Ankst in 1992. The reissue marks the 30th anniversary of the band's final show at Builth Wells Memorial Hall in August 1993 (supported by a young Gorky's Zygotic Mynci).
Hei Vidal! track Ffarout is available now on all streaming platforms, with a b-side Tocyn, a cover of the Bethesda based band Brân's primitive sounding 1974 glam rock stomp which was the last song Ffa Coffi Pawb recorded, released on an Ankst compilation album in 1993. The album will be distributed in the US by Light in the Attic.
Gruff Rhys on Hei Vidal! "We made the record in our early 20s and it was a dream-pop distillation of our early 1970's Glam, power-pop & Motorik obsessions – combined no doubt by our devotion to shoe gazing contemporaries from the Creation label, American college rock and our heroes of the Welsh language underground like Datblygu, John Cale and Y Cyrff. The nonsensical album title is a quote from the song Colli'r Goriad and the Vidal in question perhaps a hallucinated amalgamation of Gore Vidal and Vidal Sassoon; both of which were omnipresent personalities on early 90's TV, one as a pundit the other a seemingly rolling TV shampoo advert."
Hei Vidal! features:
Clymhalio
Ffarout
Profion Moddion
Wyneb i Waered
Dilyn Fy Nhrwyn
Colli'r Goriad
Arwynebol Melyn
Sega Segur
Helo Traeth
Pelydr Secs
Ofn:Cwn
Lluchia Dy Fflachlwch Drosda i
The name Ffa Coffi Pawb carries a free double meaning, translating literally to Everybody's Coffee Beans (or phonetically as Fuck Off Everybody). In honour of the literal meaning, there will be a collaboration with the brilliant Hard Lines Coffee in Cardiff who have roasted an exclusive blend of Ffa Coffi Pawb beans to coincide with the release of Hei Vidal! – visit ffacoffipawb.com to find out more.
Some notes on the Hei Vidal! reissue by Super Furry Animals archivist Kliph Scurlock: "Around eight years ago, the Super Furry Animals (the band which descended from Ffa Coffi Pawb) asked me to be their archivist.  Taking the "job" way too seriously, I extended that to trying to sweep up everything every member of that band had recorded to get all in one place for safe keeping and set about annoying anyone and everyone they had ever worked with for mixdown and master tapes.  Thankfully for me (and you, if you choose to immerse yourself in the delights of this album), Emyr from Ankst (the label that originally released this album) has kept a fastidious archive. The mixdown DATs for the three Ffa Coffi Pawb albums they released were safe and sound.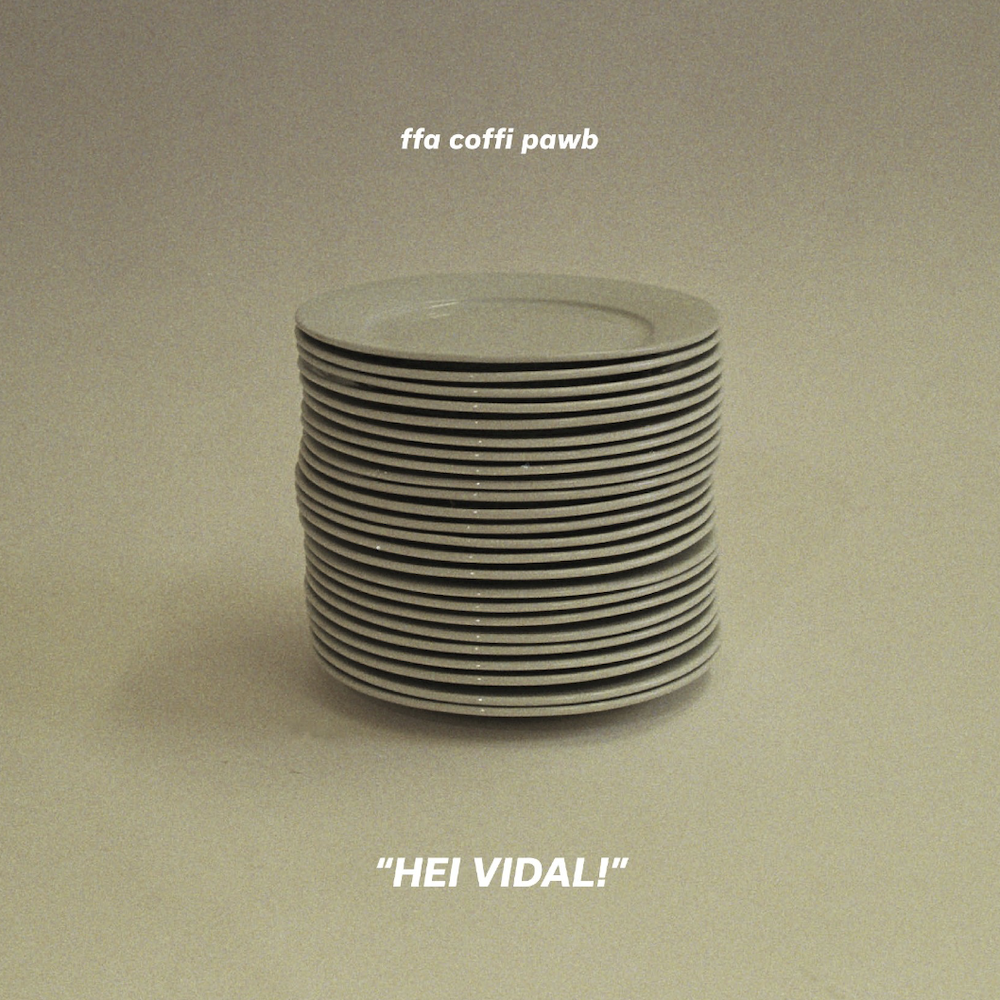 "As far as mastering goes, I honestly didn't have to do a whole lot as Gorwel Owen (the engineer and mixer) had done such a fantastic job in the first place and everything already sounded great. I'm willing to bet that if I hadn't decided to point out that this album was recorded in Gorwel's bungalow, you would never have guessed. That's how good Gorwel is. I added some EQ here and there to try to make all of the songs sound sonically uniform. I also messed with the volume from song to song for the same reason.  
"As a big fan of this album, I'm very glad that this hopelessly rare, whispered-about artefact is now readily available for everyone who missed out on it when it was available (which is almost everyone) or those whose cassette copies disintegrated from being played to death decades ago (maybe only a thousand or so copies of this album were even pressed in the first place). Now please call and write your local MPs demanding the release of Clymhalio and Dalec Peilon as well."  
Hei Vidal! is released on clear 12" vinyl/red 12" vinyl (limited to 1000 copies)/CD and via all digital platforms on 28th July 2023
---
Support our Nation today
For the price of a cup of coffee a month you can help us create an independent, not-for-profit, national news service for the people of Wales, by the people of Wales.