Culture
Film Review: Chuck Chuck Baby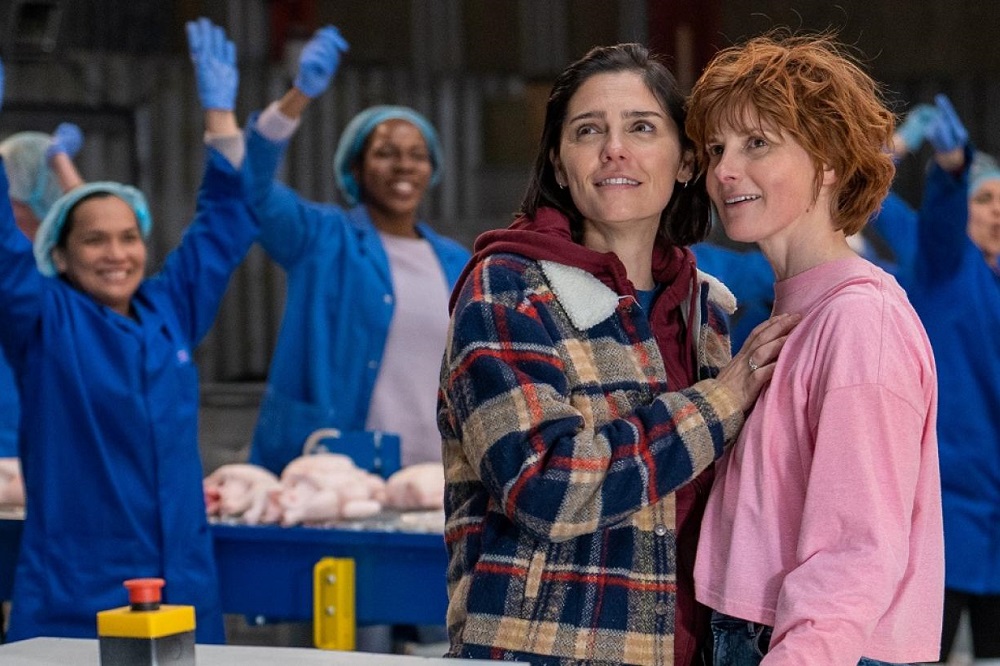 Jon Gower
The Iris Festival closed this year with a showing at Cardiff's Chapter Arts Centre of a zestily life-affirming film about love, loss, music and, well, chickens.
It's the story of Helen, who works in the factory in the movie's title – an airless, lightless warehouse space on the edge of the Dee estuary where only the clock on the wall tells you whether it's day or night.
After work, Helen looks after her ex-husband's dying mother Gwen (played as a disarmingly matter-of-fact matron by Sorcha Cusack) whilst also sharing the house with her boorish, angry-caveman ex Gary (Celyn Jones) who has installed his vapid new girlfriend Amy (Emily Fairn) along with their bawling baby.
Helen's home life is tough and testing while work on the conveyor belt is cloyingly clock-in, clock-out predictable.
Every waking hour is just wearying and soul-destroying, that is until Joanne, her teenage crush, comes home, bringing both love and colour into Helen's life as they reignite old feelings and try to bridge the years between then and now.

Cruelty
For Joanne the past is a dark place, with iron bars on her childhood bedroom window and memories of terrible, exposing cruelty at the hands of her father. She is forced to remember all this because of Gary's ignorant taunting as he stands in the front garden pathetically pumping iron.
Meanwhile Helen has resigned herself to her fate to the point that it's as if she can't make any choices anymore. She certainly doesn't see herself as being attractive to anyone.
At this point I should say that despite all this bleakly depressing sounding stuff Chuck Chuck Baby is an exquisitely tender, affecting and ultimately joyous film, one to make the heart soar.
This owes much to the clever use of music in the film, with characters singing along to favourite songs by the likes of Janis Ian and Neil Diamond by way of mapping out their own inner lives. There's a bit of heart-rending lip syncing against the backdrop of the Queensferry Bridge that will long live in the mind.
Working class grit
Sharply written and empathetically directed by Janis Pugh it's full of working class grit and humour and is also often laugh-out-loud funny, not least when Helen is on the chicken-packing production line with her friends. Things happen to the birds that will make you suspicious of the next roast dinner: let's leave it at that.
It's here, under the baleful gaze of the shift supervisor that the film opens out into infectiously good ensemble work, as Helen's workmates rally to her side, goof around and arrange for Helen to have a make-over in the toilets by a Polish colleague who always has her scissors to hand.
Hair nets finally off at shift's end, the girls go out drinking together, to an open-air spot called The Gasworks, which makes sense seeing as they're cooped up indoors during their shifts. And when it starts to bucket down it cues a lovely little dance routine featuring swirling umbrellas much like a Flintshire version of Singing in the Rain. These bring moments of colour and relief to what is otherwise a grey and gritty working class life.
Magical realism
Luckily the film is full of such touches of magical realism, as when Helen and her work-chums head for the hills, the ground is studded with colourful mushrooms, which they duly ingest before laughing fit to burst or courtesy of the film's recurring motif of a dandelion ball drifting silkily through the air. There are devil-may-care go-kart rides over the Welsh hills and sequences where Joanne tries to woo Helen by painting backdrops of beach scenes in her back garden in a sink estate so they can share a bath together in the open air.
Helen and Joanne are both women who need space to breathe, to walk on stilts, to be the carefree teenagers they were never allowed to be. Helen met Gary when she was sixteen and tried to have babies together. When it transpired she couldn't have children Gary moved her into what would have been the baby's room, so she can never forget.
Louise Brealey puts in what could easily be a career-best, an utterly sublime and moving performance as Helen, a woman full of care for others at the expense of herself and vulnerable in so many ways. She manages all the shifts from being terrified by Gary's simmering rage to singing along to the jukebox in her head with both sensitivity and gusto.
Meanwhile Annabel Scholey, playing the outwardly tough and glamorous woman who works on the electricity pylons, gives us glimpses of the achingly love deep within, the torch for Helen she has carried all these years, like the love-letter she wrote but never sent.
When they're finally together the old chemistry ignites like magnesium flares, just as surely as the council-installed fences separating neighbour from neighbour on the estate must be torn down. As they do, in a film which is very much about tearing down barriers, fighting for personal freedom and seeking love wherever it may reside.
---
Support our Nation today
For the price of a cup of coffee a month you can help us create an independent, not-for-profit, national news service for the people of Wales, by the people of Wales.