Culture
Film review: Translations
Molly Stubbs 
We all have days when we dread leaving the house. Maybe we said something embarrassing around our friends and now we have to sit and take the endless teasing. Or perhaps someone snipped at work, an argument went too far, and the resulting awkwardness is going to be unavoidable. There's no denying that some days, most days, it's much more palatable to simply stay in bed than spend hour after hour on-site or at a desk.
Usually, when these feelings arise, a parent's voice echoes in our ears, "It's just something you have to do." Our past selves appear in our memory, reminding us of all the times we've attempted to avoid the outside, and how our worries have always turned out to be irrational. Most of us move through the motions, get going, realise and re-realise that there was never anything to be anxious about in the first place.
Unsafe
But for millions of others, that fear of the outside world, of unwanted interactions, unsafe situations and inescapable embarrassment is enough to keep the front door firmly locked.
In the U.K., acute agoraphobia, the "extreme or irrational fear of entering open or crowded places, of leaving one's own home, or of being in places from which escape is difficult," affects 1.5 million people. However, a less tenacious form of this mental health issue is thought to trouble 1 in every 8 individuals.
For Stefania Owen (Kate Morgan-Jones), the main character in new indie film Translations, written by Laurence Guy and directed by Keith Wilhelm-Kopp, an inability to leave her home is borne of two chance occurrences. The first, a painful fall into a cave and torturous wait in the dark for rescue. The second, the death of her brother, Liam, while he was imprisoned overseas.
Control
Not in denial of her mental health issues but certainly not taking active steps to heal, Stef grapples with her grief by avoiding new beginnings and remaining in an environment she can control. That is, until her brother's best friend, Evan (Alan Emrys), returns from 5 years abroad and pops around to see Stef.
A reminder of a much happier time, Stef welcomes Evan into her home where they spend the nights sharing memories and bonding over their loss.
Translations begins with a poem, one of Stef's original compositions. Though she is the writer, this dialogic herald seems to relate more to Evan, whose explanations of his struggles, his passions, and his existence since Liam's death are often lyrical.
It seems, though, that the most effective language, the language that throws the real emotional blows in Translations, is often the simplest and easiest to grasp.
For Stef, her repeated declaration that her agoraphobia is simply her "just doing what I need to do," is dripping with emotional subtext, so plainly explaining the complexities of mental health issues and the addictive safety of even the most harmful coping mechanisms.
For Evan, his confession "You may not leave your house, but I don't go back to mine," beautifully highlights the myriad ways that our trauma imprisons us, even when we appear to be "absolved of burden."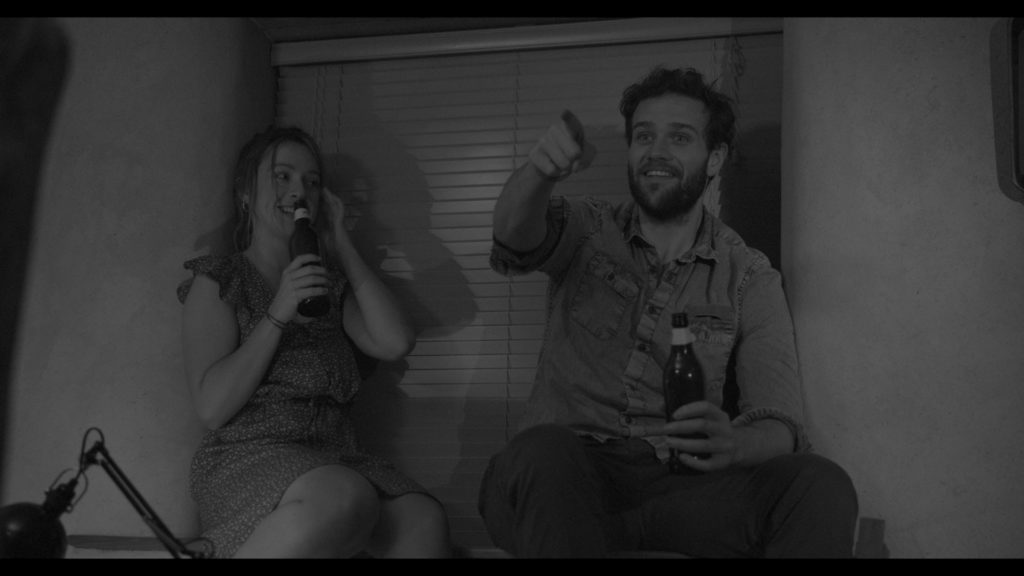 Subleties
Two people talking in a house is likely a pretty difficult genre to make entertaining art within. Thankfully, Morgan-Jones and Emrys are adept at emotional subtleties. The two turn otherwise random conversations into threads for the viewer to unravel, with a back-and-forth that is both charming and cathartic throughout its ups and downs.
Morgan-Jones has the less subtle areas pinpointed to, Stef regularly displaying her anger at the situation in which she finds herself. Translationsnot only allows her to be angry but often justifies her in that anger.

Fears
Translations has got symbolism down to a tee. The other main character, the angry puppet Marco, is a gift from Evan. He stares Stef out as she remains indoors, the personification of her fears. However, once she is ready to step into the outside world, to trust the earth again,
Marco goes straight in the bin and Stef even hosts a party, allowing others into her home whose visages share much more kindness than the puppet.
Ladling her drink with a serving spoon, there is still an awkwardness to her, but not an embarrassment. Things aren't perfect but they don't have to be, all progress is good progress.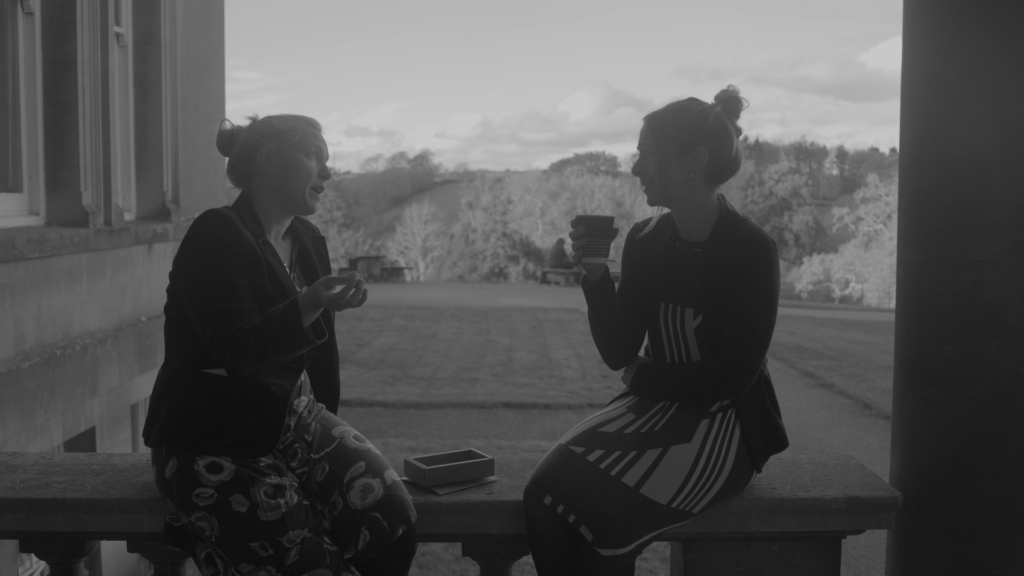 Picturesque
Mark James's cinematography is equally skilled in pathos, horror-movie angles used for exterior scenes and wide shots of picturesque Welsh countryside signifying Stef's newfound willingness to explore.
Mostly, though, the camera seems to only capture what it needs to, never doing too much or too little. Sound in the movie is used in much the same, incredibly scant, way. Riwal's beautiful score is employed only to bolster the most heightened or tender of moments with chilling tapping or sweet melodies.
My only complaint is that Translations is in black and white, save one scene which depicts Evan wandering along a canal. Yes, quite the cliched and perhaps juvenile response to an artistic decision that has something to say in itself, but I don't think I'll ever quite understand the tendency of indie movies to lack of colour.
Surely the presence of the full spectrum of light wouldn't detract too much from the emotional currents of the film, notions of modernity and technical frugality aside.
Healing
I often scoff at romance movies. Reading Translations' synopsis I thought I knew exactly how the movie would end. 'Oh great, her agoraphobia is cured by a man and then they live happily ever after.'
But Translations is not a romance, at least not of two individuals. It is a story of the frightening, vulnerable and wonderful romance with oneself, with the world. It is a story of healing and taking the opportunities to heal.
Take note, the film is not a loud, full thrills, action-packed adventure. It's a low and slow and realist stroll. Some stretches are uphill, but the view from the top is worth it. Translations provides a window into these characters' lives through which they crawl out and cling to you.
I thought of Stef often in the days following my first viewing, what she represents to those of us suffering with grief or inexplicable anxiety to walk out the front door; You are allowed to be sad, you are allowed to be anxious. But you're also allowed to get better.
Translations will be showing at Chapter Arts Centre on 26th August, including an exclusive Q+A session with director Keith Wilhelm-Kopp.
It is also showing at the Queens Hall in Narberth on 31st August.
For a heartfelt, important look at loss, trauma and happy endings, Translations is a wonderful way to spend an evening.
---
Support our Nation today
For the price of a cup of coffee a month you can help us create an independent, not-for-profit, national news service for the people of Wales, by the people of Wales.