Culture
Film review: Y Sŵn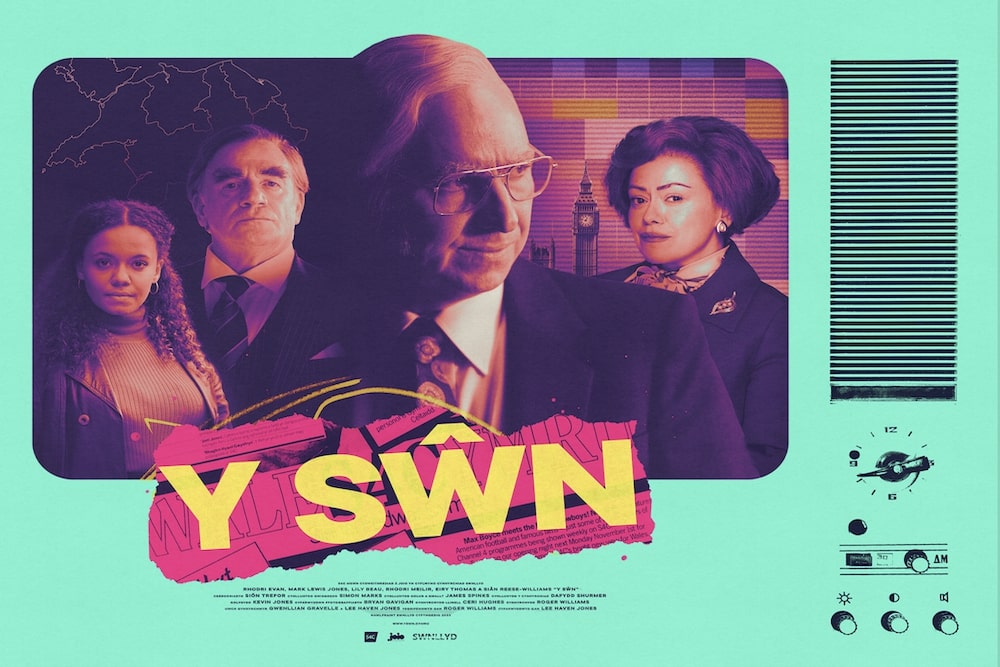 For its most recent foray into film, S4C delves into its own turbulent inception, commemorating itself in its 40th year of broadcasting.
Molly Stubbs
For the younger generation, the children of the nineties, noughties and beyond, it's hard not to think of S4C as a constant. On the contrary, the channel came only as the result of broken promises and a bitter fight, headed by ex-Plaid Cymru MP for Carmarthen, Gwynfor Evans.
Taking on Margaret Thatcher and her Tory toy-boy, Home Secretary William Whitelaw, the Welsh nationalists and, eventually, the Welsh-speaking masses wore the government down through civil disobedience until they agreed to create an entirely Welsh-language channel as promised in their election manifesto.
Put this story into film and the result is Y Sŵn, a 90-minute grandstand, written and directed by acclaimed duo Roger Williams and Lee Haven Jones, depicting an infamous imbalance between general attitudes to Welsh independence ("heaven forbid we're capable of running our own affairs"), and the unwillingness of Welsh people to take anything less than we deserve.
"Who are we to argue with our masters? After all, they're elected to represent the people."

Y Sŵn opens at a party. It's 1977 in Cardiff and the rock music is blasting. With a long shot, courtesy of director of photography Bryan Gavigan, we're hot on the heels of drunken youth and in the spirit of The Birdcage. It is here that we meet our first character, Lily Beau's Ceri.
As Ceri briskly informs us, Britain is rapidly changing – according to Tory manifesto promises, that is. New jobs, a strengthened economy, and a whole channel dedicated solely to programming yn Gymraeg.
Don't worry, this is all the Tory propaganda you'll have to sit through since the political party very quickly renege on their promise.
Fight
Ceri and her colleague, Carys Eleri's Nerys, act, for the most part, as the centrists. They find themselves caught between the growing fight for a Welsh television channel and a government who are seemingly unwilling to turn their U-turn into an O-turn.
Instead, Maggie and her merry band of old men believe they know what's best for the Welsh people, opting to continue bilingual programming on BBC Cymru and HTV.
This is not good enough for Rhodri Evan's Gwynfor. Having lost his seat, leaving only 2 Plaid Cymru MPs remaining in Westminster, he is searching for a cause to keep him afloat.
When his campaign fails to drum up support for a mass refusal to pay TV licenses, he is inspired by the actions of historian Meredydd Evans, portrayed by Daniel Lloyd. The academic, along with two others, broke into and disabled a transmitter in Pencarreg.
Gwynfor, knowing he must act quickly, decisively and publicly, informs the government and the Welsh people that if the promise to instate a Welsh television channel is not made good, he will undertake a hunger strike.
"We're fighting for more than just a television channel now. It's a fight for the soul of a nation."
I won't spoil the ending, but anyone who gets their news from Heno and their drama fix from Pobl Y Cwm reruns knows that Gwynfor was very much successful.
But, you know what they say; behind every great Welshman is a greater Welshwoman. The relationship between Gwynfor and his wife, Eiry Thomas's Rhiannon, forms the emotional backbone of the film, with their wholesome, tender and unconditional love causing even the blackest of hearts to flutter once more.
The empathy in every one of Y Sŵn's performances is resounding, but here it is undoubtedly at its best.
Freedom fighters
However, Rhiannon is strongly opposed to her husband undertaking a hunger strike, made evident in the sheer amount of culinary symbolism. As we join Gwynfor in the days leading up to his strike, he is fed a heaping Christmas dinner and a delectable birthday cake, though we never see him indulge in these worldly delights.
Instead, he spends his time in imaginary conversation with two other eminent freedom fighters, Mahatma Gandhi, who took nationalism and turned it against an empire, and Martin Luther King Jr, who died in service of non-violent civil disobedience.
The spectres, appearing at Gwynfor's most confused and lowest moments, remind him that he cannot know he is truly alive until he is willing to die for his cause.
"Every day when I wake up, I thank the Lord I'm Welsh."
While Gwynfor and the ladies at the Welsh office appear in colour, pariahs of the new, modern, vibrant and clear Welsh intentions, those in government appear in black and white.
They are old, outdated and resistant to progress. The visual metaphor is strengthened when Sian Reese-Williams's faithful depiction of Thatcher is quickly snapped into multi-colour as protestors surround her car.
The aspect ratio of the film is constantly changing too, signifying the plot's chapters and keeping us focused on an ever-changing emotional landscape.
Inspiring
Editing is perhaps Y Sŵn's second greatest success, after its inspiring theming and message. Since the best stories are often true, the film takes liberty with its cuts to splice contemporary imagery and video between expository scenes. This provides ample context, solidifying the piece as educational and enjoyable.
But it also serves to give Y Sŵn a distinctly fast-paced and almost nerve-wracking tone, as we wait with bated breath for an outcome we already know is on the horizon.
In the age of distraction, editor Kevin Jones keeps our attention firmly dedicated to the twisting tale with these 'blink and you'll miss it' additions.
Stoicism
It is fitting that this heartfelt tale of Welsh stoicism should be the noisiest film in recent memory, and what a beautiful noise it is. The soundtrack to Y Sŵn features a host of Welsh legends, Catatonia, Trwynau Coch, and of course, Adwaith.
But it is not only bursts of heavy guitar or haunting chorals, courtesy of composer Siôn Trefor, that carry the equally turbulent action. Protestors' chants ring out constantly from the steps of the Welsh office, and the greatest noise of them all, the Welsh language, is omnipresent.
"I think it's fair to say the tide of public opinion is running away from you."
Though the actions of Gwynfor and the Welsh nationalists invoke no small amount of pride from viewers, it is Ceri and her radicalisation that many of us can most closely relate to.
Once content to 'change things from the inside', Ceri quickly realises that the Tories aren't going to budge unless she assists the 'emotional' and 'reactive' protestors, smuggling them sensitive information concerning Thatcher's whereabouts.
In the culmination of her arc, she lives out the dream and privately deprives a needy Thatcher of loo roll.
Burden
If Y Sŵn exists simply to portray S4C's history, it does it beautifully. But, as the film boldly reminds us with the sharp ring of an iPhone in its final scene, many of the issues discussed here still burden Welsh people four decades later.
Even after devolution, the fight for freedom from Tory turmoil, the brick wall of pacifist protest, Celtic independence from centuries-old colonialism, and the importance of cultivating Welsh language resources are no longer in the capable hands of Gwynfor Evans, but in our own.
We may have got our Welsh language channel, but the need for nationalism remains. Save Gwynfor!
Y Sŵn was released on 10th March, the perfect feel-good, fighting-fit film to transcend the generations.
The film will play at Chapter Arts Centre, Cardiff and a variety of other cinemas across Wales and the UK. To find your nearest showing, visit www.yswn.cymru.
---
Support our Nation today
For the price of a cup of coffee a month you can help us create an independent, not-for-profit, national news service for the people of Wales, by the people of Wales.