Culture
Five years on: Welsh publisher Lucent Dreaming finds ample cause to celebrate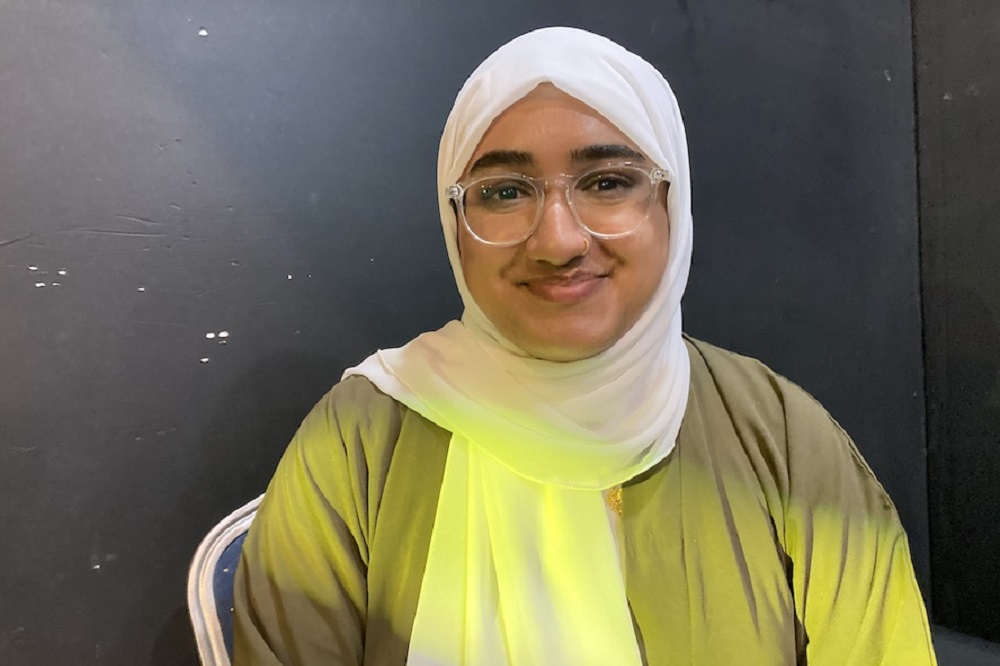 Samiha Meah, in conversation with Jon Gower, considers the achievements of an ambitious small publisher.
Should you assemble the covers of back issues of the magazine Lucent Dreaming as a collection they look absolutely glorious, like creating an unexpected, vibrant gallery.
The visual branding of this sparkling Welsh publishing venture is easily matched by the content, made up principally of new voices. This is publishing as enabling, finding new writers in Wales and indeed worldwide. This year they celebrate five years in the business.
Lucent Dreaming's fiction editor is Samiha Meah who explains the ethos made visible in the covers: 'We aim to capture the surreal, take everyday objects – one of our issues takes a pillow – and turn them into something else, which is really cool. We also commission artists such as Cerys Knighton from Porthcawl to design covers. She produced our latest featuring great crested grebes  – which is amazing because of its overall vibe, including bright elements of spring.
'As we've got bigger and expanded we've been able to work with local artists who can bring something new to the table. We try not to close ourselves off from anything and be open to all ideas. We constantly try to take the ordinary and turn it into something different.'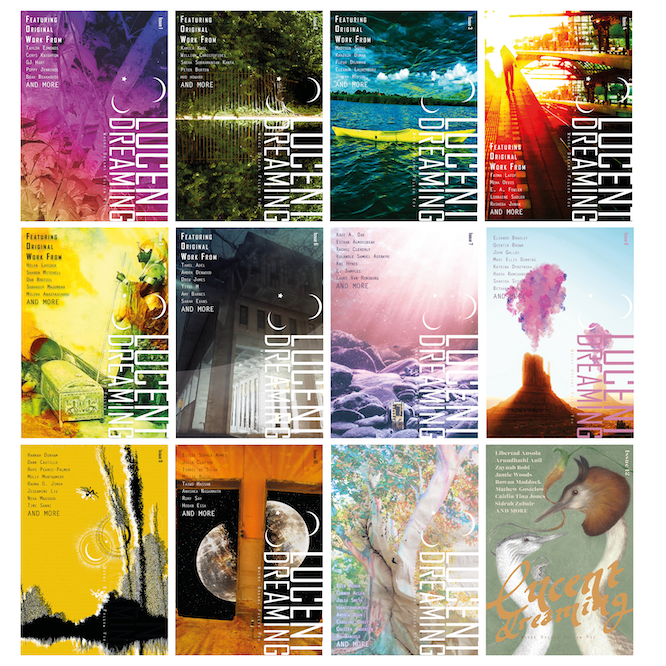 Vision
When Samiha joined Jannat Ahmed, co-founder of Lucent Dreaming, she saw that 'When she has an idea in mind she will do anything to get it done. She saw that the literary scene in Wales was lacking something and she set out to change it. I came on board later on, probably two or three years down the line, when Lucent Dreaming was still relatively small.
'I came as a student intern at first but then Jannat asked me to stay on. By the time I finished my studies I was full time. We clicked right from the start and I understood the vision and the aspirations of Lucent, namely to represent the under-represented and also the aim of taking everyday ideas, turning them on their heads and constantly looking for the new and the strange.'
The small team had now broadened its activities from publishing magazines to bringing out books.
Their first titles are impactful right from the off as their debut offering to the world was Dominoes, the first collection of poems by Connor Allen, until recently the Children's Laureate Wales.
This was swiftly followed by Miracles, Allen's choice of poems for children.  It was an inspired choice as Allen is a passionate advocate of writing and burns with a zeal for giving voice, his own work so deeply honest it's almost the flip side of the values of some politicans now hogging the news.

Fantasy
In Samiha's specialist area they are currently in the process of preparing writer and musician Elin Heron's debut YA novel Jude which, she explains is a 'Queer coming-of-age story that blends a tale of first love with fantasy and the mythological. This will appear next April and we're also working on anthologies, so we recently brought out Hope is the Thing, edited by Jannat, while we're also working on issue number thirteen, so I'm reading a lot of fiction and also editing that.'
It's difficult to spend any time at all with either Samiha or Jannat and not feel that here are women on a mission.
As Samiha puts is: 'I feel very definitely that something shifted during the pandemic when people felt isolated and alone and we needed some sort of outlet and many people come into the arts through that, even from the most difficult circumstances. And I guess for marginalised and under-represented writers there's always been an element of trying to carve out a space in places that aren't built for them, so the more we see and read  their stories and see people in positions such as fiction editor or chief editor or anything like that it's encouraging, a way of proving that there is room for all kinds of voices.'
Their success didn't come overnight. It's only fairly recently that Lucent Dreaming has felt fully a part of the Welsh publishing world and that's because, as Samiha suggests, 'We've shown that we've been gaining traction and that we're someone to look out for and to contend with. Before I found Lucent I didn't think there was much of a position for someone like me, it was definitely difficult. Being a person of colour you didn't think there was much of a publishing industry in Wales itself and so that frame gets even smaller when you look for the space for people of colour in it which also decreases your chances of getting in.'
Samiha's desire to write and get involved in publishing derives, as is the case with most writers, by being firstly a reader.
'I loved reading YA stuff, fantasy and the like, anything I could get my hands on. I was an avid reader as a child and then I studied English literature at Cardiff University which shaped my entire life.'
Uplifting
Cardiff Uni .was where she found out about Lucent Dreaming and encountered Jannat Ahmed who was striving to 'Represent people who look like me or have had similar experiences to me. And if you want to see change you have to be it, and being in the position I am, which I'm thankful for, it's allowed me to look for such specific voices. Even if I'm not writing myself I'm able to look for those stories and uplift those voices. And that's more satisfying for me than writing myself.'
After university Samiha felt she had burned herself out. 'So now I mainly write for the magazine – maybe an introduction or the editor's letter but I haven't myself dabbled with writing for a while.'
Emotive
One of the formative books in her life is Crying in H Mart by Michelle Zauner, a singer songwriter of dreamy indie pop who goes by the name Japanese Breakfast.
Samiha explains: 'She wrote a memoir about her experience as a child, as a Korean immigrant in the United States while her mother is going through the various stages of cancer. There's something very emotive about the writing but also many people of colour will see there are many similarities to their experience. Even though we're from very different backgrounds there's this sort of familarity, something you see in the writing of other people of colour, so I would recommend that. It stays with you long after you've read it.'
Looking back over five years of Lucent Dreaming what makes her most proud?
'At open mic nights and events such as our five year celebration, it's seeing the change in a person and how it's affected people for the better. Or even marginally – letting people know that there is all room for all kinds of voices – that poetry and literature are important aspects of life, in Wales. Seeing that is the thing that makes me most proud and makes it all worth it. Obviously it's not a stable industry, and you can have the rug pulled out from under you at any point but knowing you've had some sort of positive effect, at some point in someone's, life is an amazing feeling.'
---
Support our Nation today
For the price of a cup of coffee a month you can help us create an independent, not-for-profit, national news service for the people of Wales, by the people of Wales.