Culture
Gladstone's Revisited  
David Llewellyn
During my last stay at Gladstone's Library, in October 2022 – as detailed in Breakfast with the Gladstones – I used my time away not only to work on a novel, in this case The Trefoil Affair, but to begin planning for the year ahead.
My finances were in a terrible state, and there wasn't much work on the horizon,
On returning to Cardiff I began the process of applying for a Royal Literary fund grant, which was recommended to me by an advisor at my union, The Society of Authors.
That initial application was followed by an explanatory letter, a breakdown of my finances, sending them examples of my work to demonstrate literary merit – the most daunting test of all – and finally a face-to-face zoom interview.
In January of this year, while at JD Gym in Cardiff, of all places, I learned that I'd been awarded the grant, which was life-changing news.
One of the first things I did was book myself another trip to Gladstone's Library, in the springtime, without the bleakness of autumn and money worries to contend with.
This time I would be working on The Serpent and the Sparrows, a novel I began developing way back in 2015.
It's set in Florence and Rome between 1526 and 1527, a period of great unrest in Italy, where though a Medici, Pope Clement VII, sat on the papal throne, the family's power in Florence was much weakened, following 18 years in exile, after the lamentable, but mercifully brief reign of the Taliban-like fundamentalist friar, Girolamo Savonarola, and his followers in the city government.

Protagonist
I was drawn to the story of Cardinal Passerini, who served as guardian to Pope Clement's nephews, Ippolito and Alessandro, and his infant niece Caterina de' Medici. All three had been orphaned and were sent to Florence to keep them safe from the Pope's many enemies.
As a close confidante and friend of the Pope, I thought he would make an interesting protagonist, as a witness to key events, from the formation of the League of Cognac to the civil unrest which erupted in Florence that year, during which Michelangelo's David was damaged by a table being thrown from an upper floor of the Palazzo della Signoria.
His time in Florence came to an end following the Sack of Rome, in which German and Spanish mercenaries invaded the city, making Clement a prisoner. He died at Citta di Castello in 1529, his wards going on to become a Cardinal, the first Duke of Florence, and Queen of France.
What's more, it's a story that has never been told in a work of fiction, a TV show or film. Those tend to focus on the larger-than-life figures of the age, the heads of families, the popes, the artists, rather than those living and working on the fringes.
Medici
RAI's excellent series I Medici (Medici, Masters of Florence in English), is very much focused on the lives of Cosimo the Elder and Lorenzo the Magnificent, leading up to his death.
The Serpent and the Sparrows is set more than 30 years later, with Lorenzo's nephew now the pope, and Michelangelo – an historically accurate surly teenager in the series – now middle-aged and still sporting the broken nose he gained from a teenage scuffle with Torrigiano, whom his Medici patrons scared into fleeing to England, where he made the tomb of Henry VII, whose son would cause so many problems for Pope Clement.
I spent about 18 months reading and researching this period before I could even make a start on the novel. I went on what we might today call a 'deep dive' of the subject.
Through sheer luck, this work coincided with the publication of Catherine Fletcher's biography of Alessandro, The Black Prince of Florence, perhaps the first popular history book to focus on a figure often mentioned only passingly in histories of the Medici, and written off as a 'tyrant'.
As mentioned, he was the first Duke of Florence, after decades of heads of the family being 'first among equals', paving the way for his cousin Duke Cosimo to become Grand Duke of Tuscany, and so we can only assume this stems from his being mixed race, his mother a black household servant named Simonetta.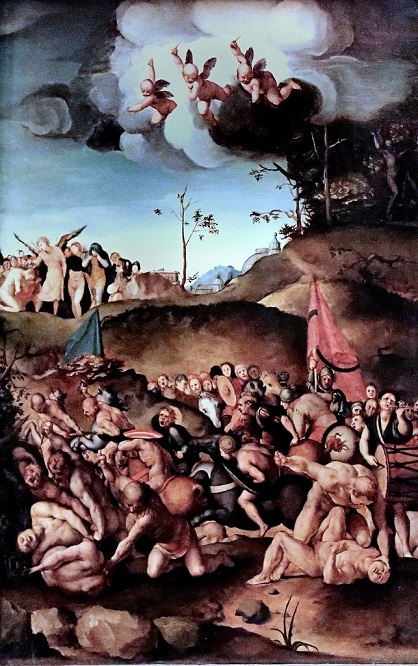 Survey
From there, I began digging into the primary sources, including the diaries and letters of figures such as Francesco Guicciardini, Machiavelli and Michelangelo, and bought an English language copy of the survey of all the contents of the Palazzo Medici following the death of Lorenzo in 1492, which covers everything from Uccello's three paintings depicting the battle of San Romano, now divided between the National Gallery, Uffizi and Louvre, and a tiny cameo of Noah's Ark, the most expensive item in the entire house, costing 3,000 florins (the paintings cost 1,500), which is now in the British Museum, hidden away far from all the overcrowded and attention grabbing Egyptian statuary and the Rosetta stone.
I knew that art would feature prominently, and so began researching the lives of artists such as Pontormo and Bronzino, a Queer couple who began as master and pupil, and Michelangelo, who was in Florence at the time working on the tombs at San Lorenzo, writing grumpy letters about its sacristan, his contracts being in Latin, and the speed with which its linden wood floors were being treated.
My notes eventually became a 30,000 word spreadsheet, covering everything from pigments and the process of making oil paint, to names and dates.
Very little of this finds its way into the novel. The purpose of researching for a work of fiction isn't to show off how much you've learned, but to create a world that feels believable and lived in. Verisimilitude is vitally important in many genres, especially historical fiction.
One of the major influences was, of course, the late Hilary Mantel, whose Thomas Cromwell trilogy was a revelation for me.
Here was a history of Henry VIII's reign from the point of view of the bystanders – and often victims – of his age, unafraid to take us down the backstreets and alleyways of Tudor London.
They're written in the present tense, with dialogue that feels earthy and commonplace, making figures who died centuries ago immediately relatable, and their fates all the more emotionally resonant.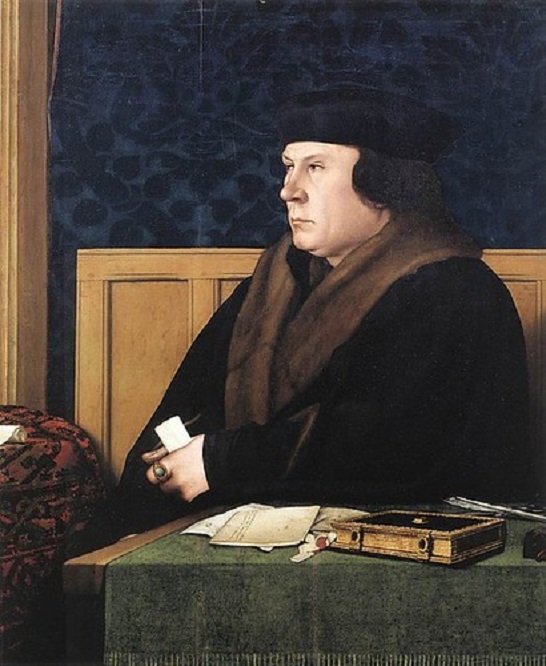 Florence
Needless to say, research and inspiration were only the starting points for a long journey of experimentation and craft, and I'd still call it a work in progress, and I'm forever tweaking it.
A trip to Florence in 2019, paid for by my mother-in-law, was enormously helpful, and inspired the novel's title, Florence having a sizeable urban population of sparrows, including hundreds in the cloister of Santa Croce.
What's more, the Italian for 'sparrows' is passeri, so it felt like a nice play on words
Two years later the three of us visited Gladstone's library, and while exploring the bookshelves of its secondary reading rooms I saw shelf upon shelf of Dante's 'Commedia', in the original Tuscan, part of William Ewart Gladstone's vast collection of books, which he and his children moved from the family estate at Hawarden Castle in the late 19th and Early 20th Century.
If I couldn't go back to Florence, I reasoned that Gladstone's Library would be as good a place as any to polish the latest draft.
I would go prepared, my Richard Booth's bookbag stocked with the relevant volumes. Catherine Fletcher's The Black Prince of Florence and The Beauty and the Terror, Michael Mallett and Christine Shaw's The Italian Wars 1494-1559, and the most recent addition, Michael Rocke's Forbidden Friendships, about homosexuality and male culture in Renaissance Florence.
Gladstone's
Carrying all this, plus my laptop bag, and a holdall full of clothes, from Cardiff to Hawarden, while using a walking stick, was a daunting prospect, but after a trial run walking from one end of the house to the other, laden like a pack mule, I set off for Cardiff Central.
Once again, I was impressed by the way Transport for Wales have transformed our rail network, the bad old days of Arriva a distant memory.
I went from Cardiff to Shrewsbury and Shrewsbury to Wrexham with a minimum of fuss, a bus taking me from Wrexham to Hawarden while the Bidston line undergoes maintenance.
I was back at Gladstone's right on schedule, and wasted little time in setting up my spot, laptop  centre stage, with a leaning tower of textbooks always by my side.
Those narrow winding wooden staircases were a bit trickier this time around, but I still managed to hoist my way up and navigate my way down them without injuring myself.
I even scaled he stairs in the secondary reading room, where I handled – with great care – an  1888 edition of La Commedia, printed in Milan, the Gladstone bookplate on its inside cover.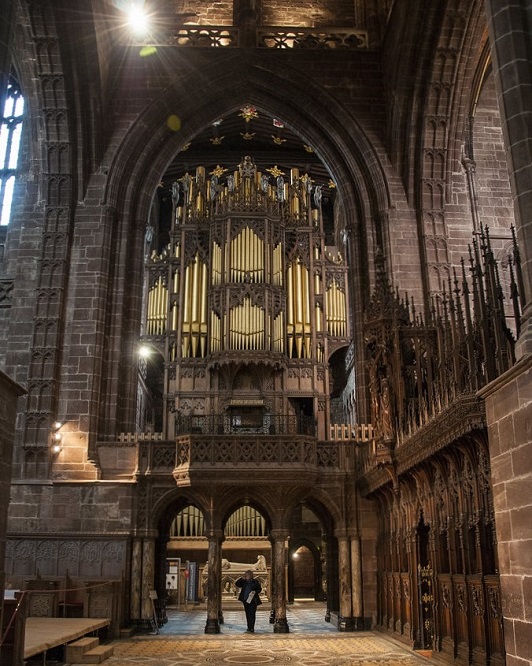 Organ recital
On Thursday I popped over to Chester for lunchtime tapas at Shrub and an organ recital at the stunning cathedral, with Philip Rushforth performing Alexandre Guilmant's Grand Choeur in D, JS Bach's 'O Gott, du frommer Gott, and Josef Rheinberger's Sonata No.3.
It's one thing hearing great organ music via a radio or television, another thing entirely to hear it in a soaring example of medieval gothic architecture, surrounded by the glittering polychromatic splendour of its stained glass.
It's a music that you feel as much as hear, stirring you to the very core, and made for a thrilling hour of the most sublime music, before I returned to the bus stop, via Caffe Nero, Waterstones, where I bought Italo Calvino's Cosmicomics,  and a peculiar boutique named Ancient World, which sold all manner of bizarre ornaments, with lots of skulls, bizarre birds in top hats, and themed chess sets by Berkeley Chess.
My trip to Chester coincided with a talk by the Poet Laureate Simon Armitage back at the library.
I left for Chester as they were putting the chairs, out, and returned to the reading room as lots of poetry fans were milling about in the reception area.
I ended the day tucked up in bed listening to Horatio Clare and Catherine Fletcher on BBC Radio 3's Free Thinking, talking about the sounds of nature, the perfect way to cap off a productive day.
Historical accuracy
On Friday I spent the whole day going through the novel, reading from some of the books I'd brought, and revising it for historical accuracy, especially in regards the character of Alessandro, Catherine Fletcher's book helping me craft a more rounded, interesting figure than in earlier drafts.
Realising that his main residence was the hunting villa at Poggio, and that his guardian was a literary type helped me finesse his character in new and interesting ways, hopefully more truthful to the kind of man I think he may have been, while allowing for the fact that he is still, at that time, a teenager.
Of course, in any work of historical fiction, there is a degree of artistic licence, there are fictional supporting characters, imagined events, and I have changed Silvio Passerini's backstory for dramatic emphasis.
The rest is based as closely on real events as is possible in a work of fiction.
Like Tuscany
My stay coincided with the residency of graphic novelists the Rickard Sisters, whose work also delves into the not-so-distant past. We all agreed that there is nowhere quite like Gladstone's library for peace, quiet, and the time to focus on creative endeavours.
I began writing this piece on the ground floor of the reading room, after handing in my key, checking out, and leaving my larger bag in reception. I stuck around for breakfast and lunch, and then made my way back to the bus stop in Hawarden.
It was another short bus journey to Wrexham, where my arrival coincided with hundreds of Wrexham fans cheering on the team before its 3-0 win against York City.
The train, which came from Holyhead, took me directly to Cardiff, and I got talking to a young law student who noticed I was reading Italo Calvino, and we spent much of Hereford to Cardiff chatting about books.
Through the windows of the train, the landscapes of the borderlands between England and Wales as we passed through Abergavenny, and on through my hometown of Pontypool looked – as always – uncannily like Tuscany.
David Llewellyn's latest novel, A Simple Scale, is available here.
---
Support our Nation today
For the price of a cup of coffee a month you can help us create an independent, not-for-profit, national news service for the people of Wales, by the people of Wales.