Culture
'How far is too far when it comes to saving the planet?'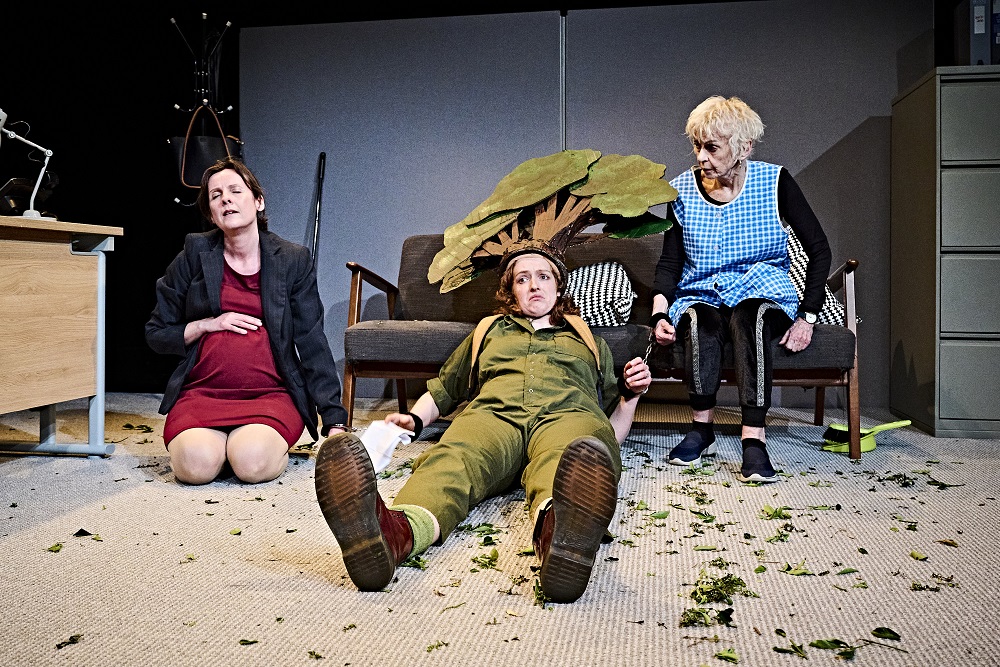 Adam Johannes
Triongl is a Welsh women's theatre company making waves. Their latest bilingual production, 'Tree', will leave you feeling uplifted and inspired – and also make you laugh.
Last week I caught up with Rebecca Smith-Williams from Triongl who describes their play as, "the story of an environmental protester who wants to protect a veteran oak tree from being cut down in her community. The council wish to cut down the tree to make way for a supermarket. She's written the petitions. She's done everything. She's followed the conventional routes…and it's not working. And today is going to be the final vote on the planning committee, and she thinks it's going to pass".
What follows next will be the central drama of the play,
"She decides to handcuff herself to the councillor who is trying to drive this through, and to stop her from going to vote…"
Triongl are Valmai Jones, Rebecca Knowles and Rebecca Smith-Williams, three remarkable women of different ages and backgrounds in theatre who have been creating innovative and exciting theatre productions for over seven years.
Previously working freelance they were cast together on a project, found they got on well, and had "similar politics, similar values and similar humour". So, they decided to form a theatre company.
Rebecca is keen to stress that they work cooperatively and a collaborative approach strengthens the work, "We develop the story together," she says, "then I go back and script it, then I return with it, and then everyone edits it", this she hopes brings more depth by weaving together their clashing experiences and backgrounds.

Engaging
Since its inception, Triongl, has worked towards creating work that is inclusive, diverse and engaging.
Their plays are often rooted in social and political issues, using the stage as a platform to raise awareness on various topics, but their chosen genre of comedy assures a lightness of touch meaning that audiences do not feel preached at.
Their first play in 2016, 'Miramar' concerning a 74-year-old woman who found herself homeless, addressed social issues of old age and what it means to call somewhere home.
Their second play, 'Margaret and the Tapeworm', a surreal tale of body horror and human relationships, was a Yuletide comedy, touring Wales in the run up to Christmas 2018, and included audience members being offered a seasonal glass of sherry and mince pie.
Their new offering, 'Tree', continues this trend of using theatre to address important issues. The production follows the story of three women, from different social classes, walks of life and at different stages of life.
There is the young idealist in an environmental direct-action group. A councillor on whose vote the fate of an ancient tree depends, and an older working-class woman who cleans the council office. The play's comedy and drama arise from these three very different women being trapped together in a room over one afternoon.
The play is in both English and Welsh with captioning on stage for those who don't speak Welsh, but Rebecca explains that while the story unfolds in a small Welsh town, it is part of a bigger story,
"Britain is one of the most nature-depleted countries in the world. 97 percent of wildflower meadows have been lost since the 1930s. The population of nightingales have declined by 90 percent. These figures are shocking.
"We are in the early stages of a mass extinction. I really wanted to talk about that, but it's a comedy as well. It's hard to balance these two things. Because it's a big subject. and to get the comedy in as well".
Rigged
The scale and urgency of the ecological crisis, failure of authorities to act, and people's feelings that the political system is rigged, has sparked a wave of direct-action protest, with the government responding with new laws curbing protest rights. I asked Rebecca about why Triongl wanted to make this play.
"Obviously I really care about environmental issues," Rebecca says, 'so I wanted to write something about this, but I do feel there is an inherent comedy in these situations'.
Speaking of the protester driven to extreme action, she adds, "You've tried everything. You've sent all the petitions. Scientists telling people not to do this. I am on her side, I wanted her to be a human, and a bit nervous, the comedy of this situation, and these three humans meeting".
"It was hard not to make it a didactic piece, even though I believe really strongly about this and would naturally affiliate myself with the protester, and wanted it to be character-led and situation-led, and hopefully the comedy helps oil the conversations around this."
For Triongl it was important to include all perspectives, "We didn't want to portray the councillor as an evil figure, she probably thinks she doing the right thing".
"Cutting down a tree is killing a living thing. It takes years to grow a mature tree, and only moments to destroy it. Trees are the lungs of the Earth, purifying the air we breathe, cleaning our water, providing habitat for countless species, and mitigating climate change".
Obsessed 
Rebecca says her own interest in environmentalism was sparked when she moved out of London back to Wales where she grew up, and became obsessed with gardening, studying horticulture and exploring food production, "Then Extinction Rebellion formed and I joined and I felt hope that there was a big movement doing something and speaking about this".
Each show is followed by a post-show discussion led by community activists and wildlife organisations.
Rebecca says the play hopes to juxtapose the comedy with discussion, "so the comedy is the warm-up act for conversation to discuss those issues. Power structures. How decisions are made in the community, and how the decisions effect community."
The play's central dilemma, "How far should protest go?" could not be more amid growing debate over the UK Government's wave of draconian anti-protest legislation such as Police, Crime, Sentencing and Courts Act 2022 and Public Order Act 2023.
Triongl's Tree is a great piece of theatre. It is a testament to the company's skill and creativity, Triongl is a company that deserves to be on your radar if you are a fan of bold, comic theatre that speaks to important social issues.
For more information including tour dates click here………
---
Support our Nation today
For the price of a cup of coffee a month you can help us create an independent, not-for-profit, national news service for the people of Wales, by the people of Wales.