Culture
Ice Creams and Frothy Coffees – la Rhondda dolce vita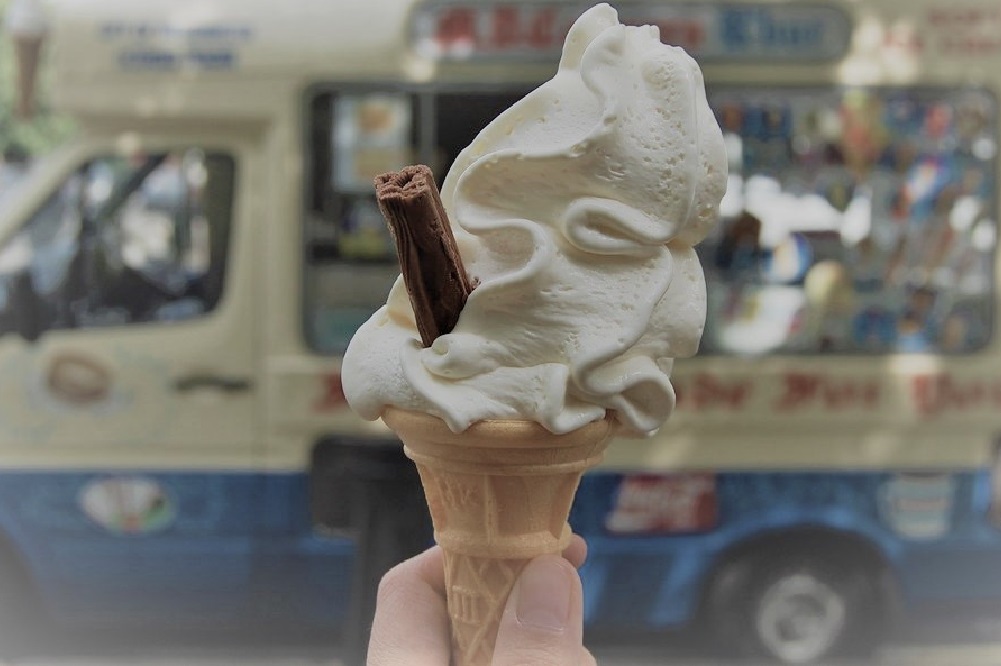 Continuing our series written by John Geraint, author of 'The Great Welsh Auntie Novel', and one of Wales's most experienced documentary-makers. 'John On The Rhondda' is based on John Geraint's popular Rhondda Radio talks and podcasts.
John Geraint
Parp pah-pah PAAAARP!… Caravaggi's! Whenever I hear it, even now, half-a-century later, that rhythm – long, short-short, LONG – always makes me shout "Caravaggi's!". It's a Pavlovian response.
All through my childhood, it was the rhythm sounded on the horn of an ice-cream van, Nick Caravaggi's ice-cream van. The sound came from the bottom end of Hughes Street, up above our house. Parp pah-pah PAAAARP!… Caravaggi's!
We lived on Tylacelyn – the main road – so no ice-cream van could stop to serve cones or wafers in front of our house. But on Saturdays and summer evenings, Nick Caravaggi's regular route took him down Hughes Street.
I trained myself to listen for the distant sound of the horn coming from up beyond the back lane and the council houses. Parp pah-pah PAAAARP!…
Those were the days before ice-cream vans had recorded jingles, before We'll Keep A Welcome echoed endlessly around the hillsides.
Someone told me the other day that some parents tell their offspring that a jingle is the sound a van makes when it's run out of ice-cream. How cruel can you be?
Anticipation
Well, my Mam and Dad and my grandparents who lived with us knew that once I'd heard that sound – Parp pah-pah PAAAARP!… –  I'd shout Caravaggi's! with such delight they couldn't deny me sixpence for a treat.
With that shiny tanner in my hand, I'd rush up the garden steps, out of back gate and pelt along the lane and up the gwli. Vicki Stevens, Elaine Moss and Gaynor Bowen would have got there before me, five or six other nippers too, but the queue of expectant children was good!
It made sure than Mr Caravaggi, with his Latin film star looks, was still there when I arrived out of puff, but full of anticipation for my vanilla cornet topped with raspberry sauce.
Parp pah-pah PAAAARP!… Caravaggi's! It was a generational thing: for my children, it was Mr Creemy, not Nick Caravaggi, who served up the best ice-cream in the world.
I remember doing a radio feature with Mike Jenkins – Mr Creemy himself – in the late 1970s, when he'd just brought out Christmas Pudding flavour ice-cream, which seemed insanely exotic back then.
They're all grown-up now, my children, and they live away from the Rhondda, but no trip back to Penygraig is ever complete for them without a visit to Mr Creemy's or – more recently – to the new Sub Zero parlour in Williamstown.
It's award-winning stuff, and I love all those outlandish flavours – but for me there's always the ghost of Caravaggi's plain old vanilla nestling deliciously somewhere in any scoop of ice-cream I taste.
Happiness
Every part of the Rhondda had its own equivalent of Nick Caravaggi, selling real Italian ice-cream – often licked, never beaten!
Up in Ystrad it was Tich Coppolo who made a giant contribution to the happiness of local kids.
Someone posted a photo of Tich on Facebook the other day, and the responses – scores of them – showed how much he and his ice-cream van were loved.
"My childhood was spent looking up at him, waiting for my ice-cream," said one.
Someone else's typical order was "a cornet with nuts and a single off the top shelf," which I take it refers to the practice of selling cigarettes one-by-one.
I'm not sure that happens anymore, or indeed whether it did in any way declared to the authorities back then.

Sophisticated
There are phases in growing up. The innocent wonder and sheer delight in the size of an ice-cream cone gets replaced, sooner or later, by the need for something more sophisticated.
And there's a certain awkward age – at least there was back then – when we're too old for ice-cream vans, but still too young to go the pub. And that was when another flavour that Italians added to Rhondda life come to the fore: the cafes, the Bracchis.
A bottle of coke or a frothy coffee, a chance to sit at a corner table in a café and talk for hours, with friends, with girls… That was what café society was all about.
Head and shoulders above all the other cafes for me when I was a young teenager was the Lounge Café on Tonypandy Square, known to us all as Melardi's. We'd be served by brother and sister Tereza and Tony Melardi, and Tony's new wife June.
The Melardis – Tina and Lui and Rene worked in the business too – were the children of Ernie Melardi, who'd begun to learn his trade in the café as long ago as 1920, when it was owned by one of the original, pioneering Bracchi brothers, whose surname – pronounced, of course, with guttural Welsh 'ch' – was eventually used to refer to any Italian cafe.
Revolution
Altogether, right across south Wales, there were said to be more than 300 Italian cafes, ice-cream parlours and fish-and-chip shops, almost all of them run by the families of immigrants from northern hills of Val Ceno, around the town of Bardi.
The steam escaping from the espresso machine, the bells and buzzers of the flipper in the corner, the whirr of the jukebox lining up Thunderclap Newman or Bowie, T Rex or Elton John… those were Sounds of the Seventies for me.
I still remember the thrill of walking in to Melardi's for the first time with a couple of friends, sitting down and ordering… a coffee. It wasn't called a cappuccino back then – but, jiw, it felt so grown up.
Bob Dylan had a song around that time – I'm not sure it was ever on the jukebox, but it had a line in that went something like "there was music in the cafes at night and revolution in the air."
Well, Melardi's was our café, and our youth revolution was going to put the world to rights. We talked and talked and talked, but in the end, we satisfied ourselves with a go on the flipper.
This Penygraig kid played a mean pinball, but hard as I tried, and as much of my pocket-money as I shoved through the silver slot for another game, I never won the weekly competition for the highest score.
The grand prize of a box of chocolates put up by Tony Melardi always went to some greaser who'd mastered the art of keeping the ball in play with a series of brutal shoves to the body of the flipper without ever causing a 'tilt', the penalty for which was forfeiting the whole game.
Connections
Bracchis were social centres before the term was invented, places where strangers became friends, gossip was passed on, stomachs and spirits refreshed. We're all social animals, and it's not just teenagers who need a warm smile, a hot meal, a steaming coffee and someone to share it with.
Human contact, human connection, human kindness – that's what the Bracchis were really all about. And there's something more.
That fantastic catalogue of Rhondda Italian surnames – Melardi, Carpanini and Margaritelli, Conti and Bachetta, Gambarini and Sterlini, Basini, Strinati, Balestrazzi, the list goes on and on like some fantastic operatic aria – there's romance in these names, yes, but they weren't simply glamorous-sounding.
They were a living reminder that we were all descendants of economic migrants; that – drawn by the work and the wealth that coal generated – all of our families had arrived from elsewhere to make our Rhondda what it was, what it is.
My great-grandparents might have come from Cardiganshire and North Cornelly, from Penrhyndeudraeth and Somerset and Gloucestershire rather than Bardi, but all our families were strangers to the Rhondda once, just as much as we'd all become perfectly at home in the Valley by the time our generation was ready to taste our first ice creams.
'John On The Rhondda' is broadcast at about 3.15pm as part of David Arthur's Wednesday Afternoon Show on Rhondda Radio
All episodes of the 'John On The Rhondda' podcast are available here
John Geraint's debut in fiction, 'The Great Welsh Auntie Novel', is available from all good bookshops, or directly from Cambria Books
You can find the rest of John's writing on Nation.Cymru by following his link on this map
---
Support our Nation today
For the price of a cup of coffee a month you can help us create an independent, not-for-profit, national news service for the people of Wales, by the people of Wales.