Culture
Interview: Jonathan Power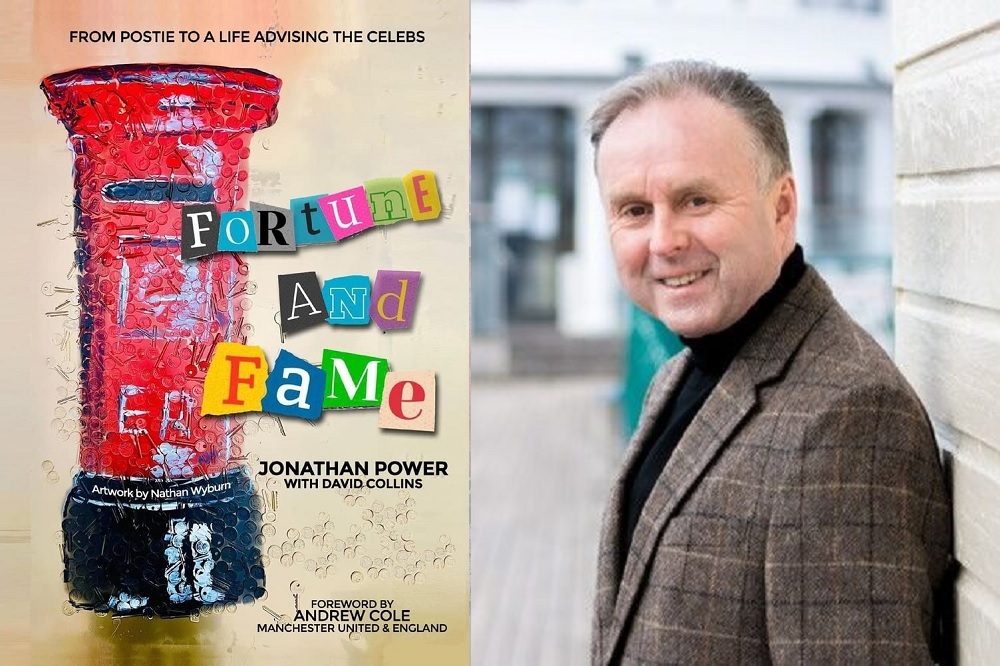 Jon Gower
The story told in Fortune and Fame isn't quite the classic rags to riches tale, although it does start with modest and humble beginnings and money is made. 'Financial adviser to the stars' Jonathan Power grew up in Haverfordwest in Pembrokeshire, where his father worked for the Post Office.
With a growing family to look after and jobs being scarce in west Wales the Powers upped sticks to Cardiff, decamping to a house off City Road in Roath.
Jonathan didn't do well in his new school in the city. When he left his studies at an early age he found himself delivering telegrams around Cardiff on his bike. This could be hard work, especially when he was the bearer of bad news and sad tidings to people.
He then found a job delivering office mail in a British Telecom office, where the job was mundane at least he was out of the weather.
"I didn't do well in school," Jonathan tells me, "and it held me back when I worked in my first jobs in the Post Office and for British Telecom where you needed qualifications which I simply didn't have."
His first break came when he got a job in the world of insurance, working for Legal & General. A second came when he started to host breakfast clubs for his clients, many of them being sportspeople.
There was more than a fair sprinkling of Cardiff City players. "It was a club without rules and they all knew each other – people such as Eddie May the Cardiff City manager at the time – everyone knew Eddie, he was a big name in sport – then there was boxing trainer Dai Gardiner, so there, sitting down for breakfast, would be the creme de la creme of Welsh sport and people such as the Falklands veteran Simon Weston joined us too."
Growing reputation
The breakfast club helped spread the news and attract work. The company's reputation therefore consolidated and the client base expanded.
'We were mainly operating with people from sports and entertainment but I wasn't starstruck, it soon became normal for me. The company grew and grew.'
At one stage he was representing a good slice of the English rugby squad for instance, as well as pop stars and songwriters.
World champions
"When I retired from financial management, we were flying as a company. We were a small, tucked-away, boutique company which had never advertised, was ex-directory by design and yet was a recognised player in the industry, providing independent advice and agency advice to elite sportspeople.
"There were world champions such as Tessa Sanderson, Jamie Balch and Iwan Thomas, along with boxers such as Joe Calzaghe, British Lions rugby players, and world champion snooker players. But I had learned skills with my early breakfast club, working with local people which had stood me in good stead for getting along with people."
He also took a side road into the life of a thespian, with various roles as an actor coming his way, much to his surprise.

The acting life
Jonathan's first acting experience was as an extra on TV's Sherlock, although his fellow extras insisted on his using the term "supporting actor." But soon he was getting proper roles such as Captain Williams in Allies, an independent World War II film, written by Jeremy Sheldon.
"I was then in a film with Sir Geoff Hurst called Kicking Off, a football-based comedy about two fans who try to kidnap a referee who they believe unfairly disallowed a goal which led to their team's relegation.
"Acting was fun, but I could pick it up or put it down but I was getting great roles. I was in that film with Sir Geoff Hurst and then I played someone called Jack in the near-future thriller The Chameleon."
The same was true for producing. "Whether I was working in L.A. or producing a show in the West End it was something I could pick up but then put down. It was project work, it wasn't every day, so I could dip in and dip out of a project. It might be for a week, a month, three months but afterwards I could take months off."
The projects were many and various. Jonathan co-produced a stage show starring Idina Menzel, the so-called "Queen of Broadway," who had garnered Tony awards for her roles in Wicked and Glee. This sold out at London's Royal Albert Hall before subsequently touring successfully. Then there was the Scottish theatrical phenomenon The Steamie. Jonathan experienced success in various fields.
Springsteen
The book concludes with a series of top ten tips about matters such as teamplay, a positive mindset and steely resilience from Jonathan. This, in turn is supplemented by sage advice from people who have inspired or guided him.
There are song lyrics by "The Boss," Bruce Springsteen whose song "Dancing in the Dark" suggests that 'You can't start a fire, worrying/About your little world falling apart' and American industrialist Henry Ford's notion that 'If you always do what you've always done, you'll always get what you've always got.'
Jonathan says there are two reasons why decided to write the book.
"The first and the most important one is that I want some kid somewhere, or an adult, who's been told that he or she isn't very good to pick up my book and see my journey, to see where I went from to what I achieved in my professional career.
"There's nothing special about me, I'm an ordinary guy, believe me – level-headed, I know where I'm from, I wasn't given a silver spoon or spoon fed. I worked damn hard and know that through such hard work you really can achieve things. Yes this is my journey but it can be your story too. Don't be put down."
Dangerous turn
The other prompt to write the book was illness. Life took a difficult and dangerous turn in 2016 when he discovered he had cancer at the age of 52.
This was a period in Jonathan's life of seeing consultants, having operations, then following regimes of radiotherapy and courses of chemotherapy. At one stage he was taking no fewer than 40 tablets a day and Jonathan reckons the full period of recovery lasted five years in total.
"I was in my hospital bed, where I was really, really ill. I dug deep and as I got better I thought I really need to turn this into a positive thing. I'm a very optimistic person and that helped me in my professional life and in my recovery too." So he wrote the book.
That optimism shines through in the volume just as it does in our conversation. Although now officially retired from the world of financial advice – and acting and producing for that matter – it's clear that Jonathan has a very strong work ethic, the sort of thing that can surely make a man restless, the sort of drive that powers you through life with all the determination of a young man on a pushbike, cycling through sheeting Cardiff rain on his way into a successful future.
Fortune and Fame by Jonathan Power (with David Collins) is published by Cambria Books and is available from all good bookshops and is also available here.
---
Support our Nation today
For the price of a cup of coffee a month you can help us create an independent, not-for-profit, national news service for the people of Wales, by the people of Wales.