Culture
Keeping up with the Joneses – making a Welsh Music Prize winner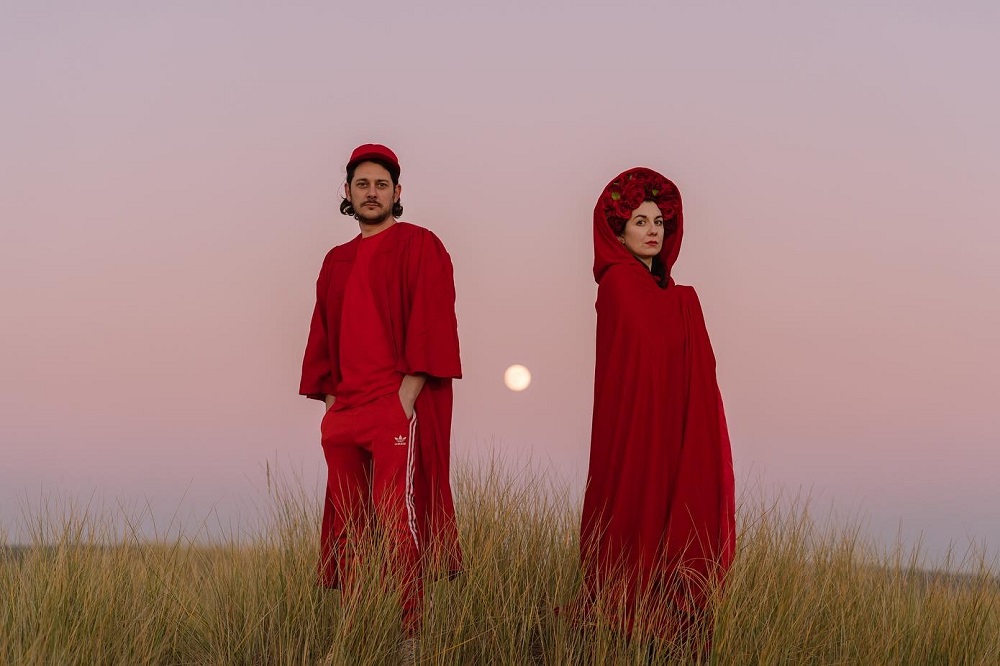 Sarah Morgan Jones
The first time I properly became aware of Rogue Jones was sitting around a Travelodge breakfast table in North Wales in 2016, as Bethan Mai revealed, with great excitement, shiny copies of their first album VU.
We were on a tour of Wales, she was acting, singing and drumming in a stage play, bringing her own particular spark to various historic Welsh characters, one of an ensemble of talent and humour, giving their all to theatres up and down the country.
As we all handed over our sweaty tenners to be among the first to set our eager ears on it, it was clear that her partnership with then husband-to-be, Ynyr Ifan and the music they were making together were her top passions.
Listening to the CD in the hire van as we continued on tour, my partner declared: "These two are going to be huge!" Fast forward eight years and that prediction looks set to be true.
Winning the 2023 Welsh Music Prize for their second album Dos Bebés marks a huge milestone in their career.

Accolade
Speaking to Ynyr, the morning after the night before, I ask him first if they had any idea when they arrived at the ceremony that they were going to win.
"Not at all. Not many people know, I don't think, the panel and maybe one or two of the organisers know, I don't think they decide until quite late. So they do keep it really secret. We were sat right at the back, couldn't be further from the stage. Me and Beth were going 'well no one has come to tell us to move closer so it's probably not going to be us.' But we had a long old walk down to the front and got a bit lost along the way."
Reflecting on what the accolade means for the band he continued: "It's amazing that the band has received this recognition. We're really proud of it, and of course it's amazing when our friends and families tell us they love it, but this takes it to another level and most importantly, it gives the album a chance to travel a little further. I know that any time the Mercuries or the Welsh Music Prize or any of these awards announce their shortlist, people will listen to the nominated albums and the winners. So hopefully, more people will hear it and more people will get to enjoy it."
The £10k prize is substantial boost to any hardworking band, so after joking about the possibilities of buying a mid-life-crisis motorbike, Ynyr tells me that as making music is a labour of love – studio time, creating physical copies and videos is an expensive business – much of the money recoups their original outlay and investment into an album they worked long and hard on.
"We felt like we needed to get it out there. We believe in the album, we believe in the songs – we thought it was good, obviously, because you're not going to go to all the effort unless you think it's worth sharing. The prize money is fantastic, but having more people hear it, gives it legs."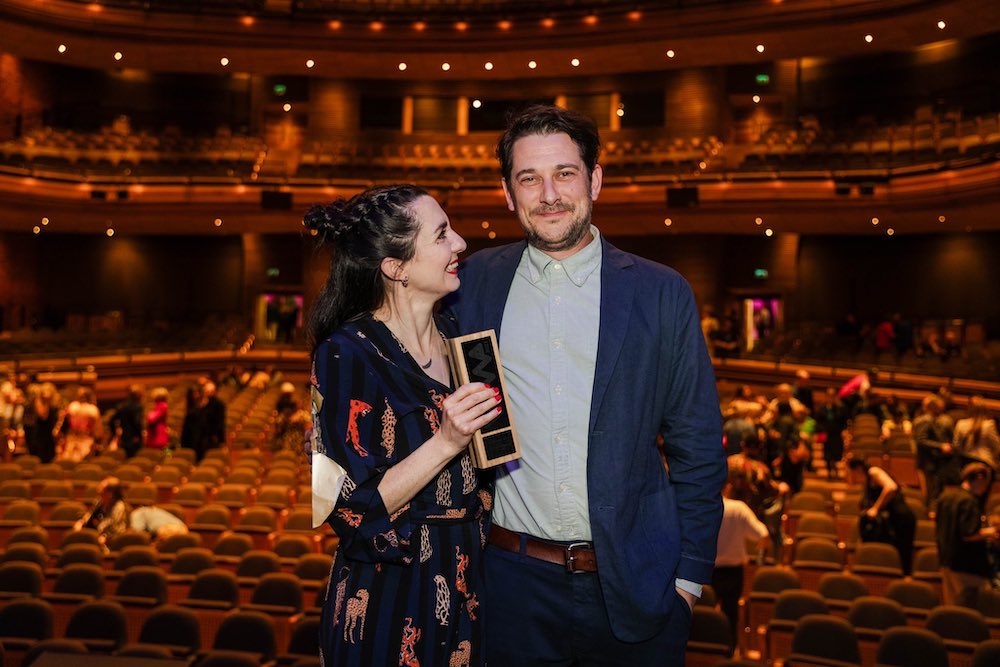 Parenthood
Five years in the making and lovingly created around the birth of their two children, the album is steeped in themes of life, love and parenthood. Cutting short their celebrations last night to get their daughter Tanwen to school this morning, to attend her fancy dress day, I wonder how parenthood works with rock'n'roll.
"We just don't do the rock and roll," he says with a laugh. "It's taken a long time to make the album because of that, but then again, the album wouldn't be the album that it is without that experience and all the things that we have gone through in these past five or six years.
"They didn't come to the actual awards, but they came with us to Cardiff and stayed with Beth's sister and her family. So they were nearby and we had a little fake champagne toast before we went. But what was nice was this morning, Tanwen was going round telling people that 'we've won' – including herself in the band. Which is great, cos she kind of is. Yeah, she's a fan.
Telling me that she has gone to school dressed up as Twm Siôn Cati, the highwayman, he continues: "In a way, I feel like we've robbed the prize. There were loads of amazing albums on that list, albums that I really love by artists that I think are incredible, so we were delighted to be on the same list as them.
"Nobody creates any music or any art to enter a competition and nobody puts themselves forward to enter this competition, so it's a little bit strange in a way to be pitted against your favourite people and favourite pieces of music. It's a little bit strange. I guess the whole point is that it's a means for people to celebrate the amazing music in Wales and to share that further afield."
Home
With a comprehensive social media and online presence on the streaming platforms, he explains what living back in Carmarthenshire and signing to Carmarthen's Libertino records has meant to them.
"This album has been a little bit of a slow burner to make and is also taken time to gain momentum and traction. We are not a massive name, and we haven't got a massive label and PR machine behind us… It's going to take time. But hopefully it will have a long life.
"When we moved back to Carmarthenshire in 2018 or 2019, signing with Libertino felt like a good fit. We were never comfortable being called a Cardiff band as we aren't from Cardiff. We just happened to live there, so moving back, it felt right. Gruff [Owen] is one of the hardest working people in music, he absolutely loves music and loves all the bands he has signed to his label…and he's had some great success, so it was lovely to be part of that family."
The album sees the duo once again become an ensemble, and their sound become far greater than the sum of its collective parts. At full quota, the band numbers nine with a range of instrumentation which includes brass, percussion, strings and synths, and dressed in uniform red for all the album artwork and their select live performances, this is not a band to be ignored. How did the red come about?
"The red developed organically, I suppose. We needed something for the album cover and the photoshoot. We always used to do that with the previous album and the gigs we did around that. We always put a little thought into what we wore. For us it would feel weird wearing just jeans and a checked shirt – the visual side of the music and the band is a big part of it, because I'm a TV director and Bethan is an artist and an actress so it's really a big part of it. We did four or five gigs over the summer ranging from the Kilkenny Cat in Llanelli building up to Green Man in August. So yeah, I'm probably out of red clothes by now."
Gigging
Their appearance at the Green Man festival provided the finale for a number of far more intimate gigs in branches of the independent record shop, Tangled Parrot, effortlessly moving from audiences in the tens to those in the thousands to equally wild acclaim. So how does gigging work for them and how was Green Man?
"Each gig has been incredible in its own way. We weren't really sure if we were going to gig at all, to be honest, because arranging it is like a military operation to get everything in place. It's a big band, lots of the band have got kids and families as well, and obviously, everyone has got jobs … so we had to plan really carefully and I think we got a nice balance.
"Green Man was massive. Probably the biggest crowd we've had actually watching us. What was nice is that it was a massive crowd, but looking out you could see loads of people that you knew…just looking at you, willing you on, and it's a really friendly crowd at Green Man anyway. Everyone is there for a nice time and we had a great slot on the Thursday evening, just as the sun was starting to go down, people had set their tents up and we were probably the first band for lots of people. It was a brilliant experience."
Welsh music scene
As TV director for S4C's Curadur, Ynyr is well placed to have a good view of the current Welsh/language music scene.
"I think it's in quite a healthy place, there is so much more variety. It's worth remembering that it's a difficult time for people, and it's an expensive thing to do, sometimes. Some people can do it all themselves, but even then, you've got to really love what you do and believe in what you do in order to do it. I wish it wasn't the case in some ways, but it does result in people doing it for the right reasons. And that comes across – there were some albums on that list where you can tell there is so much love and emotion and heart gone into them. And unless you're very rich, you're not going to put in the amount of effort and sacrifice required unless you really believe in it."
So what's next?
"Well, we promised ourselves we're going to take a break for a bit. No immediate plans for anything else. It's been such a long time and so much work to make this, that I think we're going to enjoy the moment and enjoy seeing what this album can do. And then. When we're ready, we'll go for it again, I hope. Do some more music, because it's in us and it needs to come out, and when the time is right, we'll do it.
"The fact that the album took so long to make is one of the factors why it's a good album and why it resonates with people. So I think we'll stick to what works for us and what's going to make the best piece of work in the future as well rather than trying to rush to capitalise on any buzz we get now, which could be counterproductive…We'll take our time, I'm sure."
---
Support our Nation today
For the price of a cup of coffee a month you can help us create an independent, not-for-profit, national news service for the people of Wales, by the people of Wales.