Culture
Legendary Welsh TV clip immortalised on a football team's flag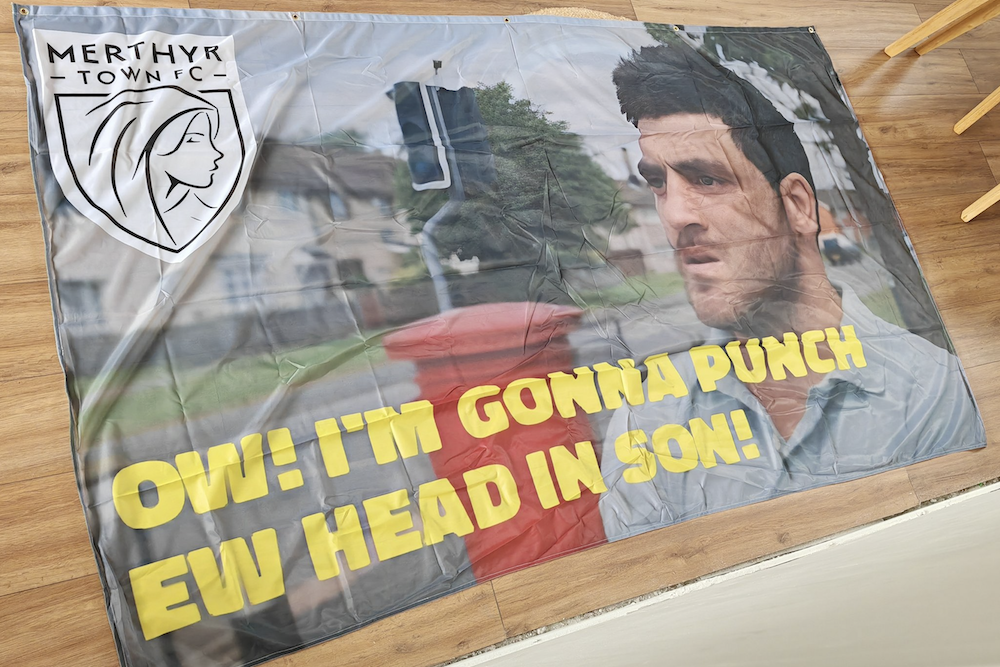 David Owens
It was the moment a Merthyr dad became an internet sensation and was forever embedded in Welsh culture – after he raced after a speeding van shouting 'Ow! I'm gonna punch ew head in son!'
To pay tribute to the iconic scene from the Valley Cops TV show, which first aired in 2017 on BBC Wales, the clip which regularly pips up as a meme on social media, has been immortalised on a flag created by a fan of Merthyr Town FC.
Created by supporter Andy Williams, it's yet another brilliant flag from the Martyrs fans who are renowned for their offbeat flags displayed at their home ground Penydarren Park.
The diehard Martyrs supporter says it's a way to pay tribute to Merthyr father Julian Lang who was showing how much he cared for the safety of the kids in the town.
"It's fair to say the clip of him has circulated around the socials for many a year getting millions of views along the way," said Andy.
"It's a clip that makes people smile and laugh and is proper valleys. Proper Welsh. Basically he's shouting at a person in a van who's been driving too fast around the community. It just showed he cared about the safety of others especially kids playing. But the way he delivered the line. It's iconic. Although he's saying 'I'm gonna punch ew head in now son'.
"We all knew he said it because you had an idiot driving around recklessly. I mean if Mark Drakeford wanted the 20mph speed limit to work I'd replace the 20 on the sign with Julians face. People would definitely know the score and slow down then.
"So it's a flag to not only pay homage to that legendary clip and person but to get people smiling and maybe talking about Merthyr Town FC a little."
Andy, 38, was a childhood friends of Julian's and admits he's not sure how much the caring dad knows how much of an online hit he is.
"I knew Julian growing up going through primary school years and later during my days playing for Cefn Coed Youth RFC," he said. "As you do in life people go their separate ways and then we see him pop up on national telly. I'm not quite sure if he knows how much of an Internet sensation he is to be honest.
"If you walked passed him in the street you'd be like 'omg it's punch ew head in guy. What a legend'. I always see the clip used as a meme or quoted tweet and people really do love him."
Since Andy tweeted out a pic of the flag on social media, he's had nothing but massive love for his creation.
"I recently tweeted the flag and the interactions just blew up on it, getting to date over 80k in impressions in over just 24 hours," he said. "You got people from all around retweeting it and even Welsh folk who have moved abroad and it's reminded them of home.
"I really made it to just make people smile or have a giggle. It's just a bit of fun and will look majestic with the rest of our flag collection at Penydarren Park. I think it's very important especially in this day and age to smile and have a laugh now and again. Never take life too seriously.
"So here's to Julian. What a legend. Thank you for bringing the nation such a iconic piece of telly that's embedded into Welsh culture forever. You think of Cymru. You think beautiful rolling hills. A great sporting nation. Tom Jones. The Go Compare guy. Hot dogs for tea boys and the 'punch ew head in guy' from Valley Cops. Up the town and up the nation of Cymru!"
This slideshow requires JavaScript.
Andy's guide to Merthyr Town flags
We've always made flags, merchandise, etc as fans for Merthyr Town FC. I've made a couple in the past. First one paid homage to our player at the time Curtis Hudson. It was a GTA (Grand Theft Auto) themed flag that came back the size of a tea towel and didn't go down very well due to its size!
Second one which is up at Penydarren Park now is 'Raymond the b***ard' from the TV show Max & Paddy. Decent size and gives people a giggle.
"I wanted a bigger one for our collection. So what better person to have on a new MTFC flag was a Internet icon from the town. All 5ft by 8ft of the legend. There's a lot of the people living in Cymru that will get it. Most away fans will probably be scratching their heads but that's fine.
We have a great collection of flags up Merthyr Town FC.
We have our 'Dial M for Merthyr' one inspired by the famous fanzine.
'We are Selwyn' that represents every loyal Merthyr fan that just wants to watch the Martyrs every week with no fuss.
'Progress through stability' is the club motto after the fans rescued the club in 2010.
'The Disturbed District' as we were described by parliament after the Rising in 1831.
Our biggest flag to date which is usually hung over the beer garden is 'Neither Cardiff nor Swansea but International Merthyrism'. Inspired by being asked on welsh internationals what team we support but now it's come to represent our club environment on match days. Terraces. Beer. Good food. Fan culture.
These are just to name but a few that are displayed home and away. It's great to see all the flags on display especially around the famous Penydarren Park. There's no better sight in football.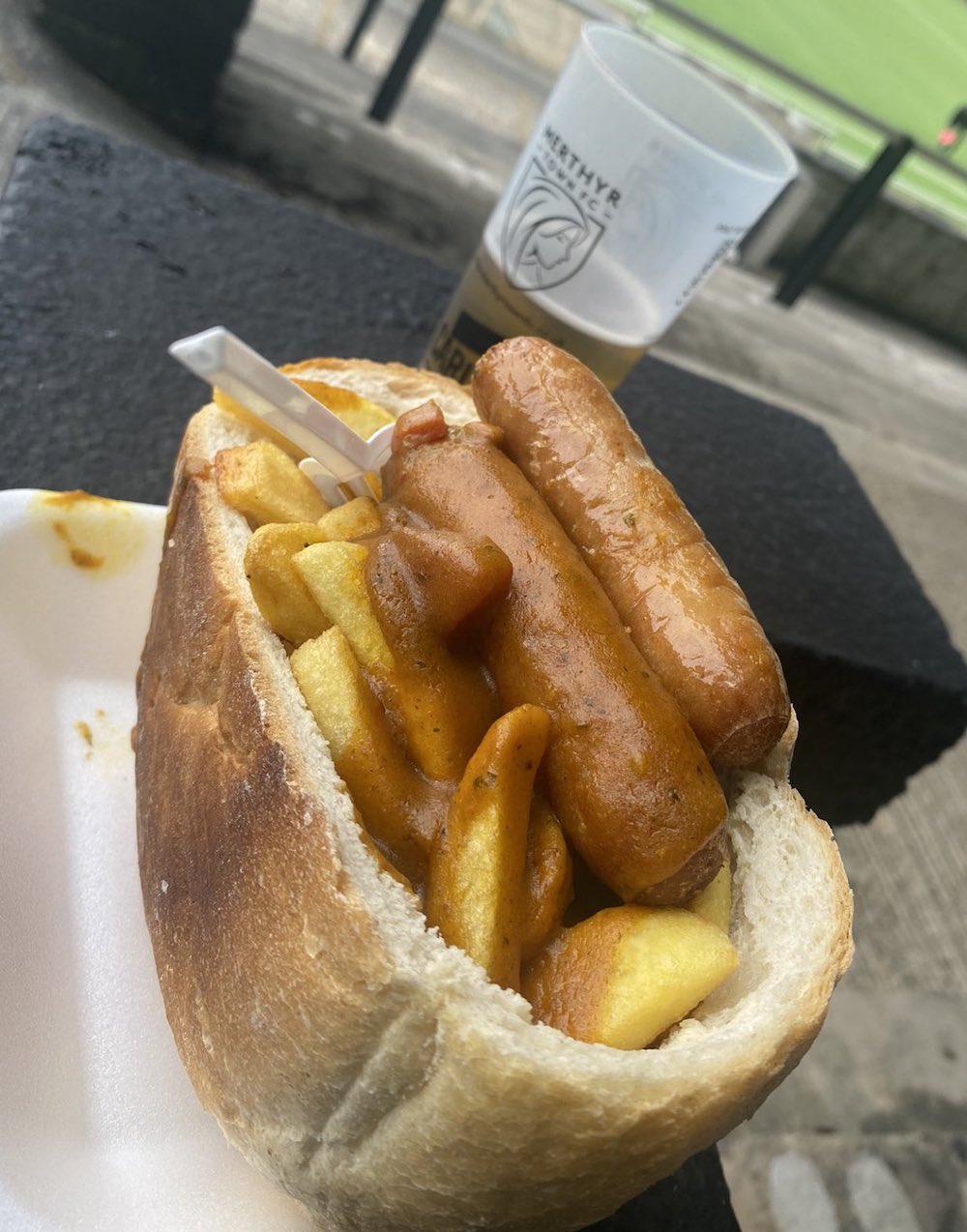 I've been a Merthyr fan all my life but watching the Martyrs week in week out more frequently over the past 10 years. You can't get a better day out in my opinion. You can go alone, with mates, with family or even with your dog. You'll always get a friendly welcome and always somebody who will have a chat. You might even get to watch some super sexy football too and at the moment see's us at the dizzy heights around the top of the league. The cob, sausage, chips and curry you can get on the terraces too is the best in the business.
There's no better time to watch the Martyrs. You can also follow the goings on if you search for The Disturbed District podcast on Spotify and the socials. Great content on there of all things Merthyr Town FC and some great laughs too.

---
Support our Nation today
For the price of a cup of coffee a month you can help us create an independent, not-for-profit, national news service for the people of Wales, by the people of Wales.