Culture
Letter from Aberdaron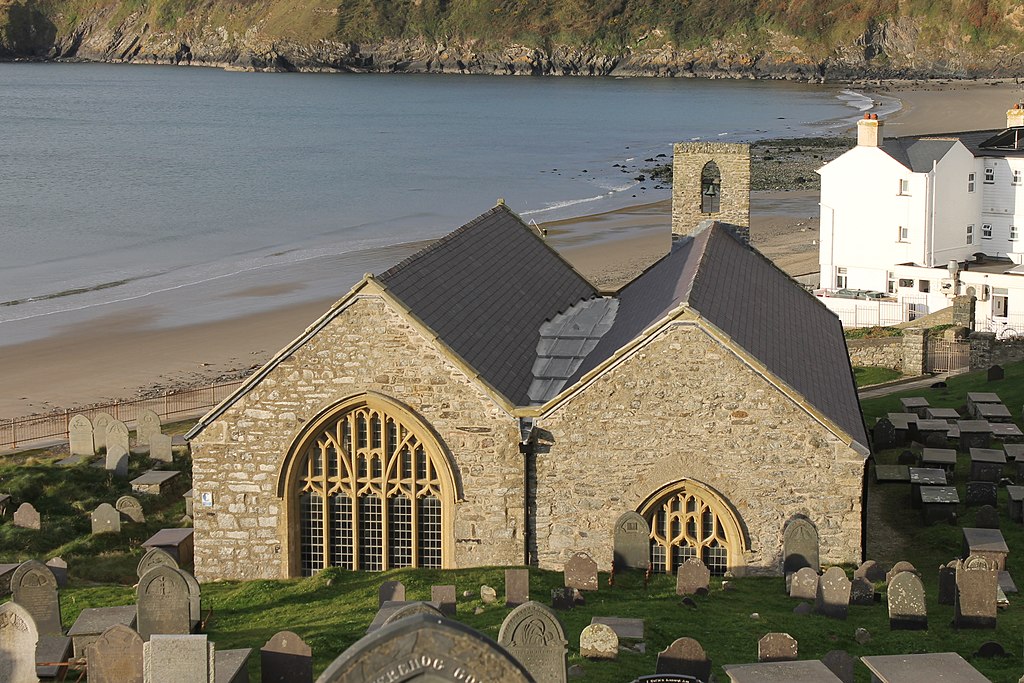 Siân Williams
Aberdaron lies at the tip of Pen Llŷn where you're never far from the sea. To a large extent the sea defines this small part of Welsh speaking Wales and its people.
We are proud of our language but it's in decline here as it is elsewhere in parts of rural Wales which were once considered to be strongholds of the language.
Cardiff now wears that crown as yet another generation is made to swallow the bitter pill of not being able to buy or rent a home in the part of Wales which defines them.
I have always felt drawn to Aberdaron; it is after all the land of my father. I have ancestors buried in the cemetery of St Hywyn's Church which stands majestically above the beach overlooking the Irish Sea.
One of my treasured possessions is a letter I found in the family bible. It's dated 11 August 1901 and is written to my grandfather Evan Evans of Methlam, Rhydlios, and is from his brother.
The letterhead says John P Best & Co – a global shipping company based in Antwerp, Belgium which still exists to this day. My grandfather is informed that they have docked in Cardiff and that he has in his possession the six bags of guano he requested and which he will sent on to Pwllheli in the morning.
Guano is the excrement of seabirds or bats which was mainly found in the islands off Peru in South America. Highly valued as a fertiliser, my grandfather is given instructions to mix it with three parts sand before spreading it on his farmland in wet conditions during the latter three months of the year.

Economy
Back in Aberdaron, my long-suffering husband and I are staying at the Tŷ Newydd hotel next door to the church. It is one of a handful of small businesses owned by local Welsh speaking families and which are the beating heart of this beautiful village.
Tŷ Newydd is one of two hotels in Aberdaron, both of which sell a selection of Cwrw Llŷn craft beer on draft.
Cwrw Llŷn is a small independent brewery established in 2011 by locals and is brewed 12 miles down the road in Nefyn.
After a few pints on the terrace, we are hungry and decide to walk the few steps to Sblash, the local fish bar. This is not your average chippy – the family also own a commercial fishing boat and we dine on local battered lobster tails and fresh crab cakes and they are delicious.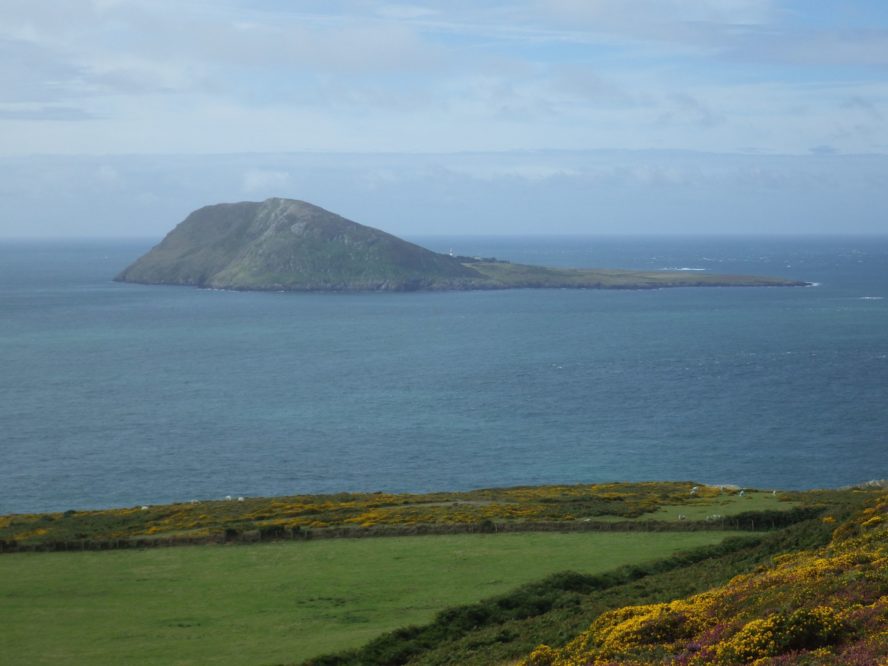 The next day we pop into Becws Islyn for our picnic supplies. The family bakery is an important employer and back in the day when we were part of the European Union enjoyed rural development funding via the Welsh Government. Through sheer hard work and the best bread and cakes this side of Paris, Becws Islyn has gone on to open additional shops in both Nefyn and Pwllheli.
We pop into the Spar to buy newspapers for later on. Again, this is owned by a local man, Elfed who lives in Nefyn and who started his little empire selling bucket and spades on the beach when he was still in school.
Through sheer hard work and unmeasurable kindness towards his staff in times of need, Elfed now has grocery shops in Nefyn and Abersoch as well as in Aberdaron.
Ynys Enlli
We head for Uwchmynydd so that we may look across to Ynys Enlli – as legend has it 'the isle of 20,000 saints' sits less than two miles out from the tip of Pen Llŷn.
Earlier this year Ynys Enlli became the first dark sky sanctuary in Europe.
On the long and winding little road up to Uwchmynydd the heather and gorse bushes are in full bloom and at this point in time I feel this must be the most beautiful place on earth.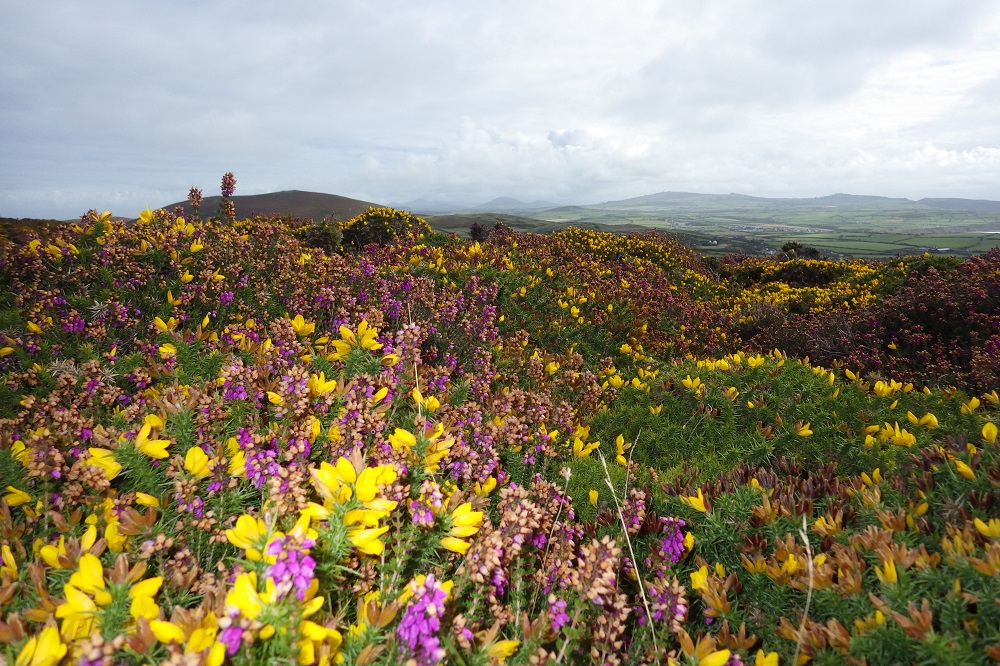 Half way up the hill we pass a wooden chair with Eisteddfod painted on it – a nod to the previous weeks' Llŷn ac Eifionydd National Eisteddfod.
The following day it's raining hard and the strong winds are blasting the sand as we eat our breakfast looking out to sea. We head out to the village shops to buy local honey, handmade gifts and a 2024 calendar full of delightful images of Llŷn put together by a local photographer.
Housing
It is a bittersweet experience however, as I hear further stories from locals about family members who have moved away as a direct result of our housing crisis.
One mother tells me her daughter has managed to buy a house in Eifionydd – the area adjacent to Llŷn. Whilst she's grateful that she is relatively near, it is still a round trip of 45 miles.
As a grandmother she laments the fact that she's too far way to help out with regular childminding when her daughter returns to work.
I find myself thinking about how the Welsh language is transferred from one generation to the next and how children who spend a lot of time in the company of their grandparents have – not only a rich vocabulary – but one that includes words which are unique to their particular corner of Wales.
Not only that, the grandmother may need to be cared for herself at some point in the future.
There is a distinct shortage of carers in rural Gwynedd, with the council stating that it is a particular problem in rural Meirionnydd and Pen Llŷn.
There is no guarantee therefore that grandparents who find themselves with no close family to hand will be cared for in their language of choice.
Eisteddfod
We leave Aberdaron to head back home to Arfon along the little lanes of inland Llŷn, passing the Iron Age hillfort of Garn Fadryn and on to Rhydyclafdy where it's touch and go whether we make it over the bridge as the river has burst its banks.
On to Boduan to visit my brother who lives on the family farm where I grew up and which overlooks the fields where the National Eisteddfod was held the previous week.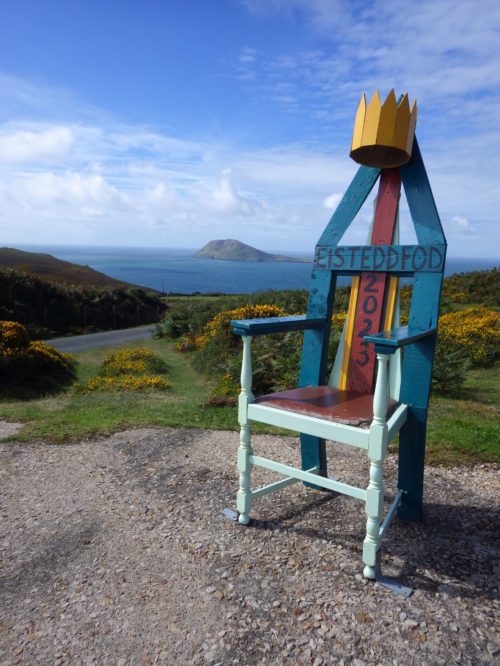 Parts of lôn Bodfel – the main road running adjacent to where the Eisteddfod was held is under water – as are the fields which held the main event, the former car park and Maes B.
Workers clearing the site dressed head to toe in waterproof clothing wave us on whilst shouting against the wind into their walkie talkies.
Eisteddfod officials have confirmed that this year's festival cost £6.5 million to stage and as we drive past it is not lost on us that had it been held a week later the severe weather could have turned what was considered a huge success into a mud bath.
In September we shall return to Aberdaron and to Tŷ Newydd so that we may once again be lulled into a deep and restful sleep by the sound of the rolling sea and the breaking waves.
---
Support our Nation today
For the price of a cup of coffee a month you can help us create an independent, not-for-profit, national news service for the people of Wales, by the people of Wales.