Culture
Letter from Carn Ffoi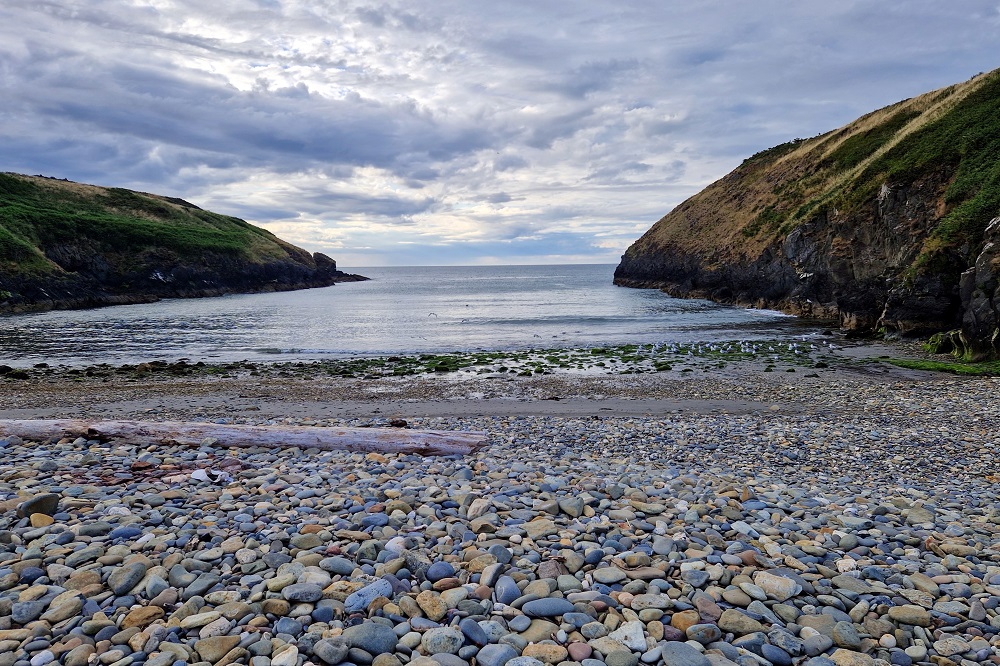 Myles Pepper
At the age of 70 I still feel I have spent most of my life living, at least in my heart, underneath the giant rocks of Carn Ffoi. This is a visual splendour made up of three rocky outcrops set amid a Pembrokeshire plateau of land boasting hedgerows and an abundance of happy memories.
Carn Ffoi lies within the Ancient Barony of Newport, which is of course blessed with a long and rich history. The mountain was 'cared for' by the community of smallholding farmers who would be entitled to 'Mountain Rights, thus allowing their sheep, horses and cattle to roam in search of fresh shoots of heather, gorse and even the odd blade of grass.
What were the fruits of growing up there, well, plenty! When I left Newport to attend the School of Jewellery and Silversmithing in Birmingham I left with a determination to return upon finishing my studies – this to be supported by establishing a small cafe specialising in scones and cream teas, the preserves being made from the wild fruits.
In addition to the usual blackberries there were whinberries, the orchards from ruined cottages boasted damsons, apples including crab apples, rowan berries and sloes to make savoury jellies, hazel nuts and, oh, I mustn't forget the rare green leaves we used to pick, 'Sour Sally's. They grew in the hedge by Sally Pen Sinc's house, they were sour and hence the name. It was only as an adult I learned these were sorrel!

Ferrets
Pre myxomatosis, the hedges behind Carn Ffoi were great for rabbiting. We had two ferrets …a great pocket-money earner…and then came the dreaded myxomatosis.
We learned then how one change leads to another…the numbers of birds of prey greatly diminishing as their main food source was denied to them.
The source of the River Rhigian was very close by and not too far down stream we were able to tickle brown trout. We often walked down the river to Aber Rhigian, would light a campfire from a mixture of sticks from the woods and driftwood on the beach and cook the trout on the hot stones or barbecued, that was our life.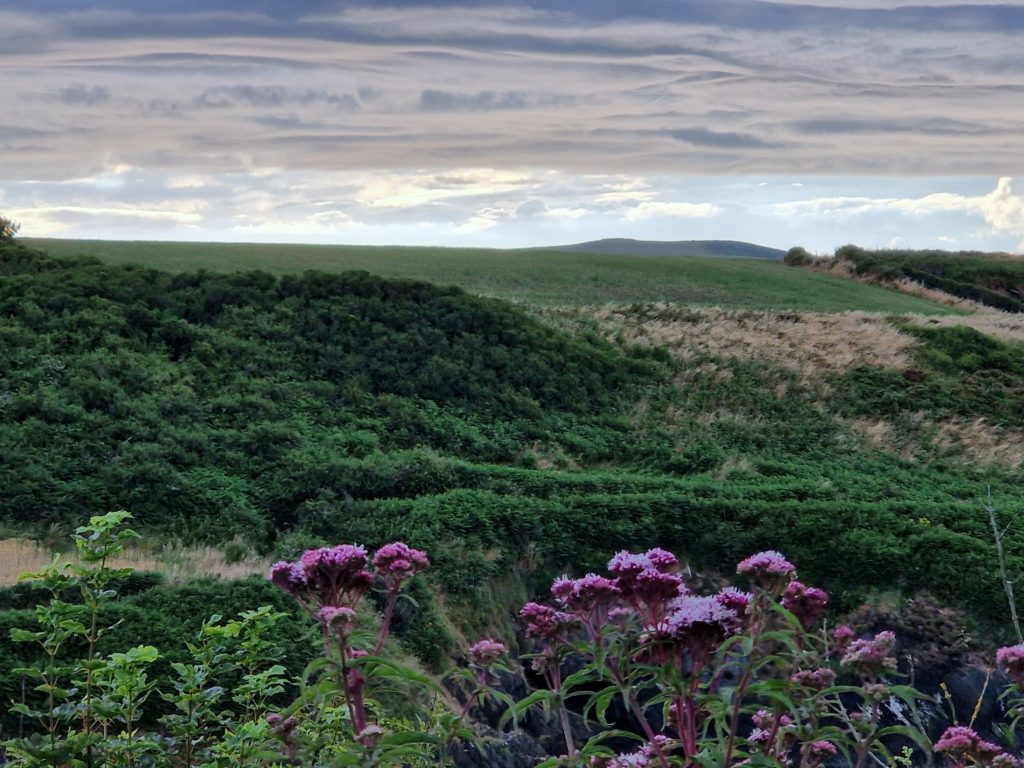 The walk down was a different kind of joy as we were looking at what was immediately around us and under our feet such fantastic flora, fauna, birds, reptiles, insects.
The vision from Carn Ffoi itself was responsible for my wishing to develop cultural relations with what must be across the vast area of sea, the Irish Sea, another land, other people.

Blessed
Whilst sparsely populated the mountain was blessed with a wide range of hugely interesting people, some local, some holiday home regulars, there was no hatred then, they were kind, there was all-round appreciation and, not least, they provided much needed income.
I particularly remember the winter of '63 when Woods Penlan was truly snowbound, his house being the last one going up to Bedd Morris. He had to get back to Windsor in his capacity as the Dean! We took him down off the mountain on a sheet of corrugated iron, we were expert in using these sheets as sledges.
We were rewarded with half a crown no less, when a penny was plenty. For our actions we were blessed by Reverend Fathers as Bishop Tomkins had purchased a neighbouring property, as had another reverend person, whose name is now forgotten.

Queen of the puddings
Most of our neighbours were referred to as 'Aunty or Uncle', one couple, Henni and Edgar, being affectionately known as Aunty Hen and Uncle Egg. Her meringues were to die for, and in her later working life Henni became the queen of pudding makers at the famed Pantry restaurant! Her brother Billy, also joined the Pantry team so topping-up his earnings as a poacher from the river, (he was known as 'Fish Fingers'!)
And my favourite neighbour, Joan, not only joined the Pantry team, she also went on to marry Robin, the proprietor!
The other side of the mountain ridge, overlooking the Gwaun Valley lived Tom Penlan, who bought a new Land Rover every three years, despite his appearance – an old donkey jacket, immaculately tied with baler twine, a few teeth and a 'roll your own' stuck to his lip. Tom was one of the 'Corona' family. I can still remember proudly looking at the label on the bottles of pop which read Thomas and Evans.
Every New Year's Day morning, up until noon, we would, at a pace, go around all the neighbouring houses, sing one or two lines of a carol, knock the door and hope to get at least a halfpenny.
One year we noticed my dad's car was missing, a white Ford Corsair and after having reported this off we went, with one eye looking out for the car, which we found! It was down in a ditch, above a house called Ceunant.
When the CID were investigating, they went to houses in the area and when at Ceunant they asked the owner 'a wyt ti wedi weld car Gwyn?' 'Ie, ie,' the man said and he took them behind his house, only to find his car had been stolen too: his name was also Gwyn!
You would have never guessed the two men were policemen, arriving in a dark green Austin 1300 with an aerial on the back, they wore grey trousers and sports jackets.
So, in 1969 there were likely three such cars backed into the lanes around Ceunant and Penlan, this to protect Prince Charles, who whilst studying Welsh in Aberystwyth, prior to his Investiture, stayed in the house of the Dean of Windsor.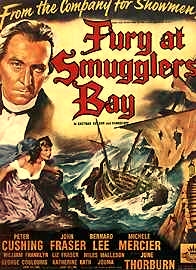 Highway robbery
Another 'excitement' on the mountain was the filming, in the early 60s' of Fury at Smugglers Bay, one of the stars being Peter Cushing – the highway robbery of a stage coach appeared to involve a chase of endless miles, which in truth were only just a few hundred yards!
We watched the film in the Memorial Hall in Newport sitting on individual chairs, all holding hands in the frightening moments. At half time we would nip out to Will Collins' corner shop to get an ice cream – home made. Locals got an embarrassingly large portion as opposed to a regular one for visitors!
A key turning point in my life, not a totally happy one, was that I was parceled off to boarding school in Bush House, Pembroke. Whilst we were day pupils at Pembroke Grammar, we would work one morning a week on 'Early Farm', which meant a 5.30 start to milk, clean the pigs and pluck and feather turkeys prior to Christmas. The girls always knew when we had been cleaning the pigs!
Subject differences included agricultural biology instead of human, agricultural science instead of general science. Learning the knowledge was great, I still cherish it, but I always wanted to be at home. I didn't follow a career in agriculture, I had so many allergies it was nigh on impossible.
However, some wonderful memories stand out. B.J. Davies the Head of the farm and of Farm Studies was a teacher par excellence, passionate to a 'T.' A key lesson I learned from him was developing one's power of observation. Oh, how these matter to us all, in all aspects of our life.
B.J. was concerned for us to look out for Colorado Beetle in the potatoes, mould in the hay and blight in the potatoes. In a frenzied excitement he would celebrate by saying, 'you must observe, observe, observe.'
This also applied to stock judging and in which I won one of the County YFC competitions at under 25 level. I was 14 at the time and this didn't go down well with the seniors!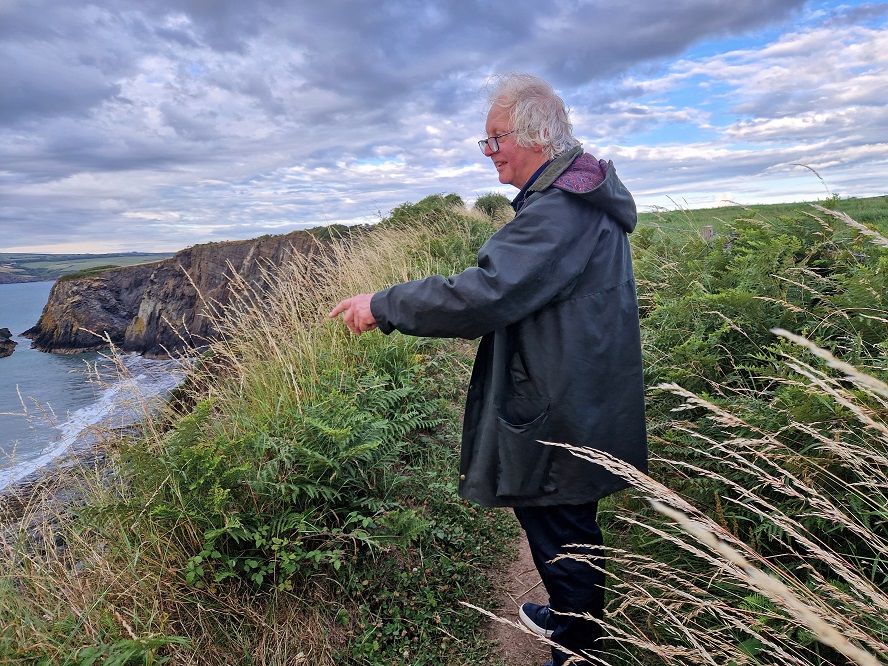 Milk matters
I had one particular worry at the time, this in relation to pointless and unnecessary over-production of milk across the country. This was in the days of the Milk Marketing Board when the farmer would always look forward to the monthly pay cheque.
Milk was getting poured away, butter mountains were being created and, most ignorantly on the part of government, being stored far too long before being distributed to countries with people in need. We don't learn, do we?
From memory, we had 40 acres of quality grassland, 40 cows and would maximise the amount of fertiliser so to maximise the milk yield. I thought then, why? We didn't need the milk in that quantity and the rivers certainly didn't need the chemical run-off, the Rivers Authority needed to increase their policing…what a run of negativity.
I left 'Bush' after my 'GCSE' exams with a small bunch of passes that were likely not much use to me going forward from a career perspective.
I returned to Fishguard Secondary School not knowing what to do but found myself spending a lot of time in the metalwork room as, in my early years there the teacher, Mel Thomas, metal Mel, was one of the rugby coaches and I captained one of the teams.
Silversmithing
After a while he said he thought I was pretty good at metalwork….and this is how my career in the arts came into being…my interview to gain a place in the School of Jewellery and Silversmithing was interesting to say the least.
Samples of my work were dominated by spanners and garden tools I had made. The evidence of my work somewhat surprised the Head of School and I remember him saying, "yes son, I think we can do something with you!"
I had never really been anywhere, and, coming from Newport Mountain meant I was totally overawed by Birmingham. Challenged by insufficient funding, I learnt early on that I could register for night classes from Mondays to Thursdays and then the Head of School, Gordon Baxendale would offer students to go in most weekends as this was the only time he had to continue practising his craft, and he was one of the country's finest.
At one point, and I was frightened for my life, he left me to do some major soldering work on a silver communion wafer box for Coventry Cathedral. The key lesson I learnt there, and it remains with me, was that if you prepare correctly then little can go wrong. The solder ran like a dream. I always thought of 'Bax' when working on large scale jobs right up to the day I put my tools down just after the new Millennium dawned.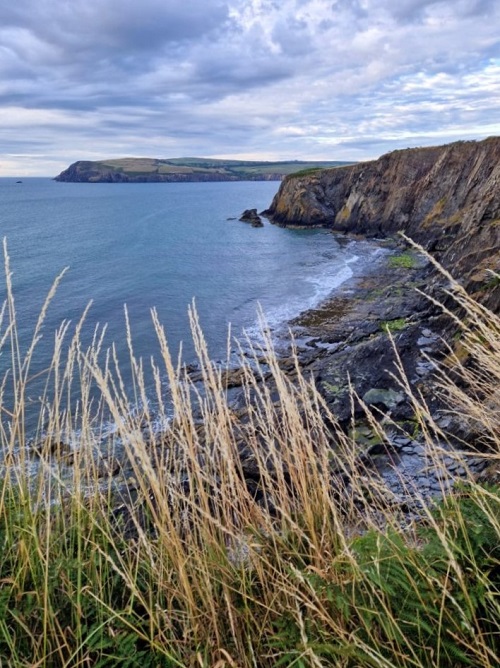 Dream project
From thence on I have become a facilitator for cultural led activities and am now working on a dream project, Simffoni Mara, which is about life on the edge of the Irish Sea, life on it and life underneath it, this stretching from St. Davids Head to Holyhead and Dun Laoghaire to Cork.
The project, largely speaking, is being music led with a range of genres being commissioned that hold a relevance to the place so, for example, there will be choral and organ commissions for St. Davids Cathedral and the Brass Band at Goodwick.
Other artisans already engaged include painters, printmakers, writers, poets and stonemasons.
The project aims to instill a new belief in villages and towns and communities along the route, this by way of opportunities for all to engage in the thought process for creations and celebrations anew, that are truly of the place. Discovering life's riches close to home.
And so, a new story begins, the first premieres being planned to take place in St. Davids Cathedral over the weekend October 24-26, 2024.
Enjoy more 'Letters from' by following the links on this map
---
Support our Nation today
For the price of a cup of coffee a month you can help us create an independent, not-for-profit, national news service for the people of Wales, by the people of Wales.