Culture
Letter from Esgairgeiliog Ceinws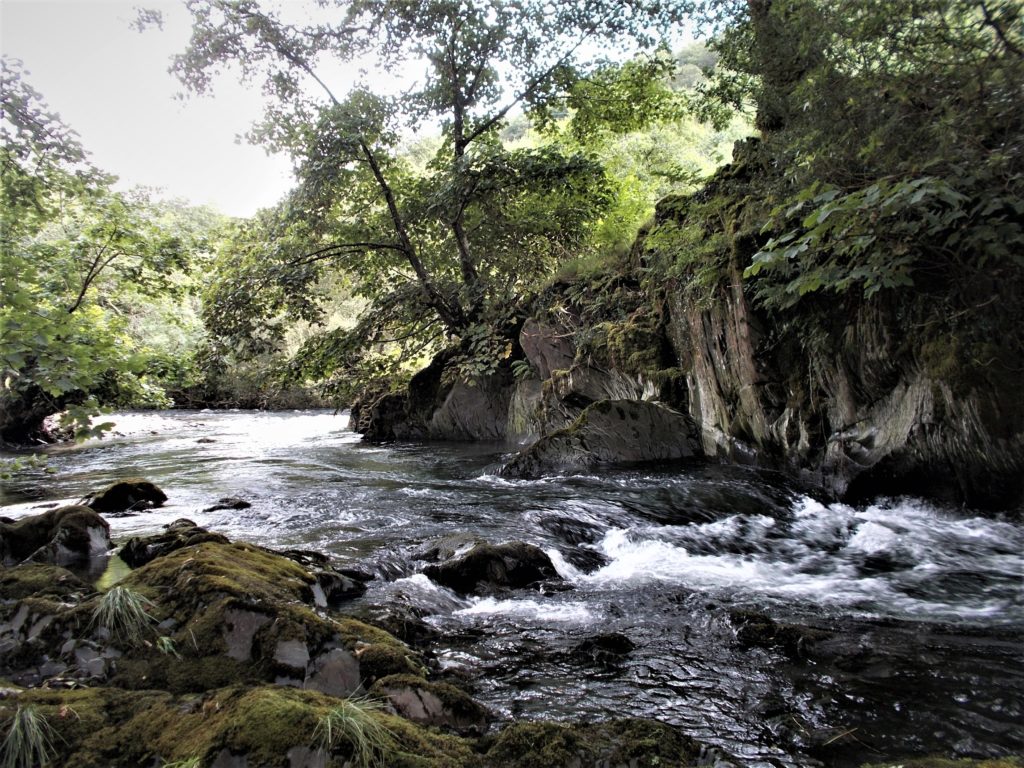 Julie Brominicks
A river runs through it
Each rock brings you closer to the water. 'I'll sit here' I think. 'No, here'. The crescendo of it after the rain! The power. Whitewater walloping the boulder which salmon and sewin seasonally slam on their struggle upriver. I waited an hour last autumn to see just one fish. A projectile that flickered black-gold against spray smudged by dusk, an antique lithograph. Everyone has a poaching story. "Maybe I shouldn't tell you…" "The kids used to sell them." "Long as your arm." "None left now."
Scour-pools swell to sudden overflow, like rain tipped off canvas by a market trader. To my left it flows smoother. Woodrush quakes. Green and soft is the moss the hard rock wears like a coat. Suddenly a dipper bursts upstream.
Geography
Esgairgeiliog Ceinws is squashed between sheer hills around a kink in Afon Dulas – where it is joined by Afon Gleswrch. The A487 squeezes past, its vehicles as unnoticeable as the village must be to drivers. I slip in and out on foot. Down Coed Cadian or over Llanfechan (once with a badger) or into Cwm Gleswrch through twisted oaks. But mostly by lane, just a half-hour from home.
Livestock
Wool was processed in the nineteenth century at the mill which hitherto ground grain and afterwards dressed slate. William grew up in Cwm Gleswrch where he still grazes sheep. "In October my mother would stock up a month's-worth of food. My father had a cob pony – he'd ride over to the Corris shop if we ran out. We had thirty days off school in winter! The bus couldn't get to us. We lost a cow once in the snow. She lost her footing, there was no stopping her. She rolled over three roads, broke her legs." Snow is hard to imagine as we survey Will's sheep which are too wet for shearing. "Mae'r tymhorau yn newid" (the seasons are changing) Huw, who farms cattle and sheep at the Ceinws end of the village, will tell me later, from his doorstep. Meanwhile Will remembers six or seven farms up the Gleswrch before the forestry came.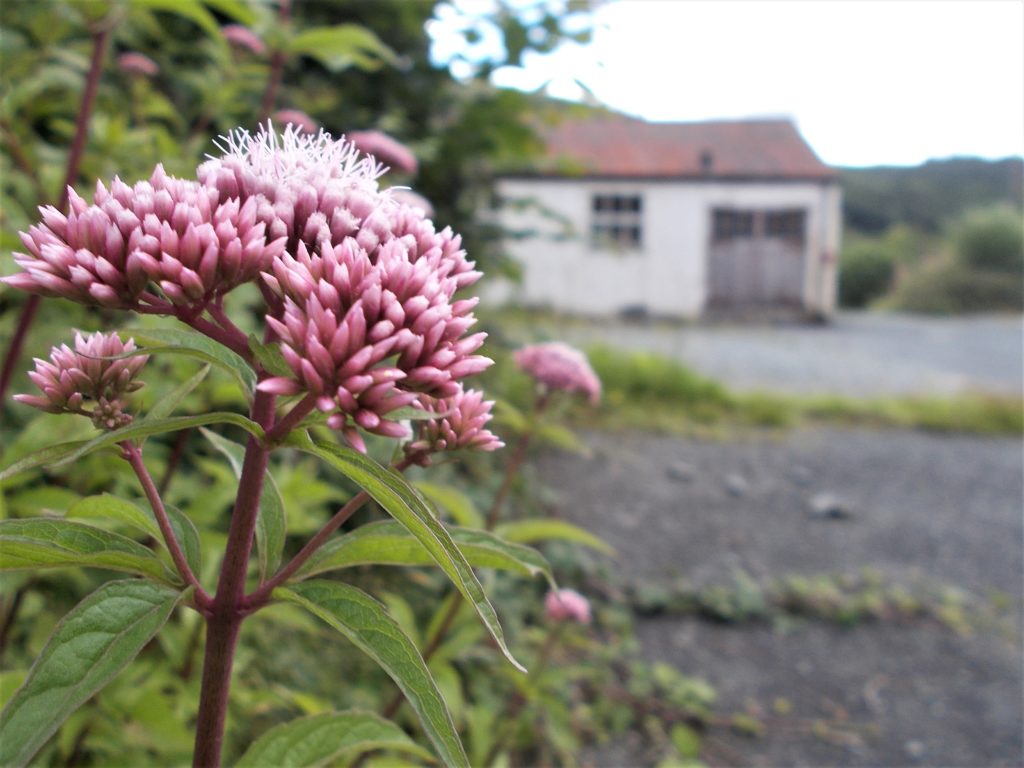 Forest
The government planted the forestry and built the camp. "It was like an Outward Bound school first" says Will, "kids from Solihull would come and milk our cows. Then families moved in and vans brought men every day for the forestry. It was axes then. One of them, Lake I think was his name, would fell a tree before you could look." The camp is abandoned now.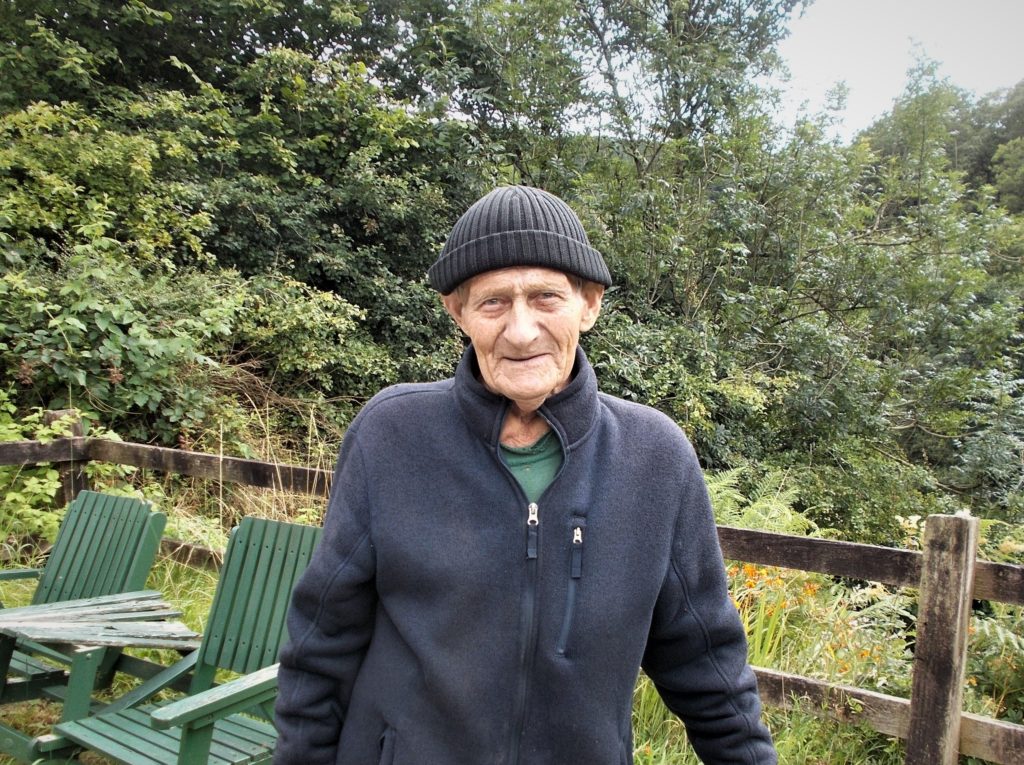 Owen too, came for the trees. "My line is foliage" he tells me while waiting for the bus. "I started on the border from Craven Arms to Clun, then over to Bala. I worked from forest to forest and I came here in the 1980s. At sixty I thought 'beggar this I've had enough' and now I'm ninety. And the outdoor life is what I put down to the success of me being able to carry on."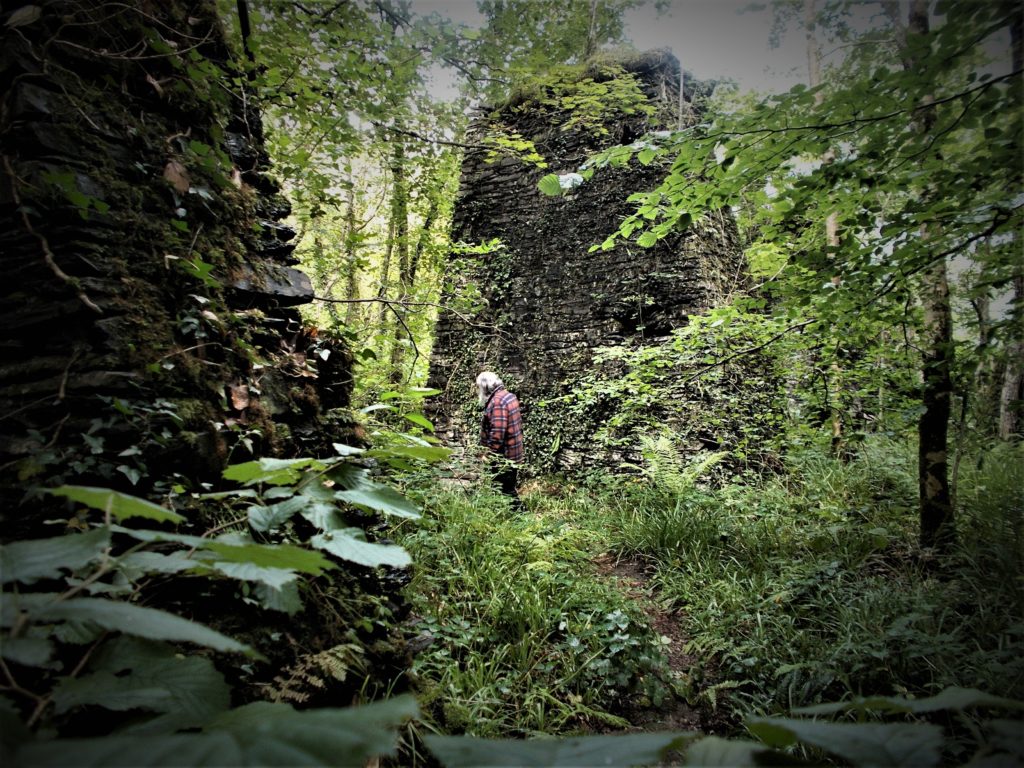 Slate
Longer ago, this was slate country. Relics remain. "Have you seen the Mayan temples" jokes Pete, my film-maker friend, pointing out the ruined bridge that once carried dressed slate to Corris Railway (which conveyed it to Machynlleth.) Piers loom through trees. "Look" Pete says, "at these rocks in the river where they still have marks from the machines. These rocks have stories to tell. Of their formation and of the people who worked them. They must have made mantelpieces here" he points out a bracket. His house is full of river stones. Triangle and oblong rejects, re-smoothed by river, grouped on shelves under paintings and prints. "The river is why I'm here" Pete says "and because the village reminded me of Dyffryn Ardudwy where I grew up."
Community
"English and Welsh were both spoken in the pub when I came" says Pete. "You could order your drink in Welsh and chat to the person next to you in English or the other way. It flowed, like one language." And now? I ask, knowing the answer. "It's not as Welsh as it used to be. But you could say that about the whole of Wales." "Mae'r Saesneg yn y dafarn ers diweddar" (It's English in the pub recently) says Huw, conceding in Welsh, that it is a pity, but also good to have people moving in, and kids speaking Welsh at school. "Bydd Cymraeg yn cadw fynd" he says, smiling.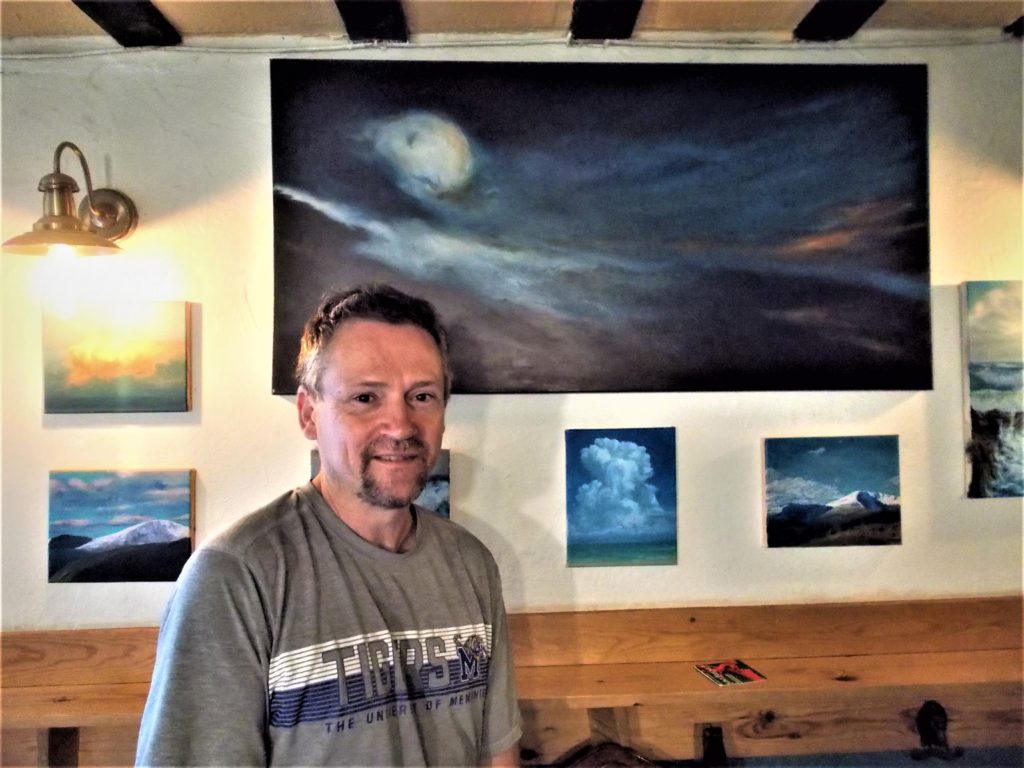 This village still remembers dominant industries and a time when everyone was related. Kev (with Abby) has run The Dwynant for fifteen years. Kev is also an artist. "I'd moved nineteen times before leaving school" he says, whilst making tea to warm me after river-swimming. "But there are people who've always been here. Or maybe moved to Corris, didn't like it and came back. That continuity is something valuable. Being here has enabled me to be part of it."
Continuity refreshed by newcomers. Among them are friends of mine who work in colleges, cafes, libraries and care homes. Upholstery, wholefood, renewable energy, ecology. A copy writer, a retired music teacher. A paramedic. Some speak Welsh, all their children can. My friends say it is peaceful and beautiful. 14-year old Jacob says there aren't many kids his age or a sports field, but the community is good and he remembers playing in the trees. The river and bike tracks are important to Teg's boys. Leigh hears owls from her bed. Jackie stares at moss for hours. An osprey flew past Dave's window and a pine marten ran out in front of his wife's bike.
River
The river again. Water smashes. Bubbles fizz like old-glass-bottle lemonade. Spray rises in plumes. The river, seducer, glides up to the black jammed log, smoothing, soothing, charming. It has caressed holes into the slate. They fill like cups of tea. Cold draughts travel above the water, a palpable wind-river made almost visible by the beech and oak boughs that stroke it like hands on a pelt.
With thanks to Julia and Ray Gunn for writing Esgairgeiliog Ceinws Past and Present.
Julie Brominicks will be performing in 'Cymru Full Circle' with musician Rowan Bartram at the Shrewsbury Folk Festival on Saturday 26th August.
---
Support our Nation today
For the price of a cup of coffee a month you can help us create an independent, not-for-profit, national news service for the people of Wales, by the people of Wales.