Culture
Letter from Grosmont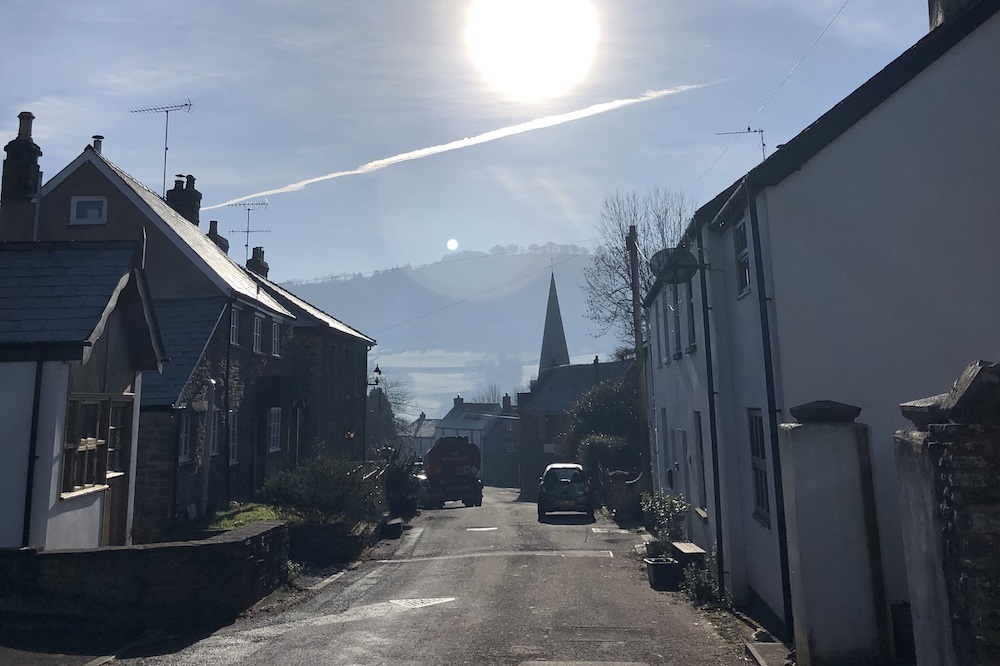 Jude Rogers
"When I moved back to Wales…" I begin – and then I stop myself. I didn't move back to Wales, but to it.
Home for me as a child was in the dying industrial heartlands between Llanelli and Swansea, first in the 1970s dreams of a new settlement literally called Garden Village, then in a town with Roman roots and a river and my Grandma and Grandpa living around the corner called Loughor.
Home now is just outside Grosmont, a village in Monmouthshire, where I moved with my husband and our little boy in 2016, only a mile from the border with England.
Most of the hills we can see from our house are actually in Herefordshire, from Garway's heather and pony-dotted mound to the east to the English foothills of the Hatterall Ridge to the west. As my Llanelli-born Grandpa used to say: "Bloody Saes".
Still, the ridge glowers at us gorgeously every morning, like a warning. Heavy Welshness lies beyond here, good boy. Do not mess.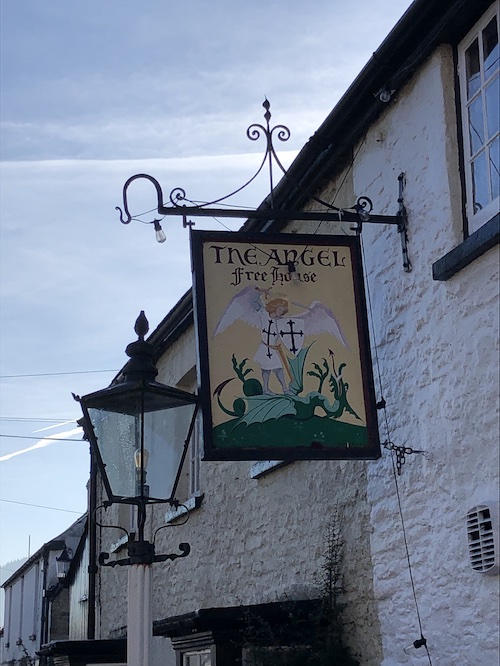 Dragon's breath
At this time of year, Grosmont is beautiful. Mornings often begin with snaking mists of dragon's breath in the Monnow.
When the rain has given way to late winter sunshine, its light glistens on the ice clinging delicately to the sheep-filled fields.
Then there's the village centre itself, a warm, characterful place with a medieval castle, church and brilliant pub where Jim and Chloe make locals and outsiders feel equally welcome, and where I do Welsh lessons on a Monday with a great gaggle of people from their twenties to their seventies.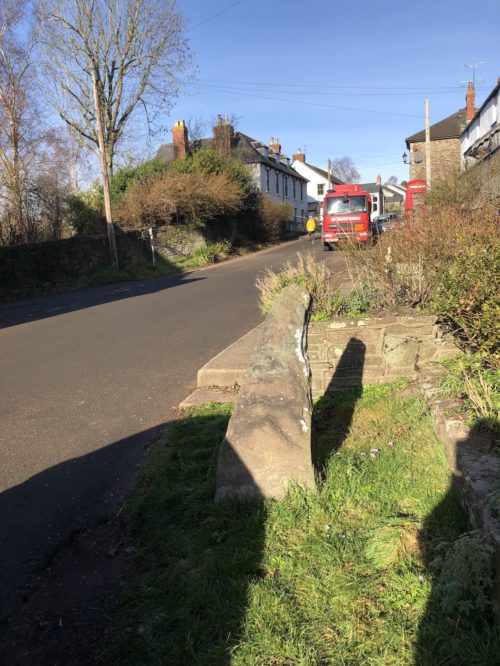 Generosity
I'm wary of sounding too much of a tourist information officer writing this.
Grosmont isn't just a pretty picture postcard: it is a living, active community with its own tensions between the past and the present, just like anywhere populated by human beings.
I am a community councillor too, feet-deep in potholes and village website improvements, so maybe this is that brief coming through.
Nevertheless, there is a generosity about this place which has touched me ever since I moved here, a sense of kindness towards us keen-to-please newcomers that feels rooted in the welcoming land.

Ceremonies of death
I still think often of our late neighbour, the busy farmer Phil Watkins, a generous soul who had lived in two places in his life: the farmhouse down the track from us, and the next farmhouse along, by the river border with Kentchurch.
In his eighties, he was thoughtful, curious, and active, always asking us what we were up to at the moment, always wanting to take a conversation somewhere surprising, and never in a prurient way.
He died on a Spring day that he began working in the fields.
Over six hundred people attended his funeral, crowds spilling out beyond the churchyard to the narrow country lanes, a small speaker system trying to project the service into the warm, morning air.
I know the Welsh often revel in the ceremonies of death, but there was something transformative about that coming together of people on that morning, an acknowledgement of a man who had communicated so much in his life to so many people from such a relatively small, incredibly beautiful patch of the borderlands.
I've been thinking recently about how Watkins is such a common name around here, sprawling southwest to Abergavenny and across the border up to Hereford.
I wonder if Albert Watkins branched off from the same roots, a man whose 1925 book, The Old Straight Track, became a landmark text about the land.
He suggested that some ancient mounds, moats and markstones fell into straight tracks – easy-to-see lines throughout Britain, with some evidence of trackways between them.
In the 1960s, Watkins' ideas were given a more mystical sheen by the Earth Mysteries movement, resulting in his concept of ley lines gaining more mysterious associations.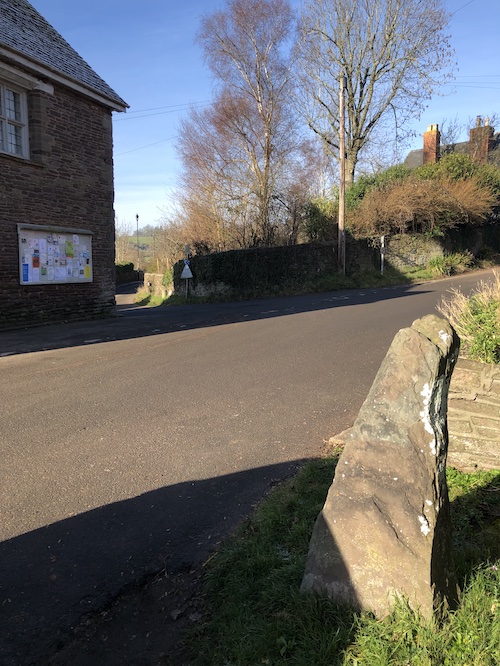 Markstone
Grosmont is in Watkins' book twice, in a mention of prehistoric stone opposite the town hall, which marked the site of the market, and another about the base of a market cross which sits inside it.
I think about how I walk by these objects all the time, never really acknowledging what they were or what they are. I feel the desire to acknowledge the years in which they've stood there, being passed by people who live and then die, and at least squeeze them in here for you to find out about. I want to continue the generosity I've received from this beautiful landscape since becoming a tiny part of it.
On a bright, winter's day, I crack the ice in the field of the orchard next to a local road called The Hand to head into the village. I still feel like a newcomer here, I think to myself, raising a hand and as big a smile as I can stretch as I give way to local drivers.
I notice for the first time how the house names mix in English and Welsh as I walk down the hill and the Graig looms ahead of me: Avalon, Glyndwr, The Steps, Annwylfa, Old Greyhound, Arosfa.
I notice how the markstone is right by one of my regular car parking spots. I usually only think of it when I'm reversing, I realise, hoping I don't dent my bumper.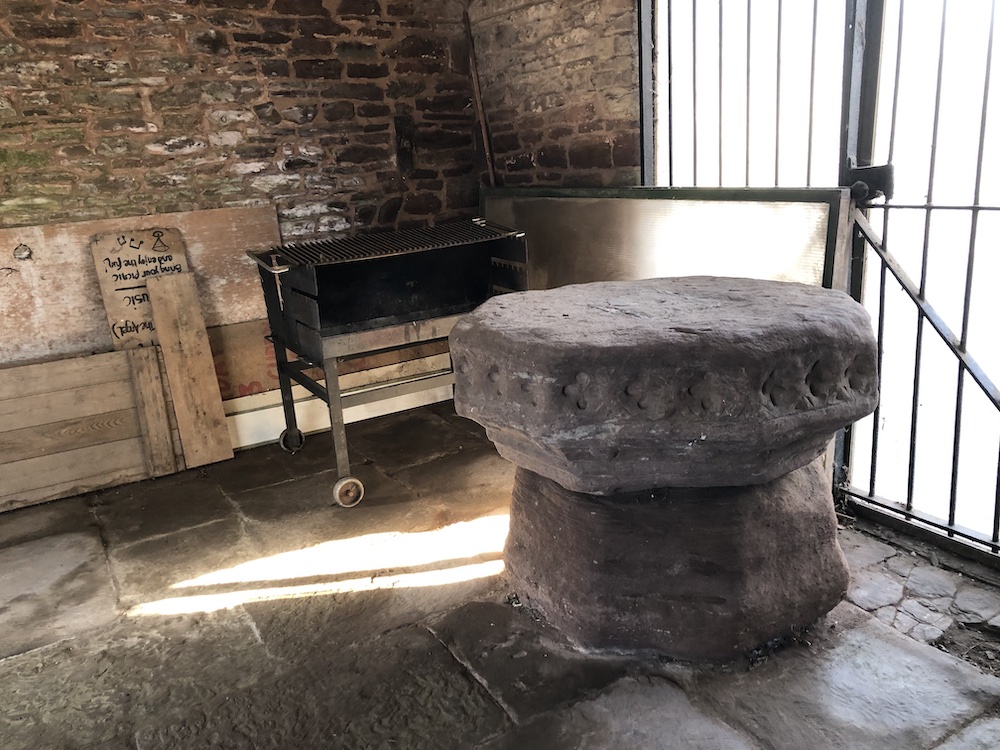 Borders
On this late winter morning, it strikes me that it looks like a tiny menhir, a small cousin of the many grand solo standing stones dotted around Wales and Cornwall. It casts a small shadow in the sunlight, and it leads me across the road, to where the large base of the 15th-century market cross sits inside the town hall.
A small gold case sits on top of it suggesting ancient treasures. Inside, I find seven stubby-coloured chalks, leftover from a recent event for children upstairs. A barbecue sits behind it, and a hand-written advert for a holiday music class.
Some would find this scene disrespectful, but I find the whole mixture lovely: here is a town hall still being used for the community, long after the market in this small space ceased to be. A local group are also raising money to repair and restore the town hall in conjunction with the council, and I think about how this building's near-two-hundred-year history will soon get a new lease of life.
When I moved back to Wales, I found out that the feeling of home is a peculiar thing, tied as much to your present as to your past. Even when you feel like you're on the borders of that feeling, the land and its locals can give you fresh roots. Long may they thrive.
---
Support our Nation today
For the price of a cup of coffee a month you can help us create an independent, not-for-profit, national news service for the people of Wales, by the people of Wales.