Culture
Letter from Highgate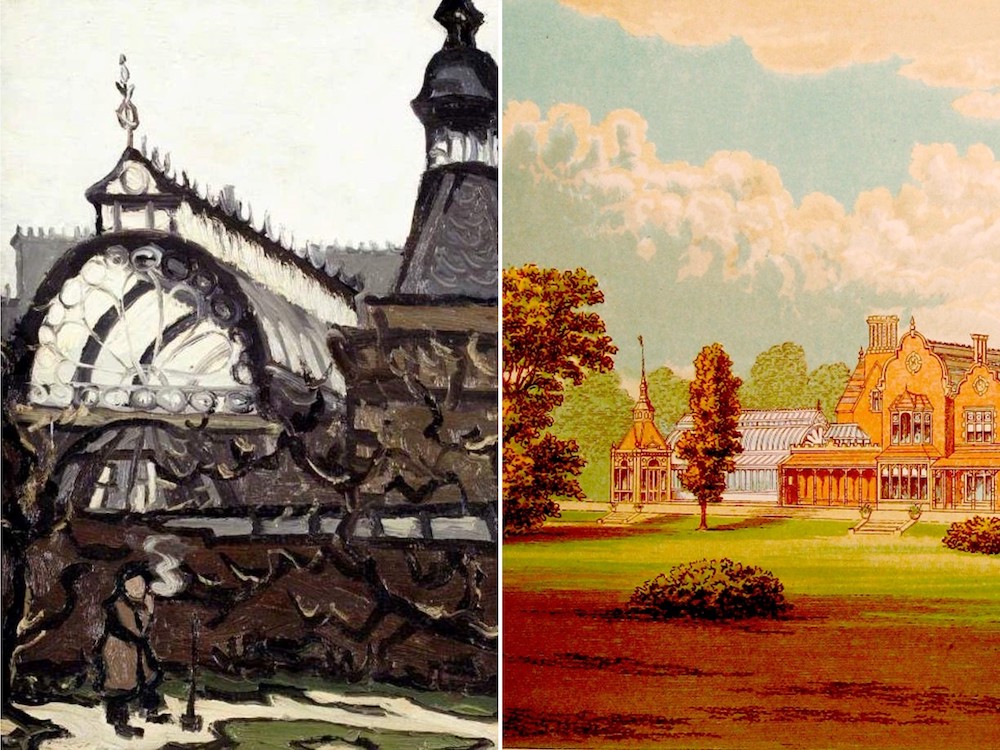 David Smith
Fifty years ago Sir Kyffin Williams RA retired from twenty-nine years of teaching art at Highgate School in north London and a year later returned to his native Anglesey to pursue a full-time career as an artist.
He had first set foot in Highgate in 1944, after graduating from the Slade School of Fine Art in its temporary war-time home in the Ruskin School of Art in Oxford.
In 'Across the Straits', his first volume of autobiography published in 1973, he wrote:
'… Mr Geoffrey Bell, of Highgate, needed someone permanently to run their department, which had closed during the evacuation of the school …  I was given an interview and was met by a tall, genial, long-faced man with a mop of white hair that fell across his brow. We liked each other and I got the job. It was one of the luckiest moments of my life, though at the time I didn't realise it.'
Celebrities
Founded in 1565, Highgate School was little more than a one-room schoolhouse until considerable expansion in the Victorian era.
It prospers and is now 'one of the UK's leading co-educational independent schools' according to its own website.
The immediate surroundings are still known as 'the Village', once renowned for the number of inns and pubs accompanying an old drovers' route to Smithfield Market that bisected it.
Today Highgate is home to some of 'Russia's Richest' (according to a 2022 headline in 'The Times') as well as to a handful of A-list celebrities such as Jude Law, and tourists are back post-pandemic visiting Karl Marx in the famous Cemetery.
I too taught at the school for almost thirty years and for much of that time walked past the home of Jonathan Pryce twice a day, on my way from and to the Tube Station.
In Kyffin's time trolleybuses struggled up Highgate Hill to a terminus in the Village (until 1960 anyway) and when he moved into the lodgings that he would occupy for a decade on Bisham Gardens off the High Street in 1947, he hired the local fruiterer's pony and cart.
Although his landlady, Miss Mary Josling, was nearly eighty when he moved in, he recalled 'ten fantastic years' under her roof.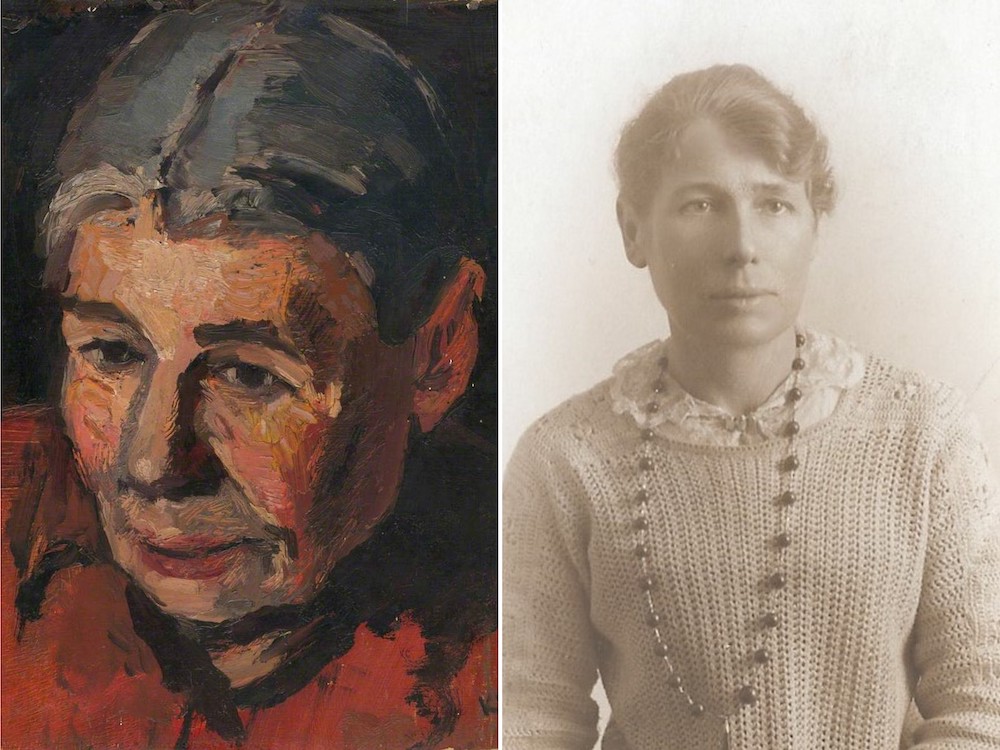 He wasn't very kind to the road, calling it a 'short liver-coloured street running east-west', but from his top floor room he had a view of Waterlow Park with the dome of St Paul's cathedral in the distance.
Kyffin did not record many London scenes (as far as we know), but we are fairly sure that this picture (in a private collection) is of the corner of Bisham Gardens and Swains Lane.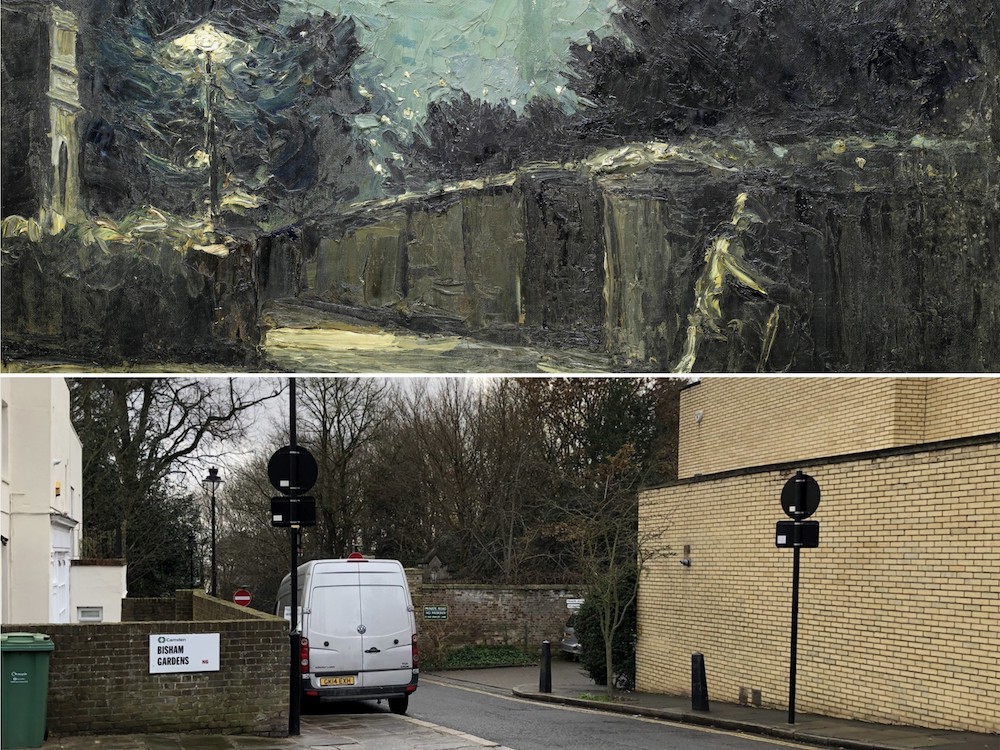 And a painting in the National Library of Wales is certainly St Joseph's Church as seen from the kitchen garden in Waterlow Park.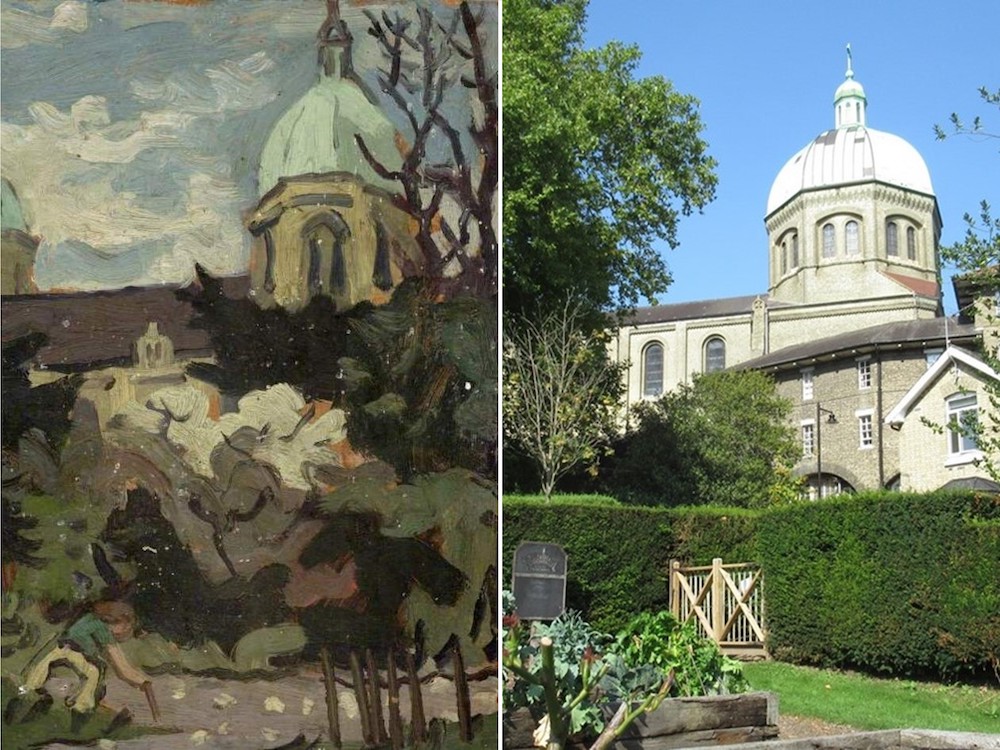 During his first few years at the school Kyffin had occasionally skipped lessons so that he could sketch on nearby Hampstead Heath, but that didn't go down very well with the Head Master, who sensibly suggested that he should begin to job share in order to make time for his art.
Another oil in the National Library, of a large conservatory, was recently identified as depicting a glasshouse (demolished in 1945) attached to Athlone House, on the edge of the Heath.
When living on Bisham Gardens, Kyffin was only a five-minute walk away from his place of work.
In those days the Art Room was on the third floor of a building on North Road and its characteristic round windows can be seen in a picture by Margaret Thomas, an artist friend who lived opposite the School.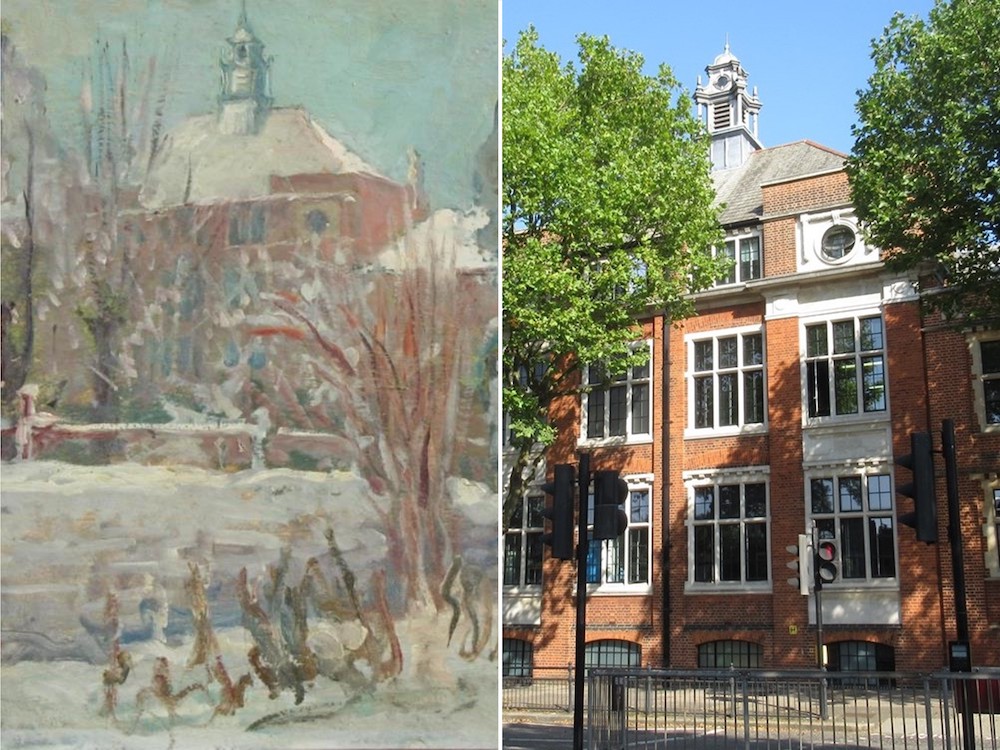 They can still be identified, though art classes moved to a new building on Southwood Lane in 1967. Dyne House was opened by Yehudi Menuhin, a local resident.
Kyffin was a champion of the Welsh sculptor Ivor Roberts-Jones and he persuaded the school Governors to commission a bust of Menuhin by him to mark the occasion.
Amongst Kyffin's pupils were two who went on to become well known artists in their own right – Patrick Proktor RA and Anthony Green RA.
The latter, who passed away earlier this year, remembered that 'In September 1952 Kyffin marched into the Art Room at Highgate School and my life changed forever.'
Another student recalled that 'Kyffin allowed small groups of us to go to Highgate Cemetery. The technique I used [when] drawing was very much Kyffin's – one I have never seen since.  The wooden end of a brush was sharpened and used as a pen …'
It was while employed at Highgate that Kyffin spent six months in Welsh Patagonia on a Churchill Travelling Fellowship in 1968-9.
On his return he gave talks about his experiences, including one at the Highgate Literary and Scientific Institution on South Grove in 1970.
By then he had been elected an Associate of the Royal Academy, possibly because of the quality of the work that resulted from his trip to Argentina, and that may have been amongst the reasons that he chose to leave the School.
In his final year, he repeated 'a presentation of van Gogh's paintings and letters' after the first performance in Dyne House had been given to 'a capacity audience [with] many applications for tickets … refused.'
In 'Across the Straits' Kyffin suggested that 'Highgate Village is one of the better places to live if you have to work in London.'
His name lives on in the local community through annual lectures in his honour that have been organized at the school since 2009, giving a few audience members a welcome opportunity to speak Welsh to each other.
Videos of a few recent talks can be viewed here.
It is hoped that a blue plaque commemorating the period during which Kyffin lived and worked in the Village might become a possibility in 2026.
In the meantime, please contact the author if you would like a copy of a small booklet outlining a self-guided walk around Kyffin's Highgate.
---
Support our Nation today
For the price of a cup of coffee a month you can help us create an independent, not-for-profit, national news service for the people of Wales, by the people of Wales.