Culture
Letter from Llangwm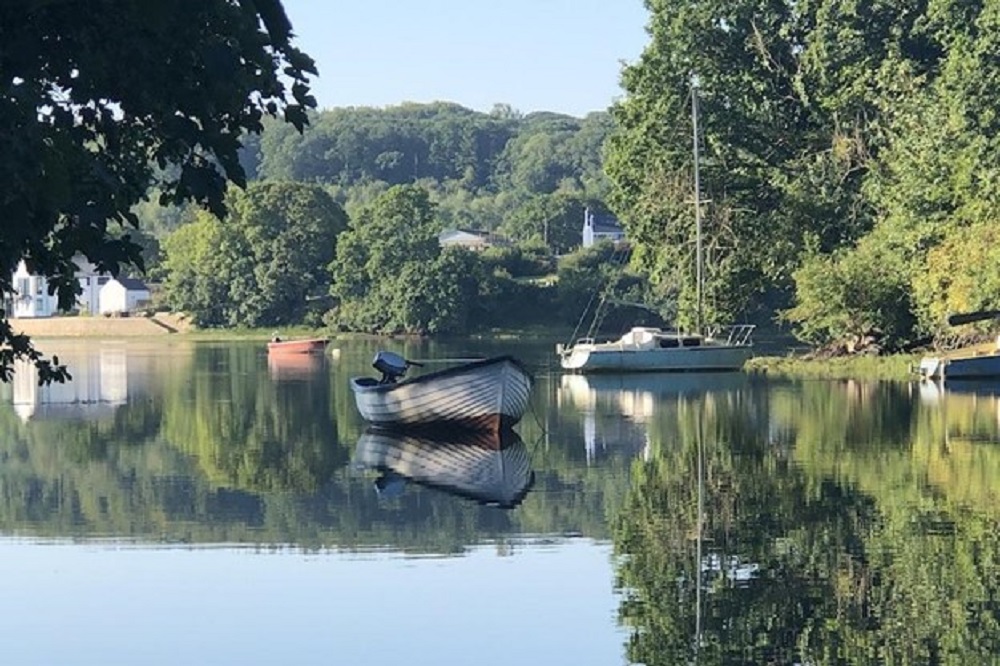 Philippa Davies
Here's an invite to you from just outside an extraordinary fishing village, perched on the banks of the River Cleddau, deep in the middle of Pembrokeshire and bordered by villages with Viking names:  Sardis, Hill Mountain, Hook and Freystrop.
But first a warning. If you visit Llangwm and ask a local for directions, with usual Welsh pronunciation, you may well be corrected. 'Llangwm' means 'church in the valley' and there are two others in Wales, in Conwy and Gwent.
But many locals pronounce it 'Langum', harking back to Scandinavian influence and then a time when Welsh was being actively suppressed.
So what might tempt you to visit?
Well, Llangwm is beautiful, with a winding main street leading down to various pills, or tidal inlets. It has a fine pub – The Cottage Inn, a restored medieval church – St Jeromes, a popular rugby club, a village hall and games pitch with stand leading down to the river.
It is believed that the Vikings sailed up the Cleddau to winter their boats on the shores at Llangwm, and on an especially sociable night in the Cottage, you can witness how their marauding spirit still inspires we locals.
After the Vikings, in Norman times, Henry 1 sent Flemings to Pembrokeshire to help control the ever-rebelling Welsh.
The Landsker line was established, with a chain of castles running across the county from Newgale to Laugharne.
Above the line was called 'The Welshry' with Welsh spoken, and below the line 'Down Below' with English the norm.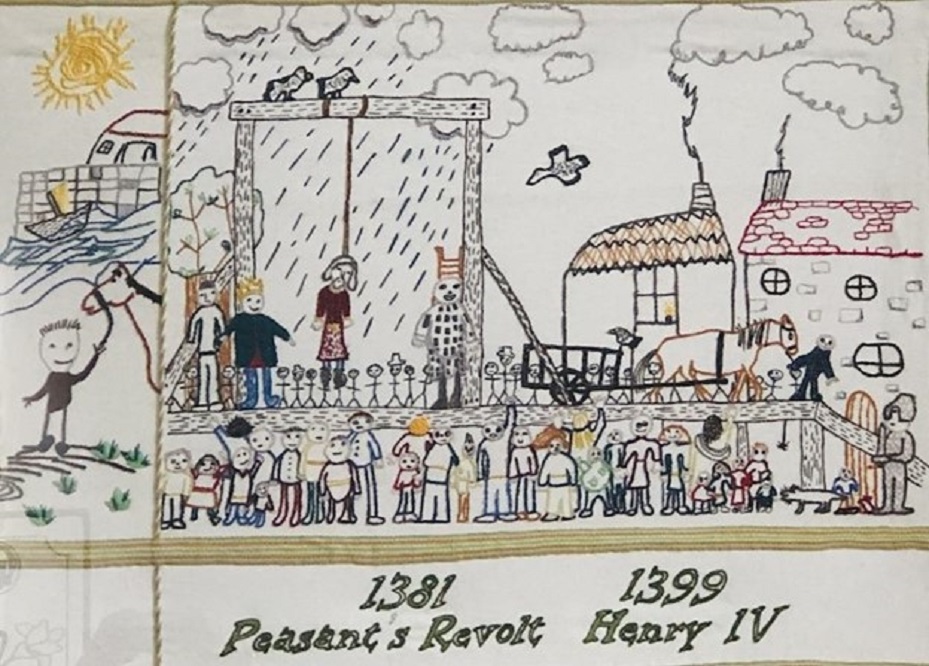 Tapestry
Llangwm was a 'Down Below' place which seems to have been popular with Flemish incomers. St Jerome's church, in the heart of the village and built by Flemish craftsmen in around 1200, has been restored by a generous lottery grant.
Inside is a fabulous tapestry, designed by local artist Fran Evans, drawn by local children and stitched by sewers of this parish. This talking tapestry depicts the history of the Flemish in the area.
Two of the tapestry panels show boats, and fishing still remains an important activity in the village. Many cottages have boats or boat paraphernalia in their gardens, and I promise we will eat fish when you visit, provided you promise not to query its provenance.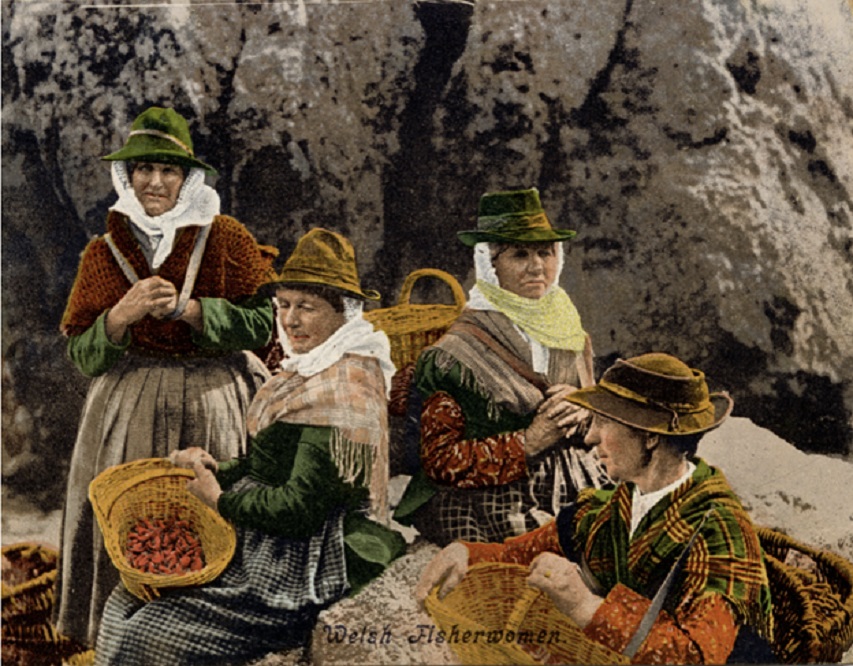 Fishing matriarchy
In Victorian times Llangwm was a fishing matriarchy. A description of the village, written by Rev J. Arthur Turner in 1900 says:
'The Llangwm women are a short, thick-set race, with a distinctive Flemish appearance. They wear very short, thick quilted skirts, striped shawls, and men's soft, clerical hats, a modification of the old Welsh conical beaver which used to be the fashion.
'They carry immense weights of fish in panniers on their backs for very long distances, to sell them in the neighbouring towns of Haverfordwest, Milford, Pembroke and Tenby. What wonder if they try to get as much for them as they can!'
Other sources suggest the women proposed to men, kept their maiden names and threw stones at unwelcome visitors, probably to deter the infected during cholera outbreaks.

Mostly busy
While some of these badarse women's habits have fortunately died out, unlike some Pembrokeshire villages, this is not just a place full of old folks looking for stuff to do before they die.
In general, Llangwm folk are mostly busy. There is a newish school attracting younger families, their choir Llangwm Village Voices, thriving gardening club and history society.
Best known is perhaps the rugby team, whose youth side were recent runners-up in the under 18, WRU Youth Final at the Principality Stadium.
Rumours that Llangwm rugby team used to pay local military personnel to play undercover in their ranks are – I'm certain – totally unfounded.
Literary festival
Every August, Llangwm has a literary festival which punches very heavily outside the size of the place.
Its themes tend to be geo-political and last year's speakers included the remarkably brave Catherine Belton, author of Putin's People and Lucy Hannah, who edited My Pen Is The Wing Of A Bird, recent stories from Afghan women writers.
A wizard called Michael Pugh corrals writers to visit, ably supported by a fine team of Llangwm women and some men.
For sure, festival time will be the best time for your visit, but you may be tempted following this description to think 'Forget visiting – I want to move here!''
In which case I'd remind you that Llangwm, like all creative places, thrives on sensitivity to difference as well as communal collaboration.
You will hear talk of 'old Langums' 'grockels' and 'incomers' and if you love anonymity, the single main street will prove a challenge.
But if this does not daunt you, then on a celebratory night at the Cottage, where mine host Matthew has rustled up a great feast and everyone cackles with everyone else… well, you could be forgiven the notion that braving we women-who-throw-stones, would be completely worth it…
Llangwmlitfest 2023 takes place on 11th-13th August 2023.
---
Support our Nation today
For the price of a cup of coffee a month you can help us create an independent, not-for-profit, national news service for the people of Wales, by the people of Wales.