Culture
Letter from Llyn Crafnant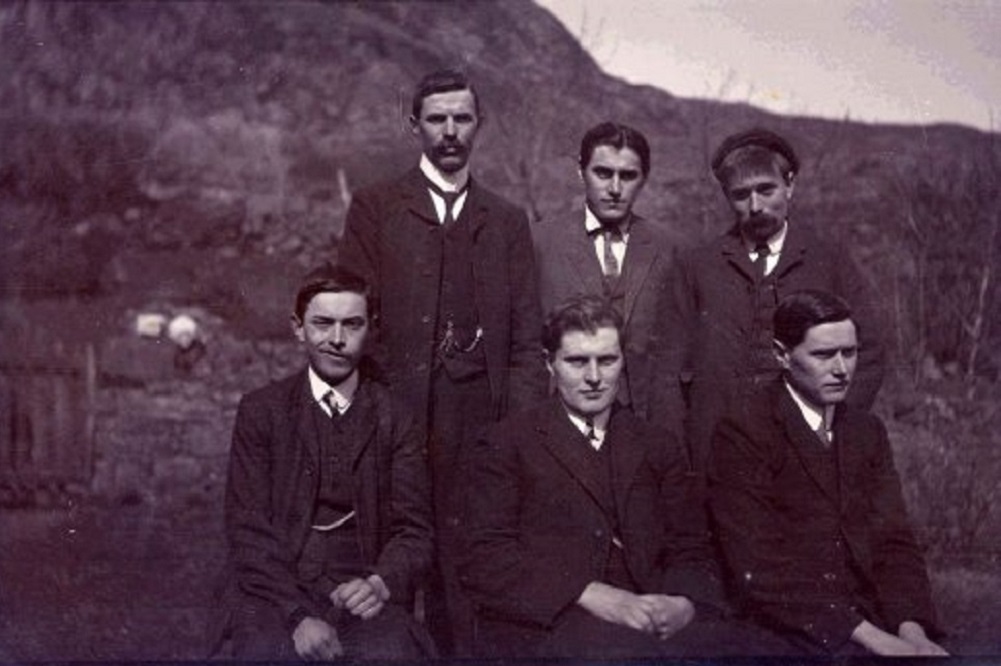 Julia Forster
Growing up, I spent every other weekend at my Dad's house in Warwickshire in a village a couple of miles from the Fosse Way, the Roman road connecting Exeter with Lincoln.
Over 150 miles away, ancestors on my Dad's side of the family had also once lived a stone's throw from another Roman road, Sarn Elen.
My Dad's maternal grandfather Jesse Williams was born, along with five brothers, in Blaen y Nant, a house where his parents and many Williamses before him were tenant farmers at the head of Llyn Crafnant above the village of Trefriw.
The photo above, taken in the garden of Blaen y Nant in the 1910s, sees Jesse sitting in the centre of the front row.
Jesse somewhat beat me to the brief to send a letter from Crafnant; he published a short piece called 'Crafnant' for the column 'Correspondence of Claudius Clear: My Birthplace' in the British Weekly in December 1921:
"In the heart of Snowdonia lies Crafnant Lake, surrounded by high, rugged mountains. The only access to the Crafnant Valley is the narrowest of passes, with its small stream and rough mountain road. Time which has turned many a wilderness into a garden of roses has only made Crafnant more desolate. From early spring until late autumn holiday-makers admire the beauty of this picturesque valley, but they have not seen it at its best, when on a moonlight night in mid-winter the snow-clad mountains are reflected in the still waters of the lake…"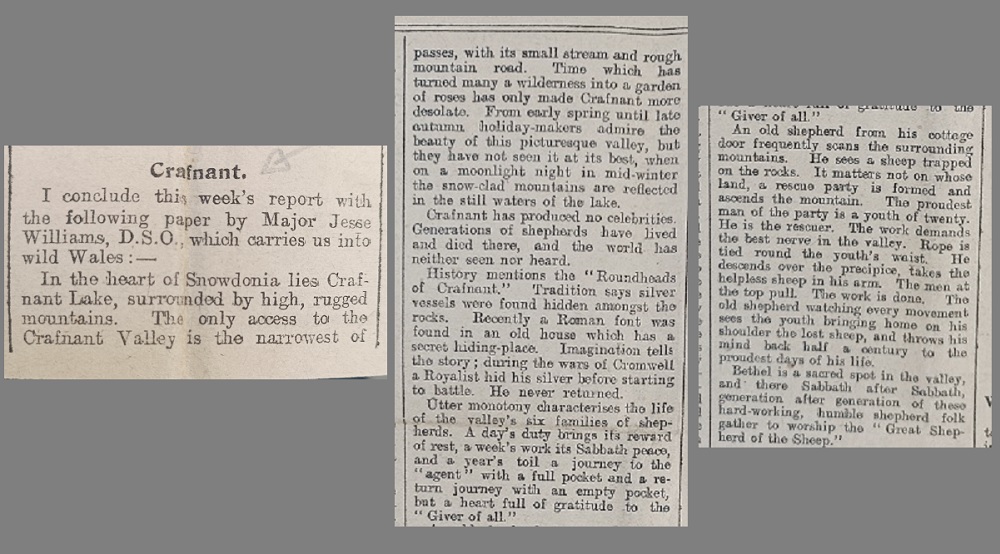 Jesse died in 1959 and my Dad, as the eldest, was the only grandchild allowed to attend his funeral. I was born in 1978, so we never met, but my Dad has a postcard I cherish which Jesse sent from Machynlleth – the town which has been my home since 2010.
I attribute my love for Wales from two childhood holidays I took with my Dad in a white, clapboard bungalow called Bryn Eithin just a few hundred yards along from Blaen y Nant.
An only child, I would wander alone in the fields surrounding the bungalow, creating dens out of bracken and sticks. I loved being so close to nature, and remember losing hours exploring the surrounding area which was a world away from the built-up Midlands town where I lived for most of my childhood.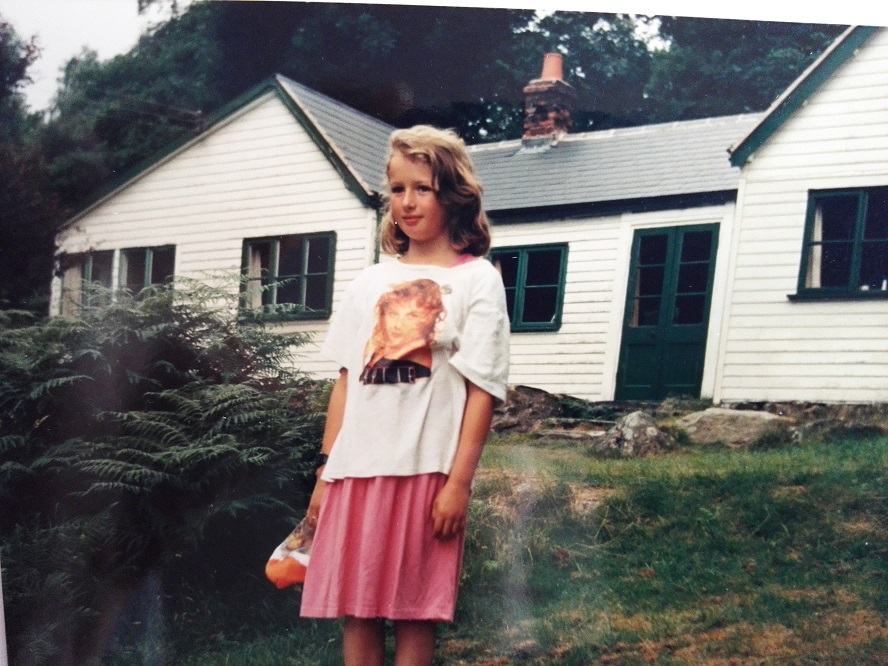 Evenings, Dad and I would turn out all the lights then we'd light a candle and put miscellaneous items from around the house on a tray.
While the other person had their eyes tight shut, the game we played was to remove one object; to win the game, you had to repeatedly guess which item had been removed. This was the 1980s after all: entertainment was lo-fi.
The letter I sent, aged seven, to my Mum in 1986, illustrated by my rendering of the cottage's interior says it all:
Dear Mummy, I am riting most of my riting in your best colour. I hope where you are it's sunny.
We have made a den but we can't play in it because of the rain.
I think it's not fair because we are on holiday.
The poor sheep must be cold.
It's like Noah's Ark here.
There's some camping people here.
It's windy here has well as rainy.
We went too William, Daddy's cosoun.
He likes being called Uncle Bill he gave as well Jenny and I one pound witch was nice of him. From Julia
PS The electricity works.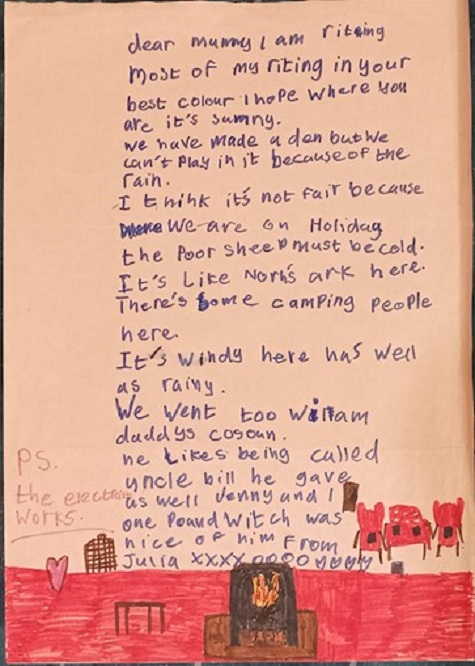 When we set out to drive home back to the Midlands, I was struck by a double whammy: car-sickness brought about by the snaking roads which clung to the valley floors, but also home-sickness.
Sitting on a towel, clutching a plastic bag in the back of my Dad's gold Toyota, I both longed to get home as quickly as possible, but also felt bereft at leaving the heart-shaped valley, and the thousand shades of green.
Two decades after my childhood holidays at Crafnant, I was considering with my soon-to-be husband where to hold a wedding reception.
His parents lived in Trefriw; Blaen y Nant seemed like the obvious choice. We arranged to hire the house from the climbing club who had taken it over as a bothy in 1955 and have thankfully kept it in good repair and left many of the original features intact [link: https://mynydd.org.uk/wordpress/club-hut/].
My husband and I got married at Caerhun Church on Sarn Elen in front of eighty guests on the summer solstice, 2008.
What we didn't factor in was the unexpected guest – the Welsh weather – somewhat ironic, given my letter I'd written home to my Mum.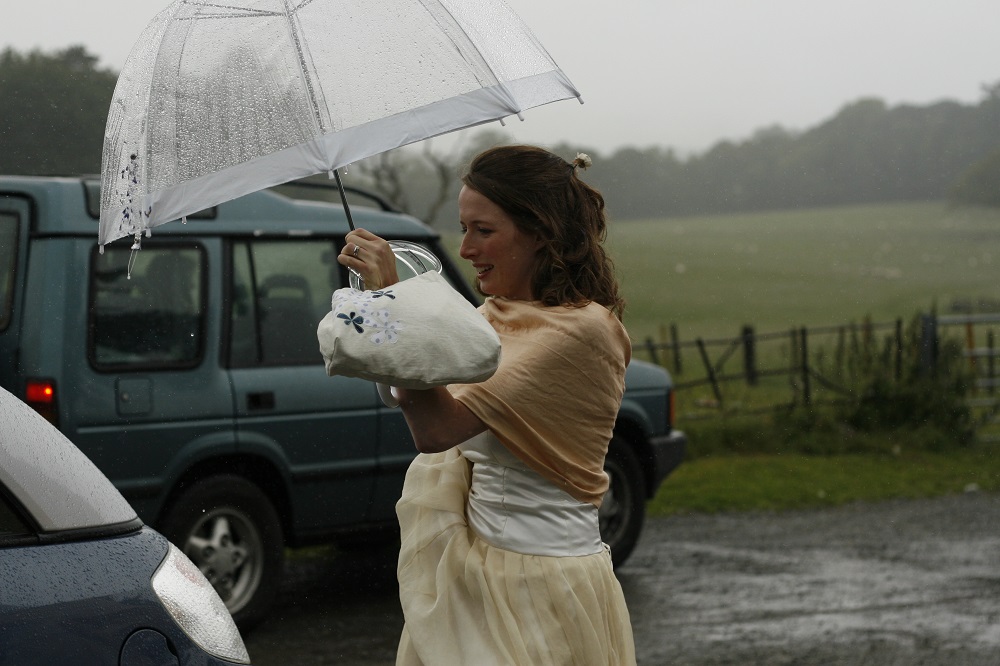 As Blaen y Nant couldn't house all eighty guests, we luckily had taken the prescient step of erecting a small marquee in the grounds of the front garden.
Among our guests was a veteran boat-builder and sailor, Barnaby. We asked him to come and find us if the wind looked like it was whipping up enough gust to damage the marquee. At about eleven o'clock that evening, Barnaby came up to me and said the immortal lines: "Marquee no happy. Take me down."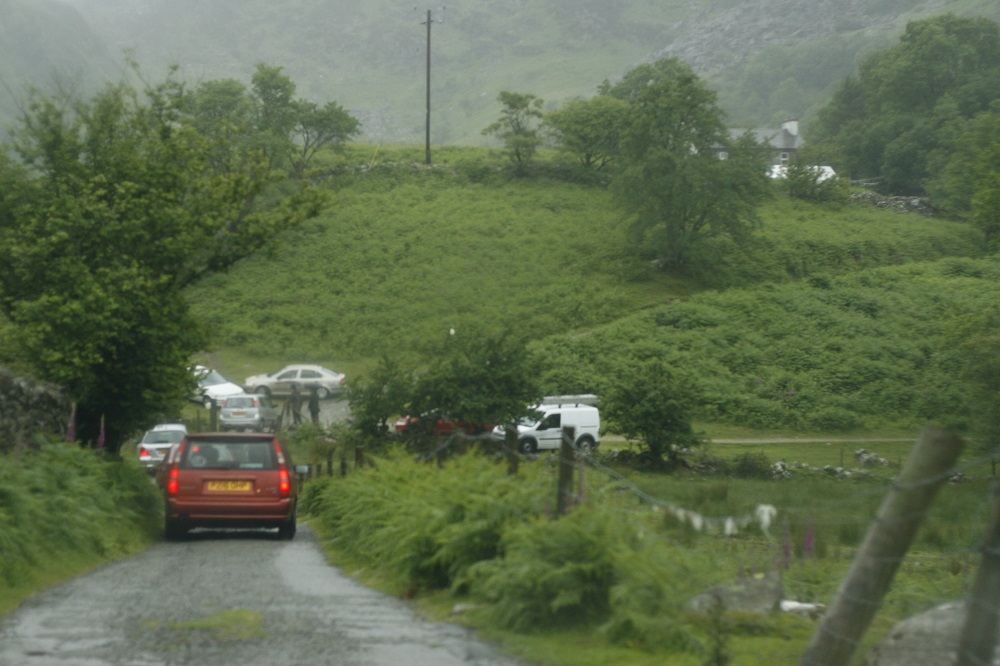 I was instructed not to worry – and especially not to look. Meanwhile, four guests who were selected on the basis of being both tall and relatively sober, helped to untie the white PVC from the metal poles in gusts of sixty miles an hour, leaving just the skeletal structure of the marquee remaining.
At dawn, the wind was still blowing a force ten up the valley. By then, I had taken a stapler to my home-made dress to repair it where the silk straps had torn off. I'd swapped dainty golden moccasins for far more practical black and blue Karrimor walking boots. Instead of a delicate shawl, I donned a bright red waterproof jacket, a bargain purchase bought from Betws y Coed's Rock Bottom.
I like to think that the weather was sent by ancestral spirits, blessing the wedding party.
Indeed, my grandmother's ashes had been scattered in the garden of Bryn Eithin in the early 2000s and, a few years after the wedding, my children helped to scatter my late grandfather's ashes in the same location: reunited.
Now, whenever my family go back to visit Llyn Crafnant, we take time to not only visit Blaen y Nant and peer through the windows to remember the night we stayed up celebrating until dawn; we also take time to visit the graveyard in Trefriw, which overlooks the Conwy Valley as my husband's father, David, was buried there in 2011 just a few years after our wedding.
At the far side of the same graveyard stands a memorial for Jesse and the gravestones of many other distant cousins, uncles and aunts. For our family, it is a sacred site which now knits both sides of the family together in the soil of the Conwy Valley.
Beneath us, lie not only forgotten pathways, tracks and roads which have fallen by the literal wayside, but also countless ancestors. It's in that golden part of the Conwy Valley that I feel an ancient spirit of oneness most keenly.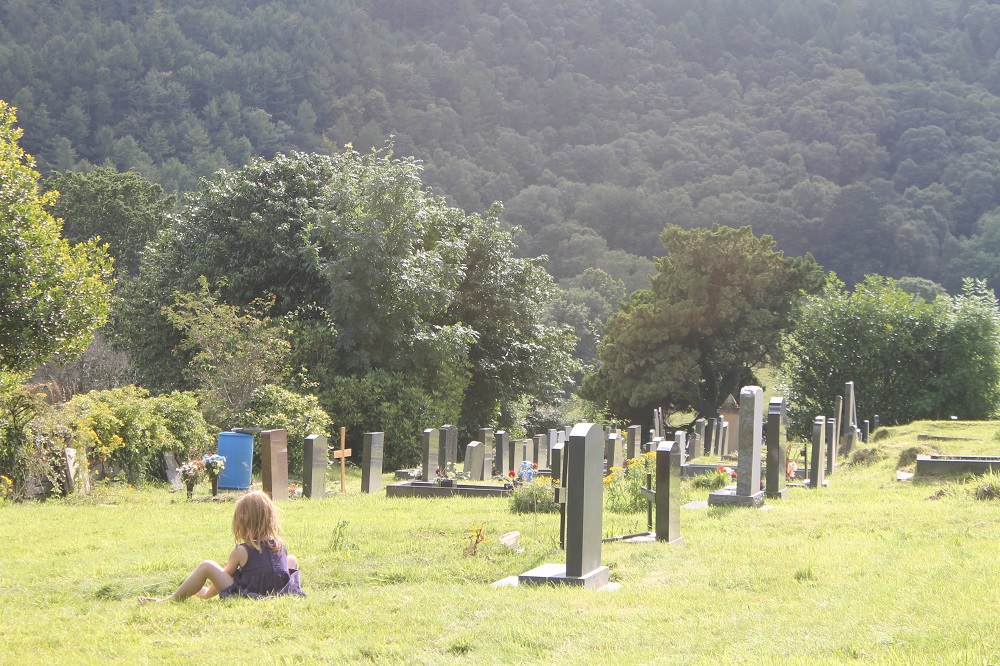 Julia Forster is a novelist, poet and non-fiction author who lives in Machynlleth. Visit her website or on Twitter: @WriterForster
You can discover other 'Letters from' on Nation.Cymru by following the links on this map
---
Support our Nation today
For the price of a cup of coffee a month you can help us create an independent, not-for-profit, national news service for the people of Wales, by the people of Wales.