Culture
Letter from Maes Gwyddno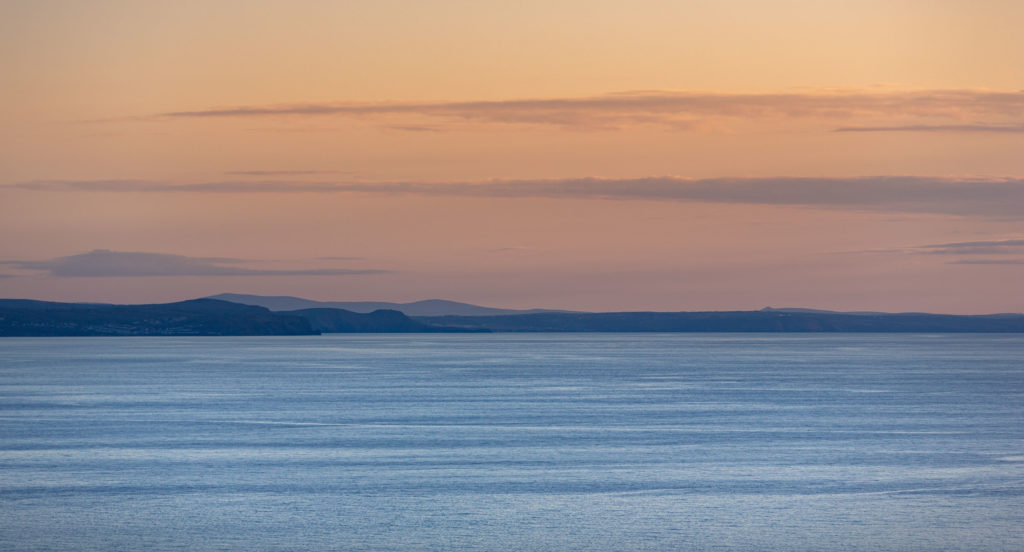 Iestyn Hughes
Most photos you'll see peering down at the sweep of Aberystwyth are taken from the north – from atop Craig Glais, Constitution Hill, with its convenient funicular access, zig-zag path, restaurant and amenities.
It's impossible to resist taking a picture from Consti – the town's beckoning curves eventually blending into the gentle, hazy vanishing point of the Pembrokeshire coastline. So compelling, so familiar. So instagrammable.
Vertiginous
On a fine day, if you can manage to make it up to the top of – or even half way up – Allt Wen, the vertiginous hill to the south of Aberystwyth which tries, but just fails, to hide the Blaen-plwyf transmitter, you'll be rewarded with the view northwards.
A vista that places 'Aber' at front of stage, holding back a brooding sweep of hills and mountains which pan across the horizon. This viewpont and the fields around Tan-y-bwlch could now be yours, if you have a million or two pounds to spare. Hurry!
Clambering gingerly down Allt Wen, back towards town, over the right shoulder stands Tan-y-bwlch mansion. My first home from home as I arrived as a student. The remnants of its 1970s decor, the smells, corridors, rooms, friendships, loves; its surge of youthful freedom, fading but still entwined in my memory.
It now comprises upmarket apartments, and the old path to Tan-y-bwlch beach – rather like a few embarrassing youthful memories – is gated shut, locked and 'strictly private'.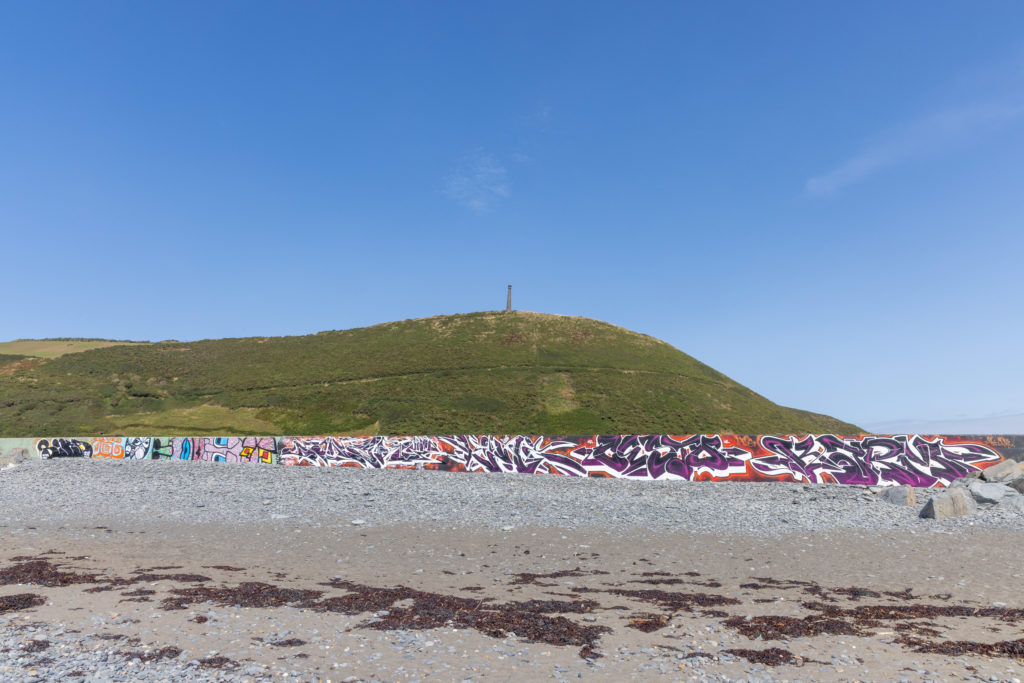 Ancient settlement
Beyond the mansion is the site of the original Aberystwyth castle, and stretching along the length of the storm beach, bounded by the river Ystwyth, are Tan-y-castell fields, their wide open flatness once the perfect location for hosting various events, including trotting races.
Beyond the Ystwyth, another towering hill makes its statement – Pendinas, the mother ship of Cardigan Bay Iron Age hillforts, with its rather embarrassingly large appendage – the Duke of Wellington memorial column – which takes the shape of an upended cannon.
Such was the town's regard to history at one time that the area below this ancient settlement was used as the municipal rubbish dump. The area is now part of an SSSI, and can be strolled along via the 'Llwybr Hen Domen' trail.

Cormorants
I recall a gentleman in a Rover 2000 who daily trundled up and down the rocky road along the rim of the beach. He'd cast out his dog, which would trot after the car, gain some excercise, relieve itself, then jump back in to be driven home.
Now there is no car, or even a road. But there are dogs. I count at least fifteen within a few minutes, doing what dogs do, and owners doing what owners do, a few swinging along with loaded poo-bags.
Along the river, cormorants are carried swiftly by the current towards the harbour mouth, ducking and diving in and out of the flow, expertly submerging to avoid an over-exuberant labrador which just can't fathom how his new playthings disappeared.
Shortly the birds will head for Castle Rocks – where with wings outstretched they'll stand entranced, like mini shamans, as their plumage is reinvigorated by the warm breeze.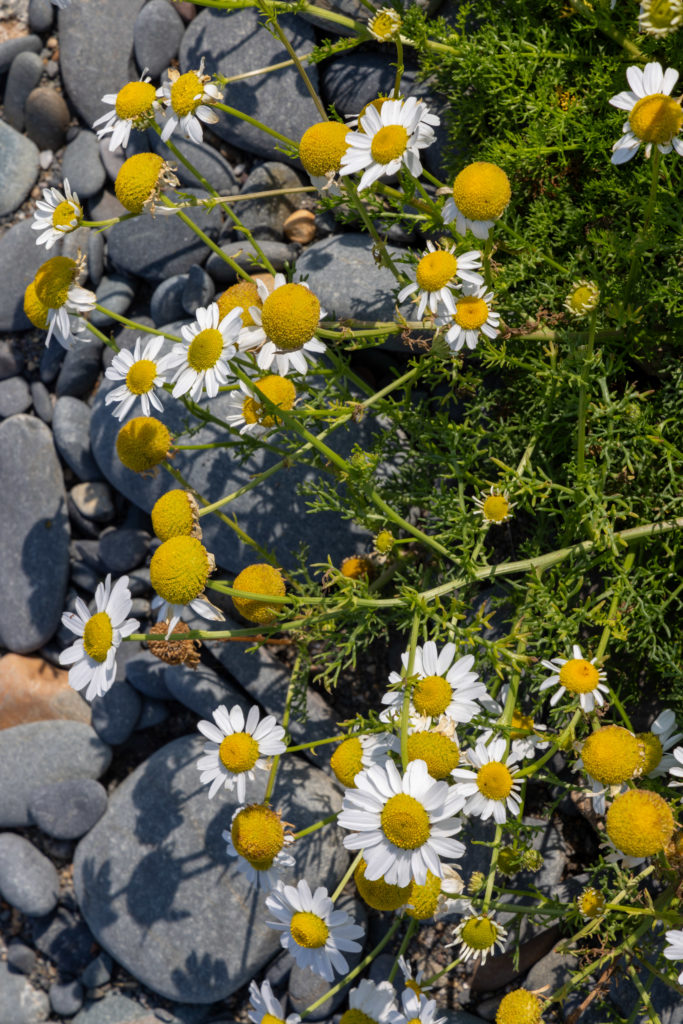 Hardy plants
The track along the beach was prone to being consumed and tossed aside by storms, and so it was eventually closed to traffic, if not so for dogs or photographers. Along its length hardy plants now hang on for dear life, while many such a Sea Campion, False Mayweed and Ragwort flourish exuberantly where once the Rover roamed.
A massive storm during during 1938 not only destroyed part of the pier and the northern promenade, but also demolished a cottage which once stood on the rim of Tan-y-bwlch beach.
Huge waves began to break around the dwelling during the early hours, and a mother and her two daughters decided to flee. But, as they hurried to dress, the sea battered down the door, then another wave crushed the roof, trapping the girls.
The predicament was spotted by a train driver, who called for help. The two girls and their cat were rescued, but the mother appeared lost to the waves, until she was luckily discovered, barely alive, clinging to the kitchen table in the middle of the Ystwyth river!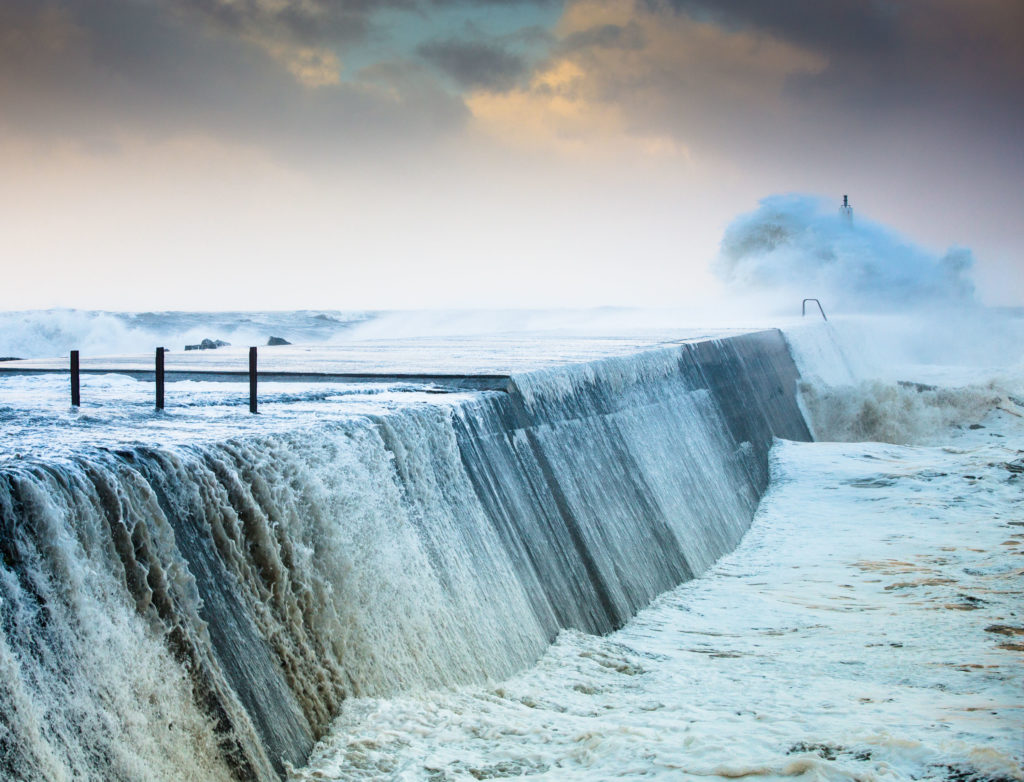 Babel
A wide stone breakwater separates the beach from the harbour.
On a fine day a visitor might ask why such a beast of a jetty would ever be required, but as locals know well, at stormy high tide, that question is frequently answered in dramatic fashion.
The winter of 2013/14 thrust Aberystwyth and its precarious position on the coast under the media spotlight, and was a pivotal experience in my photographic journey.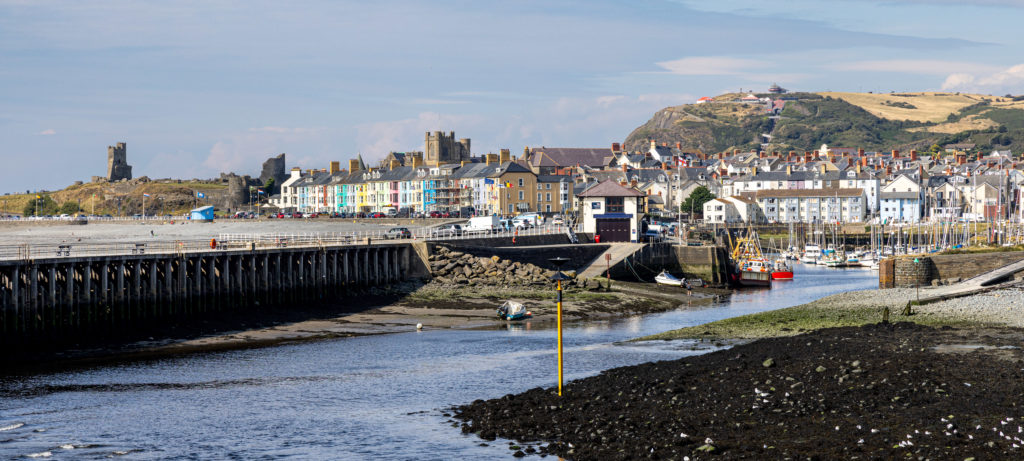 But today's hike is sunny and calm, and takes me swiftly around the marina (also for sale, if you're interested!), over Trefechan Bridge, famous for its association with the first Welsh Language Society protest (photographed by Geoff Charles, who inspired me to document life through a lens).
Thence along the northern part of the promenade, heaving with new graduates and their families – a babel coastline – snippets of conversations, lapping back and forth like a tide – a little Spanish, several flurries of Italian, a hint of Gujerati, a baseline of southern English, a hint of Welsh, a loud and intense storm of French, a gush of Polish, an authoritative rumble of German, definitely Dutch, and was that Ukrainian?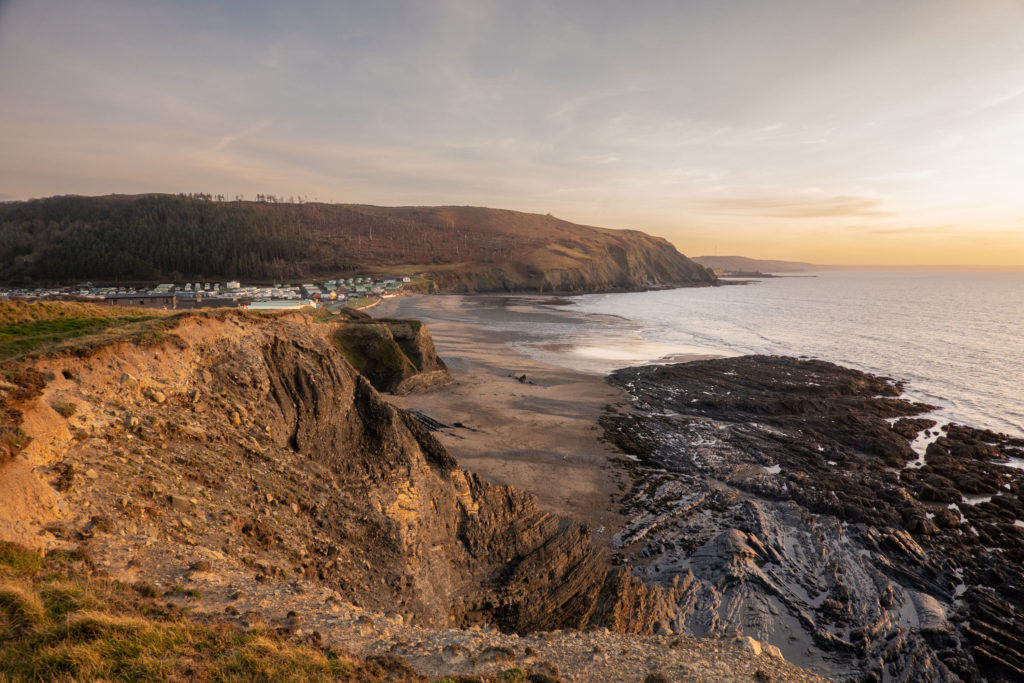 I 'kick the bar' – a traditional 'must do' in Aber – which involves kicking the promenade rails at the northern end of the prom (while silently apologising to the painters who must surely despair) and then scuttle wearily up Craig Glais, away past Consti's offers (how do you play frizbee golf without fear of decapitation?).
Down past Craig y Fulfran, smeared white with guano, then ahead lies Clarach with its caravans and holiday chalets.
One slightly tired park – a happy place – West-Midlands-by-sea – where innocent youngsters giggle and rush and chase, finding awe and inspiration in the simplest things we seasiders take for granted – seaweed, sand, stones, streams, little fish breaking the surface, kiddies slides, burgers and chips, and ice cream in abundance!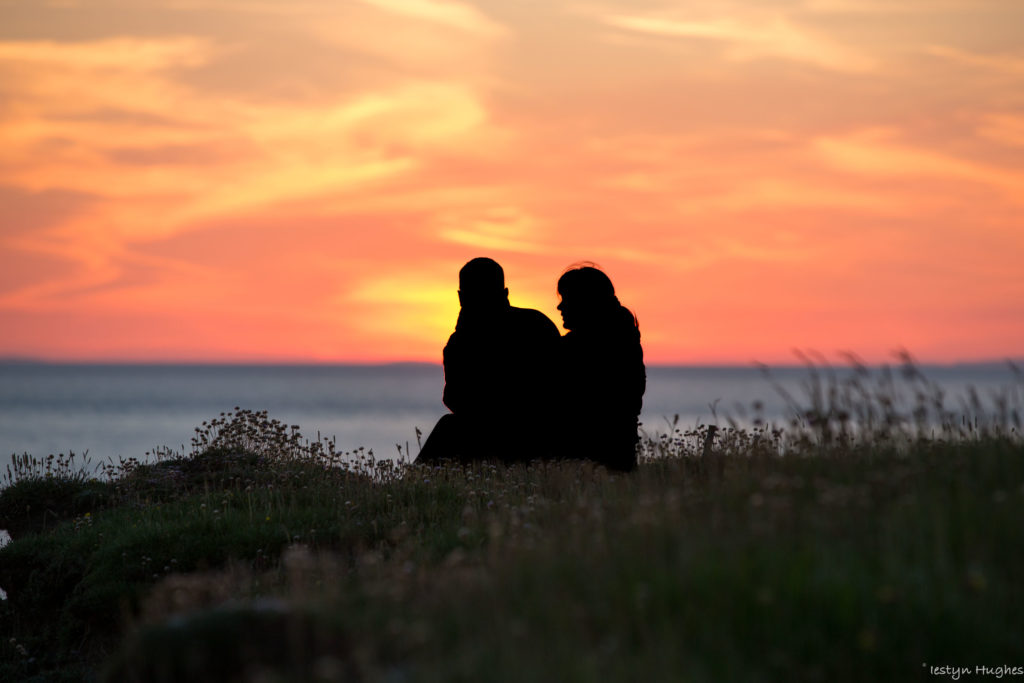 Immense power
The coast path crosses the (EU funded) pedestrian bridge over the river Clarach, through the refurbished, rebuilt, renamed  (and now totally private) holiday park which stretches a little way upwards along the coast path towards Wallog.
Apparently no longer available to locals, tourers, campers, such as the nice German couple who once came out of their tent to hold hands between me and a glorious Cardigan Bay sunset.
The rocks below are layered, bent and tourtured, revealing the immense power and energy which formed so much of the Ceredigion coast.
A cross section along the coastal path from here would look like a worrying ECG, but Wallog, a place of history and myth and equally glorious sunsets, is a handy spot to rest, enjoy a picnic and ponder the story of the 'sarn' which extends from here into Cardigan Bay. I had intended to complete the walk later in the month, when time and a very low tide would provide a perfect photo opportunity.
Broken ribs
Luckily my own ECG at Bronglais A&E was less dramatic than the rise and fall of coast's edge.
Just in sight of journey's end, an encounter between hard ground and old bones rendered my lavish Picnic at Wallog Rocks a failure. Hours later, with broken collar bone and ribs, a sad egg sandwich in a hospital cubicle became a welcome feast.
Ancient roadway
And so fate and a slippery path made my quest to capture Sarn Gynfelyn impossible. This glacial moraine at low tide forever resembles an ancient roadway leading out far into the bay, gradually disappearing beneath the waves in the distance.
It's some 10km long and its existence is entangled with one of our evergreen stories, that of 'Cantre'r Gwaelod' (the Lost Hundred). The most popular version of this 'inundation' tale tells of a king – Gwyddno Garan Hir – who ruled fertile land reaching far out into Cardigan Bay.
One day his servant Seithenyn got drunk, fell asleep and forgot to close the sluice gates. The land was swamped and ruined by the sea, and the king escaped, presumably without slipping and snapping his bones, via the rocky Sarn.
And so as the drowned bells of Cantre'r Gwaelod toll their muffled warning, not all will hear, and one fears that we too have left it too late to close the gates and arrest the current tide.
Enjoy more 'Letters from' by following the links on this map
---
Support our Nation today
For the price of a cup of coffee a month you can help us create an independent, not-for-profit, national news service for the people of Wales, by the people of Wales.