Culture
Letter from Parc Pen y Fal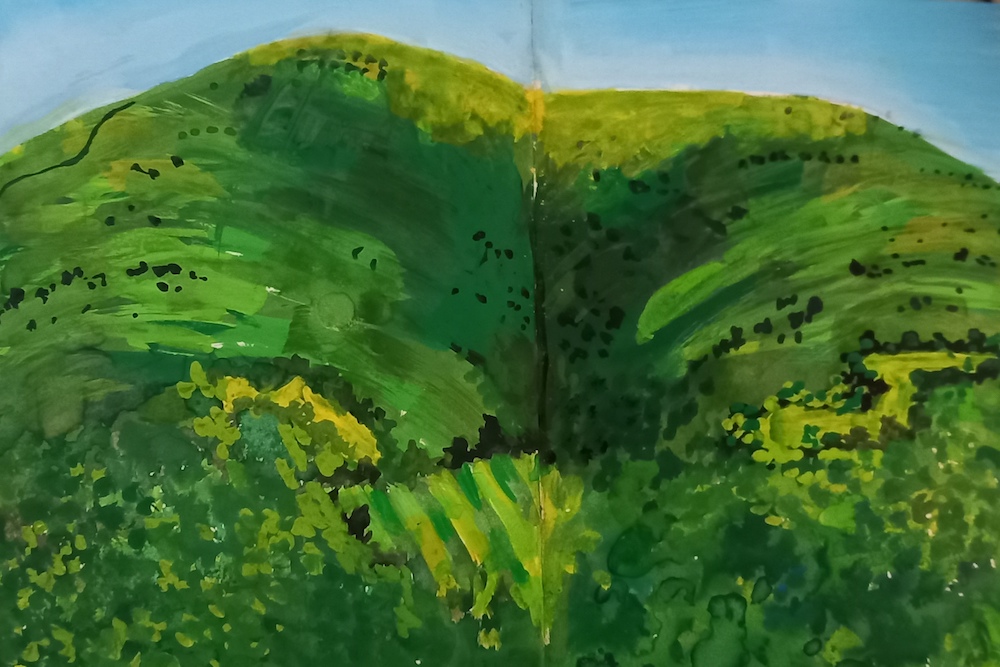 Nigel Jarrett
Given the choice, I would never live in a place that didn't stimulate me. These days, I would also never live where I felt threatened by burglars.
I was burgled twice while under another roof twelve miles away, which, considering my age, might qualify me for small-minority status. The possibility of tempting fate aside, my present home – an apartment in a converted former psychiatric hospital – is double-barred against intruders: they have to gain entry to my part of the building and then to my second-floor quarters. I feel secure without having to exhibit a siege mentality.
Abergavenny offers stimulation aplenty, and no doubt it has its share of picklocks. Many residents find the town 'colourful', by which they mean a wide cross-section of society is to be found walking the streets; unlike nearby Monmouth, which has a public school and more than the expected quota of prosperity among the superannuated.
Scary
A former newspaperman, I recall some headline-grabbing solicitor telling a courtroom in the 1980s that Abergavenny was the most scary place in Monmouthshire when pubs and clubs were being disgorged on weekends.
There was a club in those days but the demolition of the combined police station and magistrates court a few years ago and their replacement by an outpost of McCarthy & Stone indicated an already established move away from lawlessness.
A certain amount of gentility has also been involved. All that said, Abergavenny must be one of the few towns in Wales where roadside double yellow lines appear to be an invitation to parking rather than a deterrent.
Blorenge
For me as a writer, journalist and would-be artist, the prime visual stimulus is the Blorenge, a mountain which looms short of the town to the south like a behemoth visitant stopped for eternity in its tracks.
Its possible etymology is unconvincing: the Welsh plor (pimple) or Middle English blure (blister). Even more unlikely, the Blorenge is supposed to have been the inspiration for the hymn All Things Bright and Beautiful, composed by one Cecil Frances Humphreys Alexander. All Things Bright and Breathtaking, more like.
The cloud penumbra slow-sliding across the Blorenge's punchbowl reminds me more of Scout Rock in poet Ted Hughes's Calder Valley birthplace of Mytholmroyd, its massive presence awe-inspiring him as man and boy.
(I once interviewed Hughes, joining him at the Severn Bridge in his Morris Minor Traveller for thirty minutes of a journey taking him northbound to some pike-crowded expanse of water. He talked more about fishing than poetry; I didn't know much about either.)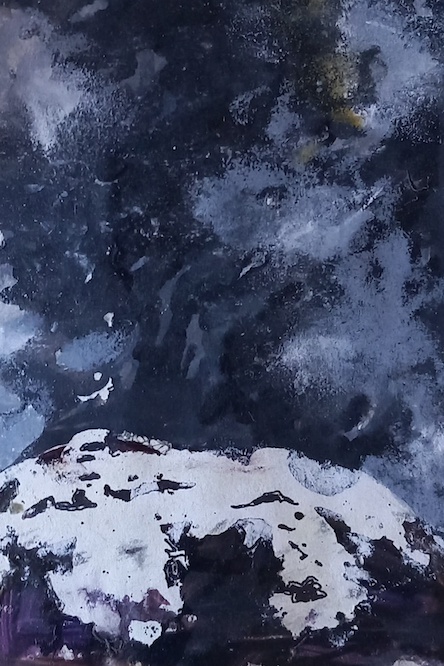 Asylum
Anyway, I'm always sketching the Blorenge in all weathers. I view the eminence from my sitting-room window in Parc Pen y Fal as if it and the building I live in were competing for my attention.
This was once the biggest asylum – that's what it was called – in the south-eastern quarter of Wales. Only the top sections of the windows can be opened, and then only partly, by tugging at their metal rings with a hooked pole fit for purpose.
The windows themselves were fit for purpose when this was a hospital from 1851 to 1997, as they prevented self-defenestration, in the early days at least.
At its busiest the building accommodated 1,170 patients. I can vouch for there being no ghosts, though our roosting feral doves and pigeons on their circuits may be compared to souls of the dead on drone-like watch. Now and then the local sparrow-hawk exocets out of nowhere to keep numbers down.
For more impressive data, the figure of 3,000 can't be bettered; it's the number of patients buried anonymously in pits on a sloping half-acre of land beside the trickling Y Fenni, a modest sibling of the Usk, into which it flows a mile away below Castle Meadows. The burial site is two minutes walk away on my route into town, and I pass it in silence and reverential wonder.
Part of my Meadows walk is beside the Usk. It's where I'm prey to random, unsolicited thoughts, such as what Arnold Schwarzenegger will look like if he reaches eighty (not Clive James's 'condom packed with walnuts', that's for sure), and what has happened to Antony Worrall Thompson in the phalanx of chefs fighting each other to be on the telly.
Meditations are often of no consequence; the brain's a strange mass of cells.

Woolloomooloo
As with contemplation, so with imagination. Like most other writers and journalists, I'm capable of writing about almost anything: give me the subject and I'll wax persuasive.
Staring out of my sitting-room window on to the lawns last year, I visualised a throng of my Twitter followers, all waiting open-mouthed and blast-beruffled for me to say something simple but profound, like the idiot gardener played by Peter Sellers in the 1979 film Being There.
I dug a story out of that, published in an Irish magazine, noting that in cyberspace Ireland is no farther away from Abergavenny than Woolloomooloo, New South Wales.
Helplessness
If the unexamined life is not worth living, then here at this graveyard marked only by a small memorial we are obliged to ponder the way society treated and continues to treat the mentally-unstable.
Not the least valid outcome of self-examination is the realisation of how lucky we've been to have retained all our marbles as well as how incumbent upon us it is to help ameliorate any deficiency in others and to understand the helplessness of those who looked after them.
There's evidence here that the Victorians had more good points than bad. Inadvertently, and helped by Redrow the builders early in the 21st-century, they contrived to extend to me and my neighbours the concept of sanctuary.
Footnote: The flower display that hits you on immediately entering Aldi's in Abergavenny always reminds me of the second time I was burgled. The thieves had tipped over a vase of flowers.
Though the map-of-Italy water stain was still visible on the carpet, the vase and its flowers had been restored to their former – upright – place.
A scene-of-crime policeman said this indicated a woman's involvement. Knowledge and enlightenment are stimuli too.
You can find more of Nigel's writing and the 'Letter from' series on Nation.Cymru by following the links on this map
---
Support our Nation today
For the price of a cup of coffee a month you can help us create an independent, not-for-profit, national news service for the people of Wales, by the people of Wales.