Culture
Letter from Rhossili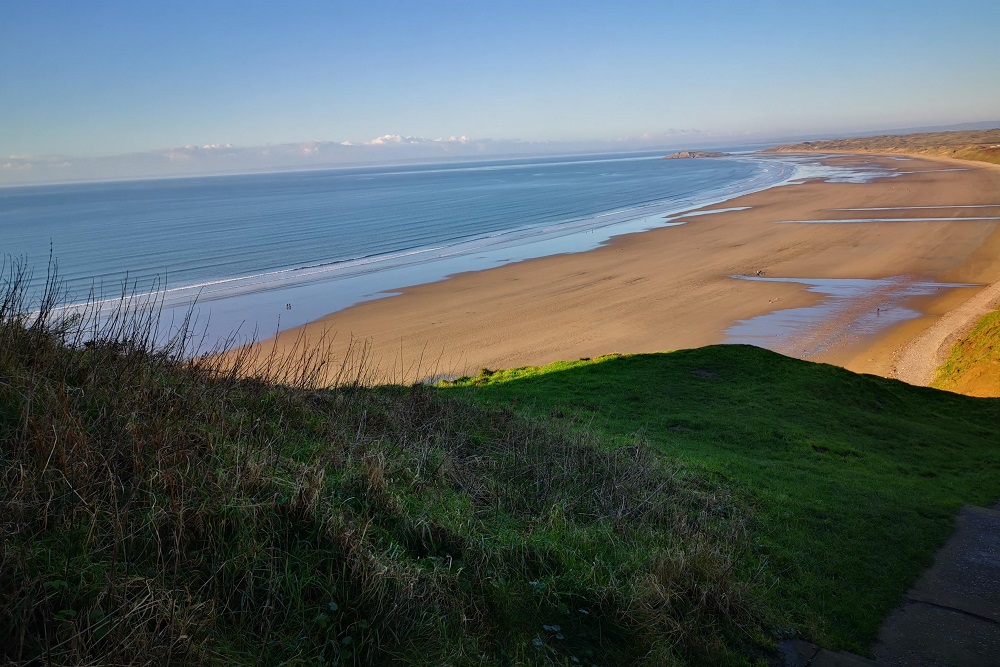 Aruni McShane
When the sky is a blank page,
and your soul a pen,
when you wish to write your story,
to show the way you see it,
The angry dark clouds
Who think the sky is theirs
Will cover what you write
And nobody will see the effort or pain
You put into those words.
Nobody will see the effort or pain.
'Rhossili and South Gower coast is a beautiful and breath-taking coastal area,' I read in the National Trust account of the place. From that day onwards, I planned my trip. A trip to a heavenly place, a treat for the eyes, a cradle for my dying soul, somewhere I might meet serenity and tranquillity and perhaps my long lost self. I was heading out to taste my sorrow and discover the colour of my life.
I think everybody could think of a colour that relates to their life. At the time I was taking this journey, my life had the colour of the evening sky before sunset. A mix of a lot of every colour but mostly blue and grey. It was strange, the idea of finding the long lost me in nature.
Under the pouring sky, I felt like a skylark who knew the storm is coming before everybody else and warned the rest but never managed to fly back to the nest before her wings got wet. Who knows what that nest means to the skylark, maybe it is more like a cage to her, maybe she likes to keep her wings spread and open rather than have them shrinking inside a small nest.
This lady skylark may be a bird that managed to escape from a cage where she was forced to eat the same dull trash every day, forced to stare at the same scenery and sing songs to her partner's tune. What a tasteless and colourless life for a bird whose sky is the limit.
Stillness
I took my eyes off the sky and tried to mingle with the surroundings. I liked the stillness, the numbness, and the nudity in this place. Yes, nudity, appreciated as art all over the world. I appreciate you Rhossili. I appreciate your curves, the shapes and the body line. I will touch you, but I will never bruise you, my Venus de Milo.
Her loose damp cloth, the sea, drapes across the horizon. I nestled up and wanted to be lost in her lap like an infant somewhere in a corner of a mountain. I felt she was so sensational, so august, and I felt it was unlikely for a coward like me to be her child. I know my place in this world so much better than I used to. The world is vast, but we had to draw our margins, or somebody had drawn a margin for us already, which we dared to cross.
As the Skylark knew she should not let the wind carry her too far from her nest, I knew I needed to return home for the sake of my sweet chicks whose wings were not strong enough to soar into the limitless sky yet. It was destiny, both hers and mine to go back to where we belonged at the end of the day.
Poor skylark and me. Let's just get the best out of our limited freedom today. Fly away little birdy let the wind carry you a little bit further than usual. I am fine alone. Being solitary suits me.
The howling wind was my tour guide for the day, which I thought was a luxury. Autumn was a dear friend who had chased many admirers out of this scenic place and reserved it only for me. The one thing I was cross about her was that she had made the day unforgivably cold and foggy.
I wanted the cold to cut into me and freeze my brain and heart. I shrug off the guilt, pull off my raincoat and loosen my hair for the wind to play with. I took a deep breath, closed my eyes for a second, and once I opened them, I found myself inside a painting and ready to take a journey into it.
The wind forced me to be cautious when I was on top of the cliff surrounded by dramatic sights, I must not be blown away by its beauty and land on the rough beach far below the cliff.

Orchestra
The sky was a mixture of smoke and slate grey, the endless verdant mountains. Some genie blew silvery glitter on grass blades where I was standing, and I could see what looked like white and grey clouds lounging here and there. What an orchestra it was, the playing of the aeolian harp of the wind, the whistling, the sheep bleat, the drum rolling of the sea.
My knees started to tremble because of the piercing cold, and my clothes were damp and clung to my body. I stretched my hands and waited for another few seconds for serenity to embrace me and draw out my soul. I wanted to feel something, anything at all. Pain or happiness because the waves of life had struck me too hard, and I could not feel anything.
My brain told me to put on the coat right now and get rid of the cold, and my mind was telling me the cold had not hit me enough yet. If I wanted to feel the pain more dramatically – this, this was it.
The task was to make a beautiful memory to fuel this rusty life vehicle to enable me to crawl on for a few more miles. I have only a few beautiful memories, all of which are attached to a tropical country where the sun used to smile at me and where rain washed away my miseries.
But those beautiful memories have started to fade, little by little, by little, and I have completely forgotten to make good new ones for a while. Without good memories, you can survive but it becomes difficult to live.
The musky, fresh smell of the soil and the briny smell of the air prompted me to have a cup of coffee to make it a more vivid memory or maybe just to create some energy to make my body move.
Coffee was the only luxury I could offer myself. There is nothing like hot coffee on a rainy day and I was glad I had brought a whole flask of it. While taking small sips of coffee, I began to walk down the cliff. The aroma of the coffee and the warmth boosted my journey.
I had no complaints about this as I know happiness is born often from the womb of pain.
Beautiful
The worm that was born inside a bitter gourd loves the flavour of bitterness. Am I like that worm now? Do I enjoy being sad? Rhossili is beautiful, and mystic but huge, gloomy grey clouds surround her. She may get the warmth of the sun only for a couple of days even in Summer unless some godly power lifts her and keeps her where the sun smiles more often.
The wind was getting rougher as if to remind me I have not made it to the beach yet. The wind was pushing me forward and I was sitting on the edge of a hill, allowing my feet to dangle. The emptiness of the sea was dancing below.
I was losing my grip as my memories were getting so thin, I could see through them, so I tried to picture my daughters as if they were hanging on both sides of my flapping skirt as weights.
Skylark
My story becomes dull and gloomy with every sentence. I am sick now with my own sad thoughts. I did not come here to lament. I came here to freshen my head. To get back the ability to think straight. To have the joy of being me, like the skylark who owned the sky when she was alone flying, spreading her wings. I am sure even the worm born inside the bitter gourd surely finds some sweetness when it ripens.
When I looked from the top, the path which leads down to the sea was rocky and longer than I expected. Yet the rocks, rough path, unevenness of the ground, and stairs that lead down to the shore excited me. It is strange sometimes that suddenly you get enlightened about something you never knew about yourself when you let nature sway you. I didn't know that about me before.
For the past eight years, I had taught my students that knowledge is not enough to pass the exams unless they didn't manage their time, unless they were smart enough to tackle more than one question in that time, unless they were smart enough to understand when to move from one question to another. Well, I used all the techniques I knew and pulled all my strings, and I landed here with my family. It was hardly a victory though.
Caught in these thoughts, driven by the past, I stumbled in the present, falling on the uneven stairs.
Fortunately, I managed to grip a nearby bush and held on, stopping myself from rolling down like a ball. It was windy, the cold was getting harsher and on top of it, I now had a bleeding nose. I saw a bench nearby and I walked there slowly and settled myself. With shaking hands, I wiped my nose with a corner of my coat. Then I took my flask out and poured another hot drink.
It was hardly a victory. I started to catch up with myself again. Unknowingly I have put myself too much into the game. At that time it felt so heroic for me to save my family, bringing them here and what did I actually bring? A wounded man, two girls who would never know where their roots would belong, and an exhausted woman who left her mother.
A part of a dead branch came with the passing wind and struck my forehead. 'That's not enough punishment for what I did' I thought. I abandoned my mother at a time when she needed me more than ever. It hurt but l wished it would have knocked me down for good. But there was no way that I could turn around now. I had to finish what I have started. I started to walk down the cliff again.
Beauty
The intention of this walk had been to find some ease in the wilderness but now it felt like putting salt in my wounds. Paul Guyer explained that 'To properly appreciate beauty, the viewing conditions must be optimal.' But I was in no condition to appreciate the beauty of nature.
My mind was never relaxed to find the joy of a walk or to sit and write about my dreadful life story using many symbols and metaphors or pretend I am lost in the serenity of nature. I might do so, one day, when the storm calms down, when I can sit on a rock looking at the bits and pieces that remain around me, under a clear sky, something involving lateral thinking about what happened to me once, long ago.
Now, I am inside the vortex swirling round and round, it's hard to catch a pen and paper, it feels impossible to start writing.
Mirage
From the start Wales was nothing but a graveyard for me. When I looked at the birch trees, I didn't see the silvery bark like others. I saw a matt grey cracked peeling-off bark. The bare branches of trees were like skeletons. The trees which stand tall, even flowering under the cruel winter, and displaying leaves of vibrant orange, yellow, and light green, I could not admire them as survivors.
I saw them instead as corrupted wealthy men and women who give away charity and laugh at the rest for what they are going through. Others see the horizon where lovers meet, see them together from afar.
I simply saw a mirage, or the impossibility of connecting with another. They see the limitless sky, uncountable stars, and even planets above the blue cloth. All I saw was the empty sky. At night it was a big black cloth filled with holes. And through those holes, a fire was burning inside.
Survival
Then a bolt of lightning came and in a split second I understood that shaking off the leaves and bending like a tall bamboo tree in the storm is a mark of survival. Stay put and grounded until winter passes, make sure your roots are still holding the earth tight.
Cut the dead branches, use them as firewood, collect the twigs to make a broom, and make them useful. Absorb what you can and stay alive. If you cannot do anything else, just try to mingle with the place and add beauty to the big picture like the trees.
I have heard that every tree has a dryad, and they connect with your thoughts and start to communicate. Was that what happened during this walk?
After my fall I had almost reached the sea. I touched my nose, and it was still bleeding. 'A good sign, I am still alive. I got up from the bench. 'And my legs still can lift my weight.'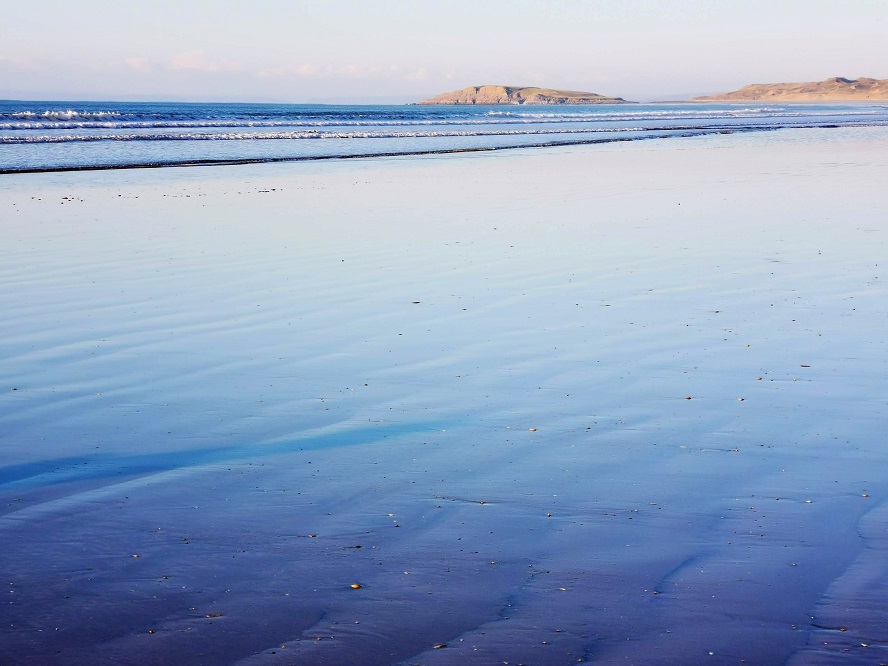 And finally, there she was all dressed up in blue, the brilliant sea, with the waves and curves laced in white.
She was dancing and singing like a bride, and I watched her from the distance admiring her, thanking her for letting me be with her at that precious moment. It's a pity that others can only see us on the surface, only the beauty not the dirt and wounds we kept inside.
As the waves take all the dirt on the shore to the ocean and keep it clean regularly, we women always take the rubbish of others into us, as the ocean swallows that rubbish and it goes sour, we women hide the dirt within ourselves.
You can discover other 'Letters from' on Nation.Cymru by following the links on this map
---
Support our Nation today
For the price of a cup of coffee a month you can help us create an independent, not-for-profit, national news service for the people of Wales, by the people of Wales.