Culture
Letter from South Stack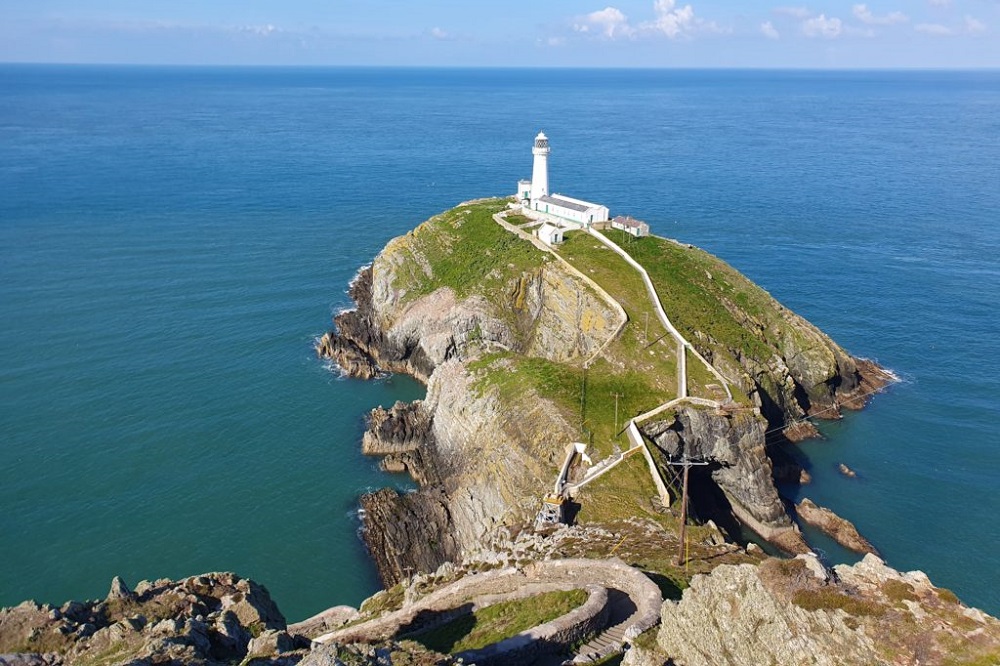 Catherine Duigan
Greenly's "Magic Casements"
Imagine how, over 100 years ago, every one of the 400 steps down to South Stack was a step back in time for Anglesey geologist, Edward Greenly.
The wind would have lifted the deep cape of his magnificent, dark green tweed field coat as he negotiated the staircase bends alongside his devoted wife Annie.
His geological hammer was suspended, handle down, in a leather holster hanging by a strap across his left shoulder.
Anticline
Edward had arrived to inspect the South Stack "Anticline", a dramatic large fold in the rocks rising from the bridge leading to the lighthouse.
A copy of the earlier geological diagram of the famous South Stack rock series by John Stevens Henslow, a Cambridge academic, was probably sheltered under his cape.
Edward was a very fit man who climbed mountains and waded through bogs collecting the data for geological maps. His forensic approach and Annie's editing and design skills produced a landmark guide and map for Anglesey.
In later life he used a slender wooden walking stick and metal narrow rimmed glasses were perched on his nose. The geology and scenery of South Stack would have been in his thoughts as he sat for his portrait that hangs in Bangor University.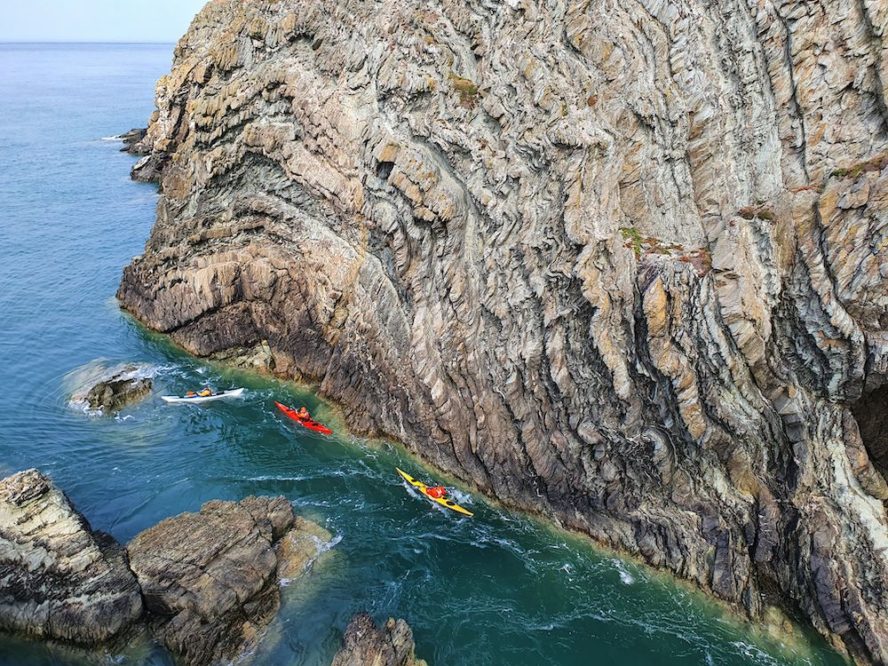 Ancient Seas
"Geology has been going on forever on the island of Anglesey" according to Rob Crossley, GeoMôn geologist. He told me some of the oldest rocks in Britain are found on Anglesey, dated to about 650 million years ago, in the Pre-Cambrian Period.
The alternating layers of hard and soft rock at South Stack were originally deposited as sand and mud on an ancient seabed when there was also an explosion of life on earth, some 540 million years ago.
Although before the appearance of hard shells or skeletons, animals with complex bodies had evolved and very strange creatures scuttled along the sea bottom or burrowed into the sediment.
Rob described them as "blobby things, like jellyfish with legs". Mysterious, faint and difficult to find marks made by these animals provide the only evidence of their existence in the rocks on Holy Island.
Later Anglesey became crushed between a jigsaw of colliding land masses, and the South Stack marine sediments were folded, stewed and stretched into hard red-orange sandstone and softer green-grey mudstones.
Folds formed within folds and the brittle rocks cracked along fault lines. For me there is also poetry in the rock sequences – sandstone, mudstone, sandstone, scalloped edge quartz.
Even after some coffee, Rob and I did not reach a consensus on whether Greenly or Henslow should be considered the father of Anglesey's Geology. However, Edward and Annie are united forever on the island under a book-shaped slab of red Balmoral granite in Llangristiolus.
Seabird City
At South Stack the seasonal drama of the breeding seabird colony of razorbills, guillemots, fulmars and a small number of puffins adapts to the weather palette on this exposed corner of Holy Island.
On a windy late April day I watched, chaotic clouds of returning razorbills and guillemots come around the corner of the island under the lighthouse – hurtling at speed towards the cliff face.
Each one timed its 180-degree turn, then braked by spreading its tail and lowering black triangular feet. With a final flutter of wings, it completed the manoeuvre to drop down on to the sheltered side of the island.
A herring gull suspended stationary in the air space above supervised the action, with an impatient "rattle, rattle".
Looking from the bridge, the birds' heads seemed to project out of sheltered cavities gently sculpted into the softer mudstones by generations of fluttering wings, wiggling bottoms and rustling chicks.
Other birds flew very low over the water and then got swept up close to the bottom of the cliff face, to magically drop out on to a protruding horizontal sandstone ledge. There is no need for the birds to fly under the bridge because the upturned sloping arches of rock do not offer nesting spaces.
Every egg produced is a unique abstract work of art, with the black-brown spots and squiggles on parchment white shells reflecting the weathered nature of the cliff. The cycle of life continued until on a sunny afternoon last summer I watched the fledglings plopping into a calm sparkling blue sea.
Technically accurate bird drawings are a unique part of Anglesey's heritage, as exemplified by the Charles Tunnicliffe Collection at Oriel Môn, and artists continue to be attracted by the diversity of birds on the island.
During Anglesey Open Studios Week artist Craig Taylor took a break from painting small stones on a beach surrounding two shelducks to tell me about his experience of painting seabirds at South Stack: "It is a 'seabird city', with the sheer noise as thousands of birds calling to their mates or squabbling with their neighbours, and there is the powerful smell emanating from the accumulated guano. A sensory overload in either case!
"I start by studying the groups of birds on the ledges to identify individuals who are likely to sit still long enough for me to sketch them. Then I use photography to capture the detail of the geology which I can reproduce in my studio."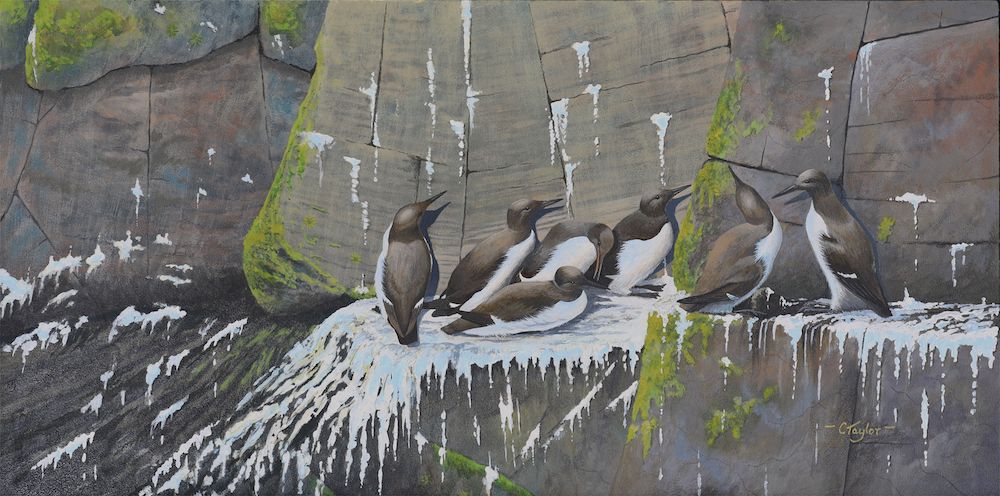 Geology is not just for geologists. It is a way of reading the landscape and understanding how past millennia continue to support life on earth. Next time you are at South Stack, take time to stand and stare at this eternal symphony of birds and rock.
GeoMôn, the Anglesey Geopark, is part of the European Geoparks Network and has been endorsed by UNESCO as a Global Geopark. The South Stack Cliffs Nature Reserve is managed by the Royal Society for the Protection of Birds.
Tours of South Stack Lighthouse are organised by South Stack Ynys Lawd Ltd. under licence from the Corporation of Trinity House. Craig Taylor is a member of the Association of Animal Artists and lives in Llangaffo.
Enjoy more 'Letters from' and more writing by Catherine by following the links on this map
---
Support our Nation today
For the price of a cup of coffee a month you can help us create an independent, not-for-profit, national news service for the people of Wales, by the people of Wales.