Culture
Letter from The Slate Valley, Granville, New York
Catherine Duigan
Scraped to the land surface by ancient ice sheets, a narrow ribbon of colourful slate binds together the border of Vermont and New York.  This familiar rock has become part of the rich heritage of an inland waterway of lakes, rivers and canals extending from Albany, capital of New York State, to Montreal in Canada.
A driving tour encompasses the charming and picturesque local villages, such as Poultney and Fair Haven, associated with the local slate quarries. Variegated purple, evergreen ebony, sea green, unfading red to royal purple – there is a wide variety of tiles to cover eaves, top turrets or to arrange into geometric patterns.
"Whilst on the Vermont side of the slate belt, green and purple slate occurs, reminiscent of that we see in Penrhyn in north Wales, the New York side includes green and unusual red slate, with the colour imparted by iron oxide.  Although the sediments which formed both the American and Welsh slate were laid down around the same time, they were separated by the ancient Iapetus Ocean and transformed into slate by different geological processes at different periods", according to Jana Horek, Head of Mineralogy and Petrology, Amgueddfa Cymru.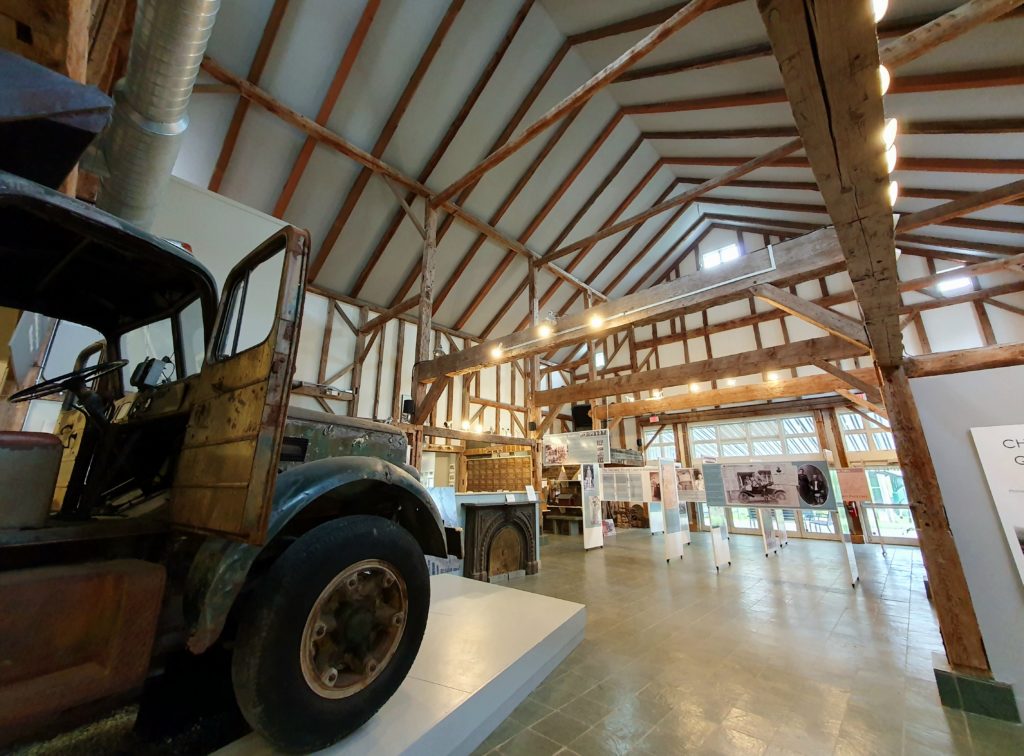 With evocative links to Wales, the American geological and social story is celebrated at The Slate Valley Museum in Granville, New York. Here a bright, cathedral-like space was created using the reconstructed wooden framework of an old barn. A battered green Tatko Brothers Company truck is parked with its doors open, like a quarry worker has just leaped out.
Our guide, Ellen Lovely, shepherded us around the exhibits and made sure we did not miss the connections to Wales (and Ireland). An embayment exhibited the tools from a forge and Ellen punched a hole in a tile using the slate cutting equipment.
"We have about a dozen visitors from Wales each year. We're rather small and somewhat off the beaten path, as I'm sure you noticed. But we're always thrilled when our friends from Wales come to share their stories with us and help us learn more about their stories as well.
"Welsh slate workers and their families made up one of the largest groups of immigrants who came to the Slate Valley. They really helped to start the industry here. There's still quite a bit of pride here among residents who connect with the cultures of their immigrant ancestors."
A warm welcome awaits you from Sarah Kijowski, Museum Executive Director, and her team.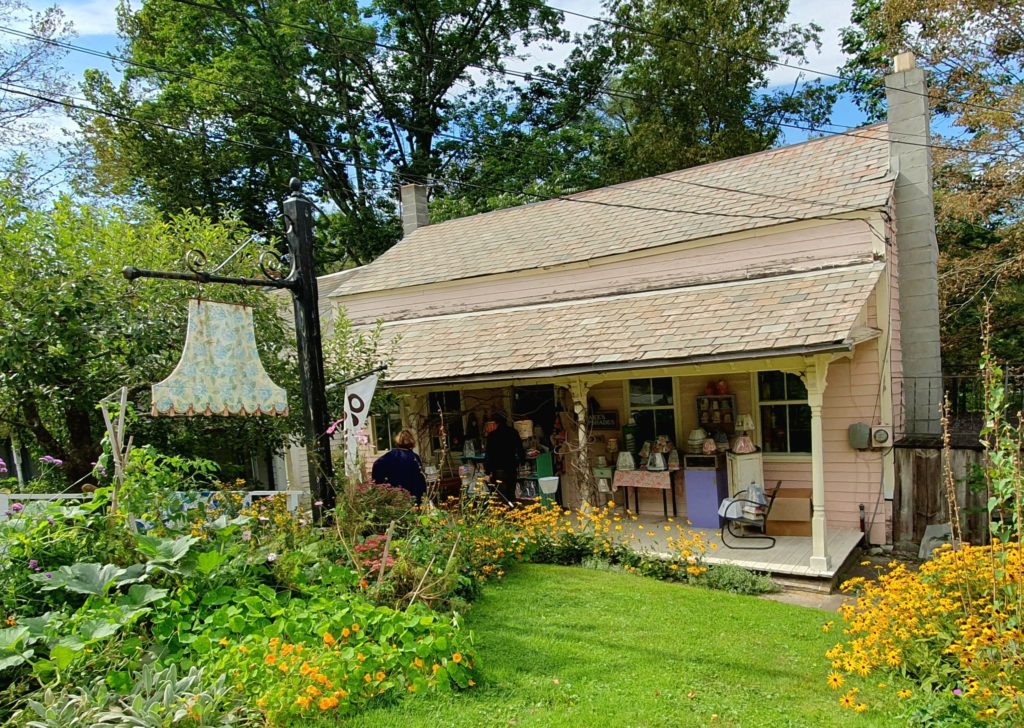 My travelling companion helped Ellen to get the video working so we could see and hear the interviews which formed part of the visiting Chwarelwyr Quarrymen exhibition by Carwyn Rhys Jones.
Overlain by industrial landscapes, big black and white photographic portraits of quarrymen from Llanberis, Bethesda, Caernarfon completed the display.
These dramatic images were first revealed in Amgueddfa Lechi -The National Slate Museum in Llanberis, and they toured several venues in Wales before arriving in New York earlier this year.
The colourful, elongate mural of local slate workers by Martha Levy is the centrepiece of the museum. Defined by simple lines, over a dozen solid monumental male figures illustrate the slate production process, including the tools and lifting gear. Robert "Cymro mawr" Williams and Robert "Cymro bach" Williams have been included.
Created in 1939 for the local high school, the painting was part of a larger mural movement to depict social issues and democratic ideals.
Federal government funding supported the artists, sought to make art accessible to all and captured regional histories as part of the growing portfolio of American Art.

There are no slate castle building Lords in upstate New York. Instead, hardworking self-made women and men established their own companies. A native of Dyffryn Nantlle, Hugh W. Hughes (1836-1890) became the "Slate King of America". By the late 1880s, his quarries were producing 48,000 slates annually and he founded a bank.
Even though she had lost an arm, severed by a slate car, Mary Ann Hughes, local milliner, whose family descended from emigrants from Tipperary, Ireland, owned a slate business with her brother.
Born in Tregarth, North Wales, Penrhyn quarryman William Griffith (1832-1913) made his fortune in Slate Valley out of the sea green slate vein which was also sold internationally. He was a poet, composer and choir director contributing to Welsh cultural events, including Eisteddfodau, as Gwilym Caledffwrd.
The Irish arrived after the Great Potato Famine, an Gorta Mór (1845-1851), and the now booming slate industry in 1891 recruited 300 workers from Wales. The culturally diverse community increased with migration from several countries in Eastern Europe, Italy and later Canada.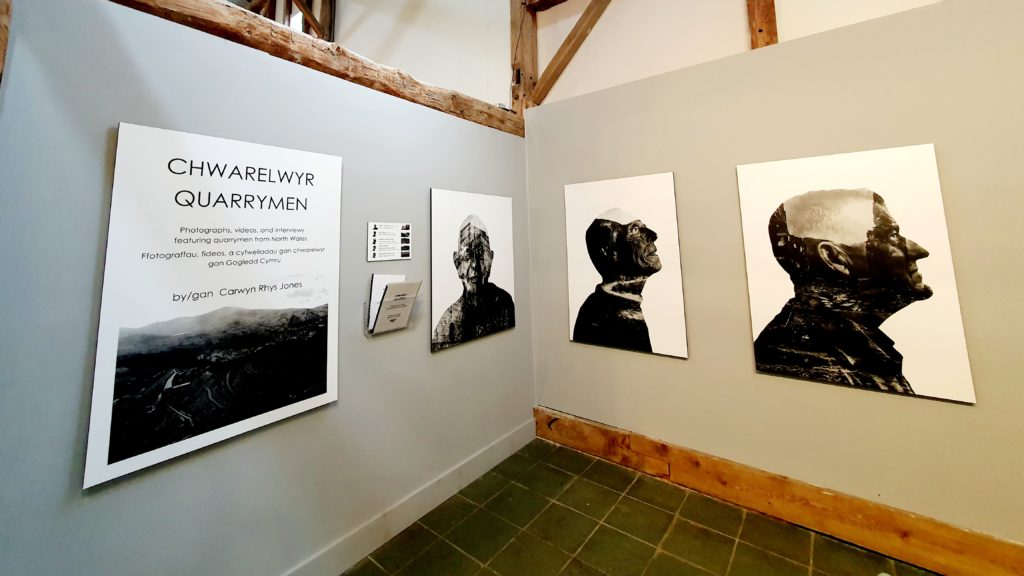 In 2006, Amgueddfa Lechi and The Slate Valley Museum celebrated their friendship with an exhibition in Llanberis entitled Draw Dros y Don / American Dreams.
As well as photos, letters and stories, there was one very special object, lent by The Slate Valley Museum – a trunk that belonged to John and Mary Davies, who travelled from Liverpool to the USA on the SS Cedric in 1904, in the aftermath of the 3-year Penrhyn strike in Bethesda.
Elen Roberts, Amgueddfa Lechi Director, recalls how "This small, simple trunk became symbolic in so many ways – the very idea that it contained the worldly possessions of this young couple, compelled by their situation to leave their life and loved ones in Wales, caught the imagination on both sides of the Atlantic. The fact that it travelled all those miles back to Wales over a century later became symbolic of the ties that bind both museums and the communities they represent."
Welsh-Americans are still working in the quarrying industry of The Slate Valley today, and their proud heritage and craftsmanship is a defining characteristic of this fascinating part of New York and Vermont.
---
Support our Nation today
For the price of a cup of coffee a month you can help us create an independent, not-for-profit, national news service for the people of Wales, by the people of Wales.