Culture
Letter from Treorchy
Jon Gower
I have a confession to make. I love to go eavesdropping in Treorchy. Sitting down with a mug of tea you can hear all sorts of things. Such as two old ladies discussing all the demerits of their total of four husbands, all of them rotten to the very core. If I'd taken notes I could have written a novel. Or a favourite overheard moment from some years back, in the Station Cafe. A woman came in from the December chill to join her friend who simply said 'You smell cold.'
The Station cafe has now sadly closed its doors for the very last time but luckily director Carys Huws had the foresight to film the place for posterity. It was a classic old school valleys' Italian cafe, where they confused me the first time I visited.
I'd ordered a steak and kidney pie and the lady behind the counter promptly asked 'Steam?' I had no idea what she was on about, until I saw her colleague running the steel spout of the espresso machine through another pie, using  a stream of steam to warm it through. Mine was delicious.
Luckily, despite the disappearance of the Station cafe you have plenty of choice when it comes to Treorchy cafes. I chose a Number Five from the menu in the oddly named Cafe Cafe.
The array of hash browns, black pudding, bacon, toast, eggs and sausage would bump up my cholesterol level to the point where I should have had someone from St John's Ambulance standing by with a defibrillator.
It turned out to be a fabulous breakfast served by someone with the readiest smile. Next time I'll try the house specialty, namely bubble and squeak.
I want to return to the waitress' smile for a moment. From the time I got out of the car with my two daughters the ready friendliness of the good folk of Treorchy was palpable.
A man asked me "Allright?" before I'd even had time to lock the car. It more than made up for the weather and the dishwater skies carrying a burden of heavy pewter clouds, promising more rain.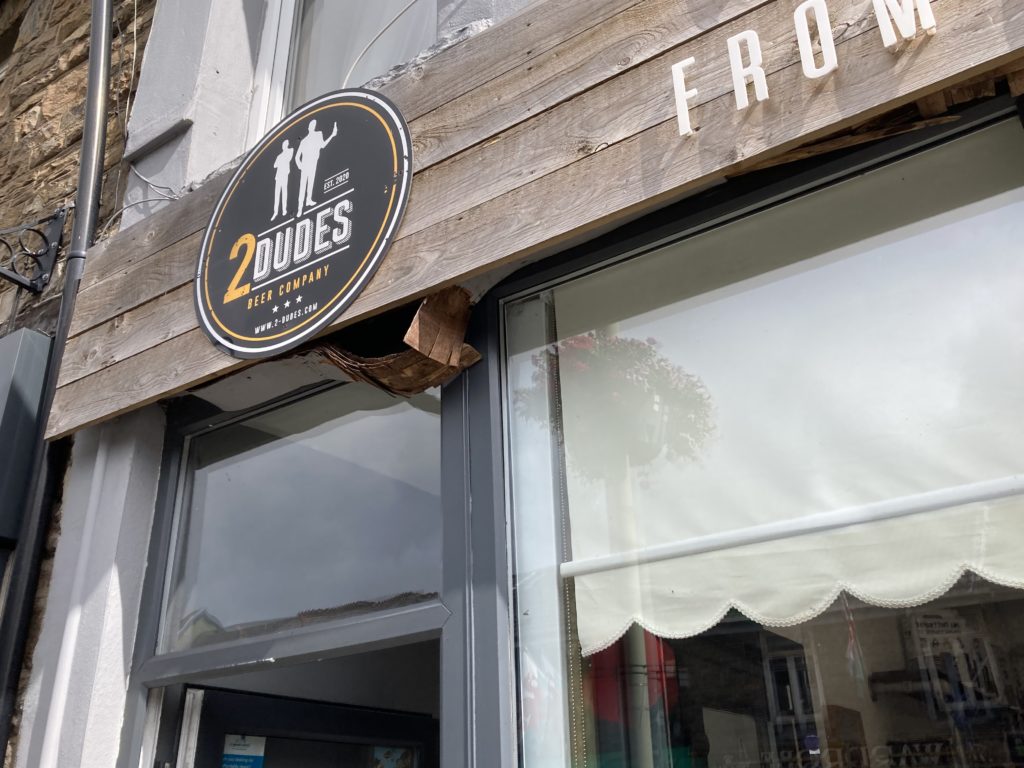 Swanky
Two great friends from Caernarfon, Eirian and Sel went to Treorchy for their holidays last week.
They stayed at the totally refurbished and now swanky Cardiff Arms, drank at 2 Dudes beer company, enjoyed many a fine walk in the area and generally had a whale of a time.
They were reminded of the community spirit of places in the slate-quarrying belt of north west Wales, where friendly and fiercely proud people band together to make things happen for each other.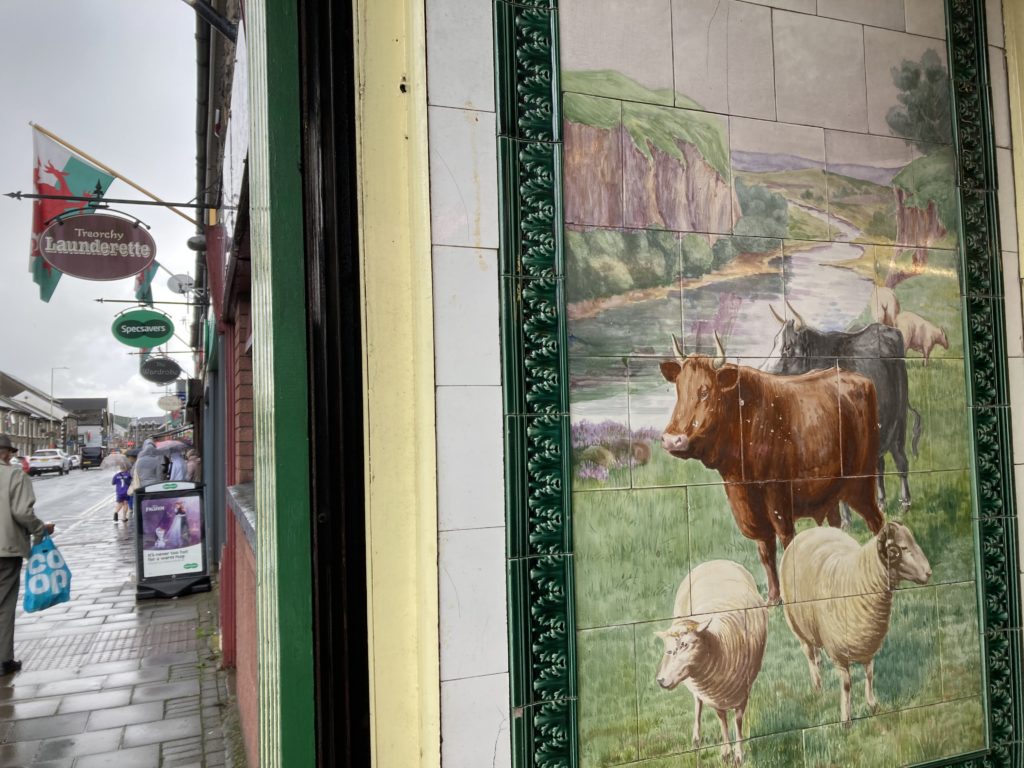 The Best High Street in Britain
Now Treorchy isn't alone as a friendly valleys town but its High Street is unique in being an award-winning shopping experience.
Three years ago it was named the best high street in Britain, seeing off Welsh rivals such as Narberth and Swansea not to mention a legion of other competitors across the UK.

Community
The town was nominated by pub landlord Adrian Emmett who won an individual High Street Champion award for his efforts.
He said at the time 'It's about our town – it's about our whole community. Who are we – how dare we, a small little town in the valleys think we can beat the best in Britain? But we showed them up – we proved to them, even though we were the underdog, Treorchy is officially the champion high street of Great Britain.'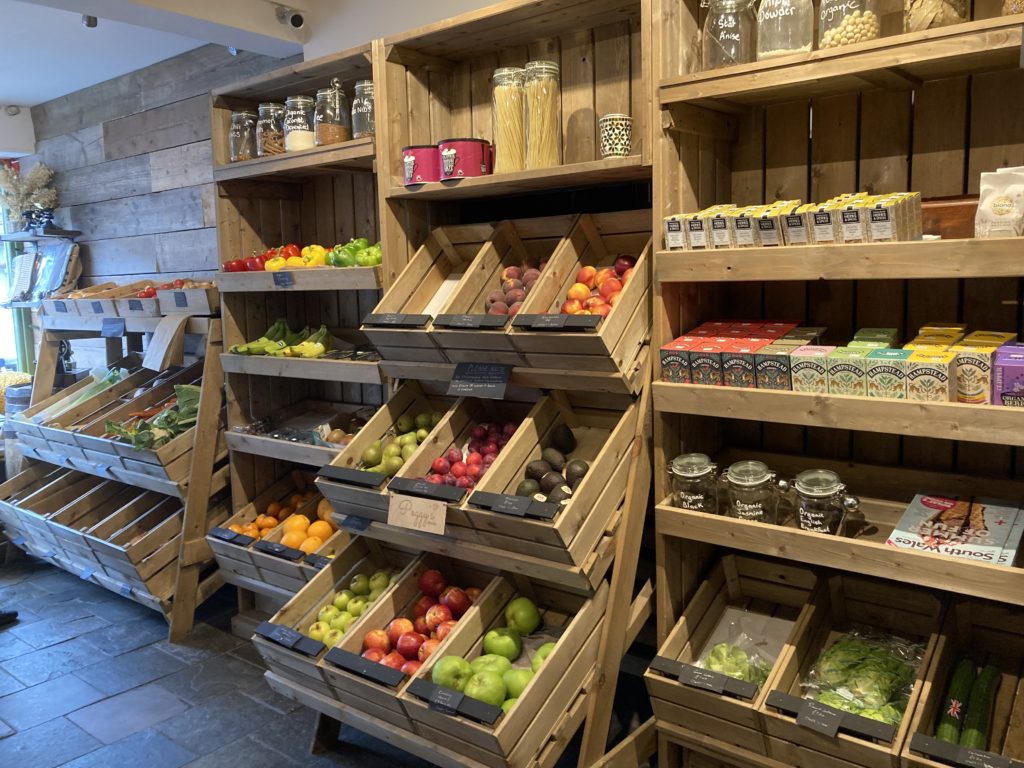 The high street in Treorchy has about 100 shops in total – with the vast majority being independents and 60% run by women.
When they won the award the occupancy rate stood at 96% with two empty shops then being refurbished. Nothing seems to have changed since then. It's busy and buzzy and friendly to a fault.
I was reminded of what the American writer John Updike said of small town America: 'It was a Saturday then, of small sunlit tasks, caretaking and commerce.'
Treorchy on a Saturday morning was like that, but without too much sunshine.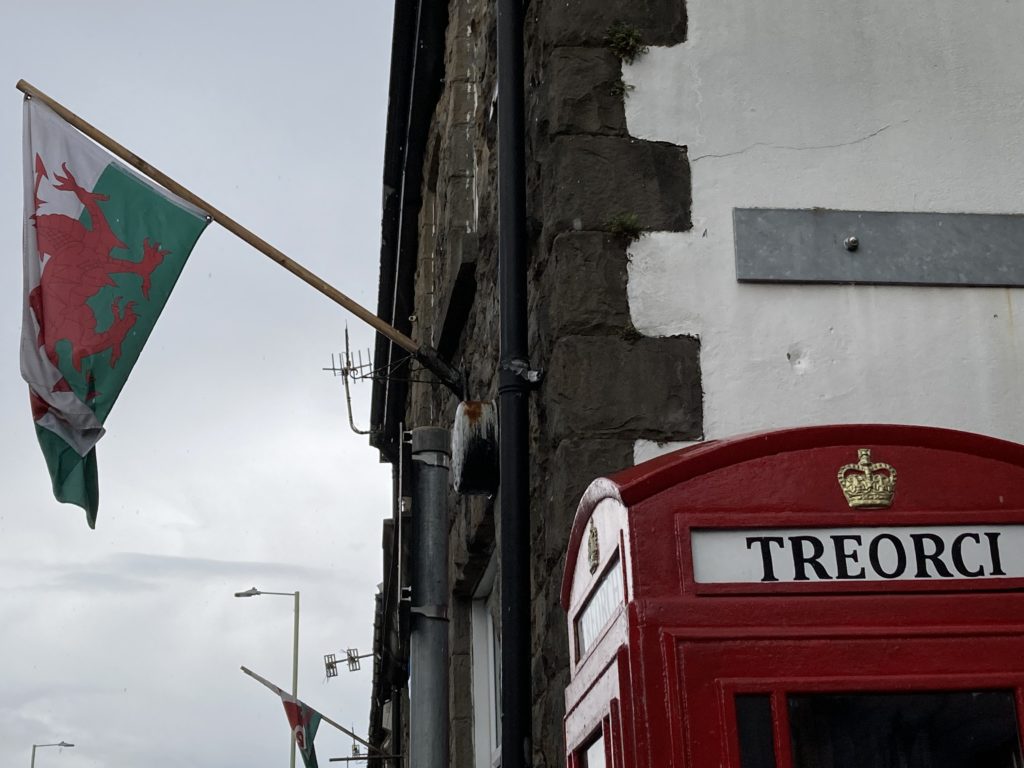 Part of the secret of Treorchy' High Street success lies in the sheer number of independent shops.
Ladies fashion at Elegance and Emily Kate. Gift ideas galore at Sparkilicious.
In the aptly-named fruit and veg emporium Green Valley I spot copies of Nation.Cymru contributor John Geraint's The Great Welsh Auntie Novel for sale alongside the immaculate cauliflowers, thus mixing literature with the lettuce.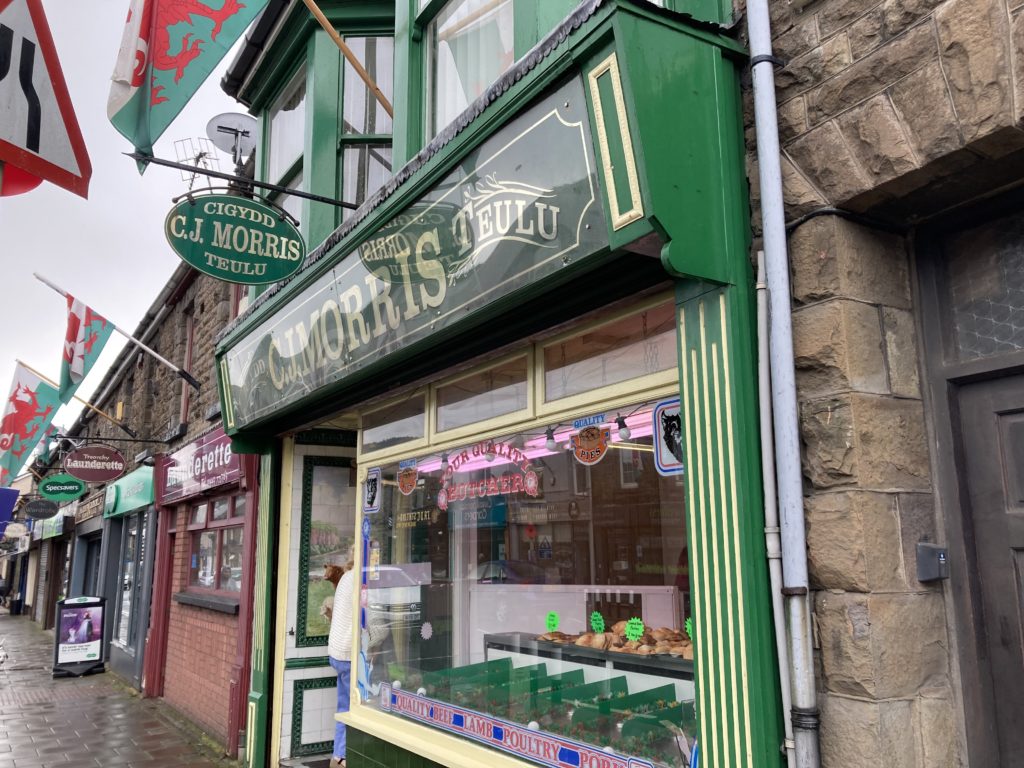 When I ask local butcher, C.J. Morris how long he's been working here a co-worker's voice pipes up from a back room suggesting 'Too long.' Mr Morris himself tells me he's been working here for sixty-one years so I suggest he's getting the hang of it by now.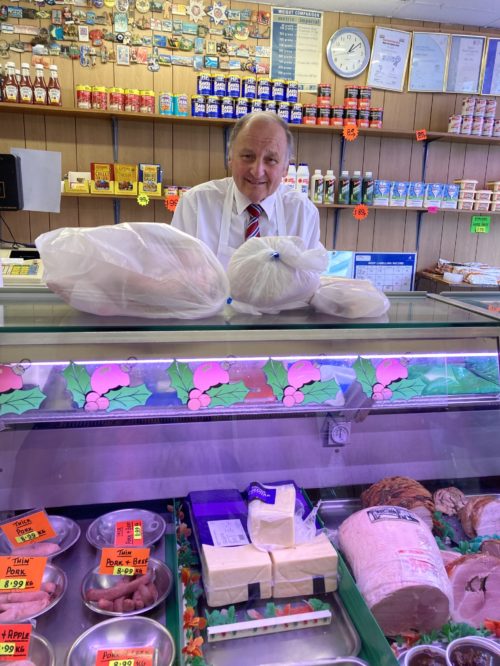 I buy luscious pork chops with the intention of caramelising them with sugar before serving them in a sauce involving capers and shallots, along with a grand-looking chicken which will announce to Ianto the dog that it's 'Salivating Sunday.'
Before leaving, I ask Mr Morris what he think accounts for the success of the town centre?
'Two reasons. It's on the flat for a start and there's such a variety of shops here. It's one of those places that seem to attract people. I like to think it's friendly, too.'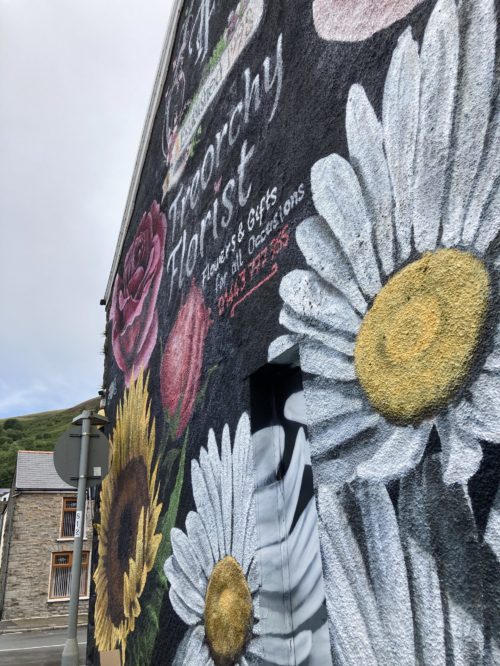 With my twentieth wedding anniversary coming up, I buy a large bouquet of flowers at Treorchy Florist (established 1998,) where the mural outside adds so many splashes of colour to the grey day outside.
I take them home, having visited a place which lifts the spirits like an outsize painting of daisies. Even when the skies empty down with a vengeance. Yes, a place full of sunny people, even on a day of bucketing rain, people who are simply friendly to a fault.
---
Support our Nation today
For the price of a cup of coffee a month you can help us create an independent, not-for-profit, national news service for the people of Wales, by the people of Wales.